Leroy- Reports are guys are getting out and gills are biting with good pike action Call Eye's Have It for latest info 231-768-5653
Baldwin- The little lakes around  Baldwin are safe and pan fish has been fair.  Steelhead fishing has been great on the PM this week Call Baldwin Bait @ 231-745-3529 or  Ed's Sport @ 231-745-4974
Big Glen- Fishing has been good this week with 10 to 15 inches of ice, they are catching perch, trout and ciscoe's. Had many reports of guys catching 12 to 14 inchers but there is no pattern on the bite as it has been later in the day and when they bite it last for about an hour. Most are going out till they hit 40 feet of water off the access site and catching some perch and ciscoe's  Call Fishhook@ (231) 256-9496
Little Glen- Has ice the perch are biting fair Call Fishhook@ (231) 256-9496.
Lake Leelanau: North Lake Leelanau has ice and a good perch, lake trout and walleye bite, South Lake Leelanau is froze with 8 to 12 inches of ice and fair walleye, perch and pike. Call Fishhook@ (231) 256-9496 for latest info
Manistee Lake by Kalkaska-  Good fishing this week with perch, pike, walleye and a few gills in the canals ice is 10 to 15 inches Call Jacks Sport Shop 231-258-8892
Spider Lake and Arbutus- 16 to 20 inches of ice, slush on the lake and things have been slow this week Call Roy's General Store @ 231-946-5633
Duck Lake: They have been catchin g pike and a few lake trout this week.
Green Lake: is producing bluegill and a few small perch. For pike, try tip-ups off the State Park. Smelt are being caught just not in big numbers. Try just off the Music Camp which is north of the State Park. Spikes and waxworms on Hali Jigs for smelt.
Long Lake:  They are fishing the whole lake with the better bite off of Cresant shores and a great perch bite.  They are catching nice perch but lots of short walleye. Call MC Sports @ 231-933-6158
Skegemog- They a driving trucks out on the ice and  still good perch and pike bite, Also Elk Lake is froze with lakers  biting. They have been seeing some nice muskie's with a 54 incher being caught.  Call Jack's Sport Shop@231-258-8892
Fife Lake- Has ice and a few big pike have been caught, along with perch.  There was a bunch of guys off the access site today but report have been slow after the snow. Call Lakeside Party @ 231-879-4346
Portage Lake-Osborn's contest was a big success with lots of big fish being caught out of portage lake. The perch bite has slowed this week with all the snow but pike are still on the bite. Call Osborne's@ 231-889-3775
Hamlin Lake- Has had a good bite this week with pike, walleye crappie and gills being caught. Call PM Expeditions@ 231-425-8913 or Hamlin Grocery@(231) 843-2058 and Capt. Chucks @ (231) 843-4458
Bear Lake- Has 12 to 15 inches of ice today with a few getting out catching pike and a jumbo perch bite the last two weeks. Osborne's@ 231-889-3775
Lake Missaukee- Has been fair with crappie, pike and gills with walleye being slow this week.15 inches of good ice with pike and gills are biting good Call Miller Corner@ 231-839-0440 or Hopkins Outfitters@ 231-839-FISH (3474). Also Millers Corner has a big fishing contest this weekend
Lake Cadillac: Ice fishing continues but the bite is harder to come by. Try something new like a small hair jig with a small minnow or spike. Anglers are still catching pike on tip-ups. Call Pilgrim Village for latest info@ 231-775-5412
Lake Mitchell: Is producing fish but again the bite is slow. For panfish try teardrops or anything small with minnows or wax worms. Pike are still hitting on tip-ups. Call Pilgrim Village for latest info@ 231-775-5412
Pentwater: Pentwater Lake is froze and the perch fishing has been great also a few pike. There was 50 shanties in front of Pentwater Angler and said the perch bite was on today. Call Pentwater Angler for the latest info@ 231-869-5357
Whitehall: White lake has ice with good pike and perch bite today. Call armstrongs@231–894-6753 or Johnson's Outdoors @ 231-893-6688
Betsie River: Continues to produce some steelhead.
Big Manistee River: Is fishable and should have a fair to good number of steelhead including some fresh fish. Many are fly fishing below Tippy Dam.
Little Manistee River: Is producing steelhead and the occasional brown trout however the river will close to fishing on January 1st and will reopen on April 1st.
Crystal Lake Has safe ice and a great lake trout bite the last week, also getting out of Lobb Rd. for perch, whitefish and smelt. Chimney Corners for Lakers in 90 to 150 feet of water
Northeast Michigan
Lewiston-  Both East and West Twin are froze and perch, pike and walleye are biting Call Mid Lakes Market @ (989) 786-3227
Mio- Fishing has been fair around Mio with many pike being caught.. Call Jig's Bait Shop@ (989) 826-3467
Lake St. Helen- Fishing has been good with 20 to 24 inches of ice lots of pike, with pan fish on the bite with a few walleye being caught. Call Macomb's Tackle Box @ 989-389-2100
Pratt Lake and Wiggins Lake– has safe ice and many have been doing good on pan fish and pike. Call Chappel Dam@ 989-426-7503
Wixom and Sanford Lake- Reports are the lake is safe and fisherman have been getting out on the shallow bays catching crappie, gills and pike. Call Sanford Sport Shop@989-687-5161 or Sandy's Market@ (989) 435-9688
Secord Lake has had a great crappie bite this week Sandy's Market@ (989) 435-9688
Fletcher's Floodwaters- Those using tip-ups caught some nice pike. Crappies were taken on minnows, wax worms or spikes. Call Bill's @989-742-4874
Black Lake- Has 12 to 20 inches of ice and a good walleye bite Call Parrots Outpost for the latest ice conditions (989) 733-2472
Mullet Lake- Has been good for perch the last few days call Mullet Lake Party store@ (231) 627-4644 or  Topinabee Market@ 231-238-9578
Burt Lake: Perch and walleye fishing has been good. Call Pat & Gary's Party Store 231-238-6776
Grand lake and Long Lake- Both lakes are safe and fisherman are venturing out catching perch and pike, Call Bucks@ 989-595-2121
Otsego Lake- The ice is safe and many shanties are on the lake. A few sturgeon have been caught off the State Park and good perch, pike and  a few walleyes on Otsego Lake. Perch fishing has been fair  on Bradford, chub Lake trout fishing has been good. Call Northern Sports@ 987-448-2014
Lake Margrethe-  The lake is completely froze with 18 to 24 inches of ice and good fish being caught. The walleye bite has been slow but perch and pike have been fair. There are quite a few shanties on the lake.  Call Skip's Sport @ 989-348-7111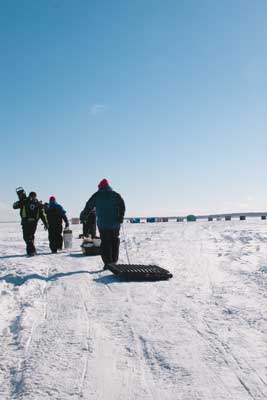 Higgins Lake- Smeltville is in full force off the west access site with some doing good on the smelt but lights are the key right now. Has ice and snow. Use caution near Big Creek and the Conference Center. Pike are hitting on tip-ups along the drop off in 35 to 40 feet of water. Those spearing are also taking fish. Lake trout are just off the bottom in 100 feet of water. Try Swedish pimples tipped with minnows, smelt or minnow heads. Whitefish were caught by those jigging a Swedish pimple with minnows, wax worms or wigglers. For perch, try near the Sunken Island, Main Island, and Big Creek in 30 to 50 feet of water. No big numbers of smelt yet, but the fish are there. Try down near the West Launch or Big Creek when fishing at night in 50 feet of water. . Call Phoenix Park 989-821-7220 or Sports Barn 989-821-9511 for latest ice conditions
Houghton Lake- Ice fishing is on Good pike, perch and walleye. Dave @ 4 season says off of long point good perch and walleye are being caught. he hurt his back so he had to take his shanties off the lake but fishing is good
Lyman's has their shanties out call them for your reservations@ 989-422-3231 the bite has been good around his shanties with guys in the sleeper catching walleye at night. Also Dave @ Four Season Party Store said last night they did good on the walleyes and pike. Call him @ 989-422-5230.
Angelos Party Store also has shanty retail call him @ 989-202-4422 ask for Lou.
Korbinski's also rents shanties and has a full line of bait and Tackle call Rod@ 989-366-9500
Pappa's Bait reporting great fishing off the middle grounds on Houghton Lake989-429-5780
Lake Avalon: In Montmorency County is producing a few bigger splake.
Van Etten Lake: Is producing some walleye, pike and perch.
Au Sable River: With temperatures rising and the day's getting longer, conditions on the river are getting better. Most of the access points were open. Steelhead seem to be moving from the mouth to the dam and back out. The fish are silver which means they are fresh from the lake. Most were caught on spawn.