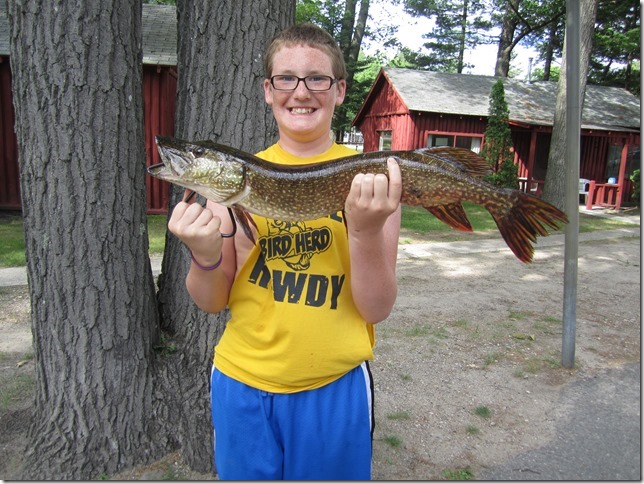 CONDITIONS ON LAKES CADILLAC AND MITCHELL
Happy! Happy! The hot humid temperatures have passed — for now. Cool mornings and warm afternoons make Cadillac, Michigan the place to be, the fish like it also. The bite has been on for most species.
Panfish anglers are finding lots of action. Both Mitchell and Cadillac have areas where the gills and sunfish are still spawning. The edges of weed beds in the 4 to 8 foot depths can be hot.
Crappies have moved to deeper water. The east side of Cadillac is your best bet. They seem to be suspending in the 15/18 foot areas. Early mornings they're near the surface, but as the sun penetrates they suspend about half way down. Trust your electronics.
Bass numbers are way up. Catch them by intent or by accident fishing other species. Large mouths can't resist crawlers or leeches. No question the live bait anglers catch most. Those casting artificials do well on the many plastics on the market. Yamamoto senkos have been especially deadly.
Everybody wants to catch walleyes. They've been scarce in the traditional deep areas on Lake Cadillac. The crawler harness on bottom bouncers that normally work have been slow. No blade pattern either. However, the bass and pike like any color. The best bet for catching walleyes have been on the north or west side of Lake Mitchell. It's too weedy to troll. Those catching them are slip bobber fishing with leeches. Fish the open pockets between the weeds. They're living in the 10 to 15 foot areas. Floating jig heads help your odds.
Catches are being reported at all times a day, not just the evenings. They like the weeds. It's worth noting that several undersized in the 10 to 12 inch range have been caught. Are these stockers or are they natural?
Pike action has been good. Lots of numbers but most will be hammer handles. They're fun no matter their size. Most keepers have been in the 27/29 inch range. Good, healthy fish. Casting artificials, your first choice should be spinner baits. Any brand, red and white seems to do well.