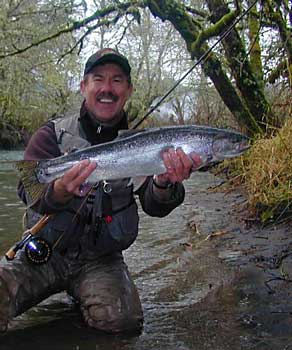 Upper Peninsula Fishing Report
Keweenaw Bay: Those heading out for trout and salmon had to work hard to get them. They caught a mix of chinook, coho and lake trout 40 to 90 feet down in 50 to 100 feet of water from Carla's Restaurant north past the red rocks and off Pequaming Point. Those jigging for lake trout had little success. Near the South Portage Entry, a fair number of lake trout, chinook and coho were taken near the lighthouse, the reefs and the Mud Banks. They are using a mix of spoons in a variety of colors. For Traverse Bay, lake trout action picked up some for those jigging in 170 to 220 feet off Gay Point and Big Louie's Point. Those trolling 60 to 145 feet down in 80 to 150 feet also caught fish.
Marquette: Most anglers are targeting lake trout but those using high lines for salmon and trout had mixed results. Lake trout were caught near the Clay Banks, Granite Island, and Shot Point in 120 to 130 feet. A couple small coho were caught. Surface water temperatures were in the low 60's. Those fishing near the mouth of the Chocolay River had poor results. Anglers are being asked to participate with the creel census surveys that are being conducted in the area. The information you share plays a vital role in fisheries management on the Great Lakes.
Menominee: Bay anglers were trolling for walleye near Green Island. Catch rates were fair to good. No trout or salmon were caught. Those targeting walleye did best in the evening when trolling rapalas in 20 to 30 feet of water. Salmon anglers tried closer to shore because of the high winds but no fish were caught.
Menominee River: Is producing a fair number of walleye for those trolling rapalas and crawler harnesses. Many were on the small side. Shore and boat anglers caught smallmouth bass when floating crawlers or casting crank baits.
Cedar River: Those floating crawlers caught smallmouth bass.
Little Bay De Noc: Walleye anglers had fair catch rates near Kipling. They are trolling or drifting crawlers and stick baits in 15 to 25 feet between the Second and the Center Reef and along the drop near Gladstone in 25 feet. Fair to good perch action was reported off the mouth of the Escanaba River when using minnows and crawlers in 20 to 25 feet or the Second Reef in 8 to 17 feet. Smallmouth bass were caught on crawlers and crank baits near the mouth of the Ford River. A couple salmon were caught out near the Ford River Can when trolling spoons 60 to 70 feet down in 100 to 130 feet.
Big Bay De Noc: Had good smallmouth bass fishing for those using minnows or crank baits in 10 to 28 feet off Ansell's Point and the many shoals. Those trolling spoons or cut bait off Fairport did well 60 to 75 feet down in 120 to 130 feet of water.
Au Train: Lake trout anglers have had mixed results depending on wind direction. The hot spots were the edge of the flats and the humps near the shipping lanes east of AuTrain Island in 140 to 200 feet. Offshore surface water temperatures have risen to the low 60's. No salmon to report.
Munising: Catch rates for chinook and coho were fair in Trout Bay and Munising Bay. Lake trout fishing continues north of Wood Island. A couple pier anglers were targeting splake but catch rates were slow.
Grand Marais: Lake trout anglers were fishing in 100 to 200 feet of water along the shipping channel, five to seven miles north of the bay. The fish have been feeding on insects and sculpin. Whitefish are feeding in the shallows. Coho anglers were fishing east or west of the bay in 50 to 60 feet. Shore anglers casting for pike had poor results.
St. Mary's River: Walleye fishing in Raber Bay has slowed in the shipping channel from Point Aux Frenes to the old bell buoy. A few pike were caught on the southwest end of Neebish Island, at the mouth of the Munuscong River or the southwest end of Kemps Point when trolling chrome spoons or black bucktail spinners. Anglers need to watch for low water levels when boating on the St. Mary's River and around Drummond Island.
DeTour: Anglers are still taking chinook and lake trout between Frying Pan Island, the #3 green can and the #2 red can out near Drummond Island. Chinook salmon are ranging 7 to 15 pounds. Hot colors are watermelon, green, purple and white.
Drummond Island: Wind direction did have an effect of walleye fishing. Fish were caught by those trolling crawler harnesses with bottom bouncers in 12 to 14 feet around Peck Island. Anglers had fair to good perch fishing in Maxton Bay. Most are drifting or still-fishing with medium size minnows near the red buoy located on the south end of Grape Island. A few nice pike were taken on the northwest side of the island when casting or trolling chrome spoons with a red eye in 8 feet of water. Smallmouth bass are hitting tube jigs near Harbor Island or a crawler with a slip bobber on the west side of Peck Island. Brown and green tube jigs worked well.
Cedarville and Hessel: Perch anglers have done well off the east end of the marina pier in Hessel Bay and off the public dock. They are using minnows or crawlers in 8 to 12 feet. The south end of Hessel Bay had excellent pike fishing for those using chubs. Salmon were caught in 50 to 70 feet in Hessel Bay and the Yacht Entrance.
St. Ignace: Had no change. Lake trout and salmon are still being caught around Mackinac Island, Round Island, Bois Blanc Island, the flats and the Coast Guard Station.