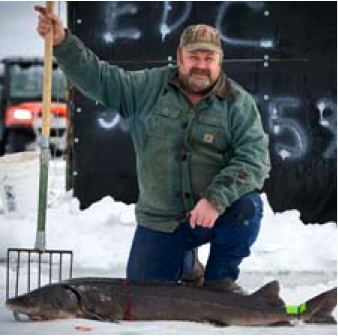 Black Lake: The 2014 lake sturgeon fishing
The Department of Natural Resources today announced the 2014 lake sturgeon fishing and spearing season on Black Lake (Cheboygan County) will begin at 8 a.m. on Saturday, Feb. 1. All anglers must register to participate in the lake sturgeon season.
The 2014 total harvest limit for Michigan is five lake sturgeon. To reduce the chance of exceeding the harvest limit, officials will close the season when one of two scenarios occurs:
1) Once the fifth fish has been harvested, or
2) Once four fish have been harvested at the end of any fishing day.
Fishing hours are 8 a.m. to 2 p.m. each day of the season. The season will either end at 2 p.m. on Wednesday, Feb. 5, or when one of the above scenarios is met, at which point anglers will be notified on the ice by DNR personnel that they must immediately stop fishing for lake sturgeon.
Anglers 17 years of age or older must possess a valid all-species fishing license. In addition, all anglers must possess a lake sturgeon tag, available for free from all license vendors. Anglers must have both of these prior to registering for the Black Lake sturgeon season.
The 2014 angler registration process will be similar to what was enacted in 2013. Anglers need to only register once for the entire season. An early registration will be held at the DNR Onaway Field Station from 2 to 8 p.m. on Friday, Jan. 31. This station is located approximately 5 miles north of Onaway on Route 211. Anglers can pick up their spearing identification flags at this time and learn more about season logistics and sturgeon populations from the DNR.
Anglers unable to participate in the Friday registration may register only at the registration trailer at Zolner Road ending on Black Lake. Morning registration begins at 7 a.m. each day of the season. Anglers are highly encouraged to register on Friday, Jan. 31.
Anglers will be issued a disposable flag at registration that must be displayed each day at the entrance of the angler's shanty.
An angler who harvests a lake sturgeon must immediately tag the fish and contact an on-ice DNR employee and register the fish at the Zolner Road trailer registration site on Black Lake. Registration may include an examination of internal organs and removal of a piece of fin tissue for DNA analysis and aging.
Recent changes in registration logistics were developed to allow greater participation by anglers while protecting the population of lake sturgeon in Black Lake from overharvest. In addition, the DNR and Michigan State University have been determining annual population estimates of adult fish from the spring spawning run, which allows officials to set a safe harvest level. The harvest limit in 2014 is lower than the 2013 limit.
"Our ongoing research efforts on spawning Black River sturgeon have yielded a better population model to annually estimate the adult sturgeon spawning population," said Ed Baker, DNR research biologist. "A 2013 survey by DNR revealed recent stocking efforts in the lake have been fruitful, and we anticipate some of these fish will enter the spring spawning run in a few years. Once this occurs we anticipate an increase in future safe harvest levels for anglers."
Rehabilitation of lake sturgeon in the Cheboygan River watershed is a cooperative effort involving the DNR, the Black Lake Chapter of Sturgeon for Tomorrow, Michigan State University and Tower-Kleber Limited Partnership.
For more details, anglers may call the DNR Gaylord Operations Service Center at 989-732-3541 or visit www.michigan.gov/fishing.
East and West Grand Traverse Bay are froze and guys are getting out so this might be the best bet this weekend for whitefish, Lake trout and perch.
Northwestern Michigan
East and West Grand Traverse Bay are froze and guys are getting out so this might be the best bet this weekend for whitefish, Lake trout and perch.
Green Lake: In Grand Traverse County is producing some smelt and big pike. Smelt have been slow with the arctic front. red spikes, white spikes, waxworms with a hali jig have been the best bet. Ice is good at both landing with many shanties out off the south access .
Skegemog- Perch were biting but nobody out this week Call Jack's Sport Shop@231-258-8892
Fife Lake- Slow this week Lakeside Party @ 231-879-3341 for latest info
Portage Lake- Slow this week Call Osborne's@ 231-889-3775 for latest fishing report. Also Don's Sporting Goods@ 231-723-5028
Hamlin Lake- Slow this week too much snow Hamlin Grocery@(231) 843-2058 and Capt. Chucks @ (231) 843-4458
Lake Missaukee- Slow this week too much snow Call Miller Corner@ 231-839-0440.
Crystal Lake: Lobb road has been ok for smelt and perch
Lake Cadillac: Slow this week too much snow Call Pilgrim Village 231-775-5412 latest info
Lake Mitchell: Slow this week too much snow Call Pilgrim Village 231-775-5412 latest info
Manistee River: Those brave enough to fish in artic temperatures are taking steelhead. The trick is to fish the very deep holes.
Pere Marquette Lake: The U.S. Coast Guard is warning anglers and other recreational users to use extreme caution due to ice breaking operations. They will be making two trips and stopping at Ludington's Occidental Chemical Facility. Officials say ice fishermen should remove their ice shanties and equipment from these areas. Recreational users should plan their activities carefully and avoid the shipping channels.
Long Lake, Lake Leelanau Slow this week too much snow
Big Glen Slow this week too much snow .
Duck Lake by Interlochen Slow this week too much snow
Lake Bellaire has been fair for walleye and pike.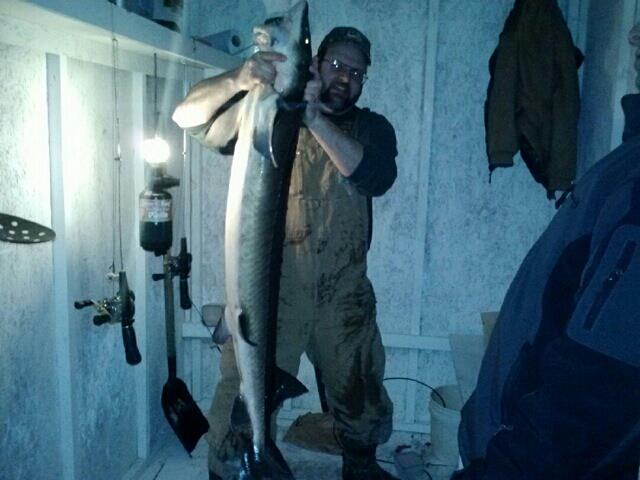 This Sturgeon was caught by Sturgeon Joe out of Otsego Lake last year.
Northeast Michigan
Black Lake: The 2014 lake sturgeon fishing and spearing season will begin at 8 a.m. on February 1st. All anglers must register with the DNR to participate. They must also possess a lake sturgeon tag, which can be obtained for free at any license vendor. Call Parrots Outpost for the latest ice conditions (989) 733-2472
Mullet Lake- Is producing perch for those using minnows and wigglers call Mullet Lake Party store@ (231) 627-4644 or Topinabee Market@ 231-238-9578
Burt Lake: Was producing a fair number of walleye and perch.. Call Pat & Gary's Party Store 231-238-6776
Grand Lake: Was producing a few perch. Try 15 to 25 feet of water around Grand Island.
Long Lake: Is producing walleye and perch. Call Bucks@ 989-595-2121
Fletchers Pond: Was producing a few crappie for those using minnows, wax worms or spikes. A few pike were taken on tip-ups.
Otsego Lake- Fishing has been fair on Otsego Perch fishing has been fair on Bradford, chub Lake trout fishing has been good. They have been seeing lots of sturgeon this weekCall Northern Sports@ 987-448-2014
Higgins Lake- The entire lake is frozen and ice shanties are starting to show up. Lake trout were caught out deep by those using greys on tip-ups or jigging Swedish pimples and sand kickers. Rainbow trout including one 27 inch fish were caught on wigglers near the Conference Center and Big Creek. Whitefish have been caught just off the bottom in 85 to 120 feet by those chumming. Perch were caught near Big Creek, Treasure Island, or B & B Marina. On the south end of the lake, perch were caught off Sunken Island. A few pike were taken on tip-ups and large minnows. Those spearing were seeing smaller pike.
.Call Erik@ Silver Dollar Express (989) 821-6227 or Dave@Sports Barn 989-821-9511 for latest ice conditions
Houghton Lake- Ice continues to build thanks to artic temperatures in the region. Strong winds were blowing the snow around. Before the cold spell, anglers were catching pike and perch. Walleye action was fair to good along the south shore in 6 to 8 feet of water. The better fishing was after 6pm. Anglers still need to use caution and watch for snow drifts and pressure cracks. Angelo's Party Store has shanties call for the latest info@ 989-202-4422
Dave at Four Season Party Store has his shanties out and they were catching fish before the big freeze, guy are getting back out today call Dave @989-422-5230
Lyman's Shanty rental @ 989-422-3231 says pike walleye and perch
Korbinski's call Rod@ 989-366-9500
Pappa's Bait reporting walleye fishing off the middle grounds on Houghton Lake. 989-429-5780
Hubbard Lake: has been steady.
Au Sable River: Fishing pressure was down. Access to the river is good since there hasn't been a lot of snow accumulation. If walking the snowmobile trails be sure to watch for sleds as they may not be looking for you. The Rea Road launch is usable but you will need 4-wheel drive and check the ramp for ice as you may not be able to get back up into the parking lot. Parking is limited and there is not a lot of room to maneuver. Whirlpool was the best launch for now as it was plowed, sanded and salted from River Road to the launch. The River Store is plowed with parking, but with the cold, ice flows may stop anglers from launching. The Boy Scout Camp and other spots along the river are not accessible as the two tracks are snowed in.
Lake Margrethe: Is producing some walleye, perch and pike. Call Skips Sport@ 989-348-7111 for latest info
Tawas: Was producing some perch in 15 feet off Jerry's Marina. Anglers were taking about 15 fish per trip but the keepers were only 7 or 8 inches. A few walleye were caught in 20 feet. There were reports of a whitefish and one brown trout caught. Inside the harbor, anglers caught a few perch and a couple pike.
Au Gres: Most walleye anglers were going off the end of Santiago Road and Booth Road and fishing a mile or two out. At Palmer Road, anglers reported slow walleye and perch fishing. They can see fish but they will not bite.
Au Gres River: Is mainly producing sub-legal walleye with a few keepers.
Wixom Lake has been great for gills, pike and lots of crappie.Ice fishing is great here on Wixom Lake, Gladwin County. Be sure to stop at Sandys Market to get your bait! call Joe (989) 435-9688
Sanford Lake has been fair call Sanford Sport for info on Wixom and Sanford @ 989-687.5161
Secord Lake has been great for big crappie. Sandy's Market call Joe (989) 435-9688
Wiggins and Sugar Springs have been good for pike and panfish
Upper Peninsula Fishing Report
Menominee: Anglers caught whitefish off Henes Park or Red Arrow Park out of Marinette. They are jigging minnows in 20 to 30 feet of water.
Menominee River: On the Wisconsin side near the Hattie St. Dam, they are still marking walleye through the ice and some fish were caught near dark. Most are jigging minnows, wax warms and rapalas. Those seeking northern pike are marking fish but only a few were caught at the Mystery Ship launch. They are jigging rapalas or using tip-ups with minnows.
Little Bay De Noc: Very cold temperatures, snow and high winds means fewer anglers and travel on the ice has been difficult. The pressure cracks are expanding and caution is a must when trying to cross them. Walleye catches were spotty throughout however the southern bay was still the most productive. Anglers out from Aronson Island reported fair catches when jigging rapalas with minnows 35 to 45 feet down along the break and 30 to 40 feet down near the Escanaba River. Whitefish action was fair to good when jigging minnows or spawn in 35 to 40 feet of water at Gladstone or 75 to 85 feet at Sand Point. For perch, anglers were taking good numbers of small fish but few keepers. The best spot for jumbo perch was out by the green buoy just north of the "Narrows". Try minnows or wigglers in 23 to 30 feet.
Munuscong: Walleye fishing has improved. Fish were caught by those jigging or using tip-ups with minnows in 20 to 27 feet north of Pine Island and Steamboat Island.
Cedarville and Hessel: Anglers are out fishing despite the cold and snow. Perch fishing was fair in 8 to 10 feet near Rice Point and up along the west shoreline. Wigglers were the bait of choice. Some bigger perch were caught in 10 to 14 feet in Hessel Bay however there is a lot of snow on the ice so use caution.
Southeast Lower Peninsula Fishing Report
Lake Erie: Anglers are still taking some perch in the Metro Park Marina. The key is to switch up your bait and use minnows, wax worms or spikes. Brest Bay is the hot spot for walleye anglers when using small spoons tipped with a minnow. A few pike were taken on tip-ups with sucker minnows.
Detroit River: Airport Bay continues to produce perch. Anglers are using small minnows, spikes and wax worms. Perch were caught off Bellenger Park which is up near River Rouge.
Lake St. Clair: Has a good amount of ice however there is still some open water and areas with very thin ice. Those taking motorized vehicles out need to be extra careful. Perch fishing was spotty.
Harbor Beach: Ice anglers caught a few lake and brown trout near the Edison Cut.
Saginaw Bay: Up near Pinconning, anglers are getting a few perch in 5 feet of water off Newman Road. Many walleye anglers are going four miles off Linwood or off the Bay City State Park and fishing in 17 feet. On the east side, those going off Thomas Road and Sunset Bay caught walleye in the middle of the Slot in 14 feet. Drifting snow along the east side is making access and travel difficult. At Mud Creek, local perch anglers were averaging 12 to 15 fish per trip. Most fish were 8 to 9 inches long. Pike spearing was slow.
Saginaw River: Fishing was slow at Wickes Park but the occasional keeper was caught downtown off the St. Mary's Health building. Catch rates were slow between the Zilwaukee Bridge and Bay City. Anglers did manage to catch a couple fish near the Middle Grounds and Cass Avenue or downstream of the Veteran's Bridge. A few perch were caught off Smith Park at Essexville. Fishing at the mouth was slow.
Southwest Lower Peninsula Fishing Report
Grand River at Grand Rapids: Steelhead were in the deeper holes and hitting on jig and wax worm. A few walleye were caught below the dam. Try rapalas, bucktail jigs or a 3-inch white twister tail.
Grand River at Lansing: Those heading out the end of this week will want to target pike and walleye below the dams.
Morrison Lake: Some were crappie fishing but catch rates were hit-or-miss. Pike anglers are using tip-ups or spearing.
Reeds Lake: Anglers have caught bluegill, crappie, a few perch and some pike.
Muskegon River: Continues to produce steelhead especially for those fishing the really deep holes with small spoons, spinners or wax worms or anything that looks like a goby. Watch for ice coming down the river.