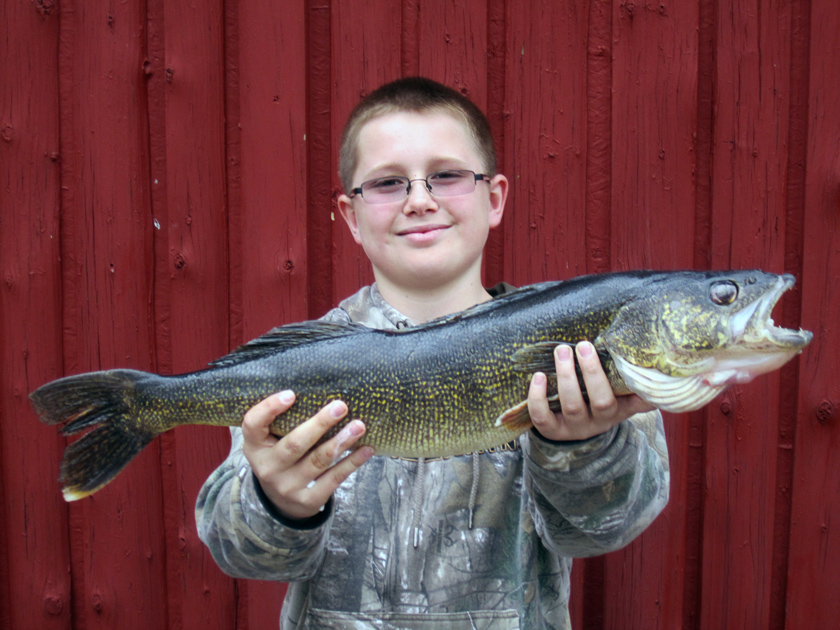 11 year old Isaac Heyd caught his first walleye, a dandy 26″,
5.13 pound while fishing the Manistee with his dad.
FISHING CONDITIONS ON LAKES CADILLAC AND MITCHELL
FROM PILGRIM VILLAGE FISHING SHOP
SUNDAY, APRIL 27, 2014
Last week,we weren't sure if Lake Mitchell would open. The ice lasted until a couple of days after Easter. The water level on lakes Cadillac and Mitchell are both high and cold. Only a dock or two dot the shoreline on Lake Cadillac, but none on Mitchell yet. The DNR came through and put out the docks at their boat launches just in time for the Pike/Walleye opener. The boaters are happy.
Struggling against a cool, windy weekend, many anglers did well. Choose your flavor, pike, walleye, crappie and bullheads were caught. No sign of any bluegills that we are awear of. Several "Big" bass, both large and small mouthd, were accidentlally caught. The special Catch and Release Bass Season is open through the Friday before Memorial Day.
Trout anglers found the streams and rivers high, fast and cloudy. We're told and seen camera pictures of several limits of Browns. Not many bragging about Brook Trout or Rainbows.
Those fishing the Big Manistee Tippy Damn area were able to cash in on those hugh walleyes they've been throwing back. Several were reported, a few in the 30 inch range. Ususally, they have a clock in their heads and are gone by the Walleye Opener. Keep your steelhead rods out because there are fresh steellhead still coming up river.