FISHING CONDITIONS ON LAKES CADILLAC AND MITCHELL
FROM PILGRIM VILLAGE FISHING SHOP
SUNDAY, JUNE 29, 2014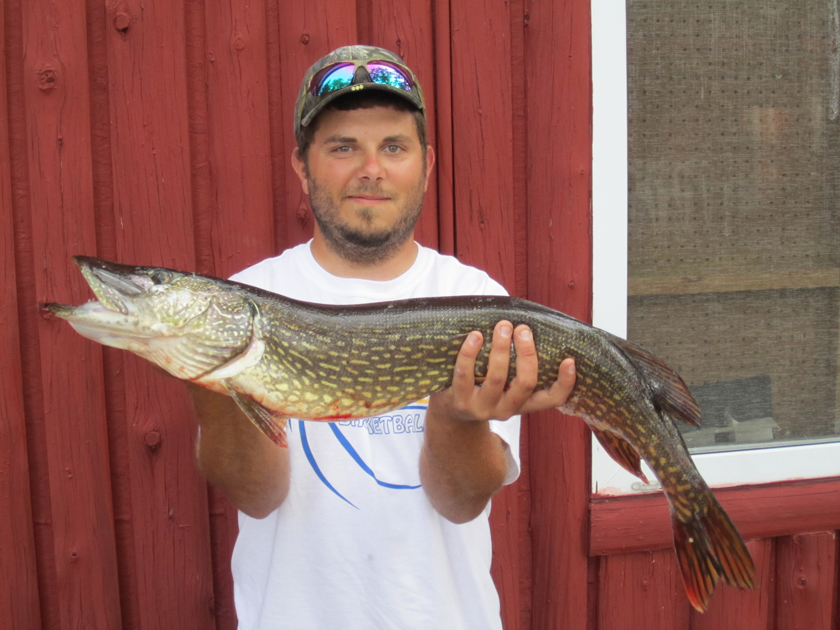 Mike Barnhart holds thecurrent lead Pike 33 1/2″, 8.17 lbs.
Warm weather and hungry fish, everyone should be happy.
In last weeks fishing report we were delighted to tell that the DNR resumed walleye stockings on Lakes Cadillac and Mitchell. Lake Mitchell received 70,406 fingerlings and Lake Cadillac 29,431.
This week things got even better. The Fisheries Unit from Bay City planted 129,893 Most fingerlings in Lake Mitchell and 105,151 in Lake Cadillac.
Do the math. In the last two weeks 200,299 fingerling walleye were added to Lake Mitchell. Lake Cadillac the smaller of the two, 134,582 were added. DNR Fisheries Biologist, Mark Tonello said, "in three to four rears, I suspect walleye fishing in both Lakes Cadillac and Mitchell will be very good." Thanks to the Fisheries Guys, this is a Big Deal.