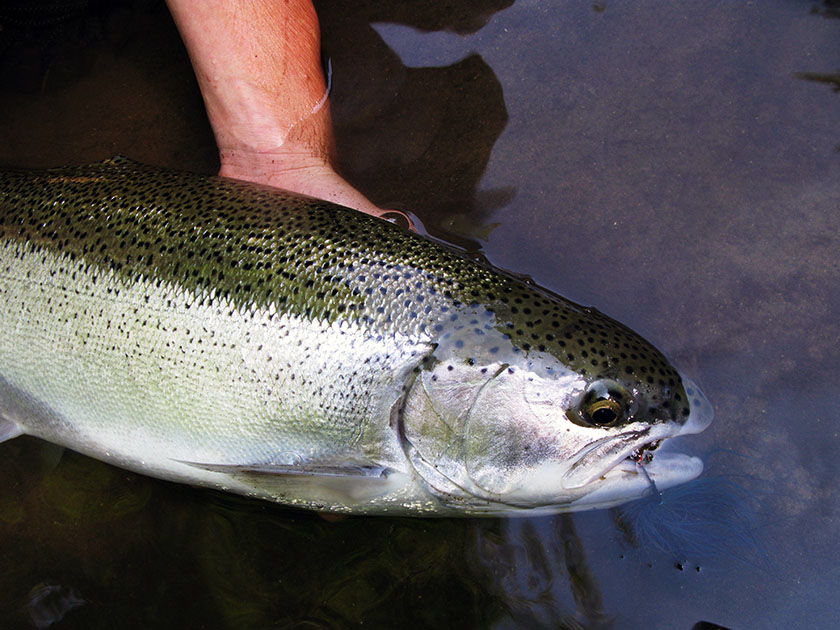 Fishing has been good on most inland lakes and leeches seem to be the hot ticket this week.
Although steelhead fishing is most commonly associated with late fall, winter and spring, there are some summer-run migratory rainbow trout found in Michigan. Popularly Skamania called "Skamania," the name of the hatchery that developed the strain, summer-run steelhead can be found in just a couple of Michigan streams these days, though at one time they were stocked in a handful of Lower Peninsula waterways.
Skamania Fever is on as many river are having a run this week with Tippy Dam being a hotspot along with many in the Boardman river the last couple days.
Houghton Lake has been great for gills, bass and walleye with leeches the best bet.
Northwest Lower Peninsula Fishing Report
Harbor Springs: Lake trout fishing was hit-or-miss but some were caught around Harbor Point. Many were smaller than the minimum size limit of 20 inches. Some nice smallmouth bass were caught on tube baits on the harbor side.
Petoskey: Anglers are mainly catching lake trout with most boats focusing on the area from the water treatment plant to Bay Harbor. The fish are 50 to 90 feet down in waters 75 to 140 feet deep. They are hitting on winged glow bobbers and spoons combined with flashers or cowbells. Undersize smallmouth and rock bass are still hitting on crawlers, crank baits and soft plastics near the mouth of the Bear River.
Bear River: The rain did bring some Skamania up to the dam. The summer run steelhead were mostly males and hitting on spawn bags and flies. Some of the fish were over 10 pounds.
Charlevoix: Salmon are starting to show up. Chinook were caught 80 to 90 feet down in 110 to 200 feet. Those fishing off the Cement Plant caught a few more than those at North Point. Spoons and meat rigs worked best. Most are catching lake trout off North Point of South Point. Try 50 to 90 feet down in 100 to 140 feet with glow bobbers, spoons and meat rigs. Fishing pressure has increased in the channel where anglers caught smallmouth bass, rock bass and freshwater drum on live or artificial crawlers and leeches. Lake Charlevoix still has a mayfly hatch.
Traverse City: Lake trout fishing was fair in the East Bay. Anglers are trolling 40 to 50 feet down in 70 to 90 feet. A few salmon were also caught. Smallmouth bass fishing was fair in waters up to 15 feet deep. A limited number of lake trout were caught in the West Bay. Try spoons or spin-glows 45 feet down in 60 to 90 feet. Only a few salmon were caught. Smallmouth bass were caught between the shallows and 15 foot.
Elk River: Smallmouth bass have been caught using leeches, crawlers, and tube baits. The majority were sub-legal.
Boardman River: : Catch rates were slow but a couple summer steelhead were caught near the Union Street Dam. Try spawn or crawlers. Most are catching smallmouth bass or some rock bass.
Platte River: Fishing slowed because of the warm water. Some found small trout feeding on hatches in the upper stretch below the hatchery. Most of the cold water species have gone out to the big lake. Some very large carp and suckers are holding below the hatchery.
Platte Bay: Had good lake trout fishing when those in small boats were able to launch. Those trolling spoons did very well in 50 to 90 feet.
Frankfort: Cooler water slowed salmon fishing. A few chinook were caught in the top 80 feet of waters 120 to 250 feet deep. Blue has been the popular color. Lake trout were very active in 70 to 90 feet. Try bouncing the bottom with cowbells and spin-glows. Pier anglers are catching freshwater drum when casting small spoons.
Onekama: The "Barrel" is producing good catches of lake trout for those trolling green spin-glows near the bottom in 75 to 100 feet. Cooler water temperatures had salmon anglers heading out 12 miles to find fish.
Portage Lake: Had yet another fly hatch with the cooler temperatures. Panfish anglers are having a difficult time finding good numbers of hungry fish. Bass anglers did well near structure and along the drop-offs.
Pentwater: Most anglers fishing off Little Sable Point returned with no fish. There is a concentration of boats fishing across from Stoney Lake which is where the fish are.
Northeast Lower Peninsula Fishing Report
Rogers City: Boat anglers are taking chinook, coho, pink salmon, steelhead and lake trout in 45 to 120 feet. Most are spreading lines throughout the water column with blue and silver, green or black and white spoons. Steelhead were up high and hitting on orange spoons. Try Forty Mile Point, straight out from the harbor or south towards Swan Bay and Adams Point.
Alpena: Those targeting trout and salmon are heading towards the Nine Mile Can, Rockport, the Nordmere Wreck and Thunder Bay Island and fishing in 45 to 90 feet. Anglers are using spoons and attractors for lake trout near the bottom. Steelhead were caught up high on orange spoons. Walleye are being caught throughout the bay. Hot spots were Sulphur Island, Grass Island, Scarecrow and Thunder Bay Island when using a combination of crawler harnesses and crank baits.
Thunder Bay River: Is producing smallmouth bass, rock bass and a few walleye. Anglers are using crawlers and leeches or casting artificial baits.
Harrisville: Fishing slowed as water temperatures dropped. Boats making their way out had limited success for steelhead, lake trout and salmon. Try dark colors and start shallow about 60 feet and head out to 120 feet. Walleye were holding in 12 to 40 feet north and south of the harbor.
Oscoda: Boat anglers had decent results for lake trout, steelhead and the odd salmon. Most were dropping lines in 75 feet and working their way out in the morning. In the evening, reverse and follow the fish into shallow waters. Lake trout are hitting on dark colors in the bottom 20 feet. Steelhead are on the scum lines and staying up high.
Au Sable River: Walleye are still making their way into the river in good numbers. Crawlers, leeches and stick baits are working well early or late.
Higgins Lake: Continues to produce a lot of rock bass. Perch have been caught but anglers will have to locate the schools of fish. Those trolling and jigging caught lake trout along the bottom. Most are fishing along the ridge that runs off the North Sunken Island. Some caught bass ranging 17 inches or so while others have caught pike ranging 22 to 34 inches.
Houghton Lake: Those fishing along the weed beds are catching panfish, walleye and bass. Try 6 to 10 feet of water.
Tawas: Pier and river fishing were slow with only a few smallmouth bass, rock bass, freshwater drum and small perch caught. Boats trolling outside Buoy #2 caught steelhead off the surface and down to about 20 feet in waters 35 to 50 feet deep. A few walleyes were also caught. A couple of boats perch fishing along the weed beds off Jerry's Marina caught a fair number of fish ranging 6 to 10 inches. A good number of walleye boats continue to head south to the Charity Islands.
Au Gres: Water temperatures dropped because of prevailing winds however those trolling were still taking good catches of walleye straight off the mouth of the Au Gres River and south of Pointe Au Gres off the Rifle Bar in 10 to 20 feet. Look for areas of warm water and you will find active fish.
Upper Peninsula Fishing Report
Keweenaw Bay: A few chinook were caught by those trolling from Sand Point to Carla's Restaurant. Try 25 to 50 feet down in 30 to 60 feet and trolling speeds between 2.2 and 2.8 mph. Lake trout, brown trout, splake and steelhead were also caught on orange, purple and green lures. Those jigging for lake trout did fair in 180 to 260 feet out from Jentoff's Dock, Whir-I-Gig and the pine tree on the north side of Pequaming. Traverse Bay had fair catches of lake trout within 5 feet of bottom in 100 to 150 feet along the Mile Reefs or in 120 to 165 feet off Big Louie's, Gay Point and Hermits Cove. Try spoons in a variety of colors including purple and white. For the South Portage Entry, lake trout were caught from the Lighthouse south to the Red Rocks along U.S. 41 when trolling 25 to 40 feet down in 30 to 60 feet with purple spoons. Lake trout were also caught when trolling in 90 to 180 feet along Farmer's Reef and Newton's Reef.
Lake Antoine: Anglers are catching lots of panfish but finding the bigger ones has become a challenge. Those drifting crawlers or using minnows caught bluegills, perch, sunfish, rock bass and the occasional crappie. Smallmouth bass anglers have caught some nice fish when casting crank baits or trolling lures.
Little Bay De Noc: Had fewer anglers as alewife and fly hatches are keeping the fish well fed. The boat launch at Kipling is closed until mid-August so crews can replace the ramp and do some dredging. A few walleye were caught in the "Fingers" which are straight out from the Ford River. Most were trolling crawlers or stick baits in 14 to 25 feet. Fair perch fishing at Gladstone when using crawlers or minnows in 14 to 25 feet and off the mouth of the Escanaba River in 25 feet. Pike anglers caught some big fish 40 inches or more when trolling crank baits or spoons in 12 to 22 feet near the Escanaba ship docks. Salmon fishing was fair to good out near the Ford River Can. Several fish over 20 pounds were caught 50 to 70 feet down in 110 to 120 feet.
Big Bay De Noc: Bass anglers report fewer catches than previous years and cooler water temperatures could be the reason why. Most were fishing the southern end of Kate's Bay and near Garden Bluff with spinners, crank baits or plastics in 10 to 18 feet. Off Fairport, anglers reported fair to good catches when trolling spoons 50 to 70 feet down in 120 to 140 feet in the "Gap". Copper was the hot color. Some anglers are doing well but others not so well. Surface waters temperatures were 54 to 56 degrees and somewhere near 44 degrees where the fish are.
Munising: Boat anglers targeting lake trout were also picking up a few splake, brown trout and steelhead. Catch rates for lake trout were slow. Boats were heading east along Pictured Rocks towards Grand Portal, around Grand Island and north of Wood Island. Pier anglers were few and catch rates for splake were slow but some did manage to catch the occasional legal fish in the 15 to 19 inch range. No report from shore anglers or Big Reef.
Grand Marais: Pier anglers were few. With the cool water temperatures, there should be some whitefish especially on days with a north wind. Those fishing in the early morning reported a few limit catches on the windy days. Boat fishing was slow but anglers were still fishing 3 to 6 miles out in the shipping channels and near Sable Point. Fish were found in waters 70 to 200 feet deep.
St. Mary's River: Atlantic salmon arrived at the Clover Land Power Plant on Portland Street. Anglers have taken limit catches of 7 to 9 pound fish when trolling 3 inch spoons 4 to 6 feet down. Fish were also caught when drifting small brown fly baits for whitefish near the water discharge. Walleye fishing was good for shore anglers just before dark below the Sugar Island Ferry Dock. Try drifting crawlers with 4 ounce sinkers along the steel breakwall. Walleye were slow in Raber Bay and those caught were undersize. Walleye, musky and pike action was slow downstream of the Rock-Cut and Moon Island but pike were caught by those trolling spoons in 5 to 6 feet along the weed beds in Lake Nicolet. Anglers are still waiting for lake herring to show up near Lime Island and Raber Bay. No reports yet but it should not be too much longer.
Detour: Lake herring and whitefish were caught on red teardrops with wax worms around Cherry Island, Ashmund Island, Grape Island, Howard Island and Reck Island which is just south of Harbor Island. Trout and salmon action was good with Atlantic, chinook and lake trout taken between the city launch and the #3 Green Can and around the lighthouse to the #2 Red Can on the Drummond side. Red and white, green and silver or purple spoons were hot.
Cedarville and Hessel: Those fishing the east end of Hessel Bay and the north end of Snows Channel have caught some nice perch. Pike fishing was good in Hessel Bay, Musky Bay and Middle Entrance. Pike and bass were taken in shallow waters in Mackinaw Bay and Shephard Bay. Lake herring are here and catch rates were good in McKay Bay and Prentice Bay for those using small caddis flies, wax worms and red teardrops.
Southeast Lower Peninsula Fishing Report
Lake Erie: Walleye are being caught off Stony Point, the Dumping Grounds, and along the Michigan-Ohio border. Most fish were caught on crawler harnesses, spoons and crank baits. Hot colors were copper and purple. A good number of perch were caught in 22 to 26 feet at Stony Point. Minnows work best.
Detroit River: Those jigging out near Horse Island have caught a few walleye. Fish were also caught by those trolling crawler harnesses in the lower river. Those fishing the rock piles off Rat Island have caught some nice yellow perch.
Portage Chain-of-Lakes: Bluegills were caught along the drop-off on Strawberry Lake. Bass fishing was slow for the most part but a few fish were taken along the weed beds in deep water and along the flats towards evening. The better fishing is during the week when there is less boat traffic.
Oakland County: Catch rates for bass and panfish were picking up on inland lakes.
Lake St. Clair: Bass fishing has been very good. Fish were scattered in 6 to 18 feet and hitting on a variety of baits. Lots of fish were in the 2 to 4 pound range and some were larger. Walleye and perch fishing on the Michigan side were spotty as the fish seem to be scattered.
St. Clair River: Walleye fishing was very good after dark between Marine City and Port Huron. Walleye action during the day was fair with fish caught in the South Channel and the Middle Channel. White bass continue to provide good action along the channels. Try casting over the weed beds along the shallow flats off the North and Middle Channels. These same areas are producing muskie.
Port Sanilac: Perch fishing here and at Lexington was spotty with anglers having trouble finding the fish. All you can do is move from weed bed to weed bed and look for an active school of fish.
Harbor Beach: When boats can get out, they are still catching trout and salmon. The fish might be scattered so finding them may take a while. Best fishing was straight out, north or south of the harbor in waters between 50 and 200 feet deep. For walleye, those casting off the wall have taken fish in the early morning or late at night.
Grindstone City: Had very good walleye fishing however a shift in the wind dropped lake temperature by 7 degrees. Anglers were working hard to find fish. The same pattern is making it hard for salmon and trout anglers because the thermocline was so far offshore.
Port Austin: Had excellent walleye fishing east to Grindstone City and around to Lighthouse Park in 30 to 40 feet. Spoons and crawler harnesses took fish in the 3 to 5 pound range. Recent weather patterns pushed in warm water along the tip of the Thumb and that may have fueled the bite. Walleye fishing to the west of the port was not good because of cold water.
Saginaw Bay: Walleye are still being caught at a variety of locations including 18 to 24 feet off Pinconning and Gambil's Marina, 18 feet off Linwood, the Spark Plug (Buoys 11 & 12), north of Buoys 1 & 2 which is the Green Spark Plug, the Slot from Quanicassee to North Island in 7 to 11 feet. Crawler harnesses in all the usual colors continue to be the go-to bait as well as blue and silver crank baits. Shore fishing at all locations was generally slow with only a few bass, freshwater drum, and catfish taken. Water temperatures at Caseville were hovering around 59 degrees which sharply curtailed success but walleye were still caught north of the Charity Islands and off Oak Point.
Southwest Lower Peninsula Fishing Report
St. Joseph: Had very good perch fishing but then it slowed. The better fishing was south of the pier in 30 feet. The few boats targeting salmon had some good catches in 140 feet. Spoons were the ticket. Pier anglers are catching freshwater drum.
South Haven: Perch fishing continues to get better. Catch rates were fair with most fish taken in 28 feet. Salmon fishing slowed. Some fish were caught but the boats had to go out very deep to catch them. Pier fishing was slow.
Grand Haven: Anglers are fishing up to 70 feet down in 75 to 175 feet. Most fish were caught on orange, green or blue spoons however those using a white spinnie with a green fly or yellow meat rigs have also taken fish. Perch fishing was hit-or-miss along the mud line in front of the north pier and in the perch holes. Pier anglers are using shrimp and alewife however catch rates for steelhead were very slow because of the warm water.
Grand River at Grand Rapids: Is producing steelhead on flies and spinners. Channel and flathead catfish are hitting on live bait and cut bait. Anglers caught big suckers on crawlers and bass were hitting on crawlers, spinners and plastics.
Ingham County: Had good bass fishing throughout the area with limit catches reported. Anglers are catching keeper size bass, catfish and some nice panfish.
Muskegon: Is producing trout and steelhead. Anglers are trolling spoons in the top 30 feet of waters 90 to 120 feet deep around the first set of commercial nets which can be found from Muskegon south to Hoffmaster State Park. Try mini or regular spoons. Hot colors were UV, mixed veggie, orange and blue.
Muskegon River: Is producing a few trout for those fly fishing. Smallmouth bass fishing was good for those using crawlers, leeches and crayfish.
Whitehall: Those fishing across from Stoney Lake did well. The lake turned over and water temperatures were cold so fish were caught in the top 35 feet. Lake trout were suspended while chinook and steelhead could be found at the same depths. Most were using meat rigs.