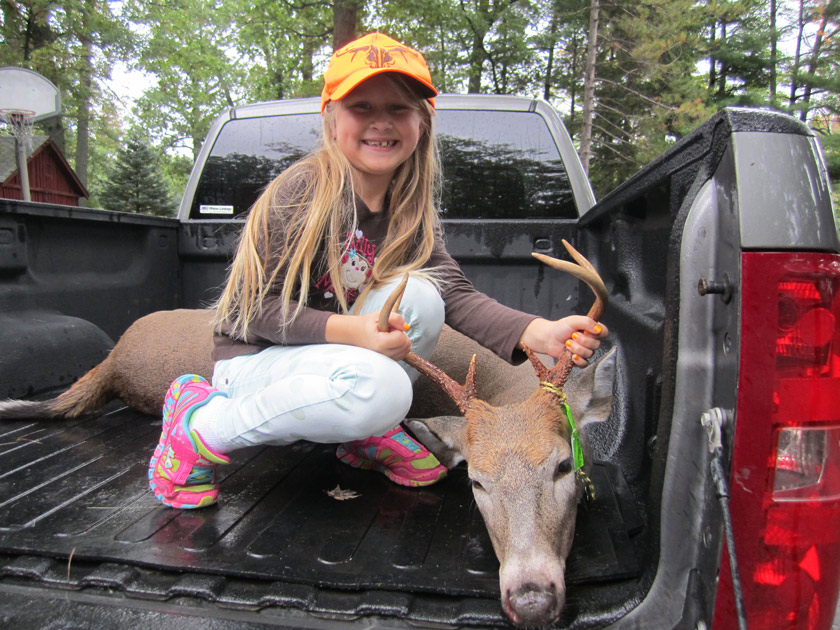 The Deer you'll never forget – You're First while hunting with Dad.
Gracie Porter happily shows off the 6 point she harvested during
her first Youth Hunt.
FISHING CONDITIONS ON LAKES CADILLAC AND MITCHELL
FROM PILGRIM VILLAGE FISHING SHOP
Walleye catches on Lakes Cadillac and Mitchell are improving. Trolling, casting and jigging are all working. Try crawlers or minnows on spinner rigs. Cast crankbaits for suspended fish. Bounce jigs tipped with live bait when they're tight to the bottom. On the gray days, which are often, they can be caught in as little as five feet. Work the pockets near any green weeds.
Rain, rain. The salmon anglers want all they can get. Cool weather and high water levels is what brings salmon up the rivers to spawn. Many have already traveled the 32 miles to congregate at Tippy Dam on the Manistee River. Fish the gravels runs and deep pools.
The numbers are below expectations from past seasons, but it improves daily as more salmon travel up the river.