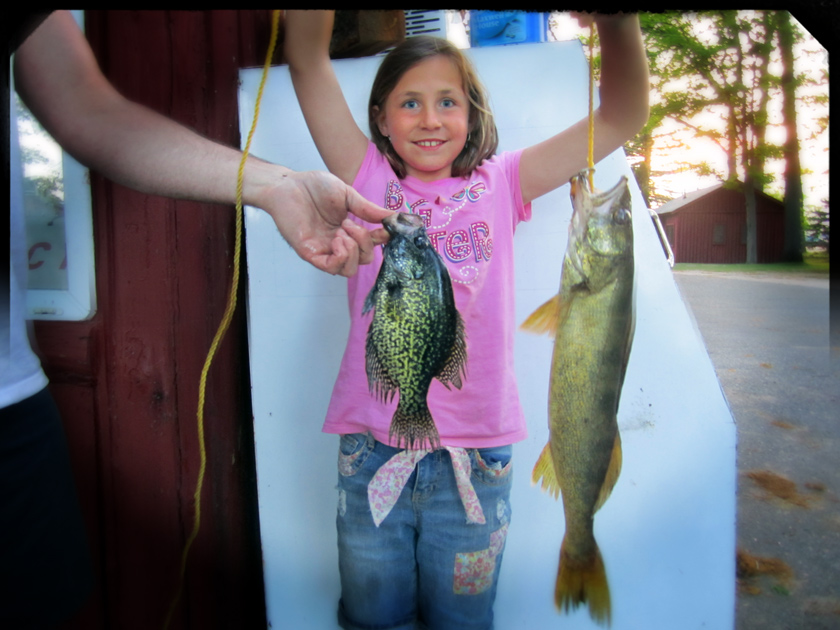 Last week-end the fishing and weather was great on the inland lakes with good perch on Margrethe, Burt Lake, Mullet Lake, Long Lake, by Traverse City, South-end Of Lake Leelanau, Higgins Lake, and some reports of perch on East and West Grand Traverse Bay.
Salmon Fishing has been slow in the rivers but the cold front that came though tuesday and many salmon finally are in the rivers. Big Manistee and Betsie River report fish but numbers are down.
Fishing has been good for crappie on Wixom and Sanford Lake
Baldwin Area the salmon fishing has ben fair with spawn working best
Houghton Lake was great last weekend for panfish and walleye, also Reedsburg Dam has been fair for pike
FISHING CONDITIONS ON LAKES CADILLAC AND MITCHELL
Walleye catches on Lakes Cadillac and Mitchell are improving. Trolling, casting and jigging are all working. Try crawlers or minnows on spinner rigs. Cast crankbaits for suspended fish. Bounce jigs tipped with live bait when they're tight to the bottom. On the gray days, which are often, they can be caught in as little as five feet. Work the pockets near any green weeds.
Rain, rain. The salmon anglers want all they can get. Cool weather and high water levels is what brings salmon up the rivers to spawn. Many have already traveled the 32 miles to congregate at Tippy Dam on the Manistee River. Fish the gravels runs and deep pools.
The numbers are below expectations from past seasons, but it improves daily as more salmon travel up the river.
Northwest Lower Peninsula Fishing Report
Lake trout season on northern Lake Michigan closed on September 30th. The salmon run is nearing its peak in most of the rivers in this region. Inland lakes were producing some decent catches of perch.
Petoskey: Boats are going out and casting inside the breakwall where the salmon are staging. A couple chinook and coho were picked up off the D Pier, the end of the clock dock, inside of the breakwall, and by those wading off the beach near the breakwall. Try spawn, crank baits or spoons. A lot of the salmon are ripe.
Bear River: A few salmon were still up near the dam. A couple small steelhead were also taken between the bridges below the dam. Spawn and artificial eggs worked best. There were reports of few lake trout running up to the dam. Lake trout season is still open in the river.
Charlevoix: The only boats having any luck were going out in the early morning and fishing in shallow waters 20 to 45 feet deep around the Cement Plant. Some fish are staging in the shallow waters 15 to 25 feet deep in front of Medusa Creek. Some are still catching some nice smallmouth bass when using crawlers or soft plastics on the bottom. Shore fishing in the slip slowed to a stop. All we need is some rain and windy conditions to get the fish moving again.
Traverse City: Lake trout season in both bays closed on September 30th. Those fishing the East Bay caught a few salmon when trolling 50 to 70 feet down. Smallmouth bass fishing was fair near the drop-offs. In the West Bay, salmon fishing was slow. Anglers are marking a decent number of fish but the bite was not there. Smallmouth bass anglers reported fair catches on brown and green tube baits in 8 to 25 feet.
Elk River: A few salmon have been caught on spawn near the power dam.
Boardman River: Salmon and the occasional lake trout have been caught by those drifting skein under a bobber.
Platte River: Fishing activity has increased. Those fishing the upper stretch reported slow catches when fish are allowed to pass through the lower weir. The gate on the lower weir access road is closed at 8pm every night with no exceptions. Some fish were caught by those trolling in Loon Lake and Big Lake.
Betsie River: Has a good number of salmon, many of which are actively spawning. Anglers on the lower river are still catching adult kings on skein under a bobber and stickbaits.
Manistee: Those able to fish offshore caught young chinook up to 12 pounds. Steelhead were caught on spoons in the top 50 to 80 feet in 150 to 300 feet. Green and orange spoons were best but a few were also caught on green flies or meat rigs. Pier fishing was slow.
Manistee River: Has a good number of chinook and a few coho. The salmon run is nearing its peak as a good number of fish are actively spawning.
Ludington: Boats are catching decent numbers of young chinook, coho and steelhead. The best action was in the top 70 feet of waters 100 to 250 feet deep with orange or green spoons. No salmon for pier anglers.
Pere Marquette River: Is producing salmon but the run is nearing the end. Try floating skein under a bobber or casting stickbaits and small spoons.
Pentwater: Anglers found steelhead and coho in the shallows between the pier and the dunes. Those fishing 150 to 200 feet caught good numbers of steelhead in the top 50 feet and some nice coho. Try blue rotators and meat rigs, fireball orange lures or glow lures early and late.
Upper Peninsula Fishing Report
Ontonagon: Fishing is good. Lake trout are showing up out in 50 to 60 feet and were caught throughout the water column. Good colors were green, silver, orange and yellow. Salmon fishing was slow.
Keweenaw Bay: The bite was slow but a few chinook, coho and lake trout were caught by those willing to put in a lot of time while trolling spoons in 30 to 50 feet. Most were trolling the head of the bay, along the L'Anse and Baraga shoreline, up to Carla's Restaurant and near Pequaming. Some coho were caught in the Falls River near L'Anse and at the head of the bay at the bridge. For the South Portage Entry, the bite was hit-or-miss. On the good days, anglers caught lake trout in 40 to 80 feet at Big, Newton's and Farmers Reef. For Traverse Bay, fish were caught on Buffalo Reef or 5, 6 and 7 Reefs which are part of Big Reef.
Lake Antoine: Had more anglers out targeting panfish and they did well. Some nice bluegills and yellow perch were caught by those drifting or still-fishing with crawlers. Sunfish and rock bass were also caught. The fish were in close to shore. Bass were hitting on crank baits, rubber worms or crayfish when casting or trolling.
Marquette: Boat anglers did best when targeting lake trout. A few limit catches were reported but the bite did fluctuate. A few fish were caught near Granite Island and Granite Loma Farms in 120 to 150 feet. No salmon to report. Those fishing towards Shot Point and the Sand River caught brown trout and a couple coho with high-lines in 130 feet. Good colors were watermelon, silver and purple. Some were trolling from the mouth of the Carp River to the mouth of the Chocolay River but catch rates were poor.
Dead River: Had low angler pressure and poor catch rates. Water levels have dropped and flow from the power plant was lower. No chinook or pink salmon were spotted in the river.
Carp River: Had a few shore anglers but catch rates were poor. Watch for trucks coming to or leaving the construction area.
Chocolay River: Shore and boat anglers launching from the marina reported a slight increase in catch rates but still slow. Many are frustrated with the lack of coho being caught. No real pattern as far as baits or lures. Some caught fish on crawlers or spawn bags while others used small spinners in orange or chartreuse. A few nice brown trout were caught.
Little Bay De Noc: Had fair walleye catches along the "Black Bottom", Second Reef and Center Reef in 10 to 24 feet. Fair to good perch off the mouth of the Day's River in 10 to 12 feet with minnows. Several pike were caught in the Escanaba Yacht Harbor when trolling spoons, crank baits or buck tails along the channel. Salmon anglers are fishing the rivers but high water makes it difficult to spot fish.
Escanaba River: For walleye, the mouth was best when trolling or drifting crawler harnesses in 12 to 20 feet. Anglers did well near the 1st Dam when casting spoons, plugs or crank baits.
Big Bay De Noc: Smallmouth anglers had fair catches off Garden Bluff and Snake Island. Water depths varied day to day. Some trolled but most were drifting or casting tube baits or minnows in 14 to 30 feet along the break. Fair perch fishing around Ansell's Point and just inside the mouth of Garden Bay. Minnows worked best in 18 to 25 feet. No walleye reports.
Au Train: Lake trout anglers did well averaging five to ten fish from the Shelter Bay Flats. Most were caught right on the bottom in 130 to 160 feet. Those fishing towards Wood Island had fair success in 140 to 160 feet with spoons. Some are tipping them with sucker meat. Most fish averaged 3 to 4 pounds but a couple tipped the scales and were between 10 and 22 pounds. No chinook or coho to report. Those shore fishing at the Rock River caught one or two small coho.
Manistique River: Salmon were starting to run.
Big Manistique Lake: Was producing perch and walleye.
St. Mary's River: Waters at the Clover Land Power Plant are still producing 4 to 7 pound Atlantic salmon. Anglers are drifting shallow running crank baits in 4 to 6 feet on the discharge side. Pink salmon are still being caught but the numbers are starting to decline. Perch were caught in the bays off Lake Nicolet. Try just off the weeds in 6 to 8 feet. In Lake George, try half a crawler in 8 to 10 feet. Raber Bay was slow for walleye. Fair pike action for those trolling chrome spoons with a red eye near Carlton Creek. Yellow perch were caught around James Island, off Maxton Bay, Scott Bay, Howard Island and Boulanger Island when using a pinch of crawler or minnows. Good pike action along the southeast side of Grape Island.
Detour: Those heading out are harvesting chinook, coho and pink salmon when trolling. Hot colors were orange, yellow, green and gold, red or pink.
Cedarville and Hessel: Perch fishing is fair in Middle Entrance, Musky Bay and off the pier in Hessel. Northern pike are hitting at the drop-off along the north shore of Government Bay. Try 8 to 15 feet with chubs.
Carp River: Anglers are spotting fresh fish but getting them to hit has been difficult. A limited number of pink and chinook salmon were caught on fresh spawn bags or spinners in yellow, green and gold, orange, pink or red.
Northeast Lower Peninsula Fishing Report
Anglers are reminded that lake trout and splake season on the waters of Lake Huron closed on September 30th.
Rogers City: Had good catches but lake trout season is now closed. Anglers saw lots of baitfish in the area and are hoping they will draw in the younger chinook and steelhead. Those fishing high in the water column caught a couple steelhead with 5 color leadcore and orange spoons. The younger chinook salmon have not really shown up in any numbers yet which proves there is still plenty of fishing left.
Alpena: Had great fishing. Anglers caught a mix of trout, salmon and walleye out towards North Point and Thunder Bay Island. Target all depths and run lines throughout the water column. Spoons were the ticket and the hot colors were green, blue, black and white or glow early and late. Steelhead were caught up high on orange spoons.
Thunder Bay River: Has a few salmon but anglers had little success getting them to hit. Catch rates should improve once the water cools. Look for Atlantic salmon to show up soon.
Harrisville: Is finally showing signs of salmon in the area. Fish are jumping in the harbor but getting them to hit has not been easy. Spawn, spoons and body baits have produced catches while trolling and casting around the harbor. Steelhead did move in closer to shore but were in and out of the harbor. Walleye seem to be the most plentiful in the area. Anglers are doing well north, south and in front of the harbor in 12 to 30 feet with crawler harnesses and body baits.
Oscoda: Salmon are starting to show up at the pier and the fish are fresh from the lake. Spoons, stick baits, flies and spawn are working well. Steelhead are also coming in and were caught from the pier, in the river and just outside the piers. Those trolling on the lake are using spoons. Walleye were caught off the pier.
Au Sable River: Is producing some steelhead and walleye. Anglers are casting body baits or drifting crawlers. Anglers reported a good number of trout on the South Branch.
Higgins Lake: The perch and rock bass fishing slowed.
Houghton Lake: Had some walleye and panfish. Try crawlers and leeches along the edge of the weeds in 8 to 10 feet.
Tawas: Pier fishing was slow with only a few smallmouth bass and small perch taken. Some perch were caught in 15 to 20 feet off Jerry's Marina but catch rates were still hit-or-miss and anglers had to do a lot of sorting.
Tawas River: Is giving up a few salmon in the early morning.
Au Gres: Perch fishing was spotty but some large fish 11 to 12 inches were caught. One hot spot was straight off the mouth of the river in 40 to 50 feet however boat anglers heading out of Eagle Bay Marina and fishing off the Saganing Bar did a little better. A few bass anglers fishing in 10 to 15 feet off the mouth of the river caught and released a good number rather large smallmouth bass.
Au Gres River: A couple steelhead were caught by those floating spawn bags at the Singing Bridge but catch rates were still pretty slow.
Southeast Lower Peninsula Fishing Report
Lake Erie: Perch fishing was good but the warm weather did slow the bite. The better fishing continues straight out from Stony Point in 24 to 26 feet. The fish are moving in slightly when the water cools and back out deeper by midday. The bite has been light and the fish are near the bottom especially where there are rocks. A small number of bigger fish were caught off the beach at Sterling State Park in 14 to 16 feet. Both large and small fish were taken near the E-Buoy, Turtle Island and the Raisin River Buoys 1 & 2. Anglers are still waiting for the walleye to move back into Michigan waters.
Huron River: Anglers are catching a steelhead or two near Labo Park.
Detroit River: Had good perch fishing around the islands. Walleye were still being caught on the front side of Sugar Island and near the Edison Plant. Most anglers were hand-lining.
Washtenaw County: Ford Lake was producing some bluegills. Devils Lake was producing a few crappies and some northern pike.
Portage Chain-of-Lakes: Bluegill fishing remains good. Anglers are doing well on the north end of Big Portage in 10 to 20 feet. Crickets and crawlers under a bobber worked best. Those getting limit catches were still sorting out the small ones. Bass fishing was hit-or-miss along the shallow flats. Pike fishing gets better as the water temperatures drop. Anglers trolling hard body crank baits are doing well on Strawberry and Portage Lakes. Try fire-tiger or white.
Lake St. Clair: Floating weeds have made it difficult for those out trolling for muskie but some nice fish have been caught. Good areas to try include the Dumping Grounds and along the shipping channel. Anglers reported good bass fishing in 12 to 15 feet. Perch fishing is improving with some decent catches taken along the Dumping Grounds and the shipping channel off Grosse Pointe. Look for perch and smallmouth bass to move into the shallows as water temperatures drop.
St. Clair River: The best walleye reports continue to come from the Bluewater Bridge area. Those trolling or jigging have taken limit catches after dark. Walleye fishing in the lower river continues to be slow. Sturgeon fishing was good but the harvest season closed on September 30th. The catch-and-release season continues until the end of November. Sturgeon anglers caught some big channel cats.
Lexington & Port Sanilac: Those trolling were taking a good number of steelhead in the top 30 feet of waters 50 to 80 feet deep. Some were caught in over 100 feet but there is no need to go out that far. Pier anglers were catching a few walleye, pike, small perch and one chinook salmon. Lake trout fishing is closed.
Harbor Beach: Is producing steelhead and the odd walleye. Steelhead were hitting on orange and black spoons about 25 feet down in 80 to 90 feet. Pier anglers fishing the north gap were starting to get the odd steelhead or walleye in the evening. Brown trout were surfacing in the harbor but would not bite. Lake trout fishing is closed.
Port Austin: A few walleye were caught on spoons in 55 feet around the lighthouse and the Green Can. A few bass and perch were taken inside the harbor.
Saginaw Bay: Fair to good perch reports in 10 to 15 feet around the Saganing Bar and the Pinconning Bar but anglers were doing a lot of sorting. Fish were caught west of Buoy 16 and the Spark Plug, off Linwood in 14 feet, near the sailboat buoys off Linwood and in 8 to 10 feet and near the mouth of the Quanicassee River. On any given day, you may have to move around to find an active school of fish. Boats were staying out several hours. A few walleye were caught in 7 feet off the Hot Pond and by those trolling Hot-n-Tots behind Spoils Island. Channel catfish were caught in the Hot Pond and smallmouth bass were taken in the marina basins at the mouth of the Saginaw River.
Southwest Lower Peninsula Fishing Report

The inland lakes are producing bluegill, perch and pike.
St. Joseph: Had good perch fishing with most anglers targeting 30 to 35 feet. Salmon anglers also had good success taking a mixed bag of trout and salmon in waters 150 feet or deeper. Pier fishing was slow.
St. Joseph River: Has a decent number of chinook and coho based on fish passage at the ladders but angler activity was light.
South Haven: Also had good perch fishing in 30 to 35 feet and good salmon fishing in 120 feet. Most of the salmon were caught on spoons. Pier fishing was slow.
Kalamazoo River: A few coho and steelhead are being caught below the Allegan Dam.
Grand Haven: Steelhead and chinook salmon were caught 30 to 80 feet down in 120 to 200 feet. Use spoons high or a spinnie/fly combo down low. Hot colors were green for spoons and flies and white for spinnies and paddles. Meat rigs also caught fish, try yellow and white with spots. Pier action was slow for salmon and steelhead. Anglers were using alewife or spawn.
Grand River at Grand Rapids: Has a good run of coho. Anglers are doing well in Grand Rapids and Lyons.
Grand River near Lansing: Has reports of salmon up at the Webber Dam and even some at Moore's Park and the North Lansing Dam.
Muskegon: Chinook and steelhead were taken by those trolling in 120 to 220 feet with spoons or a spin/fly combo. Meat rigs also caught fish.
Muskegon River: Has salmon and some steelhead for the taking. Try casting small spoons and spinners or drifting spawn bags.
Whitehall: Seems to still have a fair number of fresh chinook salmon in 60 to 80 feet. Boat anglers fishing the shallows ran into fresh salmon a couple miles to the north. Pier anglers are still catching a few fish. Northern pike were caught off the channel.