Happy Thanksgiving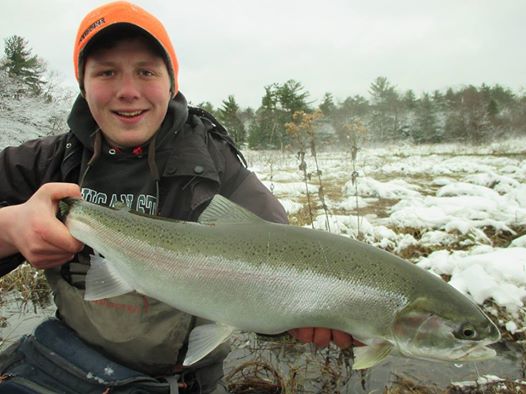 There was good ice on Indian Lake by Manistique by Mondays rain took care of that. Lots of lakes are starting to ice over again and it will not be long before we are ice fishing. There was some ice fishing on bays, canals  before the rains and really caught fish
Kyle from Chrome Chasing Says "Hard times in high water! Struggling for a few bites!" in the rivers, photo above is a nice fish he caught
This will be a tough week for fishing especially after all the rain and snowmelt. Water levels are up on many rivers and streams. Those wading or shore fishing will need to be extra careful.
Northwest Lower Peninsula Fishing Report
Fishing reports were consistent on the Big Manistee, Little Manistee and Pere Marquette Rivers with water temperatures falling and good fishing success for steelhead.
Betsie River: Can be a good steelhead fishery during the months of November and December. Try casting spinners, Wiggle Warts and Hot-n-Tot's or float small spawn bags, a single egg or wax worms.
Manistee River: Has high water levels. No doubt fresh fish did come in but the river is now way up and will be difficult to fish until the levels come back down. Shore anglers will need to use caution as the banks may be unstable.
Ludington: When they can get out, pier anglers and those surfcasting should still find some steelhead or even the odd brown trout when casting spoons or plugs.
Pere Marquette River: Has high water levels. Shore anglers targeting steelhead and brown trout will need to use caution. Try casting plugs, spoons and spinners or floating spawn bags and wax worms.
Upper Peninsula Fishing Report
Most of the inland lakes had ice starting to form but no safe ice especially with the high volume of snow. Access sites on the Great Lakes are iced up and ice was forming along the shorelines making it impossible to get a boat out.
Michigan-Wisconsin Boundary Waters: Anglers are reminded that the season to take large or smallmouth bass and muskellunge on all the boundary waters will close on November 30th.
Menominee River: Had open water below the Dam at Hattie Street. When the weather permits, anglers still caught some very nice whitefish. Most were using small jigs tipped with a minnow head or piece of crawler. Those fishing from the cement platform on the Wisconsin side caught whitefish, walleye and the occasional brown trout. Try small spoons or jigs with crawlers or minnows.
Northeast Lower Peninsula Fishing Report
Thunder Bay River: Those fishing off the 9th Street Bridge are getting some whitefish.
Oscoda: Pier anglers continue to catch steelhead, whitefish and a few walleye.
Au Sable River: Anglers are catching steelhead and whitefish. Water levels were up some after the rain and snow melt.
Tawas: Is producing whitefish for those fishing off the State Dock. Evening and night fishing is usually better and you might even hook a walleye.
Southeast Lower Peninsula Fishing Report

Lake Erie: When the weather permits, anglers will wade in at Luna Pier and Sterling State Park and use shiners or cast bombers at night for walleye. For perch, try off Luna Pier and the Metro Park Marina.
Huron River: Continues to produce some steelhead. Try a jig and wax worm, crank baits, spoons or even a big minnow. No particular color for the spoons and crank baits.
Lake St. Clair: Although much of the ice has melted, some of the ramps were still iced in. The docks have been pulled from the water at the DNR boat launches so anglers will find it much easier to launch and retrieve boats if they bring waders. There is no fishable ice and based on the forecast it's going to be while.
St. Clair River: Had a lot of boats and it looked like most were muskie fishing. Still getting reports of good shore fishing at Port Huron with steelhead and walleye caught along the wall.
Lexington and Port Sanilac: Fishing activity has been slow to non-existent since deer season opened. Windy conditions have the water stirred up.
Harbor Beach: Still had two docks in at the boat launch.
Saginaw Bay: Anglers caught a few perch but the weather has made it too difficult for anyone to go out.
Saginaw River: Is producing some perch. Walleye tag returns indicate anglers are catching fish.
Southwest Lower Peninsula Fishing Report
St. Joseph: Windy conditions have kept anglers off the piers.
St. Joseph River: The online fish cam at the Berrien Springs fish ladder has been shut down for the winter. Past monitoring has shown that very few fish move through the ladder when the water temperature is below 40 degrees. When the camera was turned off last Friday, the water temperature was 36 degrees. It may have been slightly higher with the warm weather but will drop again soon. The fish that already moved upstream will remain in the river throughout the winter and new fish will not move in until March.
Kalamazoo River: Has high water levels so fishing will be difficult.
Grand River near Grand Rapids: Those wading went 5 for 7 on steelhead when casting small plugs however rain and snowmelt have caused high water levels and strong flows. This should bring more fish in and move those already in the river further up the system. Fishing without a boat is going to be difficult and dangerous until the water levels recede, which could take a couple weeks.
Grand River at Lansing: High waters levels should bring some steelhead up to the Lansing area. Anglers will want to try small spoons, plugs or a jig and wax worm.
Muskegon River: Has high water levels and will be difficult to fish. Anglers should still find a fair to good number of steelhead. Water temperatures were near 40 degrees.