Fishing is Slow from Most Reports this week, Fishing reports have been hard to come by as snow, blowing snow and bitterly cold temperatures are not making it easy for anglers to get out. Those with ice shanties placed upon waters in the southern half of the Lower Peninsula are reminded that all shanties must be removed from the ice by midnight on March 1st.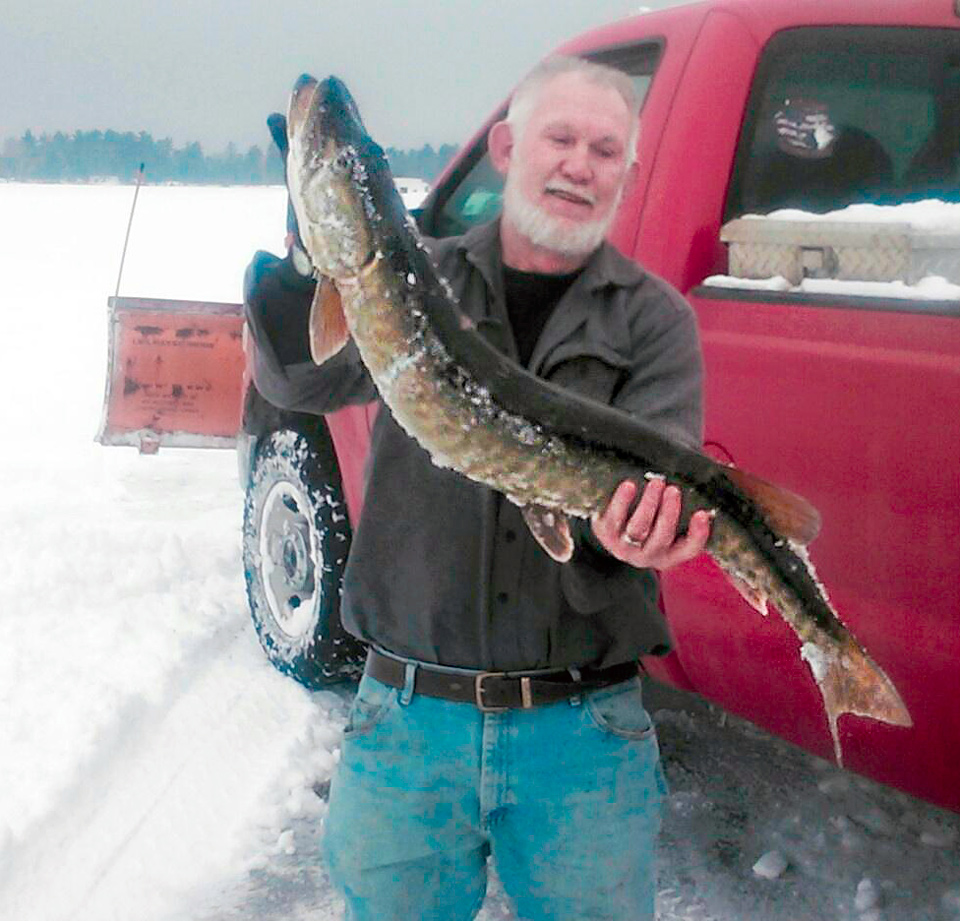 Very few places reporting any fishing activity as most reports are no fisherman with the cold weather. Also the cold weather has made fish dormant, fish bite saturday with the warmer weather but have shut down this week, some say a perch bite out at Northport but cannot confirm as they are very tight lipped out there. Lake trout on west grand traverse bay has been fair but most are waiting for the warmer weather. Some places on the bay shelf ice blew in then froze and the ice is so thick you cannot get a 4 foot power auger though, also some reports of walleye bite on Burt Lake
Houghton Lake has been fair for pike, walleye, perch, crappie, and gills fisherman are saying the walleye have started back up saurday, so have fun this weekend. Call Angelo's Party @ 989-202-4422, Dave@ four season Party 989-422-5230 Korbinski's Sport Shop 989-366-9500 Lymans@ 989-422-3231 wright time shanty rentals @ 989-202-4531 H7H Fireworks call Lisa @ 989-366-0126
The is from yesterday Arch rivals Clare and Dave buried the hatchet tonight and used the same fishing spot on Houghton Lake. They each brought in 2 keepers. Clare won the biggest fish contest tonight with a 20-incher, which dwarfed Dave's walleye fry.
Both were using Do Jiggers with chrome.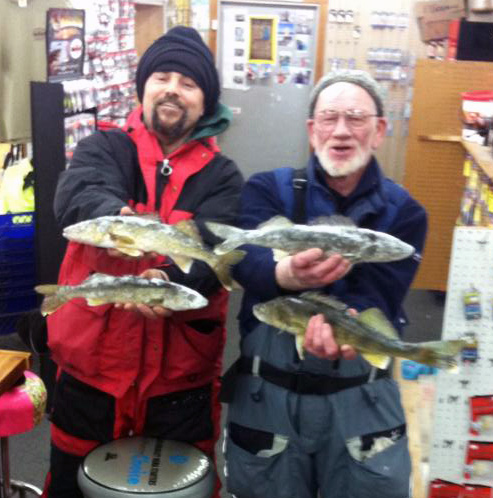 Houghton Lake Shanty Rentals
Angelo's Party Store has his shanties out call Lou @ 989-202-4422
Dave from Four Season Party Store has shanties for rent and the perch and walleye have been biting around his shanties call Dave@ 989-422-5230 fish were biting around his shanty today . Guys are catching the big perch trying to catch walleye
Lyman's on the lake has all their shanties out call 989-422-3231 to make a reservation
Wright Time Ice Shanties has shanties for rent for tip-up town. Call Jay@ 989-202-4531
Chris with a dandy out of Higgins with Bob Stockton guide service on a smelt do not know if it was live or frozen smelt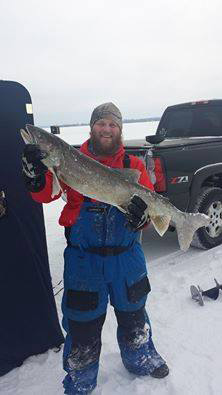 Northwest Lower Peninsula Fishing Report
Traverse City: The East Bay has a large pressure crack that parallels Old Mission Peninsula. Those heading out have caught a few whitefish.
Green Lake: Is producing smelt after dark.
Crystal Lake: In Benzie County is also producing some smelt off of Lobb Rd..
Lakes Cadillac and Mitchell: Had decent pike fishing along with some panfish.
Manistee River: The water is cold and clear. Those using spawn, jigs and flies are still catching fish as the river continues to hold a good number of steelhead.
Ludington: (Attention Anglers) Commercial vessel traffic will utilize the port February 26 through March 5th. A tug boat will take the barge the Spartan II from Lake Michigan to the Port of Ludington utilizing the docks near the S.S. Badger. All ice anglers should remove their shanties and other equipment from these areas. Snowmobilers, ATV operators and other users of the ice should avoid the area.
Pere Marquette River: Is producing some nice steelhead and brown trout. As the days grow longer the fish tend to bite during the warmest part of the day. Try small jigs with flies or spawn.
Northeast Lower Peninsula Fishing Report
Fletchers Pond: Pike anglers are still taking fish on tip-ups. Panfish are hitting on minnows, wax worms and spikes.
Higgins Lake: Has little snow but there are some drifts that anglers will need to watch out for. Travel was good for snowmobiles and ATV's. Even with the cold weather, a few perch were caught off the North State Park, B & B Marina and near Treasure Island and Sunken Island. Try 40 to 60 feet with minnows, wax worms or wigglers. Lake trout were hitting in 80 to 110 feet. Try blues, goldens or small suckers just off the bottom. Some nice rainbow trout up to 28 inches were caught in shallow waters near Big Creek.
Houghton Lake: While catch rates have not been steady, anglers are still getting a few walleye, pike and panfish. Bluegills were caught in 10 to 12 feet out near the Middle Grounds.
Tawas: Fishing was generally slow with only a few small perch taken in 18 feet and a couple walleye found in 22 feet.
Au Gres: Some were fishing the river and the end of the breakwall, but not really catching anything. Those fishing off Palmer Road were getting some walleyes and a few bigger perch in waters 10 to 22 feet deep.
Upper Peninsula Fishing Report
Keweenaw Bay: Anglers should use caution when driving out on the bay. There are fields of pack ice which are sharp and sticking up and could damage ones ORV or ATV. Those lake trout fishing off Jentofts Dock, Whirl-I-Gig, Old Mission and Pequaming have picked up a few fish but overall catch rates were slow. Smelt fishing is still good around the bay.
Sturgeon Bay: Anglers need to be aware of ice breaking activities February 23rd through the 26th. The vessel will enter the Ship Canal from Lake Michigan on its way to Bay Ship Building in Sturgeon Bay, Wisconsin. Recreational users of the ice should avoid the immediate area and use extra caution near it.
Menominee River: Ice anglers have been targeting walleye near the Hattie Street Dam. Early morning or late evening is usually best.
Little Bay De Noc: Still has ice fishing and travel conditions were good although some drifting has occurred. The cold weather has lowered angler participation and catch rates for all species. The best walleye catches were in Gladstone Bay when jigging rapalas with or without minnows in 28 to 35 feet very early morning or after dark. Those fishing around Portage Point caught fish however this area is considered DANGEROUS so anglers must use extreme caution at all times. Very few perch were kept as many were too small. The Center Reef and the Second Reef produced most of the catches when using wigglers or minnows in 8 to 24 feet. Several whitefish were caught on minnows in 30 to 35 feet in Gladstone Bay. The best whitefish action was off Sand Point near Escanaba when using a minnow or spawn in 80 to 90 feet. This cold February has started to take a toll on anglers. Many are no longer participating and several have removed their ice shanties.
Munising: Has good ice however deep snow cover and pockets of slush make walking difficult. Few anglers have been out. Reports indicate generally poor catch rates. Many are fishing in 40 to 70 feet and most of the splake were sub-legal with only a few ranging 16 to 20 inches. Try jigging lures, eggs and minnows. Whitefish reports continue to slow with anglers keeping very few fish in the 10 to 13 inch range after several hours of fishing. Try a single egg or wax worm on the bottom. Anglers reported marking schools of smelt within the bay. Those in the spearing shacks had poor to fair results for herring. Trout Bay has ice but fishing was limited by poor weather. Anglers caught a mix of coho, lake trout, herring and burbot.
St. Mary's River: Fishing in Munuscong Bay remains very slow; however those fishing the northwest end of the bay near Grassy Island may see some perch and walleye
Cedarville and Hessel: With the extreme cold weather, fishing has been slow for perch and pike. There is a lot of snow on the ice making travel difficult. A limited number of perch were caught in 22 feet in Government Bay.
Southeast Lower Peninsula Fishing Report
Lake Erie: The Metro Park Marina was spotty for perch. Those fishing Brest Bay for walleye had slow to fair catch rates. Anglers need to use caution out past Stony Point. The wind blew the ice out a couple weeks ago and it has just started to refreeze. Do not go east beyond the Point. Walleye anglers are still targeting Ohio waters.
Detroit River: Had slower perch fishing in Airport Bay however a couple anglers did manage to catch a few nice ones.
Lake St. Clair: Bitter cold and drifting snow has cut fishing activity. Snowmobiles had no trouble getting around, but quads have gotten stuck on occasion. Those walking and pulling shanties have found travel easiest by sticking to trails broken by snowmobiles. Fishing was slow overall but an occasional good catch of perch has been reported. The area near Metro Beach, Geno's, and Crocker Road seems to be better than the northern areas of the lake. Anglers are reminded that Saturday February 28th is the last day of perch spearing. Northern pike spearing is open through March 15th.
St. Clair River: Those fishing along the wall in Port Huron are still catching the occasional coho, steelhead or brown trout although flow ice is a problem some days. Large shiners have worked best.
Saginaw Bay: Walleye and perch were caught off White's Beach. The walleye anglers were going about 5 miles out while the perch anglers were heading north towards Palmer Road. Some perch were caught in 6 to 8 feet off Newman Road and Townline Road. They had to do a lot of sorting but a few keepers were mixed in. Anglers were heading out about 5 miles off Erickson Road and fishing in 18 to 20 feet. The hot ticket was a Wonderbread spoon tipped with a minnow head. At Linwood, they were heading out 3 to 4 miles and fishing in 18 feet however watch out for the first pressure crack which is very active and about 4 feet wide. Walleye were caught in the evening about 4 miles off the Bay City State Park, in 14 feet northeast of Spoils Island, and 6 to 7 miles north of Finn Road. Vanderbilt Park is still the best spot for perch with some fish measuring up to 14 inches. A few even reported limit or near limit catches. For the best success, fish early to mid-week and get out there very early in the morning. Those fishing out of Sunset Bay and off Thomas Road are going all the way out to Buoys 1 & 2 which is 12 miles out and there are all kinds of pressure cracks out there. Fishing pressure from Sebewaing to Caseville was slow. A few walleye anglers were fishing the Slot from Fish Point up to the islands. For those wanting to fish close to shore, some lake trout were caught near the pier at Caseville.
Saginaw River: Has been slow from one end to the other. A few nice perch were caught near the Cement Plant in Essexville in the evening. Walleye anglers were fishing off Wickes Park but catch rates were slow.
Southwest Lower Peninsula Fishing Report
Fishing continues to be slow when the temperature drops. Warmer weather by the weekend should help increase the bite for bluegills, crappie and perch. Stick with the small tackle and deeper water until temperatures rebound.
St. Joseph River: Steelhead anglers braving the cold have found fish holding in the deeper holes.
Kalamazoo River: Boat anglers have caught a couple steelhead below the Allegan Dam. Try small flies or crank baits. Boat launches will be icy.
Gull Lake: Anglers found a few perch along the southeast end near Island Park. Try 20 to 30 feet with minnows or wigglers. Those targeting smelt were still taking fish in 50 to 70 feet after dark.
Grand River at Grand Rapids: Is producing steelhead. Try a jig with small flies and spawn or very small spoons.
Muskegon Lake: Anglers have caught bluegill, crappie, walleye and a few perch. Be sure to watch for pressure cracks and stay clear of the shipping channel.
Muskegon River: Water temperatures were at or near the 32 degree mark. Catch rates for steelhead and brown trout will be hit-or-miss. The better bite will be during the warmest part of the day.