Most places report ice fishing is done but there are a few places they are getting out but shoreline ice is bad.
Higgins Lake has been good for perch with Fred Fields form Coach's Smallmouth Charters catching these perch Monday and Tuesday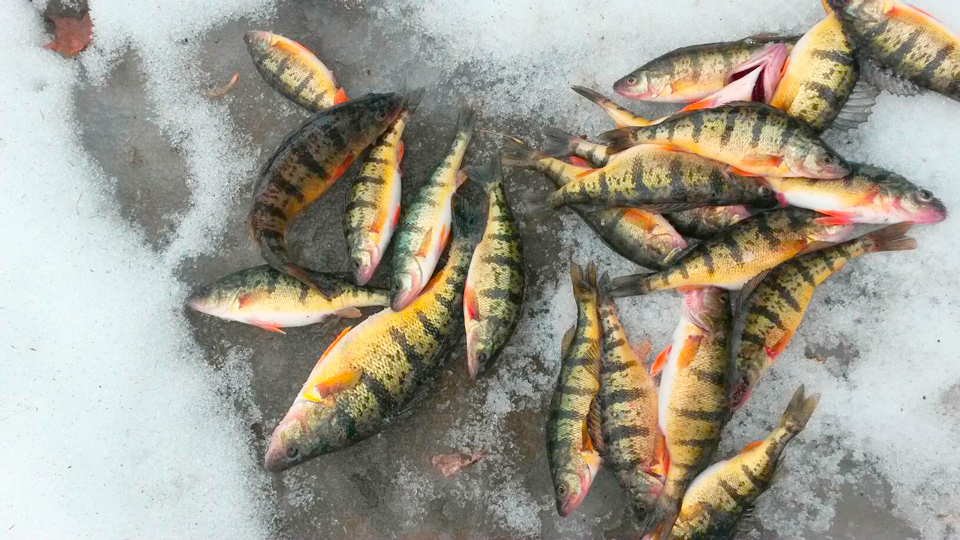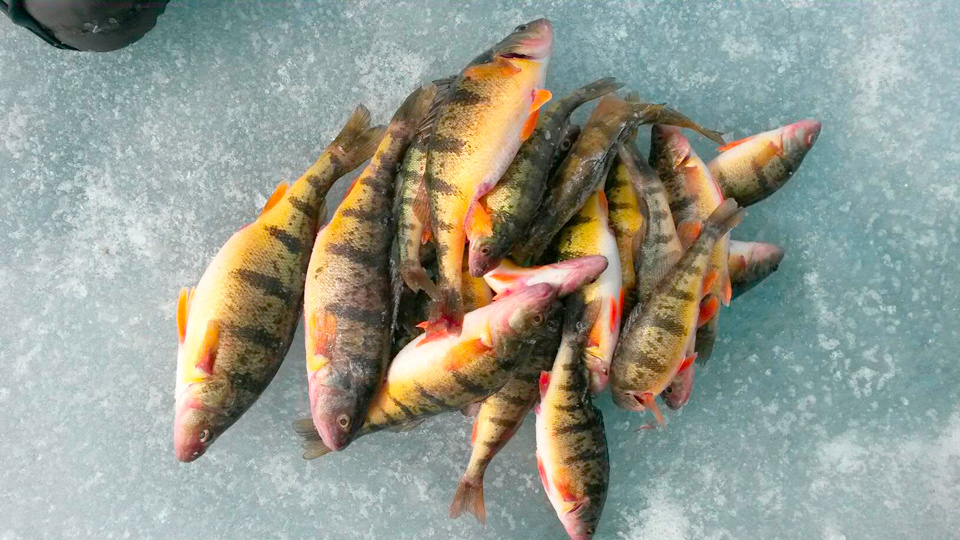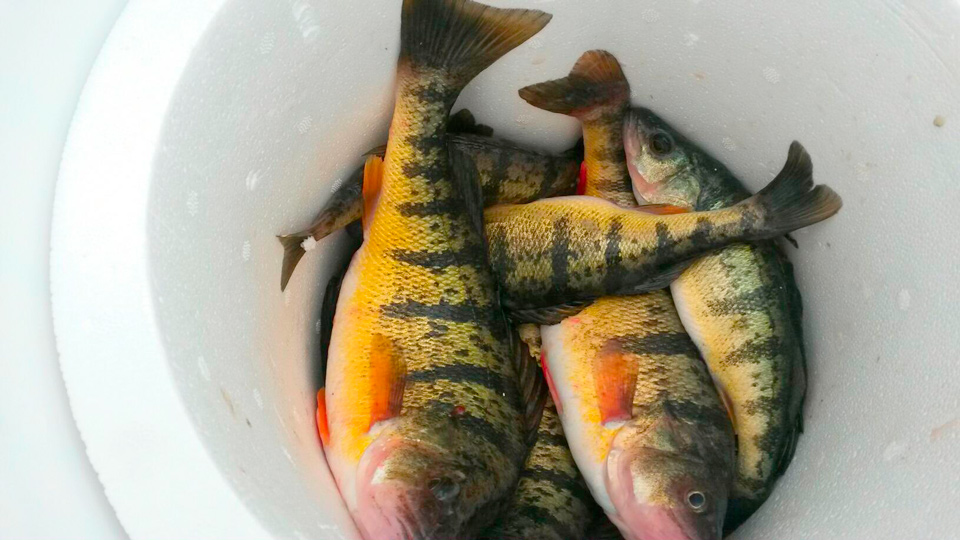 Bob Stockton and Bob the Bear Hunter with some perch from Higgins the 20th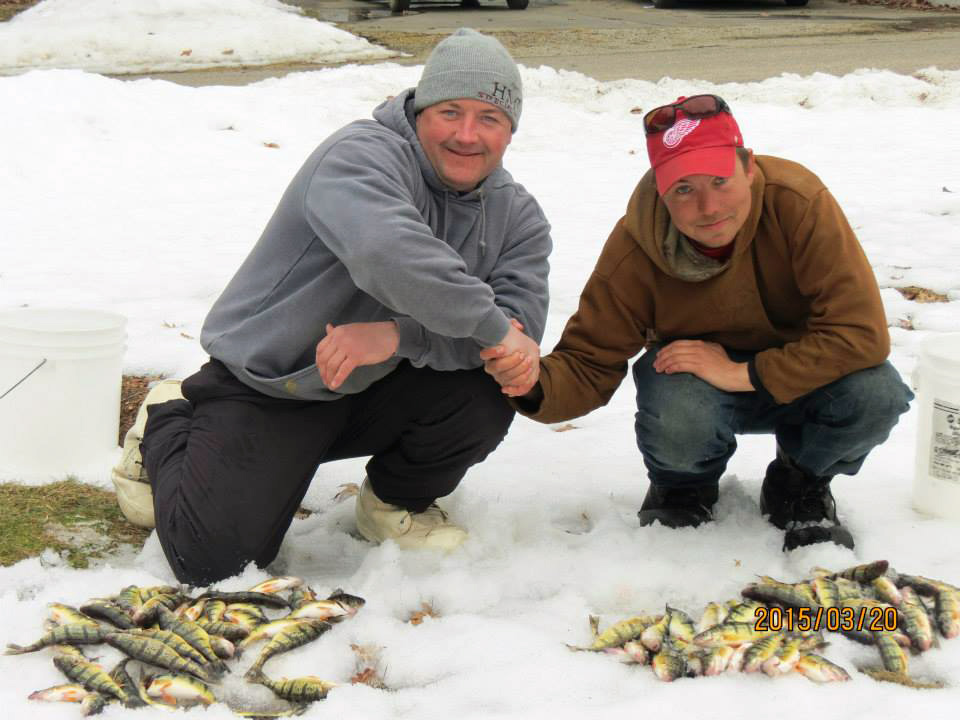 Skegemog is still producing perch but the ice is fading fast.
Miller's CORNER REPORTING A GREAT GILL BITE AND THE ICE IS STILL GOOD CALL MILLERS @ 231-839-0440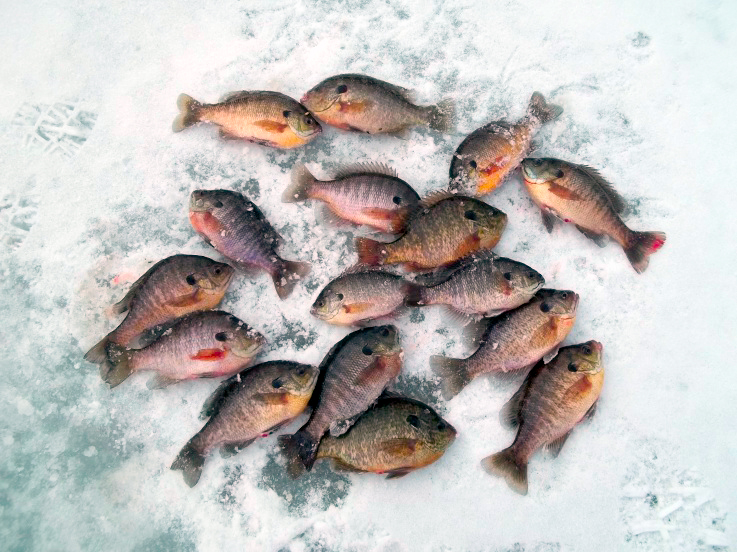 On Wednesday April 1st, all anglers 17 years of age and older will be required to have a 2015 fishing license. Be sure to pick up a copy of the 2015 Fishing Guide when you purchase your license. Ice fishing is pretty much limited to the northern Lower Peninsula and the Upper Peninsula. The piers along Lake Michigan are ice covered and dangerous.
Northwest Lower Peninsula Fishing Report
Steelhead fishing remains slow due to cold temperatures. A nice warm rain would really get the fish moving. There is no pier fishing or trolling on Lake Michigan yet because of abundant ice in the area.
Traverse City: Both bays still had ice however it is no longer safe. Anglers should just stay off and wait for open water fishing. The shoreline ice is gone in both bays. Those looking to fish just off shore will need to bring waders.
Boardman River: Has open water. Anglers have caught the occasional steelhead when floating spawn or wax worms.
Betsie River: Is producing the occasional steelhead.
Lakes Cadillac and Mitchell: The ice is holding and anglers were still heading out. Most are catching crappie right under the ice in the early morning and evening. Try minnows, wax worms and spikes.
Lake Missaukee: Ice anglers were still taking a mixed bag of panfish.
Manistee River: Anglers are catching steelhead but it needs to warm up. Once the ice is gone from Tippy Dam Pond and we get some warm rain, the fish will be more active. A good number of brown trout were caught but most were too small.
Pere Marquette River: More anglers are heading out as the steelhead and brown trout bite continue to improve.
Northeast Lower Peninsula Fishing Report
Some of the inland lakes are still producing panfish however those heading out need to use extreme caution. First ice and last ice are the most dangerous.
Higgins Lake: Ice fishing season is pretty much done. Much more of the shoreline ice has opened up and there are several pressure cracks starting near the shoreline and heading out into the lake. Rain, wind and warmer temperatures this week will only make conditions worse. Anglers are advised to wait for open water fishing.
Houghton Lake: Still had ice for those not ready to hang up the ice fishing gear. Anglers would be wise to use caution and be careful along the shoreline especially near the Cut River, Denton Creek or any other inlets or outlets. A fair number of bluegills and crappie were caught off Songer's Point which is just north of the boat launch on the east side.
Tawas: A lot of ice has blown out of the bay but there was still some near Jerry's Marina and that is where ice anglers were concentrated. Yellow perch were caught but many were small and anglers were putting in considerable time. A few walleye were caught.
Tawas River: The ice at the mouth was gone. Anglers were wading and casting but no reports came in.
Au Gres: Some anglers were still going north of the breakwall and catching a few walleye but there is no telling how long that ice will last.
Au Gres River: Down at the Singing Bridge, steelhead were caught in the lower river and in the surf though fishing was difficult with the piles of shore ice.
Rifle River: Sucker fishing is just barely starting to get underway.
Pine River: Is starting to open up and may soon be a good bet for open water perch and sucker fishing.
Upper Peninsula Fishing Report
Keweenaw Bay: Anglers are still ice fishing however proceed with caution! There is no snow on the ice so bring cleats for your boots and anchors for your shack. The cool evenings tend to firm up the ice so mornings are better. When the sun has been out for a while, ice conditions can change a lot in a few hours. Melting snow is the reason for more water in the bay. Be careful in front of the creeks and rivers as well as areas where water is running down a hillside. The ice in front of Carla's looks to be very poor. Lake trout fishing was spotty but a few catches were reported from the Center Reef. The occasional splake was caught in 15 to 40 feet. Coho fishing was fair in front of the Falls River however ice conditions there can change quickly.
Marquette: The ice in the Upper Harbor and the Lower Harbor is no longer safe and the "bubblers" are ice free. Ice flow can move in quickly depending on wind direction. The only fishing activity was at the mouth of the Carp River where anglers were targeting steelhead and coho but catch rates were slow. They are using crawlers and spawn or drifting flies and small spoons. Catch rates will remain slow until air temperatures warm up causing runoff from snow and ice melt.
Au Train: Few anglers were out as most are waiting for open water fishing. The Rock River beneath the spillway is open with some flow just beyond the foot bridge however fishing season here will close on April 1st and reopen on June 30th. The Au Train River was open between the mouth and the M-28 Bridge. The Brownstone public launch has been plowed. Those targeting coho had poor results.
Munising: Still has good ice in the bay with a light layer of snow cover. Walking conditions are still slick so bring cleats and use caution. Some of the pressure cracks around the shoreline tightened back up. Catch rates were just fair. A couple splake ranging 16 to 21 inches were caught. Whitefish activity was up so more fish were caught. Some are using a single egg or wax worm on the bottom while others said the fish were suspended. The bite is very light so anglers are using extremely light rods. Anglers are still marking schools of smelt but none were caught and many are waiting for the coho bite to get started. Spearing was still slow. Catch rates in Trout Bay are still slow. Those fishing near Wood Island did manage to catch some lake trout.
St. Mary's River: Still had good ice at Munuscong. Those perch fishing in Fowlers Bay had some good days when using minnows in 4 to 6 feet.
Cedarville and Hessel:Musky Bay in Cedarville and Hessel Bay are very sporadic for yellow perch. Try minnows or wigglers in 10 to 12 feet.
Southeast Lower Peninsula Fishing Report
Lake Erie: A few perch were caught by ice anglers around the Banana Dike but the majority of ice on the lake is no longer safe.
Huron River: Anglers are catching steelhead. Some of the better fishing can usually be found near Labo Park.
Detroit River: Is open however boat anglers will need to watch as quite a bit of flow ice is still coming down and will be for a while. A couple nice walleye were taken near the warm water discharge at the power plant in the Trenton Channel.
Lake St. Clair: Has a lot of shelf ice and flow ice in the connecting waters. Status on the boat launches and shore fishing areas can vary day to day depending on the wind. As a result, fishing activity has been light.
St. Clair River: Had some good trout and salmon reports when ice conditions allowed shore anglers to fish.
Saginaw Bay: Ice conditions continue to deteriorate so a good number of anglers are putting away their ice fishing gear and starting to get their boats ready. The die-hards were still going out and crossing active pressure cracks however extreme caution needs to be used! Watch for areas of open water. Shoreline ice is getting bad all around the bay. At Palmer Road, anglers crossing two major pressure cracks and fishing in 18 feet caught walleye. Closer to shore, fishing was spotty but a few were taken. Some perch were caught off White's Beach. Walleye were caught from the Bay City State Park south to the trailer park near the mouth in 5 feet. The bite was best from dawn until about 9:00 and in the evening after 7:00. Those wading and casting off the mouth of the Hot Ponds had no luck. A few crappie were caught in Sunset Bay Marina. North of Sebewaing at Rose Island and Geiger Road, perch fishing was spotty but a couple limit catches were reported. Most were 6 to 8 inches with the occasional 12 inch fish.
Bad River: At St. Charles is producing some suckers.
Southwest Lower Peninsula Fishing Report
Inland lakes in the southern part near the Indiana border are ice free. Lakes towards Kalamazoo, Jackson, Lansing, and Grand Rapids still had some ice however no safe ice. The rivers have steelhead and more fish will continue to move in. The piers are still ice covered. Some boats were starting to troll between the piers, but there is still ice out in Lake Michigan.
St. Joseph: For those trolling, coho were biting at the mouth of the river.
St. Joseph River: Has a decent run of steelhead as a lot of fish had been moving through the Berrien Springs fish ladder over the last week. The live streaming Fish Cam at the ladder is back in operation and can be viewed at: www.michigan.gov/dnr/0,4570,7-153-10364_52259_19092—,00.html
Holland: Has open water but the piers are still ice covered.
Kalamazoo River: Steelhead are hitting below the Allegan Dam. Anglers were floating spawn and wax worms.
Grand River at Grand Rapids: The fish ladders are open and steelhead are being caught below the 6th Street Dam. Try spawn, wax worms or plugs.
Grand River at Lansing: Few anglers have been out. No reports of any steelhead this far up.
Muskegon: Has open water in the harbor.
Muskegon River: Steelhead have been caught however water temperatures were still a bit cold. A stonefly hatch was just getting started.