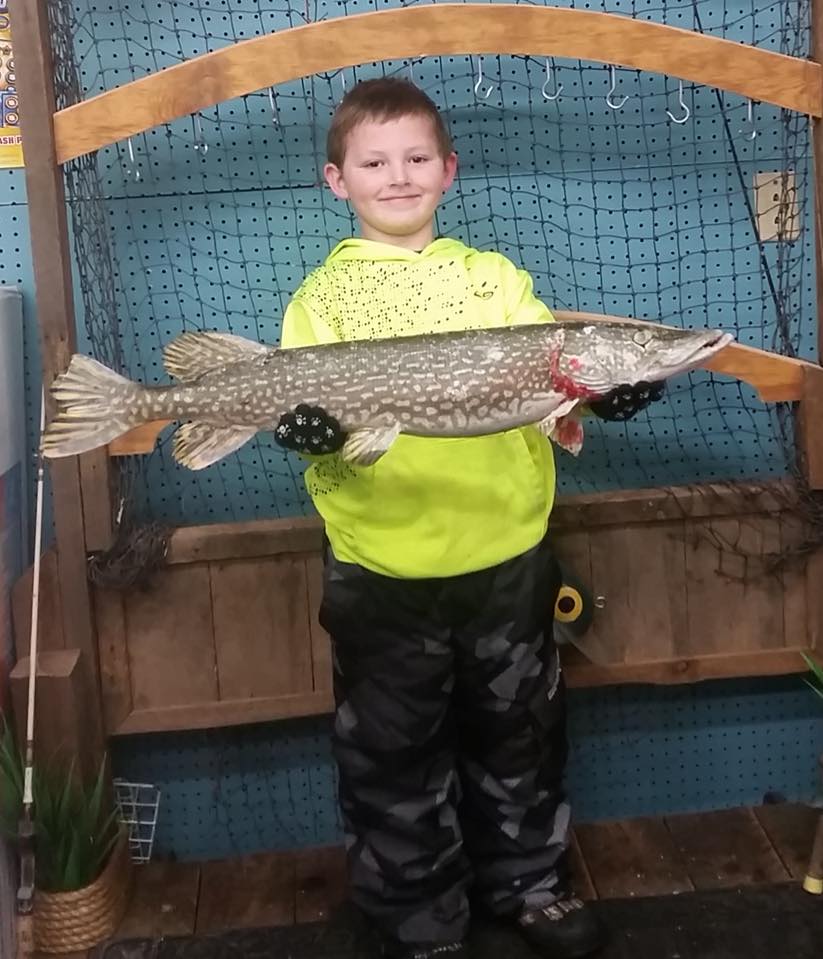 ICE REPORT: WEDNESDAY, 1/3/18
Lakes Cadillac and Mitchell
Lake Mitchell:
By Thirsty's off M-55: 7″ ice, 6″ of snow on top
Big Cove: 6-7″ of ice, some places were slushy. 6-8″ of snow
East side Mitchell State Park: 7-8″ of ice. 6-8″ of snow on top
Lake Cadillac:
Kenwood Park: 6-7″ of ice, 5-7″ of snow on top
East City Boat Launch: 9-10″ of ice, 1-2″ of snow on top. Pike and crappie are biting Call Pilgrim Village for the latest update 231-775-5412
Houghton Lake has 7 to 12 inches of ice and pike and walleye,  and panfish have been biting, Lyman's have there shanties out so we are good to go.   Lyman's On The Lake reports HL legend Clare Gee was joined by his granddaughter Delanie for some ice fishing this weekend. Loaded up with a pocket full of candy and some wax worms, she landed a bunch of big gills. She requested we hide her identity so she wouldn't be followed out to her spot the next trip.
Houghton Lake Ice R. Anglers are reporting ice thickness ranging from 7″ to 12″. There are a number of large pressure cracks to avoid  Lyman's on the Lake 989-422-3231., Four Season Party Store 989-422-5230 and  H&H Fireworks (989) 366-0126, Papa's Bait 989-429-5780
Lake Missaukee
Newest ice report off of Green road 5-6" approximately 150 yards out.Opening at 7am. Fish on! Call Miller's Corner @ 231-839-0440 for latest info
White Lake has good ice and one of the best perch bites in years with minnows and spikes working best. PERCH is calling your name!!!!
Fishing the postoffice,be careful and no quads yet. Heard from different ones that they had their limits in a little more than an hr. Nice size too.
Now perch are awesome, but I love bluegills too! Call Armstrong's on White Lake (231) 894-6753 or Johnson's Outdoors for the latest fishing info @ 231-893-6688
Around Traverse City Green, Duck  are  froze a few fishing smelt on Green off the state park access. Guys out on Long Lake catching walleye, pike and perch. Spider Lake, Arbutus, Ellis Lake, Lake Dubonnet(mud Lake) also have 8 to 10 inches Call roys for latest info @ 231-946-5633
Lake Skegemog has ice from 5 to 7 inches guys were heading catching some nice perch . Below a mess of perch from Skegemog lots of slush and hard to pull a shanty out.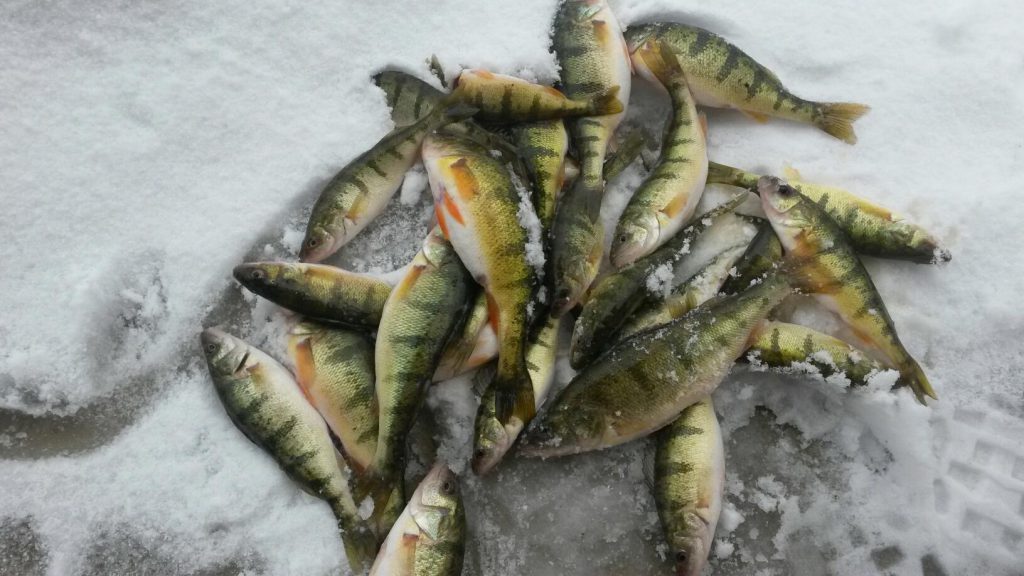 Manistee lake is 6 to 8 inches and lots of slush. Bear and Guernsey Lake have a great brown trout bite.  call Jack's Sport@ 231-258-8892
Fife Lake is froze and pike have been biting on the smaller lakes  call Kathy's Lakeside Party Store 231-879-3341 for latest info
Ice report for the week. Upper Hamlin Lake has anywhere from 5 to 7 inches inches on it.Marquette lake has 6-7 inches in most spots. Just use caution out by the shipping lane. Pentwater lake also has 6-7 inches. Pentwater Lake, has ice and good perch bite. Call  Captain Chucks@ 231-843-4458 or Lower Hamlin Grocery @ (231) 425-4420
They are fishing little glen and catching pike and perch. Lake Leelanau has lots of slush and is slow. Call   Empire Outdoors@ (231) 326-5433 or Roadside minnows 231-944-5229
Portage Lake has been fair on perch, walleye and pike fishing has been good Call Osborn's @ 231-889-3775 or Dewey @ Don's Sport Shop 231-735-5028  Manistee Lake is froze and catching pike, and perch.
Otsego Lake has 8 to 12 inches and good perch and walleye some are fishing Chub lake also has great bite this week on trout, perch and pike. Call Northern Sports @ 989-448-2014 Brian Derminer's Party Store 989-705-7051 Tony @ Otsego Corner Store 989-7321-8664 for latest info
Higgins Lake fairly steady 5 inches of ice over the entire lake, with some areas coming in at 8 inches….2.5 inches of snow on top of ice…..North basin a few walkouts to the trout, but reporting tight lips….South basin looser lips and catching a few…..Any one else have fresh updates of ice thickness please feel free to do it on this post…..Sam O Set is up and running….Saw two shanties out about a quarter of a mile….One portable with a quad next to it and a permanent with a snowmobile. Even though I'm seeing a few machines on ice, I would still suggest checking with someone before venturing out too far…..Especially to the deep water…..Let's have a safe ice season…. Call Sports Barn @ 989-821-9511 or Higgins Lake Hardware Call Brian @ 989-821-6677   Evergreen Park  @ 989-821-5425.
Lake St. Helen has 7 to 10 inches and pike, walleye, and panfish have been biting. Call Mike @ Saint Helen Bait Shop 989-808-1814
Lake Margarethe is froze with 6 to 10 inches and  lots of guys have been fishing with good pike and walleye. perch fishing has picked up. Call Skip's Sport Shop @ 989-348-7111
Crystal Lake is froze but not safe. Call Stapleton's Corner for latest info : 790 Michigan Ave, Benzonia, MI 49616 Phone:(231) 882-4342
Munuscong Bay: Dan's Resort
Well, the bite has been a little slow. Some keeper walleyes and a few perch lately. With a full moon and snow storms, the bite usually slows down.
Today it warmed up to 15 degrees! We got a few inches of powder and small drifts on the bay. Ice thickness varies from 9-11 inches including about 3 inches of snow ice. Sleds and quads are mainly going out. A couple trucks have braved it.
Slush is coming up along the shoreline and the ramp.
For those who did not register their shack, I posted pictures so you can see if yours is in the slush. You might want to move it further out before the real cold weather comes in tomorrow. Give us a call at 906-647-1410 or 906-647-8120 
Lewiston Report that west Twin has 6 to 8 inches. Call Midlakes Party @ (989) 786-3227 for latest info
Fletcher Floodwater has ice 8to 12inches Call A1 Party Store for the latest info @ (989) 742-4112
Black Bass Bay has ok ice on Grand Lake. Call Adrian's Sport for the latest ice update @ (989) 734-2303
Long Lake and Grand Lake has ice call Buck's Bait and Tackle @ (989) 595-2121 for latest ice info
Black Lake is froze and some pike walleye and perch are being caught Call Parrots Outpost@ (989) 733-2472 Address: 20628 State St, Onaway, MI 49765
Burt Lake: Ice anglers were taking a decent number of perch from Maple Bay which is on the west side of the lake. Try live minnows.
Mullett Lake: Anglers were taking a few perch in front of Aloha State Park and in Scotts Bay. It's early ice so anglers need to use caution.
White Lake has started to heal and this weekend things should get better for ice fishing. Call Armstrong's on White Lake (231) 894-6753 or Johnson's Outdoors for the latest fishing info @ 231-893-6688
Hesperia Sport reports that the smaller lakes have ice lots of guys heading out with good gill and pike bite. 8 to 10inches of ice on most lakes. call 231-854-3965
Harrison Has ice and a few  guys are getting out call Ken's Landing@ (989) 539-3700 and  Mike's Quick Stop@  (989) 539-1435 Sharps Market (989) 539-9862
Baldwin area some of the guys are getting out but the ice is 7 -9 inches
Wixom, Sanford, Sugar Springs, wiggins, Pratt Lake and Secord have great ice  and the bite has been good for pike and panfish. call Sanford Sport @ 989-687-5161  Chappel Dam Grocery (989) 426-7503   Big R's Party  (989) 435-2517
Ice fishing is on for most of the state however ice conditions are variable in some locations. Anglers will need to use caution especially in those areas that have received a lot of snow. Check the ice ahead of you and around you when heading out and remember deep snow and slush will hide dangerous pressure cracks and depressions. Steelhead fishing has come to a standstill as most rivers have shelf ice or floating ice.
Saginaw Bay: Had little fishing activity from White's Beach south to Linwood. There has been a fair amount of activity off Linwood with some anglers going as deep as 24 feet and taking good catches of walleye however anglers need to use caution as there is an active pressure crack off Linwood and at least one machine has gone through the ice. Changes in wind direction can cause water level changes under the ice and this caused a pickup truck to break through the ice last weekend. There was a fair amount of ice fishing off the Bay City State Park. On the east side, there was light fishing pressure from Sebewaing to Bay Port with most fishing just outside the islands and in the Slot. Perch, pike and walleye were taken in Wildfowl Bay.
Saginaw River: Has ice anglers fishing the length of the river, from Wicke's Park in Saginaw all the way down to the mouth. Ice thickness varies so anglers need to use extreme caution. Walleye were caught at most locations when using a fire-tiger jigging rapala tipped with a minnow head. Catfish have also been caught and a large lake sturgeon was caught recently. Anglers are reminded that any sturgeon caught anywhere in the Saginaw River or Saginaw Bay must be released immediately. Keep in mind that handling these fish for any length of time in these temperatures can cause the gill filaments to freeze and result in the death of a fish so get them back in the water as quickly as possible.
Northwest Lower Peninsula Fishing Report
Many of the lakes northwest of Grayling had sloppy conditions. There wasn't a lot of ice to begin with and after getting hammered with a lot of snow, the ice is now insulated which slows the freezing process. There is a lot of slush under the snow. Be very careful especially around the Traverse City area.
Lake Missaukee: Ice fishing is going well with anglers targeting mostly panfish.
Lakes Cadillac and Mitchell: Anglers are fishing however ice thickness is not consistent because of all the snow. Areas with slush are also hidden by the snow cover. Both lakes have given up some nice pike and walleye on tip-ups. Good size bluegills and crappie were taken in the coves on Lake Mitchell.
Big Manistee River: Steelhead fishing is mostly shut down due to the arctic weather.
Pere Marquette River: Shelf ice has locked up many sections of the river. Anglers will have to wait for it to warm back up.
---
Upper Peninsula Fishing Report
Inland lakes in this region have ice however caution still needs to be used because of deep snow and slush insulating most of the lakes.
Courtney Lake: In Ontonagon County had anglers fishing for brook trout.
Lake Gogebic: Anglers are fishing for walleye and perch.
Keweenaw Bay: Had no safe ice but there is a chance anglers could be out within the next two weeks
Alberta Pond: In Baraga County had some brook trout anglers.
Lake Antoine: In Dickinson County had some ice shanties and angler activity.
Munising: The bay is ice covered and has anglers fishing close to shore near the city docks, the Sunset Motel and the Anna River access site. Ice thickness is unknown so please use caution especially off Sand Point. Ice anglers are targeting splake and Lake Whitefish when jigging small rapalas tipped with a single egg. Those using tip-ups are targeting splake with a minnow. Stay clear of thinking you can walk to Grand Island. Just because you see white ice does not mean it is safe!
Indian Lake: Was producing pike for those using tip-ups.
Manistique Lake: Was producing some nice walleye catches.
Munuscong Lake: Was producing some perch and walleye.
St. Marys River: Had quite a few ice shanties in Munuscong Bay. Most were moving around a lot because the bite was good one day but they would have no hits the next day in the same spot.
Northeast Lower Peninsula Fishing Report
Mullett Lake: Anglers were out ice fishing but caution needs to be used. Those using tip-ups were targeting pike.
Otsego Lake: Had anglers out fishing.
Higgins Lake: Is frozen but anglers will need to use caution. No one was fishing in deep water yet because it takes longer to freeze. Anglers were walking out from the south launch. The ice was still thin off the west launch so avoid that area.
Houghton Lake: Has good ice however anglers need to use caution near the inlets. Some areas have little snow while other areas are drifting. Walleye anglers are getting a few fish when using Swedish pimples and do-jiggers or rattle jigs. Hot colors were nickel blue, orange, pearl and dark green. Walleye anglers are also catching a lot of pike. Bluegills have been caught on teardrops tipped with a wax worm. If the bite slows, try wigglers.
Lake Margrethe: Has ice anglers.
Tawas: Those in the bay were targeting walleye, lake trout and burbot in 15 to 18 feet over the artificial reef. Those out toward the tip of Tawas Point were getting some walleye.
Au Gres: Most anglers were two to three miles out from the Pine River and off Palmer Road.
Au Gres River: Anglers were taking a few walleye. Some were fishing out on the bayou southwest of the river mouth but no reports had come in.