ICE STRONG TITANIUM SPRING BOBBER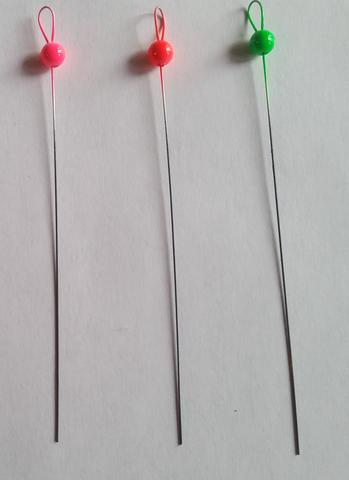 Buc's bait will be distributing ice strong titanium spring bobber to our dealers so ask your local sport shop to carry these awesome spring bobbers.
Ice fishing, as you know, is a rapidly growing sport, both recreational and competitively, and everyone is looking for the next best thing…and that's what we have-complete with lifetime warranty! Everyone from the average Jane and Joe up to US Olympic Anglers use our products!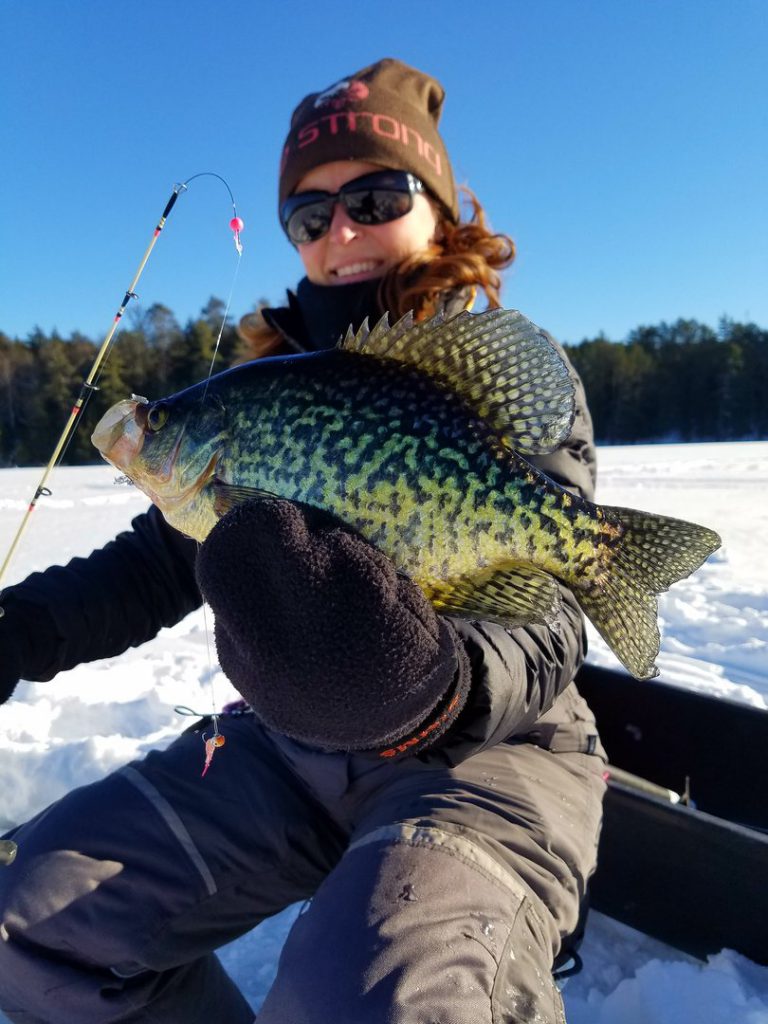 Ice Strong Titanium Spring Bobber is the best spring ice fishing bobber on the market today…and it's made in the USA! We are a Titanium Spring Bobber made in Michigan by Captain Matt Strong and wife Laura Strong. Capt Matt is a charter fisherman on Lake Michigan (creator of the Dreamweaver Lure Strong Fly and Strong Fly Meat Rigs), as well as a pro-ice fisherman and guide. He fishes the NAIFC tournament series and qualified for the NAIFC Championship in 2015 in Mille Lacs, MN. He also guides on Lake Gogebic in the Upper Peninsula of Michigan, spending over 100 days on the ice every year.
Ice Strong Bobbers were introduced to the fishing world in 2012 as a concept idea, and then select stores in 2014. We have continued to grow, launching new products!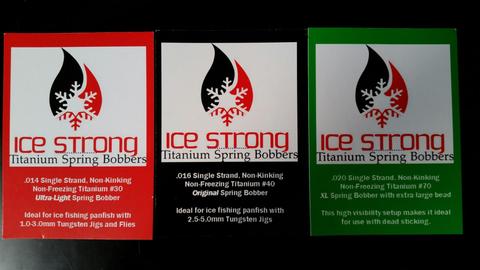 Our bobber line includes,
Original Strong Bobber: .016 Single Strand Titanium, NonKinking, 40# test, perfect for 2.5-5.0mm jigs
Ultralight Strong Bobber: .014 Single Strand Titanium, NonKinking, 30# test, perfect for 1.0-3.0mm jigs
XL Strong Bobber: .020 Single Strand Titanium, NonKinking, 70# test, high vis bead for deadsticking
We guarantee that our Ice Strong Titanium Bobbers will be the only bobber you and your customers will EVER need! They are rated for -25 degrees Fahrenheit! No competing product comes close in terms of sensitivity and the ability to "see the lightest bites." Our pricing structure is as follows:
An Ice Strong Titanium Spring Bobber is the MOST important part of an ice fishing setup. The bobber not only serves as your rod's tip, but is a highly sensitive strike indicator.
1) The first step is to determine what jig you will be using and pick the appropriate Ice Strong Titanium Spring Bobber.
Ultralight Bobber is designed for 1.0 – 3.0mm Tungsten Jigs and Flies
Original Bobber is designed for 2.5 – 5.0mm Tungsten Jigs and Plastics
XL Bobber is designed for deadstick presentations
2) The next step is to attach your your bobber. It should be attached to the end of your rod tip and acts as extension of your rod.
3) The third step is to load the bobber. Thread your line through the spring bobber and tie on your favorite jig. The spring bobber will load up – meaning it should hang at an approximate 45 degree angle from your rod.
4) The final step is to get out on the ice and see all of the bites you're been missing!
You will notice, that with these highly sensitive bobbers, not only will you see the down bite, but you will see the ever-so-subtle UP bite of a crappie or finicky bluegill. Fish on fellow anglers!
ATTACHING YOUR ICE STRONG BOBBER
Ways to attach your Ice Strong Titanium Spring Bobber
Tie your bobber direct to your rod tip with rod building thread and a dab of glue.
Use a dab of glue and shrink tubing over the rod tip. Shrink it down with a heat gun.