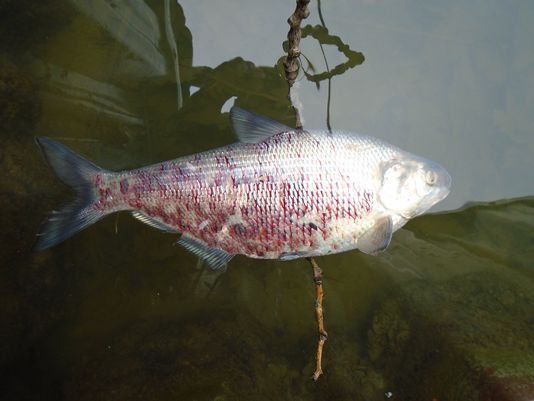 Buc's Bait will be suspending the sale of all wild harvest emeralds and spot tails till fall as received this today from the DNR to stop the spread of VHSv. We will switch to Hatchery fatheads, suckers and golden for the rest of the summer.
The Michigan Department of Natural Resources confirmed Monday that test results on remains collected from the ongoing Lake St. Clair fish kill indicated viral hemorrhagic septicemia virus (VHSv) as the cause.

As most of you likely know, there is a large fish kill that has VHSv confirmed to be involved in it. Based on public and DNR staff reports, this fish kill is known to extend from the Marine City area to the Ohio border. It has likely killed 10,000s of fish ranging from gizzard shad (largest number) to panfish to smallmouth bass to muskies. We are also investigating some suspect baitfish in the bait supply in this area. Water temperatures are still in the optimal range for VHSv replication and will likely be until the end of the month.
Given this information, we are asking the bait industry to refrain from harvesting bait from Port Huron to the Ohio border until further notice. If you have minnows from this area in your facilities, only sell these fish to baitshops within 5 miles of the shoreline of the St. Clair River to the Ohio stateline on Lake Erie. We are looking for your assistance to prevent the movement of any potentially infected fish to inland waters or other Great Lakes waters.
We appreciate the bait industry wholesaler's cooperation on this matter and would appreciate it if you would spread the word to others