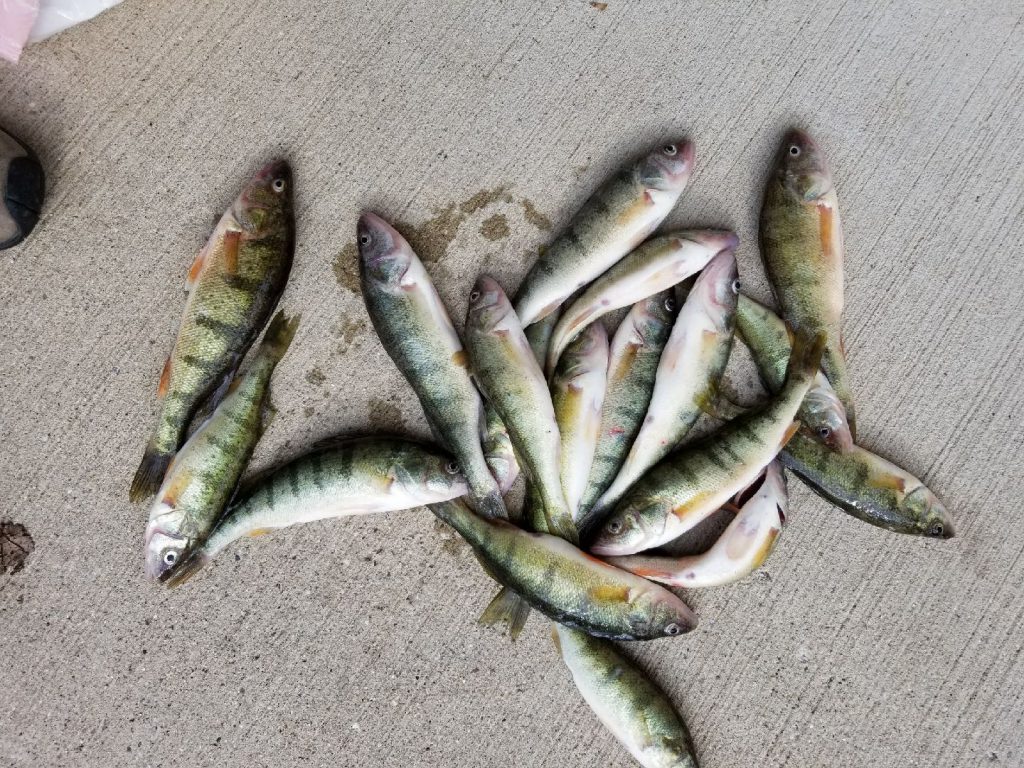 There are good reports from Elk and Skegemog for perch, no jumbos but nice eaters. Photo above from yesterday.
Perch fishing has been fair on the West Grand Traverse Bay for perch, East bay has been great for ciscoes. when the wind is not blowing
Lots of guys fishing long Lake by traverse for perch and walleye, it has been spotty with the latest cold front moving though.
Lake Margrethe has been fair for perch and walleye.
Captain Chucks in Ludington reports good perch bite on PM Lake this week, minnows and wigglers
Whitehall the gill bite has been great with waxworks and worms working best.
Have not heard much on Big and Little Glen but the keep a tight lib if they are on fish.
Lake Leelanau some walleye, perch have been slow.
Cheryl & Jack Brainard from Centerville, OH are taking advantage of the warm weather and the slower pace in the fall at The Driftwood Resort on Houghton Lake. They caught over 40 fish today with Cpt Chip from Game Hog Charters. Lots of gills, crappie, bass, pike and a few small eyes. They said crank baits and golden shiner minnow rigs worked best.
The Fish Contest
Largemouth Bass- 20 3/4″
Smallmouth Bass- 21 7/8″
Northern Pike- 38 1/2″
Walleye- 29″
Bluegill- 12 1/2″
Sunfish- 10″
Perch- 12″
Crappie- 13 3/4″
Bullhead- 14 5/8″
Dogfish- 29 1/2″
Northwest Lower Peninsula Fishing Report
Rivers in this region are low and clear. We need rain. Most rivers have salmon, many of which are now actively spawning. Anglers are urged to fish the holes, pools, and dark water, while avoiding the actively spawning fish. Actively spawning salmon do not readily bite, while those in the pools and deeper water will.
Petoskey: Had no boating reports because of windy conditions. Pier anglers caught smallmouth bass on crawlers. The Bear River had a good number of Chinook and coho salmon after the last cold front but fishing slowed with the return of warm weather. Most fish were caught at the dam and downstream to the pedestrian bridge with spawn, flies and artificial eggs. A couple brown trout were caught however brown trout season is closed.
Charlevoix: Boat fishing was slow. Those trolling around the cement plant for salmon reported the action as hit-or-miss. A few fish were caught on glow spoons after dark. Good smallmouth action continues with many large fish 20 inches or more caught on live or artificial crawlers. The Medusa Weir is still in operation so the creek is closed to fishing within 100 feet of the mouth. Angling pressure continues to be light around the weir and cement plant. A couple small salmon were taken in the freighter slip on spawn or along the sunken barges near the cement plant with glow lures after dark.
Traverse City: Lake trout season is closed in the bays however boat anglers in the East Bay caught lake herring out from the M-37 launch. The fish were suspended in 80 feet. Salmon fishing was slow near Acme and along the east bank. The Elk River continues to produce Chinook, coho and the occasional steelhead when using spawn in the morning. In the West Bay, perch fishing slowed in Bowers Harbor. Suttons Bay was good when the fish were found. Try 40 feet with minnows. The Boardman River was packed with salmon. Chinook and coho were caught on spawn and skein during the day but the night bite was better the last couple days.
Leland: A few adult chinook and coho were still being caught along the First Bank.Younger salmon were caught around North and South Manitou Islands. The river had another push of salmon with decent numbers showing up.
Platte Bay: Some coho along with a few Chinook were still being caught by those trolling, jigging or casting near the mouth.
Platte River: A good number of coho along with some Chinook salmon moved up into the river. Spawn and skein were best but flies and beads were also producing.
Frankfort: Pier fishing and out in front of the port slowed to a crawl due to temperatures and wind.
Betsie River: Anglers are still working the river and trying to land Chinook salmon below the Homestead Dam. There is a fair to good number of fish but many have already turned dark.
Portage Lake: Perch were hitting in 11 to 14 feet in front of the city launch. Minnows worked best. Bass numbers were fair to good.
Manistee: Surface temperature readings were around 58 degrees. Angler activity was very slow. The fish cleaning station is now closed.
Ludington: Had few anglers. Surface water temperatures dropped to 60 degrees.
Pentwater: Boat anglers were few because of windy conditions and warm water temperatures. Those fishing 70 to 100 feet down in 120 to 180 feet caught the occasional lake trout or Chinook salmon on spoons or paddles and flies. Pier anglers casting body baits or still-fishing with crawlers caught smallmouth bass in the channel.
Pentwater Lake: The occasional Chinook salmon was caught by those casting body baits or spinners at Longbridge Road in the early morning or late evening.
Muskegon River: A few salmon were caught in the deeper holes. Smallmouth bass have been caught throughout the system. Walleye and smallmouth bass were caught in Hardy Dam Pond.
Whitehall: When they can get out, boat anglers caught the occasional Chinook salmon in 30 to 80 feet. Pier fishing for trout and salmon has been slow because of the warm water around the piers. Large and smallmouth bass were caught when still-fishing or slowly retrieving a crawler or minnow along the bottom.
Northeast Lower Peninsula Fishing Report
Cheboygan River: Salmon fishing slowed as anglers were taking very few fish. Pretty much all the fish being caught were very dark. Try spoons, spinners or skein.
Rogers City: Now that lake trout season is closed angling pressure will be minimal.Anglers caught adult Chinook salmon in and around Swan Bay. Try boards with bombers and J-plugs inside 30 feet. There should be a mixed bag of smaller Chinook, Atlantics, coho and maybe even a walleye or two out deeper so fish the entire water column with spoons. Good colors were green, blue, orange or glow early and late.
Rockport: Anglers should still find a mixed bag of salmon and walleye when running spoons throughout the water column.
Alpena: A couple Chinook salmon were taken in 40 to 80 feet when trolling spoons near the first and second set of "Humps". Walleye were caught on a crawler harness or stick baits in 20 to 40 feet in Thunder Bay.
Thunder Bay River: A few Chinook salmon were caught by those casting spoons or floating skein but warm temperatures have kept the bite on the slow side. A couple smallmouth bass were caught on crawlers or crank baits.
Oscoda: Angler effort and catch rates were low. Pier anglers fishing at night caught some channel cats. A few smallmouth bass were taken on small spoons, crank baits, jigs and crawlers.
Au Sable River: Pike were caught on spoons and crank baits along the weed line in the slow water near the mouth. Smallmouth bass, a few decent channel cats, and rock bass were caught when floating crawlers. Water temperatures below Foote Dam were in the low 70's and dropping.
Houghton Lake: Panfish anglers have done well for crappie and bluegills. The crappie were suspended about 5 feet off the bottom in 9 to 11 feet. A fair to good number of walleye were caught by those drifting and bouncing lures off the bottom.
Tawas: Walleye were caught down near Alabaster in 15 to 20 feet near the rocks. A few small perch were taken near Buoy #4 inside Tawas Bay.
Tawas River: Chinook salmon were caught in the lower river.
Au Gres: Walleye fishing off the port and near the points picked up some. A good number of fish were caught in 38 to 40 feet south of Pointe Au Gres and in 10 to 20 feet off Eagle Bay Marina. A decent number of perch were also caught.
Saginaw Bay: In general, the perch were just not biting very well along the inner bay. A few were taken off Quanicassee in 14 to 17 feet. Some walleye were caught about four miles northeast of Spoils Island, off the Callahan Reef, and the middle of the Slot. Shore and pier anglers in the Sebewaing Marina caught bluegills, crappie and the occasional bass or pike.
Upper Peninsula Fishing Report
Lake Gogebic: Fishing remained slow. A couple limit catches of walleye were taken on the north end when using leeches but that was not the case for most anglers. Those trolling, drifting or anchoring picked up a few walleye and perch but no one method worked best. Smallmouth bass were caught in good numbers. Sunfish and the occasional perch were caught on the north end with crawlers and leeches.
Menominee River: A few walleye along with the occasional salmon or brown trout were caught below the dam. Fewer salmon have been seen or caught so far this year, but cooler weather should help produce some better fishing.
Little Bay De Noc: Even with the cooler temperatures catch rates were down for all species. The walleye action was fair at best with most fishing between the "Narrows" and the Black Bottom in 30 feet with a crawler harness. Perch and walleye fishing were fair along the weed beds just off the mouth of the Escanaba River in 20 feet. Most were using minnows for perch or a crawler harness for walleye. Smallmouth bass anglers struggled as well. The better catches were in the southern bay near the end of the Black Bottom and Farmers Dock with plastics or spinners in 14 to 20 feet. A few salmon anglers were fishing the Ford River but with the high water level few catches were reported.
Manistique River: Salmon catches were down some but remained steady with Chinook, coho and steelhead caught. Shore anglers reported the best catches using crank baits or spawn between the "Bass Hole" and the dam gates. The fish cleaning station is still closed.
Munising: Had few boat anglers as most have started to winterize their vessels or are now hunting. Fishing remains slow for pier and shore anglers. Splake fishing was poor with few caught. A couple coho were caught by those casting spoons or spinners in bright orange or chartreuse. A few had success using spawn bags. Surface water remains warm as air temperatures were still close to 70. Fall color change was still only about 25% as the majority of trees were still green.
Grand Marais: A few boats were trying for coho and steelhead but very few fish were caught. No lake trout to report. Not much shore activity including no reports from the Sucker River.
Two Hearted River: Coho salmon were running in fairly good numbers as the recent cool down brought fish in. Most are using spoons but some were using spawn. Anglers are reminded that the Type-4 section ends at the High Bridge, County Road 407. Anticipate heavy traffic at the Rivermouth Campground.
Tahquamenon River: Had very little to report. A few musky were following lures right up to the boat but none were caught.
St. Marys River: Those fishing the upper river caught the occasional salmon behind Cloverland Power. Only a few walleye and perch were caught in the shipping channel in 30 feet. The pike action was good for those using gold or silver spinners. Near Sugar Island, a couple perch were found in 50 feet in Lake George. Walleye fishing was slow. In the lower river between Neebish Island and Sweet's Point, water temperatures remain warm resulting in poor fishing.
Detour: A few Chinook and pink salmon were caught on the Detour Reef. For yellow perch, try the north side of the Detour Harbor Marina at the old dock pilings in 8 to 14 feet with worms or shiners. Pike were caught one mile north at the old coal dock when trolling a spoon with a red eye just off the weeds in 8 to 12 feet.
Drummond Island: Those targeting yellow perch had limited success. Water temperatures in Potagannissing Bay dropped into the mid to low 60s, but they are still not low enough to turn on the highly anticipated fall bite. Large schools of perch were spotted using electronics but the fish were not actively feeding. Anglers caught 5 to 15 legal size fish but sorting through lots of small ones to find the keepers. Perch minnows continue to be the bait of choice when drifting near the bottom. The location of the schools changes daily but fish were reported in Maxton Bay and near Rutland, Ashman, Grape, James and Bald Islands.
Cedarville and Hessel: Lake trout and splake season in the waters of Lake Huron closed on September 30th. At Cedarville, pike were caught throughout Snows Channel when trolling or casting a red and white spoon just off the weeds in 6 to 18 feet. Early morning and late evening were best. Some bigger pike were reported near the Les Cheneaux Islands. Try chubs or frozen smelt just off the current near Little La Salle Island. A few yellow perch were caught in Cedarville Bay by those using worms or minnows east of Buoy #26 in 8 feet. For Hessel, a few perch were caught south of the marina and at the Middle Entrance. The fish were suspended in 25 to 28 feet between Coats Point and Birch Island. Try worms or shiners.
Carp River: Anglers fishing spawn bags, spoons and spinners for salmon had no luck. A few fish were surfacing but none were caught. Fishing slowed on Nunn's Creek with only the occasional Chinook caught on spoons. The fish have turned very dark.
---
---