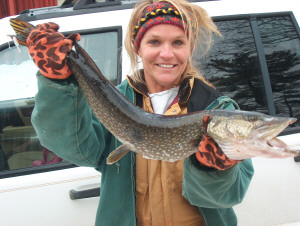 We are getting hammered with a major snow storm today and it might be a good thing we do not have lots of ice. After the storm passes the temps are going to plummet into the teens at night. A few lakes are froze but this storm is not going to help, as there is no safe ice in lower michigan
THey are fishing a little on Munuscong Bay for walleye and perch, The ice fishing season has officially began at Dan's Resort on Munuscong Bay ! It's not thick enough for sleds or 4-wheelers yet. Everyone is walking out.
Northwest Lower Peninsula Fishing Report
Not much is happening in this region of the state. Some lakes have a little ice, but there is no safe ice yet. Steelhead fishing is basically the only game in town right now.
Betsie River: Continues to produce some steelhead.
Big Manistee River: Is fishable and should have a fair to good number of steelhead including some fresh fish. Many are fly fishing below Tippy Dam.
Little Manistee River: Is producing steelhead and the occasional brown trout however the river will close to fishing on January 1st and will reopen on April 1st.
Pere Marquette River: Should still have some good steelhead fishing. Those fly fishing seem to catch more fish.
Northeast Lower Peninsula Fishing Report
Thunder Bay River: Has pretty good perch fishing though many are running small. Fish ranging 7 to 8 inches have been caught using ice jigs with wax worms or minnow rigs. The better fishing was off the 2nd Street Bridge, the River Walk both upstream and downstream of the 2nd Street Bridge and the gas dock in the marina. Some are also catching the occasional steelhead or brown trout.
Oscoda: Pier anglers are getting steelhead on spoons or body baits.
Au Sable River: Has a good number of steelhead between the mouth and Foote Dam. With a little effort, anglers are finding the spots producing the most fish. High Banks, the Boy Scout Camp and the Rea Road access sites have been active. Spawn is working best however try spoons or body baits at the mouth.
Houghton Lake: Has ice all the way across the lake however the ice is not safe. Those anxious to get out and do some fishing should stay in shallow waters only for safety reasons.
Au Gres River: Is still producing some perch although some were on the small side.
Upper Peninsula Fishing Report
Newberry: Ice is forming on the inland lakes in the region however there is no safe ice yet. Deep snow from the upcoming storm will only insulate the ice and slow the freezing process.
The ice fishing season has officially began at Dan's Resort on Munuscong Bay ! It's not thick enough for sleds or 4-wheelers yet. Everyone is walking out.
Southeast Lower Peninsula Fishing Report
Lake Erie: Anglers are still getting walleye in Brest Bay. Some limit catches were reported by those using the bigger reef runners or husky jerks. Hot colors were pink, purple or fire-tiger. Some of the fish caught were between 8 and 11 pounds. Boats are launching out of Lake Erie Metro Park or Sterling State Park. Bluegills were caught off the docks in the Metro Park Marina. Try a teardrop with a wax worm. Perch and crappie were caught on minnows.
Huron River: Water levels are low but conditions are good for steelhead. Fish have been caught in the deeper holes.
Detroit River: Perch have been caught near the mouth, off Gibraltar and the border waters off Sugar Island. Anglers are not getting as many fish however some are measuring 12 to 14 inches.
Lake St. Clair: While ice fishing is not an option at this time, boat anglers are still heading out for perch. Muskie season closed on December 15th. The docks at the DNR boat launch have been removed. Those planning to launch boats will most likely need waders.
Saginaw Bay: Is producing a good number of walleye for boat anglers. Those fishing close to shore caught some perch.
Saginaw River: Walleye are being caught from the mouth all the way up to Wicks Park. Some are drifting shiner minnows while others are using Hot-n-Tots.
Southwest Lower Peninsula Fishing Report
St. Joseph: Pier and surf anglers are getting some steelhead along with the occasional whitefish.
St. Joseph River: Should have some fresh steelhead for the taking.
Kalamazoo River: Boat and shore anglers have caught steelhead below the Allegan Dam. They are using spawn or Hot-n-Tots. A few walleye were also caught.
Grand Haven: Pier anglers are catching steelhead along with a few brown trout or whitefish. Those surfcasting are taking fish when floating spawn bags.
Grand River at Grand Rapids: Fresh steelhead were caught on size 6 or 8 jigs tipped with wigglers and wax worms or spawn bags. Boat anglers are dropping Hot-n-Tots over the side and then putting a spawn bag on the bottom. Walleye and steelhead have been caught behind the Post Office, off Pearl Street and the walk bridge. Walleye anglers have done well with bucktail jigs and shiner minnows under a bobber. Those fishing off the bridges for walleye are drifting shiners. Pike fishing has been good downtown. Most are using chubs, shiners or body baits. For crappie and bluegill, try Riverside Park or Millennium Park.
Grand River at Lansing: Catch rates were hit-or-miss at the North Lansing Dam. Some channel catfish along with a few small flatheads were caught by those fishing minnows above the Moore's Park Dam. Good pike action at Fitzgerald Park in Grand Ledge. Some are using spinners but more fish were caught on golden shiners.
Morrison Lake: Is producing perch and crappie for those using minnows.
Reeds Lake: Was producing bluegill and crappie.
Muskegon River: Is fishable. Steelhead are still being caught as more move up into the river system.