Dan's Resort Reports :There's not many jobs where you can fish at work….22 inch pike, an 18 inch pike, and robbed 3 times today on a tip-up behind the tackle shop.
Here's the scoop on the ice and fishing:
We have been in a heatwave for 2 days so we haven't really made ice. There is as much as 7 inches in some spots. The snow on top sunk down and there was little slush in some spots.
*watch out for a soft spot about 50 yards wide by the birches, there is only 1 inch of ice*
The fishing was ok today. Small perch were biting (and small pike).
Colder temps move in tonight so we should be good to go for the holiday weekend!
#munuscongbay #flag #fishon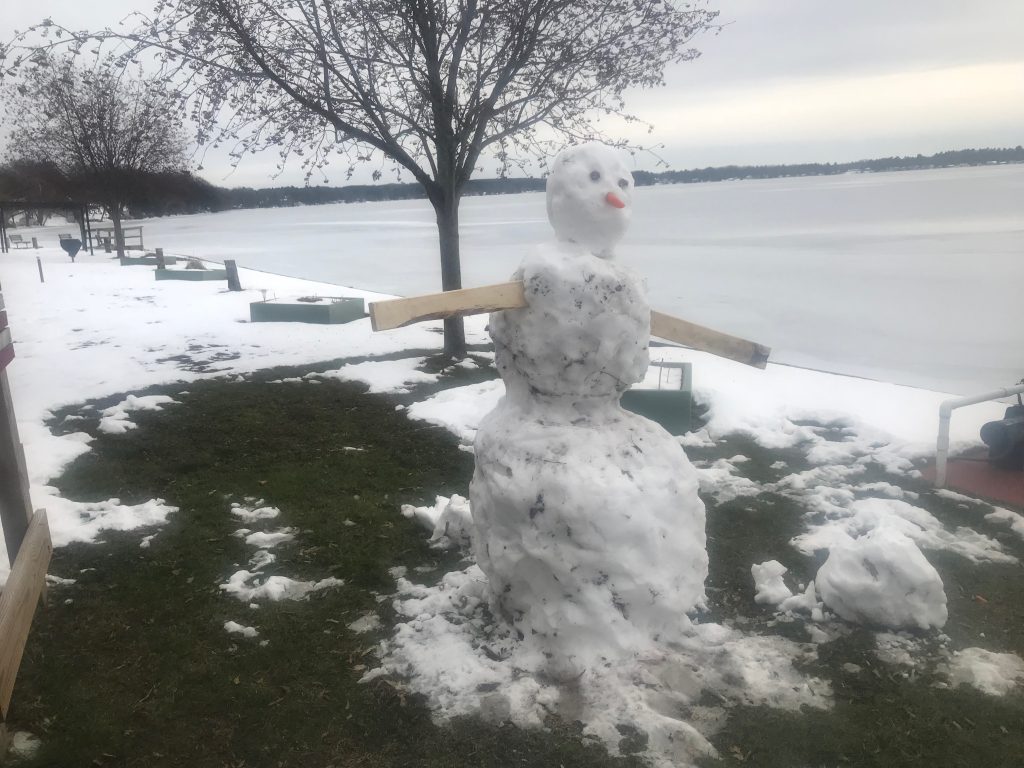 Photo above is Fife Lake this afternoon ice is 1 to 2 inches but no snow so it should make some ice.
I went by Otsego Lake today and count 14 shanties on the lake, reports are 4 to 7 inches of ice, and walleye and perch are biting.
Skegemog the snow finally melt off the ice so hopefully tonight it will tighten up without much snow and some will be fishing sunday.
Lake Margrethe is not safe but snow is off the lake so cold weather coming should be fishing next week.
I checked Portage ,Hamlin, Bear Lake, Manistee Lake on the route today …NOT SAFE. A few guys on White Lake off of Wesley's Marina but ice is not safe. Hesperia and Baldwin also report the ice is not safe but the snow is off the lakes and they tightened up last night.
Houghton Lake Ice Report 12.20.17
We have 4″ to 5″ near shore on the sw side, but it starts to thin out to 2″ to 3″ about 300 yards out. 5″ to 6″ are being reported out from Harvey's on East Bay and along the north shore, but further out it thins to 2″. If you go, bring a buddy. walk don't ride and spud often.
Ice report for muddy bay here on Houghton Matt Peterson  walked out 75 yards and the spud went through with 3 hits only 2 in of ice yet there were sleds running 300 to 400 yards out not for me i'll wait for a while yet lots of crack this way also with water on top of what ice we do have
ICE REPORT: WEDNESDAY 12/20/17
Lake Mitchell
The slightly warmer weather the last few days did us a favor and melted the snow down enough to uncover some of the ice. Areas where the snow melted have about 4″+ of ice while snow covered areas still have 2-3″. I still found a few punky spots with my spud, but thats why we use them. If we don't get too much snow we might see some guys out there this coming weekend. More updates to come! Be SAFE!
Northeast Lower Peninsula Fishing Report
Most of the ice in this area was not safe. Those fishing the inland lakes were targeting the shallow waters only. More time is needed to shore up the ice.
Cheboygan River: Continues to produce a couple steelhead.
Black Lake: Ice anglers were taking panfish in shallow waters.
Grand Lake: A few perch and walleye were caught before the warm spell.
Thunder Bay River: Anglers continue to catch steelhead.
Au Sable River: Anglers continue to catch steelhead and the occasional Atlantic salmon.
Houghton Lake: Only had one area of ice fishing and that was in the East Bay where anglers were hugging the shoreline. Most were setting tip-ups for walleye but all they caught was pike.
Saginaw Bay: Ice conditions were marginal from Tawas City to Bay City and beyond. A few ice anglers were perch fishing off Palmer Road near Standish, at Newman Road near Pinconning and at Erickson Road north of Linwood. Again, conditions are marginal and those out on the ice appear to be fishing in no more than 2 to 3 feet. Perch fishing on first ice can be very good if you're in the right place at the right time. No one is taking machines out yet. Those heading out to shallow waters are walking. It is a good idea to wear a pair of neoprene waders when fishing in shallow waters.
Saginaw River: Boat and shore anglers could get out and target walleye with the warmer weather. The river was wide open.
---
Northwest Lower Peninsula Fishing Report
There is not much safe ice to report. A few anglers were fishing most likely shallow waters only but no fishing reports have come in. It is going to take a good week or two of cold weather and calm winds to make safe ice. Steelhead fishing continues in the rivers but few were out.
Boyne River: Had steelhead.
Betsie River: Was producing steelhead. The bite improved by afternoon when the sun was out.
Lakes Cadillac and Mitchell: Are frozen but the ice is not safe. There is too much snow and slush covering the ice.
Big Manistee River: Was still producing some trout. Those fishing the Little Manistee River have also taken some steelhead.
Pere Marquette River: Still has some steelhead for anglers to target.
Pentwater River: Steelhead anglers were fishing upstream to the Hart Dam.
White River: Was producing the occasional steelhead up near the Hesperia Dam.
---
Upper Peninsula Fishing Report
Due to heavy snows and balmy weather, ice conditions from Marquette west were unsafe for foot travel. Pretty much all the inland lakes had a few inches of snow along with a layer of slush on top. For the eastern half, first ice anglers were out however caution needs to be used as ice conditions vary greatly across the area.
Lake Gogebic: Had a few anglers venturing out but catch rates were slow. Extreme caution needs to be used. Anglers would be wise to fish in shallow waters only.
Two Hearted River: Salmon are slowly beginning to show up.