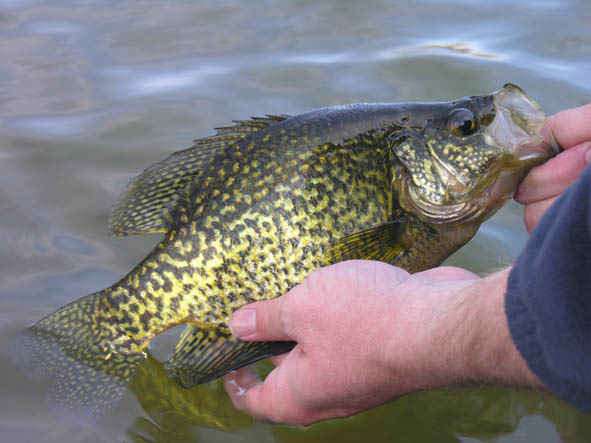 Ice finally went out of most lakes north of M-72 the last few days. Higgins Lake the ice was all the way piles up on the south and south west shore. They are catching some rainbows off of big creek.
Hesperia below the dam reports a great steelhead run with waxworms working best. Tippy Dam has been spotty with a better bite in the afternoon.
Houghton Lake the crappie are in the canals the last few days, also bluegill have showed up with worms working best also crappie biting on fatheads or small emeralds.
Lake City the crappies are biting on Lake Missaukee in the lagoon, also in the canals.
East Grand Traverse Bay is producing perch, lake trout and ciscoes.
They are still catching atlantic salmon on Torch Lake off the mouth of the clam river trolling or bobber fishing with blues.
The are catching some nice perch on the Muskegon River by Freemont and Between Cronton and Hardy Dam.
Northwest Lower Peninsula Fishing Report
Harbor Springs: The harbor was still iced in so no docks are in yet.
Petoskey: Little Traverse Bay still had some ice. The boat launch at the marina does not have the docks in yet. Use caution if fishing the breakwall as the walkway was still snow and ice covered. Overall, steelhead fishing has been slow. Anglers should find coho, brown trout and steelhead as the waters warm up.
Bear River: Water levels were fairly high. A couple fish were seen jumping at the dam. Anglers were drifting spawn bags or flies.
Boardman River: Should have good steelhead fishing by the weekend.
Frankfort: Had little activity. Betsie Bay is clear of ice and the boat ramp is open.
Betsie River: Look for good steelhead action into next week.
Manistee: Had few anglers. Surface water temperatures were about 40 degrees. Docks are in at the boat launch but the restrooms and the fishing cleaning station are still closed.
Manistee River: Steelhead fishing is in full swing and the run should peak sometime in the next week. The warm up this weekend should be prime time.
Ludington: Surface water temperatures were near 41 degrees. The docks are in at the city marina but the restrooms and the fish cleaning station are still closed. Angler activity was low but those trolling along the shoreline caught a few brown trout.
Pere Marquette River: Should have good steelhead fishing by the weekend and into next week as run peaks.
Pentwater River: Should have good steelhead fishing by the weekend.
Ocqueoc River: Anglers continue to target steelhead. Try drifting spawn and beads in the deeper holes.
Rogers City: The marina and launch ramp were still ice covered.
Rockport: Was ice free and boat anglers were trolling for Atlantic salmon and lake trout in shallow waters. Shore anglers were targeting fish off the wall.
Oscoda: Pier anglers have caught a few Atlantic salmon and some lake trout.
Au Sable River: Water levels were up and running fast which will make fishing more difficult. The steelhead bite should pick back up by the weekend.
Houghton Lake: Is ice free and the dock is in at the launch on the south end. Anglers are starting to get crappie in and near the canals with fathead minnows. Bluegills are also starting to bite and were hitting on leaf worms. Try pink and purple jigs.
Tawas: A few perch were caught near the floating docks inside the harbor but anglers were sorting to get some keepers. Outside the wall, anglers caught lake trout, brown trout, a couple pike and the odd walleye on live minnows or when casting spoons and body baits. Those trolling inside Tawas Bay were also taking fish with body baits.
Tawas River: A lot of suckers were caught on worms in the lower river.
Au Gres: When they can get out, boat anglers were fishing around the various points in 10 to 25 feet. Those trolling body baits were catching more lake trout than walleye. Those surf-casting with body baits were targeting walleye at night.
Au Gres River: Shore anglers fishing the cuts and marina basins along the river were getting a mix of perch, crappies and bluegills. On the East Branch, shore and surf anglers were getting some steelhead when drifting spawn bags or wax worms down at the Singing Bridge.
Rifle River: The sucker runs continue at Omer but water levels were high and fast.
Upper Peninsula Fishing Report
Keweenaw Bay: The bay still has ice floating around but hopefully some wind will open it up to boating. A few coho were caught by those casting spoons from shore. The Falls River has been slow but a couple steelhead were caught. Water temperatures were about 36 degrees. We need some warm days to get the temperatures up and get a smelt run started.
Marquette: Coho fishing slowed some but a few anglers were still getting the occasional limit catch when jigging at the "Bubblers". A couple splake were caught off the breakwall in the Lower Harbor when the ice was not there. Those targeting steelhead in the Carp and Chocolay Rivers reported slower catch rates. A few small brown trout were caught in the Chocolay River with spawn, leaf worms and wax worms.
Menominee River: Anglers have caught walleye and brown trout when casting jigs and stick baits below the dam at Hattie Street. The walleye bite remains slow but should pick up soon.
Little Bay De Noc: The ice is breaking up fast and most of the Bay is now open water. Anglers are still not able to launch boats but hopefully soon. Shore fishing is available in many areas. The rivers are pretty much open and flowing fast. Steelhead anglers are just getting started on the Day's River.
Manistique River: Is open but no launches were up and running yet. Water levels are up and the flow is fast. A good number of shore anglers were fishing near the dam. A couple steelhead were caught but it is still early. Suckers have started running.
Au Train: Still had ice in the bay and the boat launch was not accessible. There were no reports from either the Rock or the Au Train River.
Munising: Ice has started to leave the shoreline and the following areas were open a few hundred yards from shore with some floating ice: Bay Furnace, Christmas along M-28, the Grand Island Ferry access, and Sand Point. Anglers are pushing boats over the ice to open water near the Anna River and Sand Point. Anglers have caught coho and splake when jigging spoons and Swedish pimples or using cut bait. Steelhead reports were slow. Anglers can try off the Anna River dock as there is open water.
Grand Marais: Had few anglers. Water levels were low in Carpenter Creek and the Sucker River. There was quite a bit of shore ice on the Sucker River and substantial amounts of snow in the woods in this area. As far as pier activity it will be at least two weeks maybe longer before anglers will be able to fish the pier as there are large ice caps covering most of the pier at this time. There was no ice in the harbor though and the boat launch was ice free.
Two Hearted River: Has had no reports as of yet. Anglers should keep in mind that access may be challenging due to snow pack on area roads. Ice is still on the shoreline of Lake Superior so that may keep some fish out of the river for a while yet.
Tahquamenon River: Had reports of a few smelt taken over the last couple days.
Munuscong: Ice conditions are getting very dangerous. Most areas were slushy with not much hard ice underneath.
Cedarville and Hessel: There is a lot of open water and any remaining ice is dangerous.
Carp River: In Mackinac County had some angling activity and a couple steelhead were caught.
Southeast Lower Peninsula Fishing Report
Lake Erie: Boat anglers were getting some bigger walleye in Brest Bay. Most were using large crank baits, reef runners and husky jerks in 14 to 20 feet.
Huron River: Steelhead anglers have taken fish on spawn, wax worms or flies.
Detroit River: Had good walleye fishing in the lower river for those jigging and drifting plastics and shiners. The fish averaged 15 to 19 inches and a few limit catches were reported. Perch were caught in shallow waters. Try the canals and marinas with small shiners under a slip bobber.
Lake St. Clair: Conditions have not been ideal so not many anglers were out. The wind and rain have muddied the water in the canals, marinas and near shore. Perch and panfish had been caught before the weather changed.
St. Clair River: There is no more ice coming down the river. Anglers were trying for walleye but the action was very slow. Shore anglers at Port Huron were getting salmon, walleye and even a few smelt off the wall.
Port Austin: The marina is ice free but the docks at the boat launch were not in yet.
Saginaw Bay: Perch anglers inside Eagle Bay Marina and also at the end of Palmer Road were still catching fish, but sorting through a lot of small ones for every keeper. The rain and snow will not help the perch fishing. Those trolling were trying to find walleye between Linwood and the mouth of the Saginaw River but were not having much luck. A few perch were caught inside the Linwood Beach Marina but rain shut the bite down again. A few small perch were found in the lower Kawkawlin River, the drain at the end of Finn Road, and the Quanicassee River but no big numbers by any means. Some bigger perch were caught in the marina at Sebewaing and in Mud Creek mainly early and late in the day. Keepers were 7 to 9 inches. Perch fishing at Caseville was slow.
Saginaw River: Had excellent perch fishing down near the mouth before the heavy rain and snow.
---
Southwest Lower Peninsula Fishing Report
St. Joseph: Pier fishing is very slow for salmon and steelhead. Those targeting salmon did catch a couple catfish. When they can get out, boat anglers found salmon and lake trout when trolling small crank baits along the shoreline in 40 feet or less.
St. Joseph River: Still has a good number of steelhead throughout the system including Berrien Springs, Buchanan and Niles.
South Haven: Had no report as strong winds have kept boats off the big lake. The boat launch is open however there is a lot of construction in the area.
Kalamazoo River: Continues to produce some nice steelhead even with the higher water levels.
Grand Haven: The South Pier is still closed and will be until late summer because of construction. A "No-Trespassing" sign has been posted so anglers need to stay off the pier because of safety concerns. The launch on Harbor Island has two docks in. Those trolling the shoreline reported slow catch rates for brown trout.
Grand River at Grand Rapids: Had very high water levels and was under a flood warning. Steelhead can still be found but fishing conditions will be difficult until the water levels come back down.
Muskegon: The South Pier is still closed to the public due to construction in the area. There is a "No-Trespassing" sign and anglers need to stay off the pier because of safety concerns. Pier fishing is slow for steelhead and brown trout. When they can get out, boat anglers caught a few lake trout and brown trout on body baits.
Muskegon River: Has had good steelhead fishing all the way up to Croton Dam. Some have caught the occasional brown trout. Water levels were up and stained.
Whitehall: When they can get out, pier anglers have caught steelhead, brown trout and the occasional whitefish with spawn near the bottom.