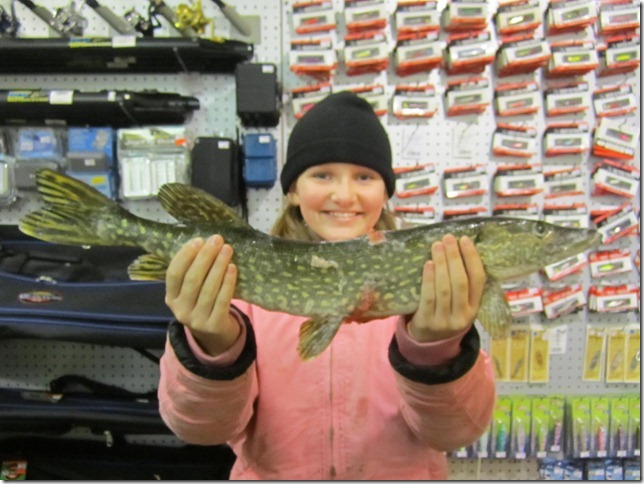 Northwestern Michigan
Leroy- Reports are guys are getting out on the shallow lakes with good pike action Call Eyes Have It@231-768-5653
Baldwin- The little lakes around  Baldwin are safe and pan fish has been fair.  Call Baldwin Bait @ 231-745-3529 or  Ed's Sport @ 231-745-4974
Big Glen-  Has open water
Little Glen- Has ice and many think that the ice will be safe this weekend, and hope the perch are biting Call Fishhook@ (231) 256-9496.
Manistee Lake by Kalkaska-  Good fishing this week with perch, pike, walleye and a few gills in the canals ice is 3 to 5 inches Call Jack's Sport@ 231-258-8892
Spider Lake- Three to five inches of ice with pike and pan fish biting, a huge pike was caught out of there last week Call Roy's@231-946-5633
Lake Dubonnet- Lots of fisherman fishing this lake with great pike action with some pan fish
Duck Lake: Lots of fisherman off of Strawberry Point MC Sports @ 231-933-6158
Green Lake: Still has open water
Long Lake:  They are fishing on the North-end and catching fish, but lots of small walleye being caught. Call MC Sports @ 231-933-6158
Skegemog-Has completely froze over and lots of people are walking out not safe for atv's yet and good pike and perch fishing. Call Jack's Sport Shop@231-258-8892
Fife Lake- Has ice and a few big pike have been caught, along with perch
Portage Lake-  It froze over but have not heard of any body trying there luck. Call Osborne's@ 231-889-3775
Hamlin Lake- Has 3 to 5 inches on Upper Hamlin and lots of fisherman are walking out. Call Ph Expeditions@ 231-425-8913 or Hamlin Grocery@(231) 843-2058
Bear Lake- Has 3 to 5 inches of ice today with a few getting out catching pike. Osborne's@ 231-889-3775
Portage, Manistee Lake, Pentwater Lake, White Lake, and Muskegon Lakehave ice but are not safe yet. Upper Hamlin has 2 to 4 inches of ice and many are going out for panfish but be careful.
Lake Missaukee- Today a few guys were venturing out and report 5 to 8 inches of good ice with pike and gills are biting good Call Miller Corner@ 231-839-0440 or Hopkins Outfitters@ 231-839-FISH (3474)
Cadillac and Mitchell- there will be safe ice on most of Mitchell by Saturday with huge pike being caught this week, Lake Cadillac they are fishing off the causeway and it has looked like a city on the ice this week Call Pilgrim Village for latest info@ 231-775-5412
Betsie River: Continues to produce some steelhead.
Big Manistee River: Is fishable and should have a fair to good number of steelhead including some fresh fish. Many are fly fishing below Tippy Dam.
Little Manistee River: Is producing steelhead and the occasional brown trout however the river will close to fishing on January 1st and will reopen on April 1st.
Pere Marquette River: Should still have some good steelhead fishing. Those fly fishing seem to catch more fish.
Northeast Michigan
Lewiston-  Both East and West Twin are froze but West Twin should be safe by the weekend. Call Mid Lakes Market @ (989) 786-3227
Mio- Mio Pong has froze and a few are getting out on the lake. Call Jig's Bait Shop@ (989) 826-3467
Lake St. Helen- Fishing has been good with 5 to 8 inches of ice lots of pike, with pan fish on the bite with a few walleye being caught. Call Macomb's Tackle Box @ 989-389-2100
Pratt Lake and Wiggins Lake– has safe ice and many have been doing good on pan fish and pike. Call Chappel Dam@ 989-426-7503
Wixom and Sanford Lake- Reports are the lake is froze and fisherman have been getting out on the shallow bays catching crappie, gills and pike. Call Sanford Sport Shop@989-687-5161 or Sandy's Market@ (989) 435-9688
Secord Lake has had a great bite this week Sandy's Market@ (989) 435-9688
Fletcher's Floodwaters- Reports are the ice is safe to walk out on and the pike fishing has been fantastic the last two days but very few people out yet. Call Bill's @989-742-4874
Black Lake- Has 3 to 5 inches of ice Call Parrots Outpost@(989) 733-2472
Grand lake and Long Lake- Both lakes are froze over and a few fisherman are venturing out catching perch and pike on the shallow bays, also Saturday seems to be the day that most feel it will be safe. Call Bucks@ 989-595-2121
Otsego Lake- The ice will be safe by Saturday as all the snow has settled and now the lake can make ice. Many are planning on getting their shanties out Saturday off the State Park. Call Northern Sports@ 987-448-2014
Lake Margrethe-  The lake is completely froze with 4 to 8 inches of ice and good fish being caught. Call Skip's Sport @ 989-348-7111
Higgins Lake- is still open with shore ice forming
Houghton Lake- The lake is completely froze over and there is 4 to 5 inches of ice with pike and walleye being caught on the east side. Lyman's has started putting their shanties out call them@ 989-422-3231 Also Dave @ Four Season is getting ready to put his Shanties out and said last night they did good on the walleyes and pike. Call him @ 989-422-5230