FISHING CONDITIONS ON LAKES CADILLAC AND MITCHELL
FROM PILGRIM VILLAGE FISHING SHOP
SUNDAY, DECEMBER 23, 2012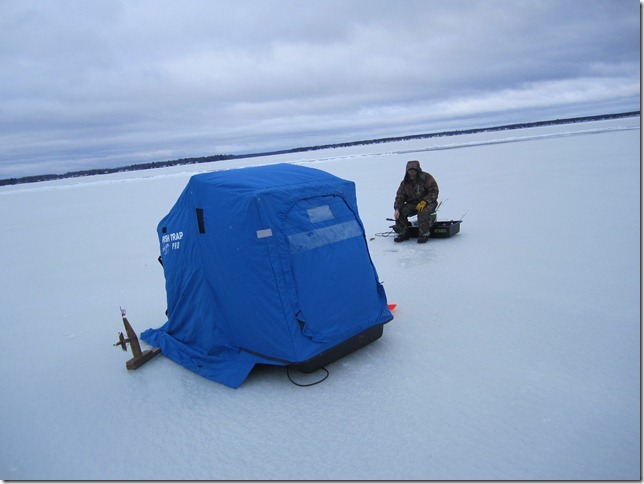 Ice Fishermen your prayers are working. Part of Lake Mitchell is FISHABLE – selected area only.
As of this morning the South East Side of Lake Mitchell from Mitchell State Park to the boat launch by Thirsty's has 4+". Fishable depths at the park range from 5 to 15′. This is good tip-up area for pike and walleye. The ice is slick, no snow. Pack your creepers, stay away from the canal.
At this writing the popular panfish area, the Big and Small Coves are not safe, nor is the North Side. Skim ice only.
You'll have to wait longer to fish Lake Cadillac. The East (city), North and Middle have open water areas. The Causeway to Mitchell State Park on the West Side will be the first safe access points.
Night temperatures are predicted 15º and teens through out the week. The ice is growing and more area will be safe by mid week. We'll keep checking.
We are selling bait to bluegill anglers fishing Lake Missaukee. We are told of 4″ but have not physically checked it out as we have on Lake Cadillac and Mitchell.