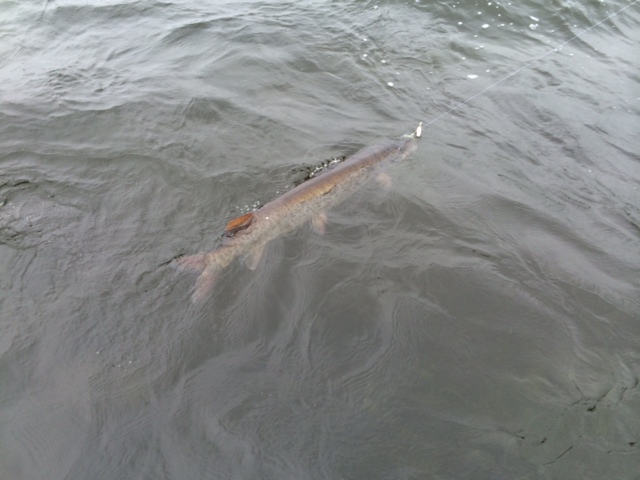 This week rain has  filled the rivers back up and this should make the steelhead fishing great in Nov. as the water was too  low, now it is high and we should get a good run.
Perch fishing has been good on East and West Grand Traverse Bay, Long Lake by Traverse, Portage Lake, PM Lake, Big Glen, Burt, Mullet and Skegemog. Not many out this week but a few got out yesterday with mixed success.
We will have Emeralds next  week as the cold weather finally cooled the water and  we can handle them now as they will live longer than a day.
Houghton Lake has been good for walleyes with crank baits and minnows working best.
Perch and walleye are still biting on Lake Margrethe.
Pappys at Welston reports the Tippy Dam is fishable with a good run of fish this week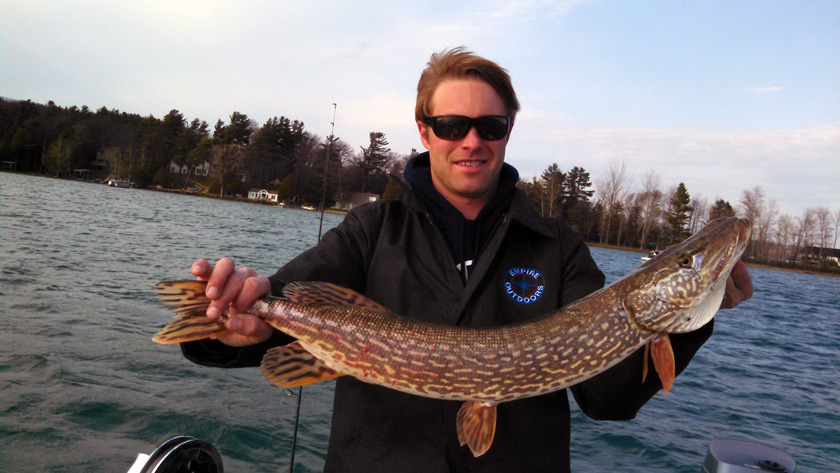 Northwest Lower Peninsula Fishing Report
Petoskey: Had no boat anglers. Catch rates on the Bear River were low over the last week up at the dam, although there were some Chinook and coho reported. A couple steelhead and lake trout were also caught. Anglers used spawn, flies and artificial eggs. The mouth of the river had better reports with a variety of species caught. Chinook, coho and lake trout were beginning to show up with most anglers using spawn.
Charlevoix: No boats were reported and channel fishing slowed down significantly. Medusa Weir is in operation so the creek is closed to fishing within 100 feet of the mouth.
Traverse City: Some coho, Chinook and steelhead were caught in the Elk River at the dam on the east side of the bay. Cisco were caught while jigging by Bear Center Road. In the west bay perch fishing was spotty. Some nice catches were found in Sutton's Bay and around Marion Island. The Boardman River was slow but a few steelhead were caught during the morning hours.
Leland: Salmon fishing was still going on with a few brown and rainbow trout caught in the harbor and the river.
Platte River: Was producing a few steelhead along with some salmon. Spawn bags, beads and flies all produced a few fish.
Manistee: A handful of steelhead were caught off the north pier and the shore. Spawn was the best bait.
Big Manistee River: Had reports of steelhead.
Pentwater: Pier fishing was limited due to weather. Those who were able to fish caught the occasional steelhead while still-fishing with spawn in the surf or from the pier heads.
Pentwater Lake: Anglers casting body baits or jigging soft plastic minnows in the channel caught smallmouth bass.
Muskegon: Pier action for steelhead was slow.
Whitehall: Anglers still-fishing with spawn caught the occasional steelhead from the pier heads. Those fishing with nightcrawlers near the bottom caught largemouth bass and freshwater drum.
Northeast Lower Peninsula Fishing Report
Cheboygan River: Anglers did well with Chinook at the lock and dam while using spawn, spinners, spoons, worms and crank baits.
Rogers City: There was plenty of action for those who wanted to pursue it. Mixed bags were reported with younger Chinook, steelhead and Atlantic salmon, plus the occasional walleye. The area was loaded with lots of bait fish, mostly in waters anywhere from 65 to 100 feet. Most were using orange and silver or brightly colored spoons.
Alpena: Anglers targeting walleye found a few fish inside of 20 feet when trolling harnesses or stick baits after dusk.
Thunder Bay River: Those targeting salmon and trout caught a few Atlantics, steelhead and brown trout at the 9th Street Dam when drifting spawn bags, stripping streamer flies or casting spinners, spoons and small cranks. A few walleye and smallmouth bass were reported by anglers trolling or casting stick and jerk baits.
Oscoda: Low numbers of walleye were reported by anglers fishing in the evening while casting stick baits from the pier. A couple smallmouth bass were taken from the mouth of the river by anglers casting cranks and jigs.
Au Sable River: A couple Atlantic salmon and steelhead continued to be caught in the lower river while drifting spawn bags and beads or casting spinners and spoons. Most fish were found by anglers targeting areas between Foote Dam and the Whirlpool Access Site. Smallmouth bass and northern pike were taken by anglers casting cranks, spoons and jigs around the weed lines and in the holes.
Tawas: High winds prevented most boats from getting out. Those on the pier picked up a few walleye while still-fishing with minnows. A few pike were caught there as well.
Au Gres: Boats that did get out caught some perch out by the NOAA weather buoy in 42 feet of water while walleye were caught off Point Au Gres in 30 to 35 feet. Bass anglers did well in shallower water between Point Lookout and Point Au Gres.
Saginaw Bay: Those trolling for walleye caught some off Linwood in 19 to 20 feet of water on crawler harnesses. Perch anglers did well in the Old Shipping Channel, as well as at the Spark Plug and an area about three to four miles northeast of Spoils Island. On the east side of the bay most perch activity was centered around Quanicassee.
Saginaw River: Walleye and small perch were caught in the lower river.
Upper Peninsula Fishing Report
Menominee River: A few walleye were caught by the Hattie Street Dam using plastics and jig heads tipped with minnows or crawlers.
Little Bay De Noc: This past week was much slower for anglers with the best walleye catches in Kipling and south into the "Narrows". Most trolled crawlers with harnesses in and around 30 feet. The mouth of the Escanaba River produced walleye in 18 to 22 feet. Good perch catches were reported in Kipling with minnows in 25 to 32 feet. Several large northern pike were reported while trolling cranks and spoons in the Escanaba Yacht Harbor.
Manistique River: Good numbers of Chinook were reported but the season is definitely winding down. Fly anglers reported good catches of steelhead up river between the bridges. Only a few coho were caught but several brown trout were reported.
Marquette: During breaks from the weather anglers were able to get a few lake trout and a couple coho. Little activity was reported on the Dead River but a few coho and steelhead were caught on the Carp and Chocolay rivers.
Munising: Recent summer-like temperatures saw surface water temps at 55 degrees. Pier anglers were targeting splake and coho salmon with the occasional steelhead caught as well. Spawn did well with the splake, otherwise anglers were using assorted spoons and stick baits.
Grand Marais: Reports were limited, especially from boat anglers. Those surf fishing near the Sucker River saw little to no action. Only one or two steelhead were reported. Coho action in the area has been slow all fall.
Tahquamenon River: The occasional muskie and northern pike were caught while anglers trolled or casted. Those targeting perch saw some success when using minnows or worms.
St. Marys River: A few steelhead were caught in the upper river behind both the Federal and Cloverland powerhouses. A few walleye were caught near the north end of Lake George, while perch were found there in 50 feet of water. In the lower river very few walleye were caught near Sweet's Point and Pipe and Twin Pipe Islands just north of Detour. Legal size fish were found in 28 to 35 feet of water while trolling stick baits or crawler harnesses behind bottom bouncers. Fair muskellunge fishing was reported in Munuscong Bay while trolling large stick baits behind planer boards.
Drummond Island: Weather was tricky but those who ventured out caught good numbers of yellow perch. Small minnows were the bait of choice while drifting close to the bottom of the water column. A few anglers reported success while using pieces of night crawler as well. Notable spots included Maxton Bay near Sportsmen's Club Point; James, Grape and Ashman islands; and Scott Bay near Rutland and Peck islands.
Cedarville and Hessel: Perch fishing was slow and high winds kept effort down. Some perch were caught at Middle Entrance and on both sides of Little La Salle Island, using both shiners and worms in eight to 12 feet. Northern pike catch rates improved with fish caught throughout Musky Bay while trolling with chrome-colored spoons with red eyes in eight to 10 feet of water in early morning or late evening. In Hessel, northern pike were reported off the fishing pier. Chubs were used in six to eight feet of water.