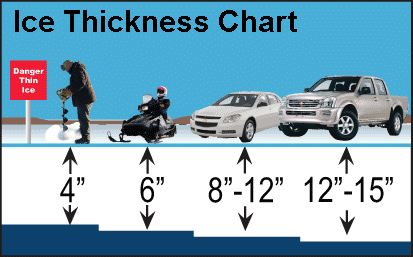 I have been all around the state and have found lakes that go from 5 inches down to 1 inch in a few feet, the snow really hurt the ice but this warm up should help get the snow down so it can freeze. Have heard of many people falling though trying to get out, a few are fishing but is it worth the risk. There was a rumor that Higgins had ice and it is wide open so you need a boat to fish it.
White Lake by Whitehall was the only lake I saw shanties on as the snow missed there so they had ice but the warm weather will make it questionable.
The Upper got hammered even worse with snow and most reports are slush and unsafe ice.
They have been fishing on Wixom and Sanford lake in the shallow bays and Canals with gills and crappie biting. Muddy Bay has been hit hard as it is shallow also they do not have the snow like many other places.
Chappel Dam Grocery by Gladwin says a few have been out on Wiggins and Pratt with 3 to 5 inches.
Black Bass Bay by Roger City had 3 to 5 inches but the last snow seem to screw the ice up last weekend be careful
Houghton Lake Ice Report 12.21.16. The ice is being stubborn and unpredictable. Ice thickness ranges from 8″ to 2″. There are guys fishing, but they have been staying fairly close to shore. The south shore weed bed can be fished to about 200 – 300 yards out, but you need to check as you go. Areas of east bay, north shore by Flint Rd and in the canals can be fished. No one is traveling by quad or sled yet.
Current ice conditions on Lake Missaukee as of 12:30pm today- 2″ of ice, 1″ of water, 2″ of foamy ice. 75 yards out, 2 blows with a spud goes through. It is worse in the areas where the snow is sitting.
Again, this is not safe! If you choose to go, please use extreme caution.
~Casey Miller
ICE UPDATE!
Conditions on both Lakes Mitchell and Cadillac are very inconsistent. Some places that I was yesterday now have some dark spots bleeding through the snow. If you were planning on coming up from out of town you would be better off waiting until we have more consistent conditions. Everybody be safe this weekend.
Checked a couple places on Lake Mitchell today. South side of lake over by Thirstie's gas station there is just over 4 1/2″ of ice. West side of lake off Camp Torenta there is about 4″ of ice. Lake Cadillac is a couple of days behind Mitchell, I'll start checking there tomorrow. Consider all areas uncharted territory before heading out even if you see the tracks of others, use your spud and your head…
Has a full supply of live bait and Fishing was slow today for the most part. But the ice conditions on upper Hamlin are looking good. Most spots have a solid 6″ of ice.
Indian Pete bayou has a 5 to 6″ of ice, there is a few spots around the edges that are questionable but for the most part it is good solid ice.
Fishing should improve after this front has moved through.
Lower Hamlin Grocery has winter bait and reports a few guys heading out this week
We currently have 3 inches of ice at the end of our docks and we are starting to see people fishing in front of the old Wesley's Marina. Just a reminder that we are open 5:30am – 5:30pm, Friday- Sunday, 7:00am – 5:30pm Tuesday – Thursday.