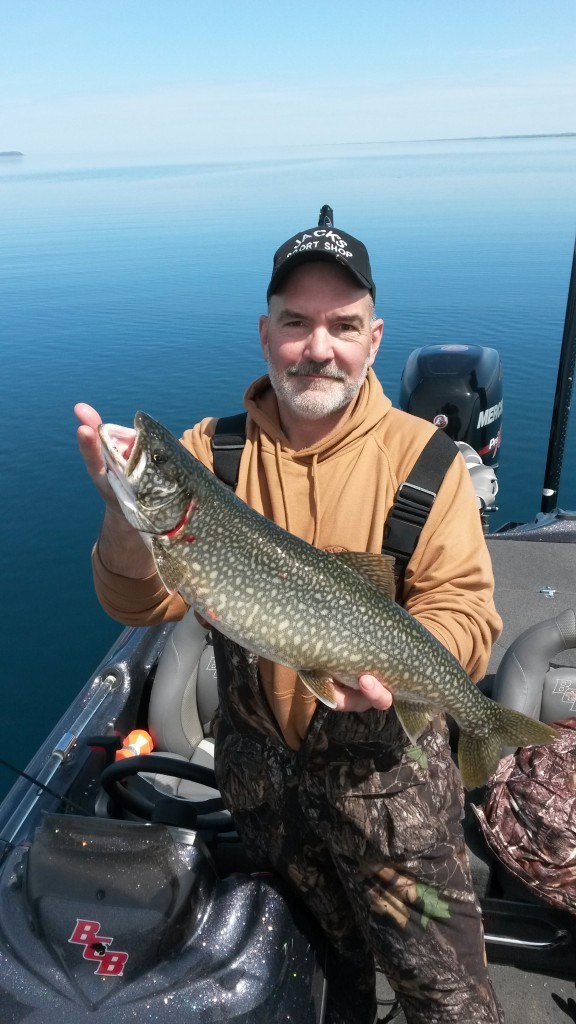 Otsego, Higgins, Burt  still have some ice floating but should be gone by tomorrow. Fishing has been ok some places, but the water has to warm out for the gills and crappie north of M-32 as the ice just went off.
Traverse City: Perch fishing was good around Deepwater Point in the East Bay. Lake trout and some lake herring were caught by those jigging around Deepwater Point and along the drop-off south of the M-37 launch. Lake trout were caught by those jigging straight out from Elk Rapids. In the Elk River, catch rates were hit-or-miss but steelhead were caught at the dam when using spawn in the morning. A couple nice fish were caught at the kid's pond. In the West Bay, perch fishing was excellent at Northport in 40 to 80 feet on both live bait and artificial baits. Perch were also caught in Bowers Harbor and east of Power Island before the winds. Lee Point was hit-or-miss. Lake trout were caught in the morning when trolling at the south end of the bay. The Boardman River is producing steelhead in the early morning or evening with spawn or a jig and wax worm. A few nice brown trout were caught at the dam.
Long Lake has had some action but I have not got any feed back this week, guys are waiting for the ice to get out of Ironton on lake Charlevoix to look for perch.
Portage Lake: Water temperatures were still on the cool side even in the shallows so perch fishing was slow.
Fishing is finally picking up. The warm rain should really help to get things going. Anglers should find trout in the rivers however the trout opener to the north was slow because of colder air and water temperatures. Bluegills and crappie are being caught in the inland lakes. Walleye, bass and pike fishing continue to get better as it warms up.
Saginaw Bay: Walleye fishing off Linwood was centered around the Black Hole and 1 to 2 miles northeast of Spoils Island when boats could get out there. Body baits off planer boards was the ticket, although some boats were vertical jigging near Spoils Island. On the east side of the bay from Quanicassee to Bay Port, walleye anglers were fishing all over the bay but no one had great success as most boats came in with only 2 or 3 fish. Spring perch fishing is pretty much over. Walleye anglers are also catching and releasing a few smallmouth bass. A few pike were caught in the Sebewaing River. Up at Caseville, pier anglers managed to catch some walleye, one coho and some smallmouth bass. Near Port Austin, those fishing the Pinnebog River caught suckers, pike, and smallmouth bass. A couple walleye were taken at the mouth of Bird Creek.
Saginaw River: Boat anglers vertical jigging in the lower river were taking some walleye. Shore anglers at Smith Park caught mainly white bass, freshwater drum, catfish and a couple pike. Smallmouth bass were caught and released in the marinas.
Tittabawassee River: Walleye fishing in the entire river from Dow Dam downstream to Green Point was excellent for the opener. Limit catches of 5 fish per angler was common. Even the shore anglers did well when they could get to a deep hole or run. Ninety-five percent of the walleyes taken were males as the large females have moved back out to the bay.
Houghton Lake: Good fishing continues in the canals for crappie and bluegills. A few walleye were also caught. Those out trolling on the opener caught a few walleye.