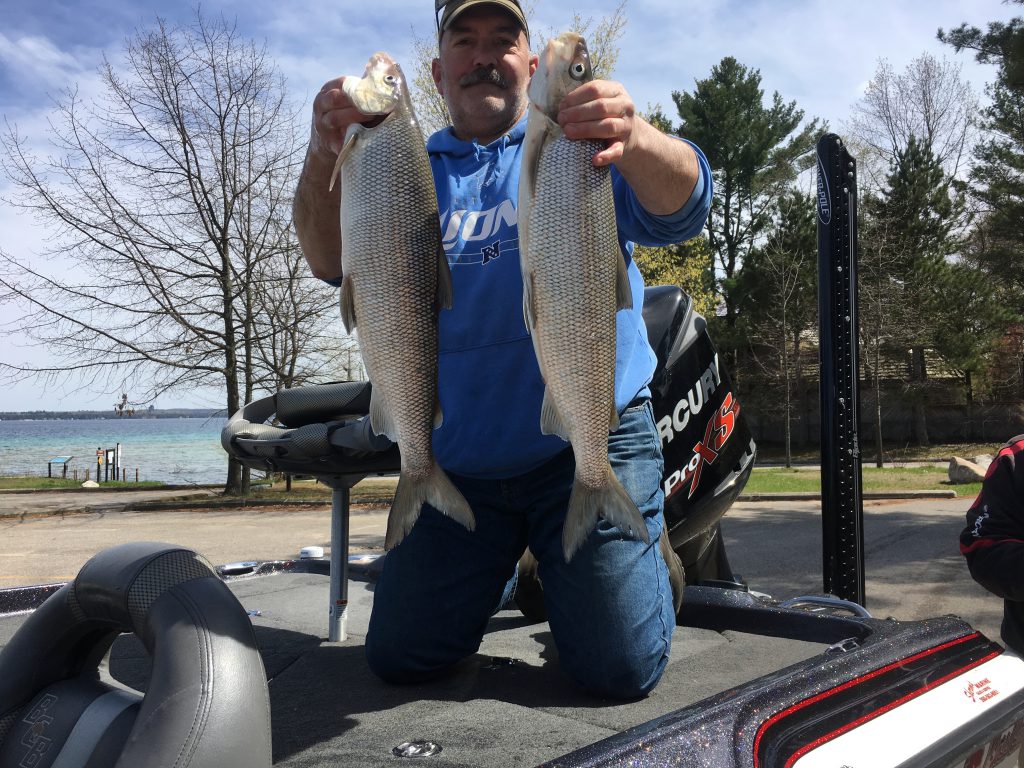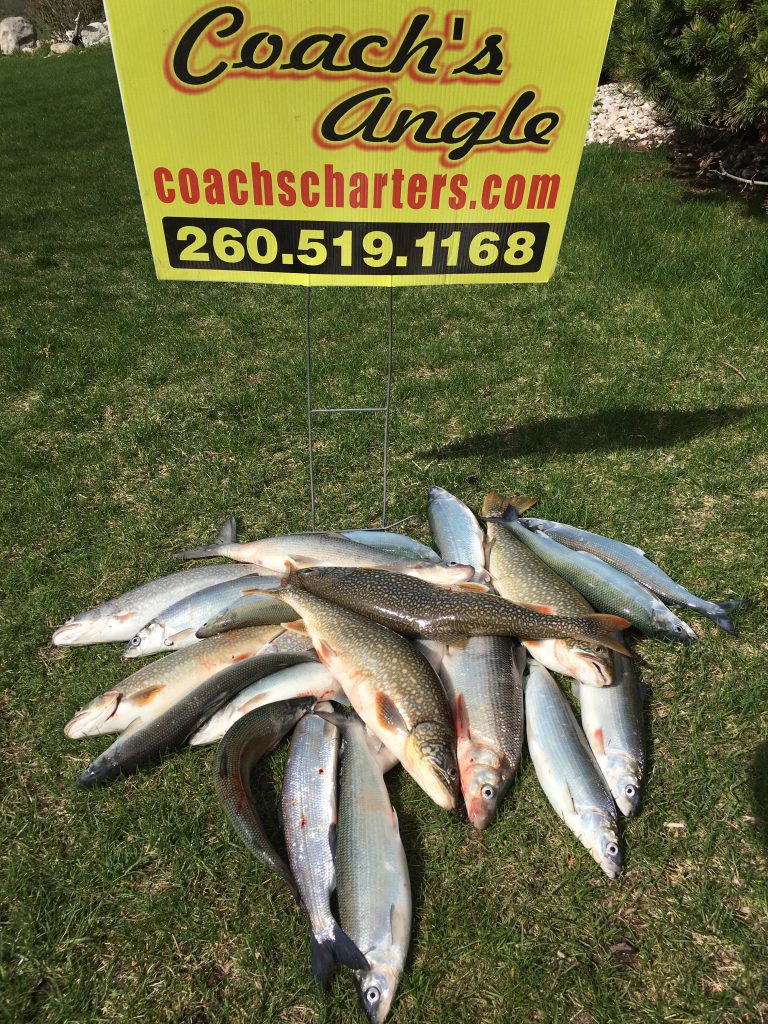 Dan and Dave went out with Fred Fields from Coach's Charters on East Grand Traverse Bay out of Elk Rapids and caught this nice mess of fish Wednesday.
The cold rainy weather has fishing season off to a slow start, as many places are flooded or lakes have had so much runoff , but sunshine will get the fish biting again. Houghton Lake reports that big crappie are in the canals the last few days but very few are fishing. Trout fishing has been slow with all the rain.
Lake Charlevoix has been good for perch off of Ironton.
Manistee and Portage Lake has been slow with all the rain and runoff.
Long Lake by Traverse has been fair for walleye and perch
Northwest Lower Peninsula Fishing Report
Harbor Springs: The dock at the public launch is not in yet and no anglers were out.
Petoskey: Had light boat activity but those that have been out picked up a few lake trout on spoons. A couple brown trout were also taken close to shore. The mouth of the river and the D Pier were slow. A few pike were caught inside the breakwall.
Bear River: Water levels were high. A good number of steelhead were at the dam but anglers had a hard time catching them when drifting spawn bags, wax worms and flies. There are quite a few suckers between the mouth and the dam.
Charlevoix: Had few anglers and no boats were out. A couple anglers were fishing the channel but had no luck. There is a small launch near Medusa Weir that had new pads installed last fall. The launch is only sufficient for small boats. The township has put in a small dock.
Traverse City: Those trolling in deep water off Elk Rapids caught lake trout and some good size lake herring. Plenty of lake herring along with a few lake trout were taken north of the M-37 launch. The Elk River was slow with only a couple steelhead caught in the early morning. A couple boats braving the cold and rain were fishing along the east side of the West Bay but no fish were recorded.
Boardman River: Fishing was very slow. A few were lucky to get a couple small rainbows or brown trout.
Leland: Dredging at the harbor mouth is done and the ramp is in so anglers can now launch their boats. Most of the steelhead have left the river and the harbor. Pike and smallmouth bass are in the harbor at this time.
Platte Bay: Smaller boats should have no problem launching from the mouth of the Platte River. Most of the steelhead in the river are done spawning and heading back out into Lake Michigan. Anglers may still find steelhead or a resident brown trout.
Frankfort: Brown trout were caught by those trolling body baits around the break wall and in 15 to 20 feet along the shoreline. Early morning was best. Pier anglers caught brown trout off the south pier. Use fresh spawn in the early morning.
Portage Lake: Perch fishing slowed however some bluegills were starting to hit in shallow waters. Cool water temperatures have slowed the bite. Bass anglers have seen very few fish.
Lakes Cadillac and Mitchell: Both lakes had good catch and release bass fishing. A fair number of pike were also caught. Walleye anglers were trolling in 10 to 15 feet during the day and fishing from shore at night. The panfish bite was still slow.
Manistee: Surface temperatures were up near 52 degrees. The restrooms and the fish cleaning station are now open. Lake trout fishing continues to heat up. Those trolling caught a couple chinook or brown trout. Pier fishing was slow.
Ludington: The fish cleaning station and the restrooms were still closed. Many were still working hard to clean up all the debris around Big Sable Point. Boat anglers will still need to use caution when trolling in this area. Lake trout were still hitting off the projects. A few chinook were starting to trickle in and a couple brown trout were caught by those trolling along the shoreline. Pier fishing was slow.
Pentwater: Lake trout and the odd chinook were caught by those trolling in 30 to 60 feet. Brown trout fishing was good in 8 to 20 feet with orange or gold body baits.
Pentwater Lake: Yellow perch were caught on dropper rigs tipped with wax worms or cut bait in 10 to 25 feet.
Northeast Lower Peninsula Fishing Report
Cheboygan River: Boat anglers did struggle against a strong current as several gates at the dam remained open. Walleye catch rates were variable for boat anglers with some taking a decent number of 15 to 20 inch fish while others were lucky to get one or two. Most were casting or jigging weighted baits tipped with minnows. Shore anglers concentrated at the "bowl" just below the dam and lock had a difficult time. Those targeting steelhead had no luck but white suckers were taken on crawlers.
Rogers City: When the weather improves, try trolling in waters 60 feet and deeper for lake trout with cowbells and spin-glo's. For Atlantic salmon, try bright colored spoons up high. Shore anglers can try casting spoons and body baits off the breakwall. Good colors would be orange, silver or chartreuse.
Rockport: Those able to get out caught lake trout between the shallows and 60 feet with cowbells, spin-glo's and spoons. Most were fishing around Middle Island and running their lines from top to bottom. Atlantic salmon were taken off the breakwall
Alpena: Those fishing in the bay near the mouth of the river caught walleye and smallmouth bass with jigs tipped with twister tails or minnows. Those casting crank baits caught walleye and pike.
Thunder Bay River: Steelhead and suckers where caught when drifting spawn and orange beads. Steelhead fishing actually picked up some. Those fishing further downstream caught walleye when jigging or casting crank baits. A couple carp were taken in the harbor at night when still-fishing with crawlers.
Oscoda: Those casting spoons and body baits from the pier caught Atlantic salmon and lake trout. Walleye were taken on jigs tipped with flukes and twister tails. Pike were hitting on jigs and crank baits. Those out trolling caught a couple walleye on crank baits in 10 to 20 feet.
Au Sable River: Walleye were caught by those trolling crawler harnesses below the US-23 Bridge. Shore anglers in Oscoda caught smallmouth bass and carp on crawlers. The majority of steelhead were found upstream by anglers fishing egg flies, beads, and spawn sacs near Foote Dam, Rea Road, the Au Sable Overlook, and Whirlpool Access Site. White suckers are also being caught by anglers targeting steelhead. The North Branch had a Hendrickson fly hatch and some brook trout hitting the surface. The warmest part of the day was best.
Tawas: Boat anglers heading down near Alabaster, the Singing Bridge and Whitestone Point and trolling body baits in 15 to 20 feet caught a few walleye. Atlantic salmon were following minnows in and out of the harbor. Pier anglers caught walleye and pike.
Tawas River: The lower river provided a mix of large and smallmouth bass for catch and release along with the odd walleye, pike, carp, suckers, and steelhead. Those casting lures caught the bass, pike, and walleye while those using worms caught carp and suckers. Those drifting spawn found a couple steelhead.
Au Gres: Those trolling caught walleye on body baits and crawler harnesses in 15 to 20 feet off Whitestone Point, Point Lookout, Pointe Au Gres and off the river mouth.
Au Gres River: Shore anglers fishing the lower river caught freshwater drum, bullhead and a few pike.
Upper Peninsula Fishing Report
Marquette: Coho are still being caught in both harbors especially in the morning but catch rates did slow. The few heading out for lake trout were getting limit catches almost every time. Some coho and brown trout were also caught.
Menominee River: The dam at Hattie Street had four gates wide open making it very difficult to fish.
Little Bay De Noc: Perch anglers reported fair catches between the Day's River and the Third Reef with crawlers and wigglers in 26 to 35 feet. The "Narrows" also produced fair catches using the same in 30 to 38 feet. Angler participation for pre-season smallmouth bass in the Ford River picked up and many reported good catches mainly around the mouth when casting spinners or plastics from the shore. Boat anglers also did well. This is a great time to catch and immediately release some big bass.
Manistique River: Had a few boat anglers targeting steelhead but most were shore anglers fishing the fast water below the dam. They reported good catches even though the peak of the run is pretty much over. Fly anglers used beads while others used spawn and yarn. The sucker run was starting to taper off.
Au Train: The Brownstone launch was still closed. A few anglers fishing off the rocks around the launch caught a couple coho and splake. Those launching small boats from shore have also caught a good number of coho.
Munising: Had good catches of coho with some reporting limit catches. Most were trolling spoons and stick baits in less than 50 feet. Hot colors were orange and gold. Catch rates for splake slowed. Shore and pier anglers had mixed results with good catches one day and slow the next. Water temperatures remain in the 30's.
Grand Marais: When they could get out, boat anglers were taking a good number of coho. Pier anglers reported slow whitefish action. Of the fish caught, most were small about 12 inches and were hitting on a single egg. The odd coho was also caught.
Two Hearted River: Water levels were high and steelhead fishing was slow.
Detour: Windy conditions have kept anglers off the water.
Cedarville and Hessel: The perch bite slowed but a few were taken straight out from the launch behind Cedarville Marine were all the flags are. Those fishing around the docks did manage to catch a few 8 to 11 inch perch on minnows and leeches. At Hessel, splake continued to bite both inside and outside the marina pier. Those casting crank baits or fishing smelt on the bottom in 8 feet caught Atlantic salmon, splake and the odd lake trout. Splake anglers were using a three way swivel with a 5/8 ounce sinker while jigging or still-fishing smelt under a bobber.
St. Ignace: Fishing was slow and the weather has kept boats off the Great Lakes. The ramp on the Pine River was not in yet. The Carp River had a few anglers taking white suckers but no steelhead.
Southeast Lower Peninsula Fishing Report
Lake Erie: Fishing activity was much slower. Walleye were caught when trolling crawler harnesses in 12 to 16 feet in Brest Bay and off Stony Point. A large number of white bass have also been caught in these areas. Yellow perch were few and far between with total catches less than five fish.
Wamplers Lake: Had very little activity due to the weather. On Sand Lake, largemouth bass were caught around the orange buoy and along the east side of the lake in waters up to 8 feet deep when casting chatter baits, jerk baits and swim jigs.
Detroit River: Fishing pressure was high but catch rates for walleye were variable.
Lake St. Clair: Preseason bass anglers found fish along the Mile Roads with crank baits, jerk baits and tube baits in 6 to 10 feet. Smallmouth bass were caught with jigs and swim grubs in 4 feet in Muscamoot Bay. Perch and other panfish were slow.
St. Clair River: Walleye fishing continues to improve throughout the entire river. Good catches are being reported by those jigging during the day or whipping at night.
Lexington to Port Sanilac: Those trolling were taking mostly lake trout with a mix of the occasional chinook, coho, steelhead, Atlantic salmon and walleye. They are trolling planer boards, dipsey divers and downriggers with body baits in 20 to 30 feet. Pier fishing was slow due to muddy water.
Harbor Beach: Boat anglers were getting a fair to good number of lake trout along with the odd chinook and coho. Pier fishing was poor as the waters near shore were still very muddy after all the rain.
Saginaw Bay: Fishing on the inner bay was slow as the water is still muddy. When they could get out, boat anglers found a few walleye around Spoils Island when vertical jigging or trolling northeast of the island. Bass anglers were fishing around Bay Port and in the Pigeon River but catch rates were very slow. Walleye fishing in the Quanicassee River was slow.
Saginaw River: Boat anglers out of Smith Park caught and released a good number of freshwater drum, catfish, white bass and carp but very few walleye.
Tittabawassee River: Walleye fishing was harder this year as it appears heavy rain in April flushed a lot of walleyes down the river and back into the bay before the season opened. Just about everyone caught fish but limit catches were rare. Fishing was poor up near Dow Dam, but better from Immerman Park down to M-46 and beyond when targeting the deeper holes near the bridges. Anglers were trolling purple, fire-tiger and chartreuse shad raps or vertical jigging with jigs tipped with crawlers, minnows or plastic bodies in orange, fire-tiger and chartreuse. Water temperatures were a bit over 60 degrees and the white bass run is underway which is about two weeks early. A good number of walleye got over the Dow Dam during the high water levels and provided good fishing between Emerson Park and the Sanford Dam. With the water levels rising and muddy, the river will be hard to fish for the rest of this week.
---
Southwest Lower Peninsula Fishing Report
St. Joseph: Those targeting salmon reported slow fishing. The few caught seemed to have moved and were found inside 100 feet. Perch and pier fishing were slow.
South Haven: Boat anglers caught a decent number of lake trout in 50 to 90 feet with cowbells and spin-glo's. A couple chinook salmon were taken on small spoons. Pier fishing for salmon was very slow but a few freshwater drum were taken. Perch fishing was also slow. Road construction continues in the area but the boat launch is open.
Grand Haven: Those targeting coho did well in 170 to 260 feet with orange or green spoons in the top 80 feet. A few brown trout were caught when trolling along the shoreline. Perch fishing was still hit-or-miss. Try minnows and wigglers.
Grand River near Lansing: Had good smallmouth action. Anglers have done well near the North Lansing Dam, the Portland Dam as well as Fitzgerald Park in Grand Ledge. The fish are hitting on a variety of lures. With the strong current, use bright colors and heavy weight.
Muskegon: Boats targeting coho found a few in 180 to 240 feet with orange, green or blue spoons in the top 75 feet. Pier fishing for brown trout was slow.
Muskegon River: Still had a decent number of steelhead however the quality of the fish is deteriorating. Anglers were starting to catch a few bass and pike.
Whitehall: Anglers trolling in 20 to 50 feet caught lake trout and chinook salmon. Brown trout were caught along the shoreline in 8 to 20 feet. Pier fishing for brown trout and steelhead was slow. Pier anglers targeting walleye caught a few on deep-diving body baits and plastic swimbaits.
White Lake: Those trolling crawler harnesses caught walleye in 20 to 30 feet. Northern pike fishing was good in 8 to 15 feet while trolling or casting body baits. Yellow perch and crappie were caught on dropper rigs or slip bobbers and jigs tipped with minnows and wax worms.