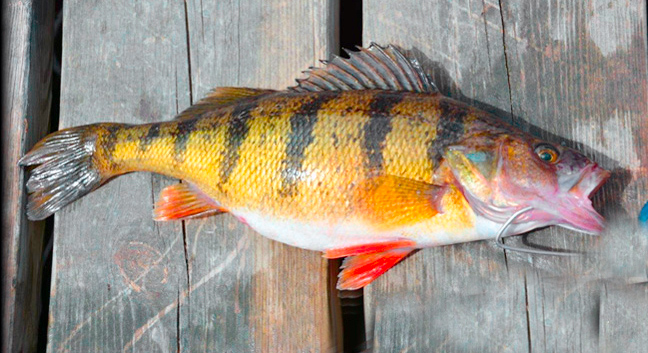 Perch fishing has been fair on Lake Margrethe, Skegemog, Manistee Lake by Kakaska, Long and Green Lake by Traverse, Portage Lake, PM lake, Burt, Mullet Lake and Big Glenn. Have not heard much from Crystal or Lake Leelanau. The guys going out the last few days say West Grand Traverse Bay has finally started to produce again at Lees Point, Suttons Bay, and Northport.
Stop in at Lyman's On The Lake and be one of the first to own the new Fishbones' Rattle Shad crank baits. During testing, Matt Peterson's pro staff have been slaying the fall walleye on Houghton Lake with these beautifully custom-painted and UV-coated lures. Matt recommends trolling at 1.8 to 2.0 mph for the best results.
Northwest Lower Peninsula Fishing Report
Petoskey: No boat anglers were interviewed. The Bear River had high water levels and two really good runs of fish after the rain last weekend. A lot of coho were coming in with the Chinook which were getting ripe and turning quite dark. Most were using spawn, flies and artificial eggs. Fish were jumping at the mouth and beyond but only a couple small steelhead and salmon were caught as most fish were taken further up in the river.
Charlevoix: Had very few boat anglers. Smallmouth bass fishing in the channel was still good but the bite at times was still hit-or-miss. Anglers reported some good size fish caught on live or artificial crawlers. The Medusa Weir is still in operation so the creek is closed to fishing within 100 feet of the mouth. A couple anglers casting out past the mouth caught one small Chinook salmon. The Jordan River had more salmon than recent years. The Boyne River was active with salmon.
Traverse City: On the East Bay, the lake herring action was good out from the Center Road launch. Some big fish were suspended in 80 feet off Deepwater Point. A couple steelhead were caught by those trolling for lake herring. The Elk River was good in the early morning for coho, Chinook and the occasional steelhead. The kid's pond was also good on certain days. Spawn worked best.A few perch were caught off Old Mission. The West Bay had spotty perch fishing at the north end but anglers did manage to catch a few fish in Suttons Bay. The fish were scattered at Northport and the action was hit-or-miss off Lee Point. Minnows worked best but some fish were taken on worms. Fishing in the Boardman River slowed but a few Chinook were caught in the early morning.
Leland: A few salmon and small perch were caught in the harbor. The salmon were hitting on spoons and body baits. The Leland River had a decent number of Chinook, coho and steelhead. Salmon were hitting on spoons and spawn bags.
Platte Bay: A few coho were caught near the mouth of the Platte River and some of the smaller rivers as well. Most were casting spoons or spinners but a few did well with spawn bags.
Platte River: Chinook and a good number of coho are still being caught in the lower river. Skein, spawn bags, flies and beads were all producing fish.
Betsie River: Still had salmon with many fishing below the Homestead Dam.
Manistee: Boat fishing was slow. A small number of steelhead were caught off the north pier and by shore anglers using spawn. The fish cleaning station is closed however the restrooms and docks were still available.
Manistee River: Still had salmon including some large fish being caught on spoons or body baits. Anglers were still finding some fresh fish mixed in the darker ones.
Pere Marquette River: Had a good number of salmon with numerous fish over 20 pounds. Anglers reported some fresh fish still pushing upstream.
Pentwater: Pier anglers caught smallmouth bass and freshwater drum when still-fishing crawlers or casting body baits.
Pentwater Lake: Those casting body baits or spinners at Longbridge Road caught the occasional Chinook salmon in the early morning. Boat anglers caught perch and bluegills on dropper-rigs tipped with wax worms or wigglers in 12 to 20 feet.
Muskegon: Had no reports from boat anglers. Pier fishing was slow as those casting spoons for salmon had no luck.
Muskegon River: Salmon fishing picked up with the rain and cooler temperatures. The better fishing was early morning and late evening and the fish were usually found in deeper water.
Whitehall: Fishing days for boat anglers were limited by poor weather including windy conditions. Pier anglers caught channel cats, largemouth bass and bluegills when still-fishing or drifting crawlers.
White River: Chinook salmon were spawning and could be found all the way up to the Hesperia Dam.
Northeast Lower Peninsula Fishing Report
Burt and Mullett Lakes: Were showing good perch and walleye numbers near the south end of both lakes.
Cheboygan River: Fishing pressure picked up for trout and salmon. Anglers at the lock and dam caught Chinook and steelhead with skein, spawn bags, spinners, spoons and crank baits. The Chinook were between 6 and 8 pounds and the steelhead were between 2 and 6 pounds. Anglers caught smallmouth bass and rock bass with crank baits and worms at the lock and dam and from the Bablo parking lot pier.
Rogers City: There still seems to be some adult Chinook salmon around Swan Bay. Try inside 30 feet when trolling planer boards with J-plugs and bombers. Those willing should try summer fishing patterns out deeper where there should be young Chinook, steelhead, Atlantic salmon or even walleye. Run spoons throughout the water column. Good colors to try would be green, blue, orange, yellow and silver. There appears to be a lot of baitfish in the area.
Alpena: Those trolling spoons throughout the water column in 20 to 80 feet caught a couple small Chinook and the odd coho off the mouth of the river and the north shore. Some nice smallmouth bass were taken on tube jigs and crank baits from the LaFarge discharge. Walleye were caught when trolling stick baits in 20 to 30 feet in the evening.
Thunder Bay River: Atlantic salmon have been showing up with many averaging 4 to 5 pounds. Chinook, Atlantics, brown trout and even a couple spawning pink salmon were caught below the 9th Street Dam. Most were using small spoons, spinners, crank baits, streamer flies, or drifting spawn bags and skein. A few small perch and channel catfish were caught on minnows and crawlers in the lower river.
Oscoda: Anglers trolling spoons and crank baits off the mouth of the river and around the pies were marking a few large fish along with baitfish but the large fish did not want to bite. Pier anglers caught walleye and channel cats in the evening. Decent size smallmouth bass were caught from the pier when using crank baits or jigs with soft plastics. A small number of Chinook were caught on spoons.
Au Sable River: A couple Atlantic salmon were caught below Foote Dam and in Van Etten Creek by those floating skein or casting spoons and spinners. A steelhead was caught on a spoon at the mouth. Smallmouth bass, freshwater drum, rock bass, and a couple yellow perch were taken in the lower river when floating a crawler. Water temperatures below Foote Dam were in the mid 60's.
Houghton Lake: A few walleye were still being caught by those drifting or bouncing lures off the bottom. Panfish could still be found near the weed beds.
Tawas: Pier anglers on the state dock were starting to get a few perch inside the harbor. Minnows were just starting to come into the harbor and bringing the perch with them. On the outside, those "walking the wall" with crank baits caught a few walleye in the early morning or late evening. A few Chinook were seen jumping outside of the wall at night. Some perch were caught near Jerry's Marina.
Tawas River: A few Chinook salmon were caught by various methods including casting or floating spawn bags in the lower river.
Au Gres: Those trolling for walleye did good in waters 30 feet and deeper when trolling a crawler harness halfway down. Perch anglers were getting fish out by the shipping channel in 50 feet, off Pointe Au Gres and off the mouth of the Au Gres River.
Au Gres River: On the East Branch, Chinook salmon were present in the lower end of Whitney Drain at the Singing Bridge access site.
Saginaw Bay: Perch were caught off the mouth of the Pine River near Standish and off Eagle Bay Marina. Good depths ranged from 8 to 10 feet on the shallow end to 20 feet on the deep end. Assorted panfish were caught in the lower Pine River at the access site. Perch fishing was hit-or-miss along the inner bay but a few were taken northeast of Spoils Island when boats could get out. Fishing on the east side was slow from Quanicassee to Caseville with only the odd walleye or perch taken. Results were a bit better inside the marina at Sebewaing and the adjacent Sebewaing River where shore anglers caught a mixed bag of panfish, a few small bass and halfway decent pike.
Saginaw River: A few walleye were taken in the lower river near Bay Harbor Marina.
Upper Peninsula Fishing Report
Lake Gogebic: A few boats caught a decent number of walleye but there is still no pattern in regards to what methods work best. Try a leech or minnow under a slip bobber in the evening. Perch fishing was similar with a few fish caught. Bergland Bay produced some nice sunfish but anglers were sorting the small ones. The smallmouth action was still going strong. The fish were hitting on crawlers and leeches along the rocky shorelines. Pike fishing was slow. Good rock bass fishing on the south end in 10 to 15 feet with live bait.
Keweenaw Bay: Anglers were marking a lot of fish but the bite was slow. A few lake trout along with a couple coho and steelhead were taken. River fishing is picking up in the area with fair catches of coho, pink salmon, and a few brown trout. In Traverse Bay, trolling was slow with only a couple coho caught in shallow water when trolling stick baits or spoons.
Menominee River: Was producing walleye and bass up near the Hattie Street Dam. Those trolling the lower river caught walleye, pike, smallmouth bass, catfish and freshwater drum but no large numbers.
Little Bay De Noc: Had fair walleye catches with the best areas between the First and Second Reefs, the "Narrows", the "Black Bottom" and near the mouth of the Escanaba River. Most were trolling a crawler harness in 14 to 30 feet. Perch were found near Kipling in 17 to 28 feet and in the Escanaba Yacht Harbor with minnows or crawlers. Good bass fishing in the southern "Black Bottom" area with plastics or minnows in 15 to 20 feet. Some were salmon fishing near the dam on the Escanaba River but no fish were recorded. The Ford River generally gets a good salmon run but few were fishing.
Manistique River: Catch rates picked up after the rain. Salmon season will peak soon so now is the time if you want to fish this area. Shore anglers did well with most fishing the rapids just off the "Big Bass Hole" with jointed rapalas, spoons, spawn or beads. They caught some nice coho along with Chinook and steelhead. Anglers will still find some fresh Chinook although about half were dark. Walleye anglers had good catches in the evening with a crawler and slip bobber in the "Bass Hole".
Marquette: When anglers can get out, coho were caught in the Upper and Lower Harbors as well as between the Chocolay River and Shot Point. The lake trout action was hit-or-miss however limit catches were reported on the good days. Most of the salmon in the rivers are dark now but a few fresh coho were caught as most of those fish have not run up into the rivers yet. The Dead River had Chinook and pink salmon stacked up at the dam. The Chocolay River has a few dark salmon. Those drifting in boats caught fresh coho near the mouth. The Carp River has some dark Chinook.
Au train: Boat anglers were taking limit catches of lake trout near Au Train Island. A few coho were caught when trolling the shoreline between the Brownstone launch and the mouth of the Au Train River. There was no fishing activity on the Au Train River or the Rock River.
Munising: Surface water temperatures were 59 degrees. Fishing in general slowed and the few boats targeting coho had mixed results as some maybe caught 2 or 3 fish per boat while others never had a hit. Anglers did see some coho jumping on certain days and some of the fish were dark in color. Pier and shore anglers reported slow catch rates. Most were still-fishing with spawn bags or casting spinners and spoons. Orange was the hot color. Splake fishing was poor with only a few caught. As for fall color changes, the area is about 30 percent color and still about 2 weeks away as most trees were still green.
Grand Marais: Has had few anglers and those out have only caught a couple coho. Water levels in the Sucker River were high but few anglers were out. The fall colors were more prominent in this area with 50 to 60 percent color especially along M-77 and Highway 58.
Tahquamenon River: Those casting crank baits still had some pike and musky following lures to the boat but not many were caught. Bluegills and sunfish were caught on worms at the Dollarville Dam.
St. Marys River: Salmon fishing behind the Cloverland Powerhouse was hit-or-miss depending on water flow. A few Atlantic salmon and steelhead were caught when there was good flow. Perch and walleye were slow but those lucky enough to find them did so in the shipping channel in 30 to 32 feet. Pike fishing was good for those using gold or silver spinners. Those fishing Lake George caught a good number of yellow perch in 50 feet. The walleye bite was starting to pick up on the north end. Try jigging soft plastics or trolling a crawler harness. In the lower river, a few walleye were caught near the mouth of Carlton Creek and south between Sweet's Point and Pipe Island. Most of the legal size fish were taken in 28 to 35 feet when trolling deep diving stick baits. Blue and silver were a good color. Nice yellow perch were caught when drifting minnows and worms near the bottom in 14 to 20 feet on the northeast side of Lime Island and near Round Island. Weeds in both Raber and Munuscong Bay have receded allowing anglers to fish these areas once again.
Detour: Surface water temperatures at the Detour Reef were 62 degrees. Smallmouth bass anglers did well casting a dark green speckled tube jig off the first point at the DNR launch in Detour Village. Anglers may also want to try jigging in 4 to 6 feet along the rock piles from later afternoon until dark. Pike anglers did well a couple miles north of when trolling or casting a chrome spoon with a red eye off the weed beds and near the old freighter coal dock.
Drummond Island: Those targeting yellow perch were still catching a good number of fish when conditions allow. Water temperatures in Potagannissing Bay remained in the low 60's and were not quite cool enough to trigger the jumbo perch. Anglers still caught between 10 and 30 legal size fish with most 9 to 11 inches. A few walleye were also caught by perch anglers drifting small minnows near the bottom. Hot spots were Maxton Bay and near the islands of Rutland, Ashman, James, Grape, Bald and Boulanger.
Cedarville and Hessel: Yellow perch fishing remains slow throughout the Les Cheneaux Islands. Those that have caught a few did best in the colder water at the Middle Entrance, the south end of Little La Salle Island, Sand Bay and off Connors Point. Use worms or shiners. At Hessel, no perch were caught at the finger docks in the marina. A few pike were caught early evening until dark when casting chrome spoons or still-fishing with chubs.
St. Ignace: Had little fishing activity. A few boat anglers casting body baits around St. Martins Island caught some 30 inch pike. The Carp River had more anglers targeting trout and salmon. Anglers could see the fish surface but few were caught. The salmon run on Nunn's Creek appears to be done.