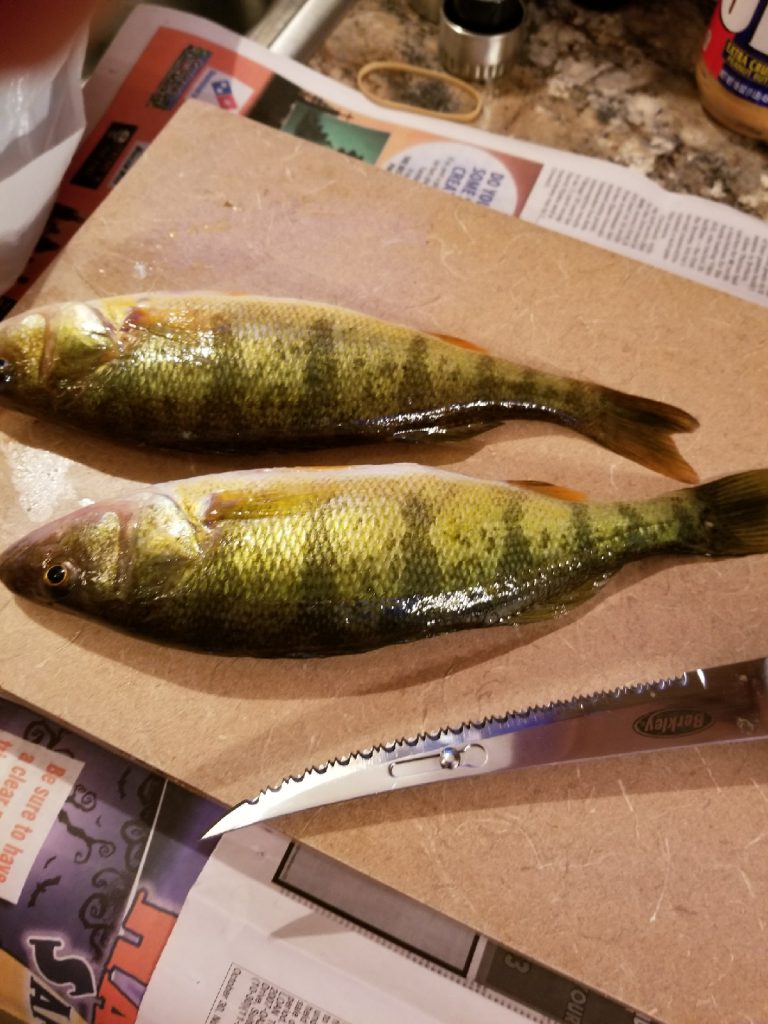 Fish above were caught out of Lake Skegemog yesterday with most running 9-10 inches nothing huge. Talked to a guy fishing Long Lake and has been catching his limit every day when he can get out with some big ones being caught.
We have had cold, windy and some places snowy weather this week. What few guys are getting out the fish have been biting. Perch have been fair on Long Lake by Traverse city, Bowers Harbor, Lees Point, Wallon Lake, Lake Skegemog, Portage lake, Lake Charvevoix and Green Lake. Also this time of year big Glenn, and Big Platte have a good bite.
Some browns being caught out of Bear Lake by Kalkaska on Blues.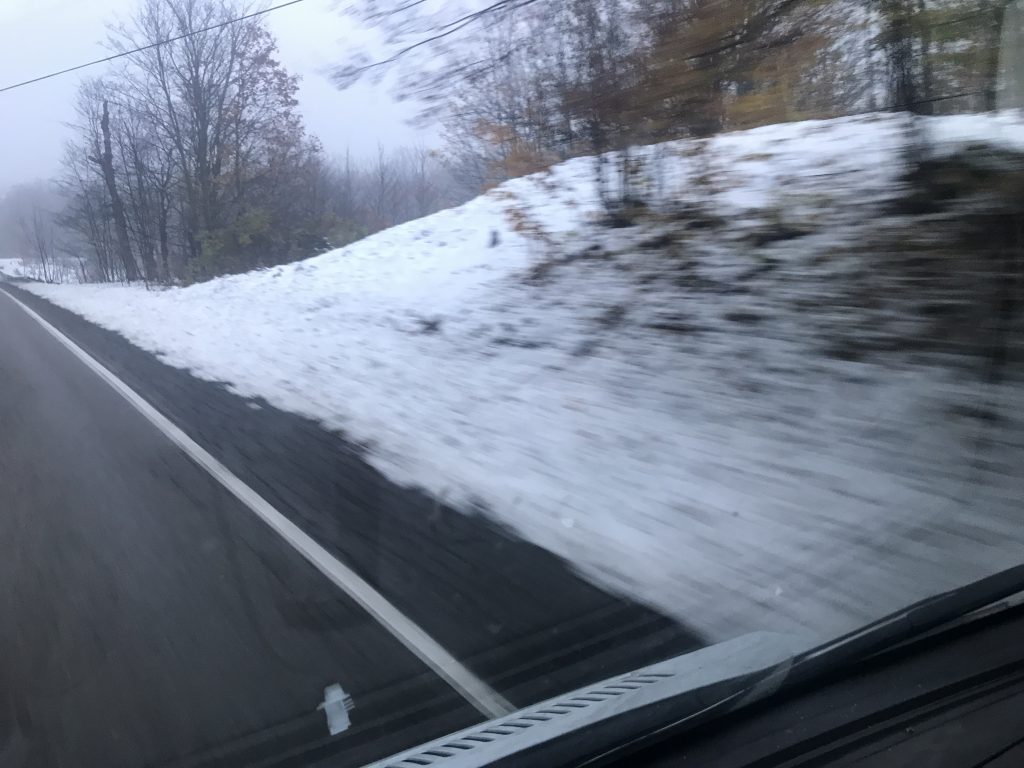 Photo above is between Mancelona and Kalkaska today.
Steelhead fishing at Tippy Dam has been good this week with one guy bring in a 17 pound steelie. I saw another guy with three wednesday running from 3 to 5 lbs.
Walleye fishing has been good on Burt Lake the last week with most fish are big fat keepers.
Some browns and rainbows in shallow on Higgins Lake by Big Creek with blues working best.
Northwest Lower Peninsula Fishing Report
Petoskey: The docks at the boat launch have been removed. Those fishing from the piers and the docks around the marina caught the occasional steelhead on spawn. The Bear River was still quite high and stained so not many anglers were fishing the dam. A few salmon were still up near the dam but the run is pretty much done. Most were fishing down near the mouth where they caught a couple lake trout and steelhead. Anglers are reminded that lake trout season in the Bear River is open but the season is closed in Lake Michigan. Try spawn, flies or artificial eggs.
Charlevoix: Had no angler reports. The docks were still in at the launch and the fish cleaning station was still open but not for much longer. Operations at the Medusa Weir wrapped up last week. Total fish for the egg take was 2,081 Chinook and 143 coho.
Traverse City: Windy conditions have limited reports in the East Bay. The Elk River was slow except for a couple steelhead and lake trout taken at the dam in the early morning. In the West Bay, perch fishing was good in Bowers Harbor and north of Marion Island. A few nice ones were caught south of Elmwood Marina but anglers were sorting through a lot of small ones to get a few keepers. Along the Boardman River, some nice steelhead were caught below the dam and down from the Union Street Bridge along the boardwalk. Lake trout moved into the river and were caught at the dam and at the out-flow tubes.
Manistee: Strong north winds cooled the surface water to 52 degrees. Angler activity is slow. Small numbers of steelhead were caught off the north pier when using fresh spawn. The fish cleaning station is closed but the restrooms were still open. The docks were still in at the launch.
Big Manistee River: Had good reports of steelhead being caught.
Ludington: Surface water temperatures dropped to 55 degrees. Angler activity was very low. The Loomis Road launch still had a dock in.
Pere Marquette River: Is also producing good catches of steelhead. Higher water levels increased the number of fish in the river but also made fishing a challenge.
Muskegon: Anglers were taking a fair to good number of walleye, some nice perch and a few smallmouth bass in both Croton and Hardy Pond.
White Lake: Still a good gill bite but no perch to report, some steelhead also
Northeast Lower Peninsula Fishing Report
Cheboygan: Had no reports. The fish cleaning station was still open but not for long.
Cheboygan River: Had good fishing. The water levels were very high after all the rain. All the gates were open on the dam making it hard for anglers to float spawn. A few Chinook were taken on skein, spawn bags, artificial spawn, crank baits, and spoons. Crank baits worked best in the high water. The fish averaged 10 to 15 pounds.
Presque Isle: Before the weather turned, a few Chinook, steelhead and Atlantic salmon were caught in 65 to 90 feet. Look for the baitfish and use green, blue, orange, black and white or glow spoons.
Rogers City: Windy conditions have scattered the fish and slowed the bite. Surface water temperatures dropped below 50 degrees. A couple boat anglers went out but caught no fish.
Alpena: Had very little angler activity. Walleye were caught by those casting from the pier or trolling crank baits near the mouth of the river in the evening.
Thunder Bay River: Several gates were open at the 9th Street Dam and high water levels have brought a push of pre-spawn Atlantic salmon up into the river. The fish ranged 4 to 10 pounds. Atlantic salmon, brown trout, steelhead and a couple Chinook were caught at the dam when casting spoons, spinners, and shallow diving crank baits as well as when drifting beads or spawn. The water was high and turbid so use bright colors. Walleye were caught in the lower river when casting or trolling crank baits or jigging soft plastics. A few small yellow perch were caught in slow water when floating minnows or crawlers.
Oscoda: Pier anglers casting crank baits or jigs with soft plastics caught a couple walleye and smallmouth bass in the early morning or evening. Lake trout were also caught when casting spoons or crank baits. Catfish were taken by those drifting spawn bags or still-fishing with crawlers.
Au Sable River: Water levels were high. A couple steelhead, smallmouth bass, and Atlantic salmon were caught between Foote Dam and the Whirlpool Access Site. Try spoons, spawn bags, and deep diving crank baits. A few walleye were caught by those casting crank baits or jerk baits throughout the river.
Tawas: Boats trolling around Buoy #4 were still marking fish but not catching very many. Pier anglers caught the odd walleye, pike or rock bass on minnows and artificial baits.
Tawas River: Walleye were caught on artificial lures in the early morning or at night.
Au Gres River: Those still-fishing with spawn or using spoons caught a couple small steelhead down by the Singing Bridge.
Saginaw Bay: Some perch were caught on the north side of Spoils Island in 15 feet, in the old shipping channel and in the first set of buoys past the Island. A few walleye were caught incidentally. Small perch and bluegills were caught off Finn Road. Minnows appear to be in all over but anglers were not seeing good perch fishing. A few were taken off Quanicassee and very few in the cuts at Sebewaing and Bay Port. Anglers were working all day for a dozen keepers. At Caseville, a few fish were taken from the Pigeon River.
Saginaw River: Those fishing Smith Park caught a few perch, bass, channel cats and freshwater drum. There were rumors of a few walleye in the river but none were seen.
Upper Peninsula Fishing Report
Menominee River: Walleye, brown trout and the occasional Chinook or steelhead were caught below the Hattie Street Dam and down to the Interstate Bridge with live bait such as minnows, plastics, or spoons.
Little Bay De Noc: Walleye fishing picked up some north of the "Narrows" when trolling stick baits or a crawler harness in 18 to 30 feet between the Second and Third Reefs. The better catches came out from the Days' River when trolling stick baits in 8 to 10 feet at night. A few perch were taken off Kipling in 20 to 30 feet. Those fishing the slip docks in the Escanaba Yacht Harbor caught some nice perch when jigging minnows. Pike were active throughout the bay with several large fish caught in the area around Garth Point when trolling stick baits.
Manistique River: The salmon run is about done but the steelhead action has picked up and most anglers are targeting them between the bridges when fly fishing or when casting beads, spawn, yarn or flies. The steelhead action should remain good well into the winter season.
Marquette: One of the docks in the Upper Harbor has been pulled. The Lower Harbor still had both docks in. Only a few anglers were out and caught lake trout in the harbors and near the river mouths. Slow river fishing with only a couple coho or steelhead taken.
Au Train: The Brownstone boat launch is currently closed due to washout from last Tuesday's storm and no word on when it will re-open. A couple steelhead were caught by shore anglers near the Rock River.
Munising: Strong north winds dropped water temperatures to the upper 40's. Shore and pier anglers picked up the odd steelhead or splake with spoons and spawn sacs.
Grand Marais: Before the storm last week, a couple steelhead were caught on spawn sacs at the mouth of the Sucker River. Waves reaching 25 feet and moving sand changed the mouth of the river which now runs along the shoreline. There was some damage by the pier as the force of the water pushed all the rocks and other debris towards the museum. Anglers should be careful in this area.
Tahquamenon River: Had very few anglers, but a good number of trappers and duck hunters. The few that did fish caught a handful of perch near Mud Lake with minnows and worms.
St. Marys River: A few walleye were caught on the north end of Lake George near Hay Point with a crank bait or crawler harness in 5 to 20 feet. In the lower river, few anglers were targeting musky in Munuscong Bay. Most caught at least one fish when trolling large stick baits behind planer boards or when casting large bodied soft swimbaits near places like Moon Island. Most fish were small about 30 to 38 inches but one as large as 52 inches was caught and released. Some nice pike and smallmouth bass were also caught. Anglers tried trolling stick baits or a crawler harness for walleye but had no luck.
Cedarville and Hessel: High winds and rain kept the fishing effort down throughout the Les Cheneaux Islands. A few pike were caught by those trolling spoons or drifting chubs in Urie Bay, across from Musky Bay, and off Conner's Pointe. The fish were running bigger at 28 to 30 inches now that the water temperature has cooled to around 48 to 50 degrees. Gusty winds have kept anglers off the water in Hessel Bay and off the west shoreline of Marquette Island.
St. Ignace: Had no reports. The fish cleaning station is now closed. The Pine and Carp Rivers had no reports as all activity has been duck hunters. Water levels were very high with debris coming down the river so boat anglers need to use caution.