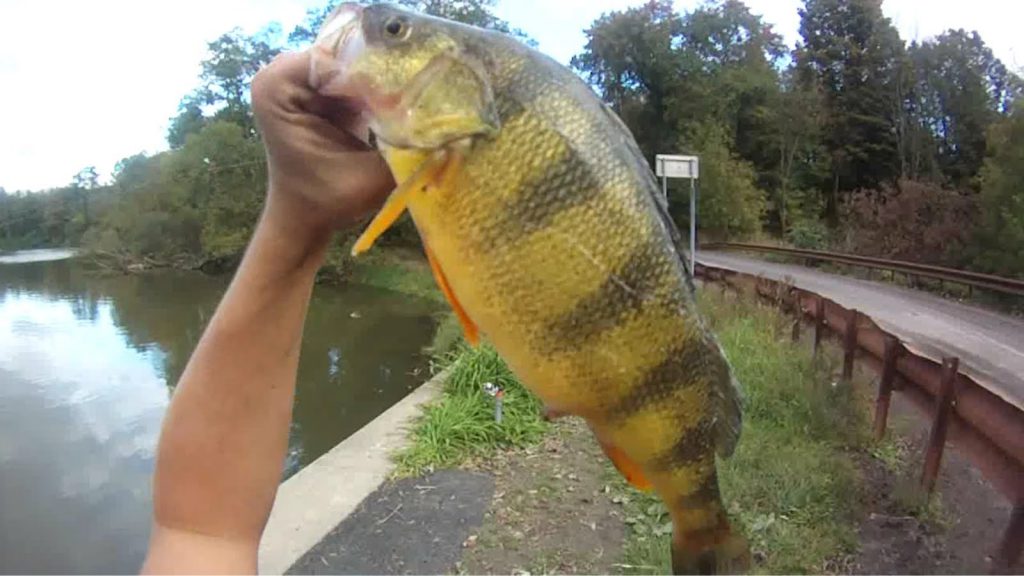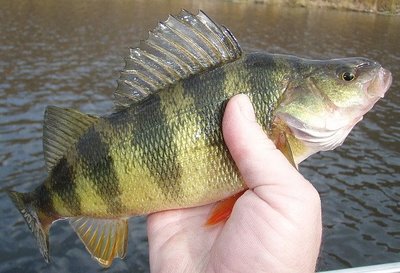 Perch are starting to school and many are catching nice messes of perch. Lake Magrethe has been real gross this week along with a great walleye bite.
Both Grand Traverse Bays have been good but most reports are coming from Northport and Lees Point.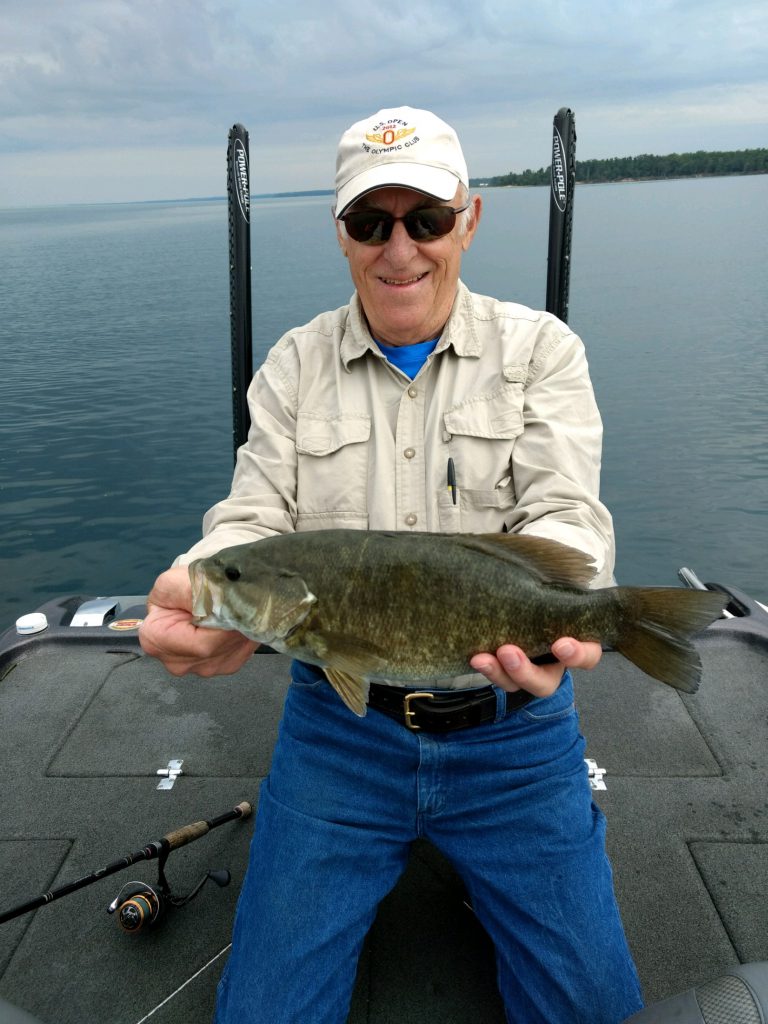 Also smallmouth bass is hot on East Bay out of Elk Rapids, photo of one from east bay
Skeegemog has a perch bite and many are fishing on the northwest end some sorting right now.
Crystal. Big Glen, Green Lake, Long Lake, Little Glen, Big Platte Lake, Portage are starting to get there perch on.
Salmon are up the river with lots of fish in the rivers.
Northwest Lower Peninsula Fishing Report
Harbor Springs: A couple lake trout and salmon were caught 80 to 90 feet down. Anglers are now fishing east of Harbor Point.
Petoskey: A few chinook and coho were caught 40 to 50 feet down in 75 to 120 feet. Boat anglers were staying close to the breakwall or trolling toward Bay Harbor with flies and plugs. Lake trout were caught 70 to 100 feet down in 80 to 220 feet. Pier anglers caught smallmouth bass and rock bass. The Bear River was still at a pretty high level. A couple chinook and coho were caught up at the dam with spawn and flies.
Charlevoix: Boat anglers caught chinook and lake trout. The salmon were scattered and hitting 30 to 70 feet down in 65 to 100 feet. Lake trout were 50 to 90 feet down in 60 to 150 feet. Most were using spoons and flies near the red buoy and the cement plant. Smallmouth bass fishing was hit-or-miss but a couple big fish were taken. The Medusa Weir opened early last week, which means the creek is closed to fishing to within 100 feet of the mouth. Anglers caught a couple chinook salmon when casting in the freighter slip and in front of Medusa Creek.
Traverse City: Lake trout were caught in the East Bay near Deepwater Point. Salmon fishing was spotty but chinook and coho were taken by those trolling along the west bank, south of the M-37 launch and along the south bank. Bass fishing was spotty but fish were caught north of Old Mission and south of Elk Rapids. More lake herring were showing up for those trolling off the M-37 launch and Deepwater Point. A couple more salmon are at the dam in the Elk River. In the West Bay, some nice chinook and coho were caught in the hole at the south end in the early morning. Good size perch were caught on wigglers and minnows in Suttons Bay and off Lee Point. Lake trout were caught south of the M-22 launch. Salmon were in the harbor at Northport. The Boardman River has plenty of salmon below the weir and at the dam. Good numbers of chinook and coho were caught on spawn and skein. Early morning was best.
Leland: Some lake trout along with a few lake herring and a couple salmon were caught on the "First Bank". Some younger chinook and a couple adult coho were caught east of North Manitou Island. Lake trout and lake herring were hitting on spin-glo's behind flashers or cowbells. Salmon were hitting on spoons. The Leland River has some coho and a few chinook but very few fish have been caught. Look for smallmouth bass in the river and the harbor.
Platte Bay: Those trolling east and west of the bays caught a few salmon and lake trout when trolling, jigging or casting as deep as 80 feet down or just off the mouth of the river. With large pushes of salmon into the river, fewer fish were marked in the bay.
Platte River: Anglers reported a large number of coho in the lower river and a good number of fish above the lower weir at times. Most anglers have done well with spawn, skein and flies.
Frankfort: Cooler water blew in and surface temperatures were in the low to mid 40's in the harbor and off the piers. Chinook are still moving into the bay and a few were caught by those trolling around the piers.
Onekama: The "Barrel" is still producing lake trout near the bottom with spin-glo's. A couple young chinook and coho were caught but the action was slow.
Portage Lake: Catches rates were starting to pick up with a fair to good number of good size bass taken. Perch catches have been slow but the number and the size of the fish are slowly increasing for those using worms in 12 to 18 feet. Coho were reported on the west end but the fish were not very active.
Manistee: Fishing slowed but a few boats did manage to catch a couple chinook, coho and steelhead in the harbor and around the piers. Some did better further out in 300 to 500 feet. Pier fishing was slow but a few trout and salmon were taken by those casting spoons. Try early morning or evening. Salmon are in Manistee Lake.
Manistee River: Anglers were starting to see fish in the lower river and some coho up at Tippy Dam.
Ludington: Slow fishing continues but those trolling in 250 to 400 feet as well as in the harbor found salmon and steelhead. Pier fishing was slow with only a couple chinook taken on spoons. Chinook were also caught in Pere Marquette Lake.
Pere Marquette River: Some salmon are being reported in Lake and Mason Counties with a few fresh fish trickling upstream. Anglers are waiting for a large push of fish.
Pentwater: Salmon and trout fishing was very slow and few boats have been out. Those trolling 30 to 70 feet down in 60 to 100 feet caught the occasional chinook or coho in the early morning with spoons, flies and meat rigs. Pier anglers casting spoons in the early morning caught the odd chinook salmon.
Pentwater Lake: Anglers casting crankbaits or working jigs tipped with soft plastics along the bottom caught smallmouth bass in 8 to 15 feet. Those fishing the channel with crawlers caught smallmouth bass and redhorse suckers.
Muskegon: Those trolling in the basin and near the breakwalls caught a few chinook on glow plugs in the early morning and those trolling 50 to 120 feet down in 120 to 220 feet found a few trout and salmon with green or blue spoons and white flashers and flies. Pier anglers had no luck.
Muskegon River: Has salmon with fish caught up near Croton Dam.
Whitehall: Those trolling 30 to 70 feet down in 60 to 90 feet caught the occasional chinook or coho on spoons in the early morning. Lake trout were caught in the bottom third of waters 140 to 200 feet deep with paddles and flies or spoons. Those trolling 60 to 90 feet down in 200 to 250 feet caught a few salmon, steelhead, or lake trout. Pier anglers casting spoons caught a few chinook in the early morning. Hot colors were green and silver, blue and silver or glow. Anglers casting jigs tipped with soft plastics or slowly retrieving a crawler along the bottom caught large and smallmouth bass in the channel. A few walleye were caught in the late evening by those casting body baits.
White Lake: Anglers fishing in 15 to 25 feet caught a good number of bluegills on dropper-rigs tipped with a wax worm.
Northeast Lower Peninsula Fishing Report
Cheboygan: Those trolling spoons near the red buoy or in 35 feet near the mouth of the river had little to no success.
Cheboygan River: Salmon moved into the river. There was a lot of activity at the lock and dam and behind the paper mill. Shore anglers caught a few chinook on spoons, crank baits, spinners, artificial spawn and fresh spawn with an orange bag.
Rogers City: Anglers reported lots of salmon swimming in the shallows in and around the Swan Bay but catch rates were very slow. Most are trolling high-lines with bombers and J-plugs. Adult salmon were still out deeper in 30 to 60 feet. Those looking for young salmon were fishing anyway from 45 to 120 feet. Atlantic salmon, lake trout, steelhead, walleye and a few coho were also caught. Spoons worked best but J-plugs or dodgers with squid or cut bait also took fish. Hot colors are green, blue, white, purple, orange, silver and orange or glow.
Rockport: Anglers heading straight out towards Middle Island and the Nordmere Wreck or north towards Stoneport were taking a mix of trout and salmon in 45 to 130 feet. Most were running spoons, body baits, J-plugs and flashers with flies, squid or cut bait throughout the water column. Hot colors were green, blue, orange, white, black, purple or glow.
Alpena: Lake trout were found near the bottom in 120 to 160 feet. Those trolling high-lines found steelhead in the top 30 feet. Try spoons or meat rigs at the "Humps" and off Thunder Bay Island. A few staging chinook salmon were caught on spoons and J-plugs in 20 to 50 feet at the mouth of the Thunder Bay River. Walleye were caught by those trolling stick baits or crawler harnesses with bottom bouncers in 25 to 45 feet off the mouth of the river, along the north shore and around Sulphur and Scarecrow Islands.
Thunder Bay River: Chinook salmon are moving into the river and were caught by those casting spoons and spinners or floating skein and spawn bags. A few fish were decent size. Despite the warmer water temperatures, a couple Atlantic salmon and a small steelhead were taken at the 9th Street Dam. Smallmouth bass, rock bass, and brown bullhead were taken on crawlers.
Oscoda: Good numbers of lake trout were taken from the bottom in 130 to 170 feet. Atlantic salmon were caught in the top 30 feet. Try spoons, meat rigs, and flies out from the Au Sable River. Chinook are being marked near the mouth of the Au Sable River and a few were caught in 20 to 35 feet with spoons and J-plugs. Pier anglers caught fish on spoons. Walleye and smallmouth bass were taken by those casting crank baits or still-fishing with crawlers. Channel cats were hitting on crawlers on the bottom at night.
Au Sable River: Those targeting walleye found a few in the evening when casting crank baits or when drifting and still-fishing with crawlers near the mouth. Channel cats, smallmouth bass, and rock bass were taken on marabou jigs or when drifting or still-fishing with crawlers. Lots of smallmouth bass but many were sub-legal.
Houghton Lake: Walleye are still being caught by those trolling a harness with crawlers and crank baits near the weed beds in 9 to 12 feet. Bluegills and crappie have also been caught in the weed beds. Bluegills were hitting on leaf worms and leeches and crappie were hitting minnows under a bobber.
Tawas: Boat and pier anglers targeting perch were doing a lot of sorting to get a few keepers. Same for the boat anglers off Jerry's Marina. Boat anglers fishing near the rocks around Alabaster took a few walleye when casting or jigging. Those trolling about 10 miles south of the Tawas River mouth found a few walleye in 35 to 45 feet.
Au Gres: Perch fishing off the Saganing and Pinconning Bars slowed some. A couple walleye were taken from the edge of the weed beds in 10 feet or more along the Bars.
Saginaw Bay: Some perch were caught around sailboat buoys A, B, and H but the bite was slow. Fish were also caught in the old shipping channel just north of the Saginaw River mouth and a mile east of Spoils Island. Catfish anglers fishing in the Hot Pond have done well with crawlers, shrimp and chicken liver. Anglers out of Quanicassee were targeting perch but only a couple boats caught fish. They basically stayed put in one place and let the fish come to them. Those moving around never located fish. Fish were found in 8 to 14 feet and deeper. Perch anglers were out in Wildfowl Bay between North Island and the tip of Sand Point but no reports came in. A few walleye anglers were still out but catch rates were spotty.
Saginaw River: A few perch were caught in the lower river near the Bay Harbor Marina.
Upper Peninsula Fishing Report
Lake Gogebic: Walleye and perch fishing were about the same as last week. Those trolling crank baits and crawler harnesses suspended in deeper water caught a nice bag walleye, perch and a few crappie. Those drifting and anchoring caught perch and walleye but no big numbers. Sorting is a must due to the small walleye. The north end was still producing some nice bluegills and sunfish along with the small ones. Try crawlers and leeches. Those using minnows near shore have also caught fish.
Keweenaw Bay: Most boats were heading north and trolling around Pequaming where they caught lake trout and a few coho. Catch rates were getting better at the South Entry with lake trout taken off Farmers Reef when trolling spoons. Coho were showing up around the lighthouse. Those jigging caught lake trout in 150 to 160 feet.
Little Bay De Noc: Anglers caught walleye mostly at night when trolling stick baits or crawlers in 18 to 25 feet between the Second and Third Reefs. Best day catches were in the southern waters between Breezy Point and the Minneapolis Shoals area when trolling stick baits or crawlers in 10 to 16 feet at Round Island or 25 feet at the shoals. Perch numbers were down but some nice jumbo perch were caught on crawlers in 17 to 23 feet off Kipling. Pike were active throughout the bay with a couple fish over 40 inches taken near Escanaba when trolling rapalas along the edge of the shipping docks. Salmon were caught at the dam in the Escanaba River.
Manistique: Salmon fishing just keeps getting better with anglers taking chinook, coho, pink salmon and brown trout. Boat anglers are trolling from the mouth to where the fast water starts using Mega lips, jointed rapalas, spoons or spawn. Shore anglers are fishing between the "Big Bass Hole" and the dam. The water is fast and muddy in this area making for poor visibility. Many of those targeting salmon have caught the bonus walleye. Anglers are reminded that the fish cleaning station is shut down but the DNR freezer is still there if you catch a fish with a missing adipose fin.
Marquette: Lake trout fishing was slow as most struggled to catch two or three fish. Coho were caught near the lower harbor and near the mouth of the Carp and the Chocolay Rivers. A couple chinook were caught in the rivers but no word on coho yet.
Au Train: Limit and near limit catches of lake trout were taken within a few miles of Au Train Island. A few coho and chinook were caught in 60 feet or less near the mouth of the Au Train River. No word on any salmon caught in the Rock or the Au Train River.
Munising: Surface water temperatures have cooled to around 59 degrees which is much cooler than last year and anglers are hoping this will bring fish in sooner. Coho salmon have been caught and while most boats were getting one to three fish, some had none. Most were trolling within the bay, towards Sand Point and out into Trout Bay and fishing in 60 to 70 feet. There has been very little activity at Bay Furnace. The city docks and the Anna River were producing some legal size splake but anglers were putting in a lot of time just to catch a couple fish. Try spawn bags or casting Cleos. Lake trout were caught near Wood Island Reef, Grumps Hump and Big Reef when the winds allow.
Grand Marais: Most boats stayed close and caught limits of lake trout about a mile out just off the break. A few coho were also caught. No activity at the Sucker River.
Two Hearted River: Coho salmon are staging outside the mouth. Few fish have entered the river as anglers have only reported a few catches. Warmer temperatures this week will most likely keep the fish out in Lake Superior a bit longer.
Tahquamenon River: Boat anglers caught a few musky but pike reports were few and far between. Fishing pressure at the dam and pier were almost non-existent.
St. Marys River: A good number of Atlantic salmon and some whitefish have been caught behind the Cloverland Power Plant. Cloverland is performing maintenance on the turbines, and will periodically have the plant shut down. Fishing is poor during these times, so check flow from the park to east of the powerhouse first. A fair number of pink salmon have been caught when jigging spoons. Yellow perch fishing was steady in the early morning until 9 a.m. and just before dark in the North Channel. Use crawlers or minnows on the bottom in 25 feet. Walleye fishing continues to improve in the shipping channel in 30 to 32 feet with a green crawler harness and bottom bouncer. Most were caught between the 3-Mile and 7-Mile Buoys. Smallmouth bass were caught on the rock piles. Walleye were caught on the north end of Lake George in 9 to 12 feet. In the lower river, only a few walleye were taken in 12 to 17 feet in Munuscong and Raber Bays. Yellow perch fishing was slow but a few 9 to 12 inch fish were found in the weed beds in 10 to 18 feet.
Detour: Had good catches of lake trout taken a foot off the bottom along the 90 foot flat which is two miles straight south of the Detour Lighthouse. Try an orange and white or chartreuse and white spin-glo with an 18 inch leader behind a flasher. A few smaller chinook salmon were caught when trolling 50 to 60 feet down in 80 to 100 feet from Fry Pan Island southwest to the green buoy. Hot colors were chartreuse, chrome or chrome and white.
Drummond Island: The fall yellow perch bite has started to pick up. Successful anglers caught 10 to 25 fish between 8 and 14 inches. Most were taken while drifting leaf worms and minnows on colorful perch rigs near structure The location of the schools seem to change daily, but some spots to try would be Scott Bay or around Rutland, Peck, Harbor and Bald Island. The perch are not schooled up in large groups yet, but were found in small pockets of weeds and rock piles in various depths. Hot colors were green, red and reflective silver or gold on sunny days.
Cedarville and Hessel: Cedarville had reports of a few perch caught when drifting worms and shiners in 8 feet in Musky Bay off Conners Point. Largemouth bass were very good in 3 to 5 feet off the weed beds when casting a weedless surface lure. Those casting spinners under the docks in 4 to 6 feet throughout the Les Cheneaux Islands also caught fish. Pike up to 30 inches were taken around Little LaSalle Island. Try chubs in 8 feet where there is a current. Hessel had no reports of yellow perch caught from the finger docks at the marina. A few pike were caught on chubs and spoons in the early morning. A few perch were caught by walleye anglers in Mackinaw Bay when drifting a jig with a shiner in 8 to 12 feet.
Carp River: Had some salmon activity but catch rates were slow. Pier anglers using spawn, spoons and crank baits had little to no success. Fishing slowed on Nunn's Creek as well but anglers still managed to catch a few chinook 9 to 11 pounds with a silver and green or silver and blue spoon as well as fresh spawn.
---