Perch Fishing Hotspots for Winter Perch In Northern Michigan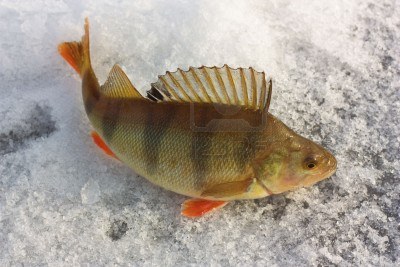 A popular sport fish, yellow perch, also known ­as lake perch, can be found in the lakes, rivers and streams of almost all fifty states and most of the Canadian provinces.
That abundance — not to mention their tasty, firm meat — might explain why many ­anglers are hooked on catching the fish that has become a popular main course at Friday night fish fries. Perch feed year-round, so they can be caught year-round, which adds to their popularity.
Luckily­, perch are not picky eaters, especially when they're in a feeding frenzy. If you like to use live bait to attract fish, your choices are many:  minnows, some like to use big blues along with spot-tails to get the bigger perch, wigglers, wax worms, mousee's and spikes. When using minnows, try hooking them through the tail rather than through the mouth; they'll provide more action, and that's what you need to attract the big guys. Hali Jigs tipped with live bait are a sure fire in the winter.
Look for areas with natural structures: weeds, dams, submerged objects, isl­ands, inlets, rocks, reeds and bridges — any place where plants can grow. Plants attract bait fish and bait fish attract sport fish, so those are the areas you want to look for perch.
Perch school by size, so big perch swim together in deeper water and small perch hang together in shallower water. Catching one perch means there are more in the area.
PORTAGE LAKE
Portage Lake, located in western Manistee County in the northwestern Lower Peninsula of Michigan, offers muscle-building fishing for yellow perch. If you're lucky and cast your line in the right spot on the 2,110-acre lake, you may even catch a perch more than 12 inches in length. Fish for the tasty species year round, including ice-fishing in the winter. For added outdoor exercise, hike on one of the trails that take you around the lake.
You can fish from the banks of Portage Lake, or launch a boat from one of the area's two public boat launches. The village of Onekama offers one of the boat ramps, located in town. The other ramp is managed by the Michigan Department of Natural Resources, and is located on the northwest side of the lake. In the winter, you can access the lake by walking onto the frozen water.The type of perch caught in Portage Lake consist of yellow perch ranging in size from 5 to 8 inches in length. Some yellow perch grow up to 12 inches in length, so it's possible to catch an above-average-size fish. Surveys completed several decades ago suggested the lake was not nearly as abundant with yellow perch as surveys done just 10 years ago. Many of the Portage Lake's yellow perch may move to or from Lake Michigan during their year, with many coming in late fall.
Call Osborn's Sport Shop (231) 889-3775
Mullet Lake
Being a huge lake (17,360 acres) the fishing in Mullett is good for perch but so-so for walleye. Many blame the indian spearing in the spring for the depleting walleye population The state is also stocking trout, sturgeon, and walleyes to improve the fishery but those efforts have yet to take hold. Fishermen will find a variety of fish including bluegill, splake, northern pike, rock bass, yellow perch, rainbow trout, largemouth bass, smallmouth bass, carp, crappie, pumpkinseed sunfish, bullhead, walleye, sturgeon, white bass and sucker here.
Most Mullet lake fishing was done on the north end. From the state park (aloha) on the east shore across to Dodge point on the west shore. Try the 20-25ft depths west of Dodge point.
This is Michigan's fifth largest inland lake. Enjoy ice fishing on this deep lake.
Call Mullet Lake Party Store (231) 627-4644
LITTLE & BIG GLEN LAKES
Even though Little Glen and Big Glen lakes are connected, they're different like night and day.
Big Glen Lake, at 4,865 acres, is nearly four times as big as Little Glen Lake at 1,400 acres. Little Glen has a maximum depth of 13 feet, while Big Glen has water as deep as 130 feet. But what they do have in common is they are both excellent winter perch fisheries.
"Usually, Little Glen freezes up right about deer season," said avid ice-angler and guide Dave Rose. "It's usually Christmas before Big Glen has good ice on it. Both are hot for jumbo perch on first ice."
Rose said to expect fast action in 8 to 9 feet of water on Little Glen as soon as you can get on the ice. A hotspot is where Little Glen narrows as it connects to Big Glen, but use caution when fishing near this area early in the season. Rose said jumbo yellow-bellies in the 10- to 15-inch range are not uncommon then. Rose claims that a lot of the jumbo perch residing in Big Glen migrate into Little Glen in late fall and early winter. First ice usually produces a hot bite.
Because Big Glen Lake is so deep, it's slow to freeze. It also doesn't have a lot of structure. Key to finding good numbers of perch on first ice is to locate weeds adjacent to the first drop-offs in 15 to 20 feet of water, according to Rose. Prime first-ice hotspots are near the narrows in 5 to 25 feet and in the northeast corner of the lake. Later as winter deepens and the ice becomes safe, perch schools roam the 35- to 50-foot depths. The best tactic is to punch a lot of holes and keep moving until you locate the schools. Walleye-sized shiner minnows are the ticket for jumbos that will occasionally top 15 inches.
Access to both lakes can be gained at the public ramp located near the narrows on the east shore of Little Glen Lake. Anglers can also access the lakes via numerous road ends.
For more information on bait shops, lodging and amenities in the area, contact the Leelanau County Chamber of Commerce at (231) 271-9895, Mc Sports (231) 933-6158  or  Sportsman-Shop 231-334-3872, and  FishHook2  231-256-9496 
CRYSTAL LAKE
"The winter perch fishing on Crystal Lake is always good," stated Dave Niewiadomski of the Backcast Fly Shop in Benzonia. "It's just a question of how much sorting you want to do. There's no shortage of perch in the lake, but you need to do some searching to find the good ones."
"Good ones" in this case are perch routinely measuring in the 12- to 14-inch range.
"I'll tell you one of the secrets to catching big perch in Crystal Lake is to use big minnows," Neiwiadomski claimed. "The bigger walleye-sized minnows seem to catch the bigger perch. You can use wigglers and you'll catch a lot of perch, but you won't catch many big ones."
Benzie County's Crystal Lake is big at 9,711 acres and deep, with spots in excess of 175 feet, so it's slow to freeze. Some of the best winter perch action takes place on the east end off the town of Beulah. This is the first area of the lake to freeze, and anglers do well there in 15 to 25 feet of water on first ice. As ice conditions improve, anglers venture farther out. A midwinter perch hotspot then is off Railroad Point on the lake's south shore. Anglers take some real jumbos there in water as deep as 70 feet. Again, big minnows seem to catch the biggest perch.
For live bait, tackle and lake maps, contact MC Sports at (231) 933-6158 or Tag Limit Outdoors (231) 225-0278 For information on lodging and other amenities in the area, contact the Benzie County Visitors Bureau at 1-800-882-5801, or online at www.visitbenzie.com
SKEGEMOG LAKE
Kalkaska County's Skegemog Lake is famous for its big Great Lakes muskies, but it's also home to some outsized perch.
"It's not uncommon to see perch of a pound or more coming out of Skegemog," said Michael Sanders of Jack's Sport Shop in Kalkaska.
Sanders said a 13 3/4-inch Skegemog Lake perch was leading their open-water fishing contest as of this writing, but some of the biggest specimens are taken through the ice.
"Perch in the 10- to 11-inch range are fairly common," claimed Sanders, "and perch up to 15 inches aren't unheard of on Skegemog."
Even though 1,460-acre Skegemog Lake is relatively shallow with only one spot approaching 30 feet, the lake is slow to freeze because of currents running in from the Torch River and out to Elk Lake. Most years, it's late January before anglers can venture safely onto the ice.
A good place to prospect for perch is right off the south shore access off Baggs Road. Anglers can turn north and find some of the lake's deepest water or go west to a 15-foot flat that harbors schools of winter perch. According to Sanders, a teardrop and wiggler is the best medicine for numbers of perch on Skegemog, but to target the real jumbos, go armed with some big shiner minnows.
For information on ice conditions, live bait and tackle, contact Jack's Sport Shop in Kalkaska at (231) 258-8892. For information on lodging and accommodations in the area, contact the Kalkaska Chamber of Commerce at (231) 258-9103, or online at www.kalkaskami.com
Fife Lake
Fife Lake in Grand Traverse County is a local secret for jumbo perch first ice. This bite does not last long but it is hot for a couple weeks.
Call Jack's Sport Shop at (231) 258-8892 or Lakeside party Store at (231) 879-3341
Higgins Lake
There are dozens of incredible lakes for ice fishing in Michigan, but for a true cold water ice fishing experience you need to head on over to Higgins Lake. The waters here are much deeper, supporting more cold water fish than you ever dared dream.
One big draw in Higgins Lake is winter perch. Upwards of 100 shanties can be seen on Higgins on winter weekends, and many anglers are after tas
ty yellow perch. Higgins's perch don't run large. Most will be 8 to 10 inches. Most anglers will tell you that those are perfect "eaters." What they lack in size they more than make up for in numbers. Fifty-fish limits are common.
Hot first-ice perch action takes place on both the north and south shores of Higgins in 20 to 40 feet of water, according to Higgins Lake regular Jack Murlick. Murlick said that a standard two-hook perch rig baited with spikes or wax worms works well on perch. Minnows and wigglers are good bets, too. Around the sunken islands in the lake are some good perch locations.
Proceed with caution at Higgins Lake. The lake does freeze, but slowly, so ice fishing isn't usually safe until mid to late January. Watch out for yellow perch on both the northern and southern shores with lake trout towards the deeper centers.
Of course, testing the ice is essential, no matter where you decide to fish. Never take a flying leap out onto the ice without looking at where you're going first. Ice near the shoreline of any body of water will always be thinner than further out, so make sure you take a deep enough step onto the ice to get started. Poke holes in the ice every few yards to test the thickness before moving forward as well. Ice fishing is a tremendous sport but is best done with a buddy so that one can act quickly if there is ever an ice-driven emergency.
Once you've found a safe place and taken all of the necessary precautions you can start fishing. Enjoy, and good luck!
For info on Lake call Sports Barn 989-821-9511 Phoenix Park (989) 821-7220 Higgins Lake Hardware (989) 821-6677, Silver Dollar Express (989) 821-6227
HAMLIN LAKE
Mason County's Hamlin Lake has a reputation as being one of the best winter bluegill lakes in the state, and deservedly so, but because of that, its productive winter perch fishery goes nearly unnoticed.
"You have to move around until you find the schools, and even then you've got to do some sorting, but if you work at it, you can usually come up with a pretty good mess," claimed Hamlin Lake regular Josh Delbarker. "A lot of the perch are going to be 8 to 10 inches, but you can get into a school of perch that will be 12 inches, too."
Most of the best winter perchin' on 5,000-acre Hamlin Lake occurs on the lower lake. While the upper lake is shallower with many weeds, the lower lake reaches depths of up to 80 feet. The lower lake features steep contours in many locations. Key to finding perch is to locate flats in 25 to 45 feet of water.
Hamlin has a rich food supply. Often, the perch are regurgitating wigglers when you bring them up, but like most places, big perch in Hamlin like meat — big walleye-sized shiner minnows. The best tactic is to use a 1/2-ounce bell sinker on the bottom to get down quickly, two small treble hooks connected to the mainline with Bear Paw Connectors and a slip-bobber. Jigging spoons, lures and teardrops will work, too.
Anglers can enjoy hot perch action right into March on Hamlin, but the perch often move much shallower then in a pre-spawn migration. On last ice, the biggest yellow-bellies can often be found in as little as 5 or 6 feet of water.
For live bait, tackle and information on guides, contact Hamlin Grocery  (231) 843-2058
BURT LAKE
Burt Lake has a bounty of forage, even though the lake has few weedbeds. The pristine water produces plenty of mayfly larva, other aquatic insects and minnows that perch and walleyes can grow fat on. At 17,260 acres, perch in Burt Lake have plenty of room to roam, and moving and cutting holes is key to finding them and staying on top of them. Prime winter locations include the mouth of Maple Bay, off Kingsley Beach, off Resort Road and on the flats west of Greenman Point.
Like most places, Burt Lake's biggest perch have an affinity for big minnows. The big shiners also appeal to the lake's walleyes.
For live bait, tackle and lake maps, contact Young's Bait at (231) 548-5286 or Mullet Lake Party Store (231) 627-4644
For information on accommodations and lodging in the area, contact the Boyne Country Convention & Visitors Bureau at 1-800-845-2828, or online at www.boynecountry.com
HUBBARD LAKE
Alcona County's Hubbard Lake is famous for its perch
"Hubbard Lake produces some jumbo perch up to 15 inches," said Department of Natural Resources' Northern Lake Huron fisheries biologist Tim Cwalinski. "The perch numbers tend to be cyclic, but there's a fair number of medium-sized perch in the lake, too."
Cwalinski added that Hubbard Lake has a good population of shiners, minnows and other invertebrates that provide excellent perch forage. Most perch caught through the ice on Hubbard average a solid 10 inches.
Finding the perch schools on expansive 8,850-acre Hubbard Lake is the difficult part. A shantytown develops each winter on the north and south ends of the lake in 30 to 50 feet of water. Perch schools take up residence there during midwinter and offer consistent action. Try the usual assortment of baits, including wax worms, wigglers and minnows. Hotspots on first ice include the areas around the weedbeds in East and North bays. Early and late in the season, ice-anglers congregate out from Churchill Point and Harwood Point.
Public access to Hubbard Lake can be gained at Backus Beach, on East Bay and at North Bay.
For information on accommodations, bait shops and guides in the area, contact the Alpena Convention & Visitors Bureau at (989) 354-4181, or online at www.alpenacvb.com
NORTH MANISTIQUE LAKE
Luce County's North Manistique Lake — also called Round Lake — is one of the U.P.'s premier winter perch lakes. The 1,722-acre lake produces consistent perch catches for winter anglers, with some of the biggest specimens pushing 14 inches.
Located near the town of Curtis, North Manistique Lake has depths of up to 50 feet, which is where you're likely to find the perch once winter sets in. On first ice, probing around the artificial reefs found on the west and north shores can pay big dividends. The lake's bottom is mostly sand with some gravel, and with sparse weed growth, any type of structure is likely to attract schools of perch. A good starting point is right off the Luce County Park located on the lake's south shore.
Most of the perch you'll encounter will be 8- to 10-inch "eaters," but the lake also gives up some foot-long jumbos with regularity.For more information on bait shops and accommodations in the area, contact the Curtis Area Chamber of
Commerce & Tourism Bureau at 1-800-652-8784, or go online to www.manistiquelakesarea.com
LAKE GOGEBIC
If you want to get a jump on the perch ice-fishing season, head to Lake Gogebic in the western U.P. Actually, you can probably head out for some ice-fishing on this lake after you finish your Thanksgiving dinner! Winter comes early to this part of Michigan.
Some of the best perch action of the year on Lake Gogebic is on first ice. The fish are relatively shallow then and actively feeding. Good places to prospect are on either end in 10 to 20 feet of water, and around the abundant fish shelters placed around the lake. As winter deepens, the perch schools concentrate in the deeper water in the center of the lake.
Wigglers are a favorite food of Lake Gogebic perch, and they have been known to follow foraging schools of suckers that stir up the bottom and expose the wigglers. But don't forget to try a good-sized minnow when wigglers aren't producing. Expect to catch plenty of yellow-bellies up to a foot long, plus some bonus walleyes.
For more information on perch ice-fishing opportunities on Lake Gogebic, contact Nine Pines Resort at (906) 842-336
Pentwater Lake, Muskegon Lake and White Lake also have a great winter bite when the ice freezes.
White Lake is a great location for ice fishing, and every winter hundreds of shanties dot the lake. Perch, walleye and pike are just some of the fish caught through the ice. Duck Lake is also good for ice fishing.
If you're just getting started the West end of Both Muskegon and White Lake are good places to start looking. The nice thing about Perch fishing there is usually some up to date info from the local bait shops to help you narrow down you're search.
For White Lake I would call Johnson's Great Out Doors.
For Muskegon Lake you can call Adam's Angler Archer.
Make sure to bring the following bait as Perch can get awful picky . Minnows, Spikes, Mousies and Wigglers if you can get them. You should also bring #6 Gold Hooks for the minnow and a variety of tear drops for the smaller baits. I often fish with #14and #16 Bluegill tear drops. Many times it's the smaller the better. Just make sure you're prepared.
Ice fishing posses it's own challenges. The first thing to remember is one whole ten feet away can produce where the other won't. There are things on the bottom that the Perch relate to as structure that cause them to move through a given area and not another. Excepting this and staying mobile until you find the fish is most crucial.
Many fisherman just getting into targeting these migrating Perch don't realize it but Perch are all about good day light. You may want to get started and set up for several reasons but don't' expect the action to be fast until good light has come around.
When Fishing Muskegon lake through the ice don't forget that we have a ice cutter come through several times though out the Ice Fishing Season. You can find the schedule posted in the Muskegon Chronicle. Many times the Bait shops have the schedule as well.
Note that the ice cutters run from the Muskegon Channel at the West end of the lake and make their way through the center of Muskegon Lake to the far East end of the lake. Depending on when you're fishing in comparison to when a boat has come through this path can be very unsafe ice. Crossing Muskegon Lake without knowing when the ice was last broken is not a good idea. Many times this path can be very visible but with snow that's not always the case.
Call Pentwater Angler at (231) 869-5357 for Pentwater Lake and Johnson's Outdoors for White Lake (231) 869-5357