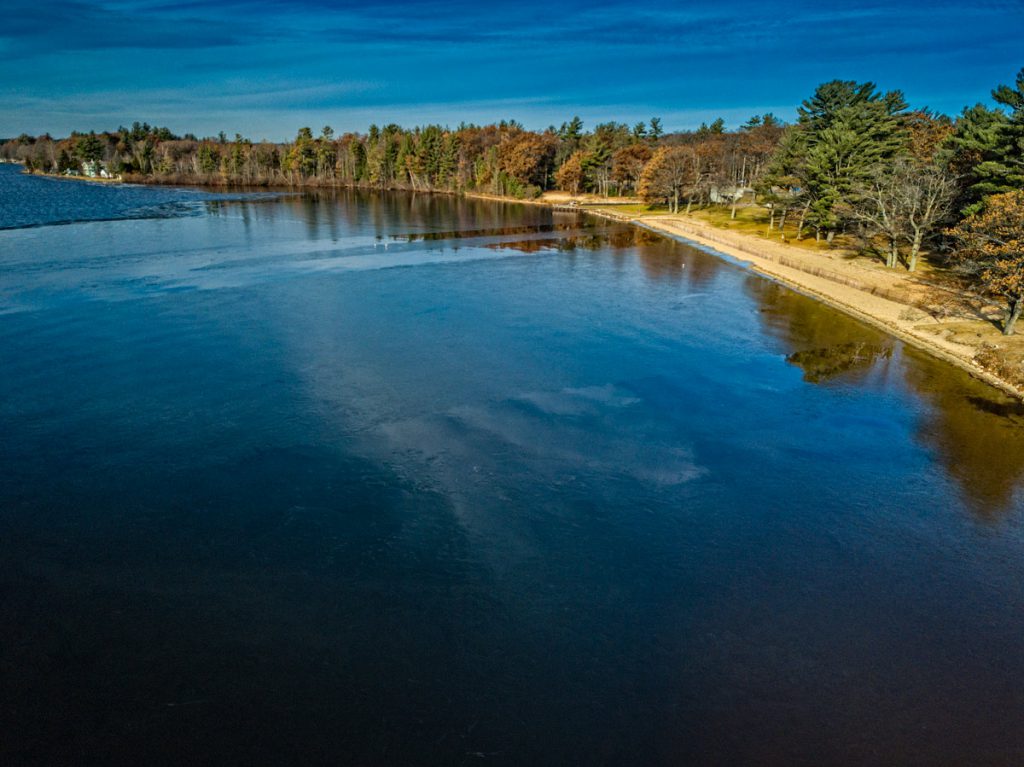 Strong winds continue to hamper fishing and major cool down the end of next week should help start the freezing process.
Armstrongs on White Lake reports fisherman are having a good perch bite at Whitehall on the west side of White Lake with minnows, spikes and wigglers working best.
Capt. Chucks reports PM Lake is still ok for perch and some are being caught off the pier.
There was some ice on Mitchell and Bear Lake today, Houghton Lake was wide open.
Long Lake by Traverse City has been  good for walleye and perch.
Houghton Lake has been slow for walleyes from the shore, also Reedsburg been slow also.
Lake Margrethe has been great for walleye, and many report seeing big pike in the shallows.
Tippy has been slow this week with colder and more water flow this week.
Portage a couple guys have been fishing but no reports back.
Northwest Lower Peninsula Fishing Report
Fishing will completely depend on the weather. Moderate temperatures this week means no ice fishing. Lakes in the area have some skim ice but no safe ice. Walleye will bite right up until ice up, so those trolling or casting for late fall walleye could find some fish. Steelhead fishing should be good in the rivers.
Betsie River: Steelhead fishing continues. Most are using flies and beads or spawn.
Manistee: Surf fishing and pier fishing for steelhead should remain good if the weather allows anglers to get out.
Big Manistee River: Was producing steelhead. Many are hold-overs but rain by the end of the week should bring in some fresh fish.
Ludington: Surf fishing and pier fishing for steelhead should remain good here as well.
Pere Marquette River: Steelhead fishing continues with a good number of fish in the river.
Muskegon: Pier anglers caught some whitefish.
Muskegon River: With water levels receding, those targeting steelhead have caught some nice fish all the way up to Croton Dam. Walleye and perch were still being caught in both Croton Pond and Hardy Pond.
Northeast Lower Peninsula Fishing Report
Alpena: Boat anglers target whitefish in the shallows this time of year. Try a small hook with a wax worm or single egg. Those spearing usually do so at night with the aid of a light.
Au Sable River: Water levels dropped and cleared up over the last week. Those fly casting or drifting caught steelhead and brown trout.
Tawas: Shore anglers target whitefish off the State Dock this time of year. The better fishing is usually in the early morning when using a small hook tipped with a wax worm or single egg.
Saginaw Bay: Boat and shore anglers continue to be limited because of strong winds. Perch are in the river mouths and the cuts. Fish have been caught in the Pine and the Kawkawlin Rivers on the west side of the bay and in the Quanicassee and Sebewaing Rivers as well as the Thomas Cut on the east side. The perch move in and out, so try a spot for an hour or so and if no luck, move on to the next river or cut. Perch anglers are also fishing in the public harbor at Caseville. Some were casting for lake trout at the mouth of the Pigeon River.
Saginaw River: Anglers fishing the lower river from the Independence Bridge downstream to the mouth are catching walleye when vertical jigging with jig-heads tipped with minnows. Some perch were caught down near the mouth.
---
Upper Peninsula Fishing Report
Thin ice has formed on most of the smaller inland lakes on the west end. The ice is thin and not safe for foot travel. Colder weather is predicted for the end of next week and beyond which should help with the freezing process and could provide some early ice fishing.
Little Bay De Noc: Had walleye anglers with fair to good catches reported. The best catches were in the northern parts of the Bay. Night anglers trolled stick baits in the shallow waters with best catches in 9 to 20 feet. Day anglers did best a little deeper with crank baits and stick baits in 24 to 35 feet. Most reported a good mix of large and small fish. The early ice season should be good when it gets here.
Tahquamenon River: Had no reports other than some of the river and the Dollarville Flooding had skim ice.