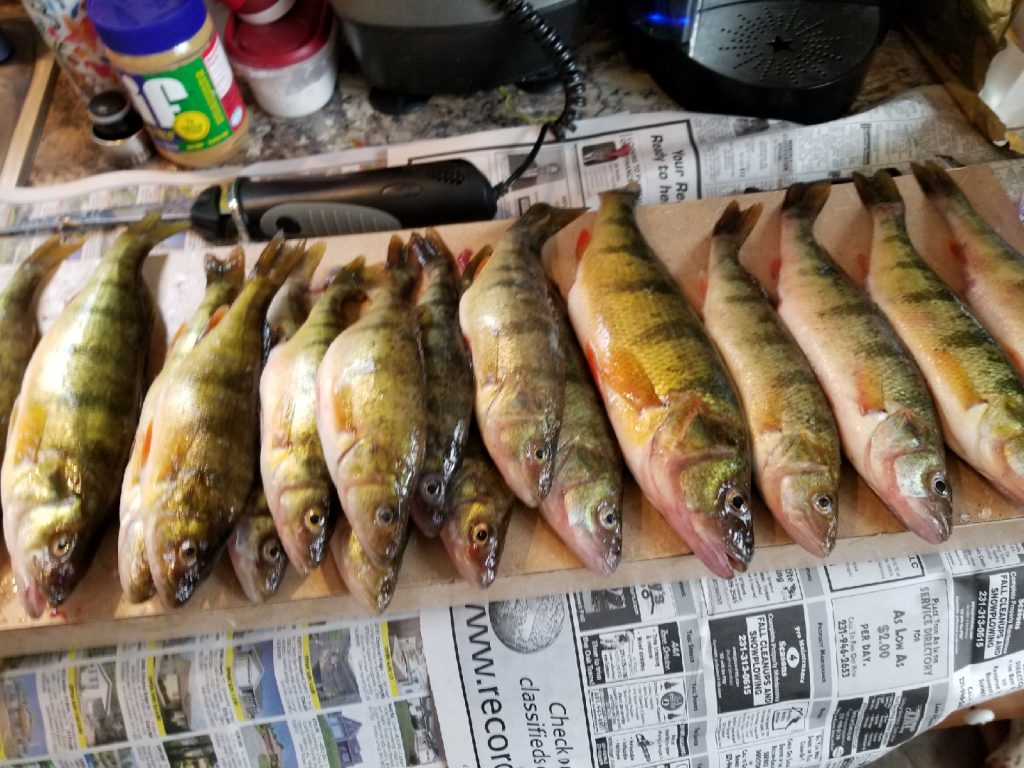 We are getting some crappy weather today as this will cool off the lakes.  The perch fishing has been awesome in some places, but this weather will slow it down.
Lake Charlevoix was still awesome monday for perch but they are getting hammered with this storm so conditiond really suck for being in a boat.
Perch fishing has been great around Suttons Bay, Bowers Harbor and Northport with perch up to 16 inches reported. They are using big blues to get the bigger perch. Skegemog was really good monday for perch as photo above shows the catch, not as big as the bay but nice. Portage lake has been good but just a handful fishing. Crystal, Big Glen, and Little Glen have been fair.
Roadside  minnows reports that South Lake Leelanau on the north-end has had a good perch bite also with wigglers and minnows working great.
Captain Chuck's reports PM lake has been slow this week but guys have been trying with wigglers and minnows.
Amstrongs and Johnson's reports a few perch from Lake Michigan are coming into White Lake, and whitefish and walleye are being caught off the pier.
Pappy's at Wellston report a really good steelhead bite on the big river.
Houghton Lake reports shore anglers caught walleye on shallow diving crank baits at night. The better fishing seemed to be when the lake was nice and calm and not choppy. Orange was a hot color. Decent size crappie were caught in the canals.
Saginaw River has been awesome this week for walleye with blues being the go to bait.
Most other places are waiting for the ice to form
Northwest Lower Peninsula Fishing Report
Steelhead fishing is full on in all the area rivers. Salmon are pretty much done, except for a few coho that are still around. Walleye fishing is excellent this time of year, although few target them.
Lake Charlevoix: Was producing fair to good catches of perch.
Traverse City: The West Bay was still producing some nice perch in Bowers Harbor. Most fish were taken on minnows. In the Boardman River, steelhead were still being caught below the dam and down from the Union Street Bridge.
Long Lake: Boat anglers were getting some perch.
Platte River: Was still producing some coho.
Frankfort: Pier anglers were still taking a few fish when casting crank baits or spawn. Those surfcasting have also taken fish.
Betsie River: Anglers were still getting some salmon but the fish were dark.
Manistee: Pier and surf-fishing for steelhead should be good from now until freeze up.
Big Manistee River: Had good steelhead action up near Tippy Dam.
Ludington: Should also have good pier and surf-fishing for steelhead.
Pere Marquette River: Water levels are good and water temperatures are dropping. The river had a good number of steelhead move in after the rain. Those fly fishing did well with egg patterns and nymphs. Good steelhead fishing should last well into the winter months.
Northeast Lower Peninsula Fishing Report
Cheboygan River: Continues to produce some salmon. Try crank baits, spoons or spawn bags.
Thunder Bay River: Water levels remain high and fast but those fishing right below the dam have caught Atlantic salmon, steelhead, brown trout and the odd Chinook. Boat anglers working the lower river were casting or trolling crank baits or jigging soft plastics for walleye.
Au Sable River: The steelhead action is heating up in the lower river. Try egg patterns. Atlantic salmon have been in the river for over a month and were still being caught on streamers.
Houghton Lake: Shore anglers caught walleye on shallow diving crank baits at night. The better fishing seemed to be when the lake was nice and calm and not choppy. Orange was a hot color. Decent size crappie were caught in the canals.
Au Gres River: A few more steelhead were caught down near the Singing Bridge. Try spawn, spoons or beads.
Saginaw Bay: When boats can get out, a few were targeting perch just north of Spoils Island. Quanicassee is usually a good spot to try this time of year.
Saginaw River: Walleye are apparently biting in the lower river from the Independence Bridge downstream to the mouth. Up to 30 boats were reported around the bridge and the U.S.S Edson.
Upper Peninsula Fishing Report
Lake Gogebic: Walleye and smallmouth bass were still being caught.
Keweenaw Bay: Still had open water and was providing opportunities for lake trout, splake, and brown trout.
Menominee River: Anglers caught walleye, brown trout and steelhead from the US-41 Bridge to the Hattie Street Dam. Some very nice fish were caught on live bait, spoons or crank baits.
Little Bay De Noc: Had good walleye catches for those trolling stick baits and crank baits at night from the First Reef north to Garth Point. The better catches were in 10 feet but fish were also taken in waters up to 30 feet deep. Day anglers reported fair catches when trolling stick baits in 18 to 34 feet between the First and Third Reefs. A few dock anglers could still be found in the Escanaba Yacht Harbor. Those using minnows straight off the dock reported fair to good perch catches.
Here is a deer video as they play in the snow this afternoon