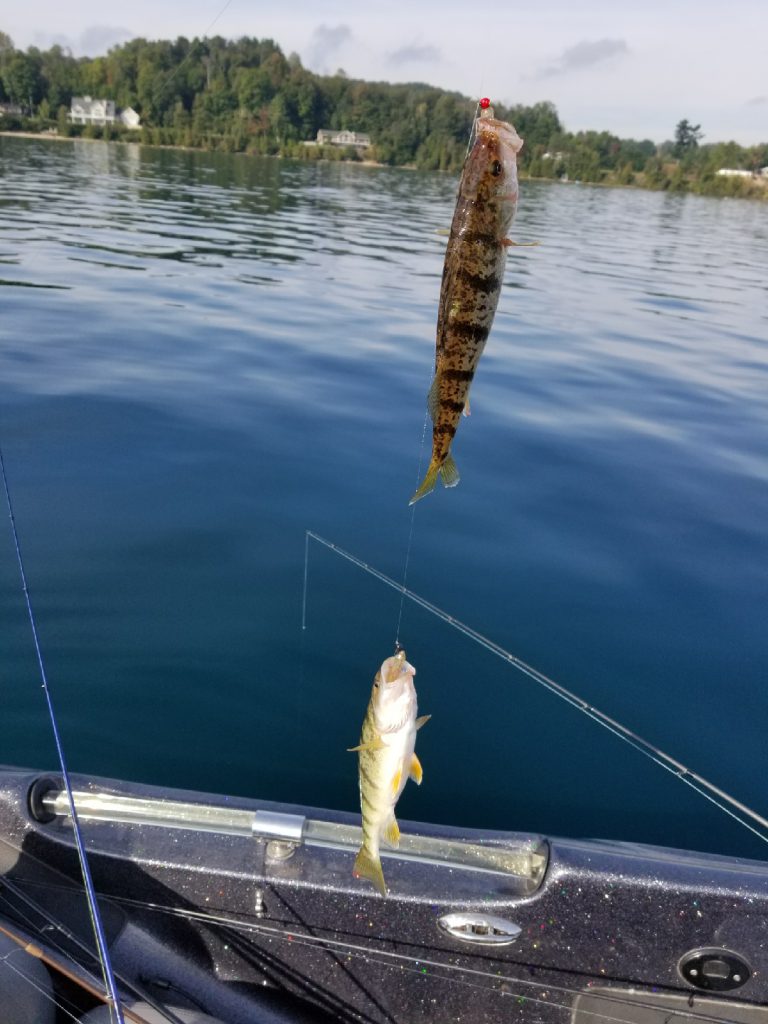 Photo Above is the size of perch from East Bay.
There are reports from west and east grand traverse bay lots of perch, not the big jumbos but anywhere from 8 to 10 inches, of course there are the gobies to contend with. Some are going out of Elk Rapids going across to the peninsula in 45 to 50 feet of water and catching nice perch. West bay been good lees point, north port, and in Traverse city off of m 72 and the river.
Lake Margrethe has a good perch bite still, also the walleye fishing has been good.
Green Lake, Long Lake, Big Platte lake, big Glen, and Portage Lake have been fair for perch
nice Cisco from East Grand Traverse Bay–4.96 lbs.
River fishing has been real good the past few days!! This is a sure sign of fall but it's not time to put the rods away yet. Behind these giant Kings the steelhead will follow!!! Nice fish Ryan Bullard.
Good afternoon on a an inland lake
Northwest Lower Peninsula Fishing Report
Harbor Springs: Boat anglers were mainly fishing inside Harbor Point. For those interested in lake trout, there are still fish from Harbor Point north.
Petoskey: Boat anglers were coming in with a salmon or two and maybe a lake trout but some came in with no fish. Most of the salmon were coho and were taken 25 to 27 feet down in 100 to 120 feet with cut bait, spoons, plugs and flies. Try just in front of the breakwall and down near the hospital and water treatment plant. Lake trout were 50 to 90 feet down. A couple salmon were caught off the pier after sunset and before sunrise with spawn or flies. The Bear River was at normal flow and a few salmon were caught up at the dam.
Charlevoix: Boat anglers mainly caught lake trout. There should be chinook salmon staging near the Cement Plant. The weather has been so unseasonably warm and dry that no salmon had run up to the weir during the last week. There were reports of salmon caught 50 to 60 feet down in 80 to 90 feet near the plant when using spoons and flies. Smallmouth bass fishing in the channel is still drawing quite a few anglers. There were a lot of keepers along with some fish weighing in at 5 pounds or more. Most are using crawlers and putting in a lot of time some days. The Medusa Weir is in operation, which means the creek is closed to fishing to within 100 feet of the mouth.
Traverse City: Those trolling in the morning in the East Bay caught a good number of coho and a few chinook along the west bank and along the drop at the south end. Lake trout fishing was good north of the M-37 launch and off Deepwater Point. A good number of lake herring were caught by those trolling and jigging. In Elk Rapids, lake trout and lake herring were caught straight out from the marina. Smallmouth bass were taken in 10 to 15 feet or as deep as 30 feet. The Elk River was producing coho and a few chinook in the early morning. In the West Bay, chinook and coho were caught from the south end off Clinch Park. Those targeting perch did well in Suttons Bay but the fishing off Lee Point was hit-or-miss. Minnows and cut shrimp worked best. Lake trout were caught south of Marion Island and off Lee Point when jigging. The Boardman River was good for salmon anglers in the early morning especially the stretch between the foot bridge and the Union Street Bridge.
Leland: Some young chinook salmon were caught around North Manitou Island. A decent number of lake trout were caught on the "first bank". Chinook and coho are still present in the harbor and the river but few were caught.
Platte Bay: Has coho in close in the early morning and they were hitting on smaller spoons. A few more coho have shown up in East Platte Bay and were caught by those trolling, jigging or casting.
Platte River: The mouth of the river remains open after being dredged. Anglers casting spinners and spoons caught fish at the mouth in the early morning. There are still a lot of fish in the river below the lower weir and a few above the weir. Most were taken on skein, spawn bags or flies.
Frankfort: Chinook moved into the harbor but anglers had a hard time hooking them.
Betsie River: Anglers were still landing a good number of fish throughout.
Onekama: Pier anglers are reporting coho off both the north and south piers. Try spawn or spoons especially in the early morning or late evening.
Portage Lake: Perch numbers and sizes improved over the last week. The bigger fish were hitting on minnows. Good bass fishing along the breakwall and in the shallows.
Manistee: Surface water temperatures were about 65 degrees. Fishing remains slow with fewer anglers out. A small number of chinook and coho were caught in 120 to 160 feet when heading north of the port. A couple chinook were caught in the harbor and in Manistee Lake.
Manistee River: Still had decent fishing in the lower river. Coho have been caught up at Tippy Dam.
Ludington: Water temperatures were warm and fishing was slow with only a couple chinook caught in the harbor and in Pere Marquette Lake.
Pere Marquette River: Is still producing some fish. Coho were caught as far up as the Indian Bridge.
Pentwater: Anglers caught the occasional chinook or coho 60 to 80 feet down in 160 to 200 feet. Pier anglers caught smallmouth bass with crawlers near the bottom or when casting body baits.
Pentwater Lake: Those targeting bass did well jigging soft plastics or casting body baits along the drop-offs in 8 to 15 feet. Those still-fishing with crawlers or casting body baits at Longbridge Road caught the occasional coho salmon or smallmouth bass.
Muskegon: Boat anglers reported slow salmon action with only a few fish taken 50 to 100 feet down in 175 to 200 feet. Green, orange, and blue were the hot colors. Pier fishing was still slow.
Muskegon River: Catch rates for salmon slowed. Water levels are low and clear.
Whitehall: Very few boats have been out trolling as salmon fishing has been very slow. A few lake trout were caught near the bottom in 150 to 200 feet on spoons or paddles and flies. Water temperatures around the pier heads remain warm and those casting for salmon reported very slow fishing.
Northeast Lower Peninsula Fishing Report
Cheboygan: Had few anglers. Boats pulling spoons in 60 feet had no luck.
Cheboygan River: Fishing pressure was still high. Many have caught chinook with skein, spawn bags, spoons or spinners but the skein and spawn bags did best. The fish were averaging 10 to 20 pounds.
Rogers City: The season is winding down but there appears to be a large hatch of smelt this year and the fish are starting to feed heavily on them. Adult chinook salmon have moved out deeper because of the warm spell and warmer water in the bay and river. There is cold water out deep and that is where the fish appear to be staging at this time. Those out trolling have done well with spoons, J-plugs, flashers with flies, squid or cut bait. Good colors were green, blue, black and white, bloody nose or anything that glows early and late. Anglers have caught young chinook along with the occasional Atlantic, coho, steelhead and walleye. Those looking for lake trout are getting easy limits in the bottom 10 to 20 feet in 65 to 120 feet.
Rockport: The few heading out caught lake trout near the bottom in 65 to 90 feet towards Stoneport and False Presque Isle with dodgers or cowbells with spin-glo's. Anglers also caught young chinook along with the occasional walleye, coho or Atlantic.
Alpena: Lake trout were caught near the bottom in 110 to 150 feet out near the "Humps" and off Thunder Bay Island with spoons, meat rigs or spin-glo's. A few chinook were found throughout the water column in 25 to 50 feet off the mouth of the river. Try spoons and J-plugs. Walleye anglers found fish when trolling harnesses with bottom bouncers off the north shore, around Scarecrow and Sulphur Islands and off the Black River in 20 to 40 feet.
Thunder Bay River: A few chinook were taken by those casting spoons and drifting skein and spawn bags. Glow, five dot, and blue were good colors. The fish were anywhere between 5 and 16 pounds. A couple steelhead and brown trout were caught by those casting small crank baits or drifting eggs and worms near the 9th Street Dam.
Oscoda: Anglers trolling in 120 to 160 feet off the river found lake trout near the bottom when using spoons. Boats trolling near the mouth of the river have seen and marked chinook however catch rates were slow. Pier anglers caught a few walleye on crank baits. Those still-fishing crawlers in the evening caught channel cats and a couple walleye. Those drifting crawlers under a float caught smallmouth bass, rock bass and a few small perch.
Au Sable River: Chinook salmon have been seen at Foote Dam, and a few decent steelhead and smallmouth bass were caught just below the dam when drifting skein and worms. An Atlantic salmon was caught near the mouth. Those drifting crawlers picked up a few walleye and smallmouth bass. Channel catfish were taken by those still-fishing with crawlers.
Higgins Lake: A few boats were still trolling for lake trout. Smallmouth bass fishing picked up off Flag Point and around Treasure Island when casting between the shallows and 20 feet deep. Perch anglers were starting to pick up a few bigger fish in 20 feet with a Hali jig and minnow. Some large rock bass are still being caught.
Houghton Lake: Water levels are down some so boat anglers will want to watch their props near shore. The walleye bite slowed with the warmer water but a few were still taken on a crawler harness or a single hook with a shiny blade. Bluegill and crappie were suspended 2 to 6 feet down in 12 feet. Bass fishing was good.
Tawas: Fishing was slow with only a few walleye taken around the weed beds. Perch anglers were sorting through lots of small ones to get a few keepers. Walleye trollers going south toward Alabaster took a few fish on a crawler harness in 24 to 40 feet. There were rumors of a few chinook staging off the mouth of the river.
Au Gres: Some perch were caught in 35 to 42 feet straight off the river mouth. Fish were also found in 10 to 15 feet off the Saganing and Pinconning Bars but no big numbers. The keepers were 8 to 10 inches. A few walleye were caught in 25 to 30 feet with a crawler harness.
Saginaw Bay: Had good perch fishing around the first set of buoys along the modern shipping channel past Spoils Island. The fish ranged 8 to 12 inches and several limit catches were reported. Other spots worth trying would be near Buoys 17 & 18, and out near the Spark Plug in 23 feet. The perch action was spotty off Quanicassee in 9 to 13 feet. The boats that got out the earliest seem to do best. A few bigger fish were taken in 15 to 18 feet. A few walleye were taken in 13 feet off the Callahan Reef and in the Slot between Sebewaing and Bay Port. Unlike last week, the key to success seemed to be moving around until you find an active school of fish.
Upper Peninsula Fishing Report
Menominee River: Anglers caught walleye, pike, smallmouth bass and catfish when trolling or jigging between Bum Island and the mouth. No salmon were observed.
Little Bay De Noc: Walleye catches were spotty throughout the Bay with the better fishing at the mouth of the Escanaba River when trolling a crawler harness or stick baits along the weed lines. Perch fishing was good in the same area with minnows in 18 to 25 feet. Good pike catches in several areas between the south end of the Black Bottom and the Escanaba beach area. Most fish were hitting crank baits and spinners in 6 to 12 feet. A few salmon were caught near the mouth of the river as well.
Manistique: Salmon anglers reported fewer catches as water temperatures increased to the high 60's. Shore anglers up near the dam caught coho and the occasional steelhead or brown trout. Those fly fishing took a couple steelhead between the "Big Bass Hole" and the ORV bridge. Chinook were seen jumping throughout the river and the better catches came in the late evening.
Munising: Boat anglers are targeting mainly coho and catch rates were slightly better. Scattered catches were reported by those trolling inside the bay but those trolling the west channel and in Trout Bay did slightly better when trolling 60 to 70 feet down in deeper waters. The key is to look for baitfish. Splake fishing was poor.
Grand Marais: Boat anglers trolling in 50 to 60 feet caught a few coho east of the breakwall and off the beach area when moving towards the Sable River. Some did well for coho in shallow waters less than 30 feet deep however some never caught a fish. Try very early morning or late evening. Some were fishing the mouth of the Sucker River but very few fish were caught.
Tahquamenon River: Boat anglers had luck for musky by trolling and casting upstream of the Natalie State Forest launch. Yellow perch anglers caught fish when floating a worm in the Dollarville Flooding. Shoreline fishing was slow for panfish.
St. Marys River: Up near Sault Ste. Marie, Cloverland continues to perform maintenance on the turbines, and will periodically shut the plant down. When this happens, fishing will be poor so be sure to check the flow from the park to east of the powerhouse first. Pink salmon fishing was slow with only a few taken. Yellow perch fishing was inconsistent in the North Channel. Try 25 feet with minnows or crawlers on the bottom. Walleye fishing is inconsistent in the shipping channel in 30 to 32 feet using bottom bouncers and a green or motor oil crawler harnesses between the 3-Mile and the 7-Mile Buoys. In the lower river, very few walleye were taken when trolling or drifting crawler harnesses over the deep weeds and rock piles. Yellow perch action remains slow with only a few caught by those targeting walleye. Musky anglers trolling or casting caught a few but most were under 40 inches. Some decent size pike were caught on spoons and crank baits in front of the two piers in Raber, near Maude Bay and Raber Point.
Detour: Was producing limits of lake trout and a few chinook. Try two miles straight south of the Detour Lighthouse when trolling the 90 foot flat with spin-glo's and a 24 inch leader. Best colors are orange or chartreuse with white. Best area to target chinook is Fry Pan Island, which is the first island south of ferry boat lane that runs to Drummond Island. A few were caught on spoons 55 to 60 feet down in 80 feet.
Drummond Island: Yellow perch catches were decent but nowhere near peak yet. Warm water temperatures have kept the bigger fish from entering the bay. Anglers caught 5 to 20 perch above the legal size of 7 inches with a few 11 to 13 inches but were sorting through a lot of small ones. Smaller minnows seem to be the bait of choice, either drifted with small bladed rigs or floated under bobbers. The location of the schools changes daily, but some of the spots to try would include Maxton Bay and the islands of Rutland, Peck, James, Grape, and Bald. Colors to try would be green, red, and reflective silver or gold blades on sunny days.
Cedarville and Hessel: Yellow perch fishing slowed in the Les Cheneaux Islands. Those doing best were moving around the islands and targeting a variety of weed beds while casting with a slow retrieve. Both shiners and worms are good baits. Connors Pointe which sits between Urie Bay and Musky Bay is usually a good perch location in September especially when the water temperatures cool to 45 degrees. Snows Channel was productive for pike when trolling a chrome spoon with a red eye. Creek chubs were taking pike in 8 to 10 feet between Duck Bay and Little La Salle Island.
Carp River: Fishing pressure picked up but not many fish were harvested. Many reported seeing fish surface and some believe the pink salmon have already run up the river. Still lots of fishing pressure on Nunn's Creek. Anglers are catching chinook on skein, spawn bags or spoons. Most of the fish have turned dark.