Lyman's on the Lake Houghton Lake ice report 1.17.18. It's Tip-up Town weekend and we have 12" to 18" of ice with light snow on top. The temp is supposed to be close to 40, so it should be a great weekend to fish and enjoy all the TUT activities. We still have a couple of rental shanties available….call to reserve one.
Anglers can walk out from the DNR launch on the north end but taking any kind of vehicle out is not possible as the cement ramp has buckled. Anglers should not drive across the pressure crack off the west launch. Bluegills have been caught on wigglers and wax worms in 5 to 8 feet. For walleye, try jigging spoons tipped with a minnow head. Crappie were hitting on small jigging spoons tipped with a live minnow. Those spearing or using tip-ups are taking pike.
Nice Houghton Lake walleye. David Mogg from Wayland caught a 26″, 5lb eye by the south shore using a tip-up with a  shiner. He was in about 8′ fow. Nice catch, David!
ICE REPORT: MONDAY, 1/18/18
LAKES MITCHELL AND CADILLAC
With most of the snow gone during the warm up last week, the ice has hardened up like a diamond!
Lake Mitchell:
Big Cove area 7-9″
East side by Mitchell State Park 12″
Lake Cadillac:
Kenwood Park 8-10″
East end, City Boat launch 12 1/2″
The ice height in the pictures is about 3/4″-1″ above the waterline on the tape measure. The overcast sky is making for terrible contrast and it is hard to see in the pictures.
A good number of crappie were taken off Kenwood Park on Lake Cadillac. Mitchell is also producing some nice crappie. The coves on Mitchell were good for bluegills and sunfish. Pike were active on both lakes and were hitting tip-ups with sucker minnows.
We have a new entry for our 16th Annual Spearing Contest. There is still time to sign up if you have not already. There is no cost to enter. The contest goes until March 15th so there is still plenty of time to get on the board.
Ed Pascoe speared this one from Lake Mitchell, 29 1/2″ and 5.82lbs. He is now currently in 1st place.
Muskegon Lake: Special note: Anglers should avoid the northeast corner of the lake as a truck went through the ice between Second Street and the Conservation Club. Also beware of the boat that goes in and out between the GT Dock on the south end and the channel leading to Lake Michigan. Perch have been caught in 42 feet on the southwest and west end off Cottage Grove and the Harbor Town parking lot. The bite turns on and off but some good size fish have been caught. Pike and a few walleye were taken off Fisherman's Landing on the east end. Pike were taken off Heritage Landing and Hartshorn Marina.
Lake Missaukee
Newest ice report off of Green road12-15" .Opening at 7am. Fish on! Call Miller's Corner @ 231-839-0440 for latest info
White Lake has good ice and one of the best perch bites in years with minnows and spikes working best. PERCH is calling your name!!!!
Fishing the Montague side now for perch Heard from different ones that they had their limits in a little more than an hr. Nice size too.
Now perch are awesome, but I love bluegills too! Call Armstrong's on White Lake (231) 894-6753 or Johnson's Outdoors for the latest fishing info @ 231-893-6688
Around Traverse City Green, Duck  are  froze a few fishing smelt on Green off the state park access. Guys out on Long Lake catching walleye, pike and perch. Some nice perch out of long lake on wiggler in 28-30 of water. Spider Lake, Arbutus, Ellis Lake, Lake Dubonnet(mud Lake) also have 8 to 10 inches Call roys for latest info @ 231-946-5633
Lake Skegemog has ice from 8 to12 inches guys were heading catching some nice perch . Below a mess of perch from Skegemog snow is gone and the lake is in great shape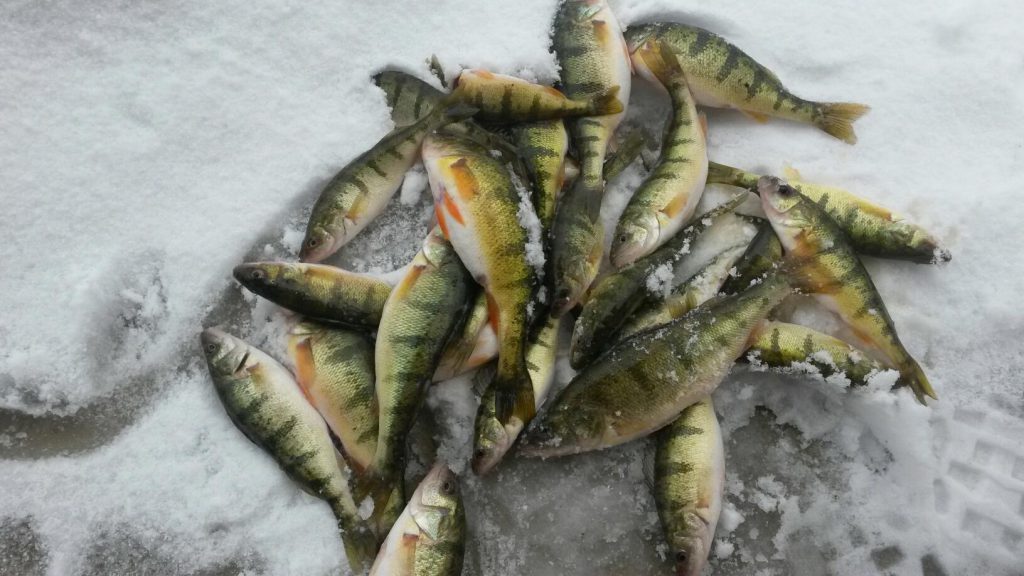 Manistee lake is 6 to 8 inches and lots of slush. Bear and Guernsey Lake have a great  trout bite.  call Jack's Sport@ 231-258-8892
Fife Lake is froze and pike have been biting on the smaller lakes  call Kathy's Lakeside Party Store 231-879-3341 for latest info
Ice report for the week. Upper Hamlin Lake has anywhere from 8 to 10 inches inches on it.Marquette lake has 6-7 inches in most spots. Just use caution out by the shipping lane. Pentwater lake also has8-10 inches. has ice and good perch bite. Call  Captain Chucks@ 231-843-4458 or Lower Hamlin Grocery @ (231) 425-4420
They are fishing little glen and catching pike and perch. Lake Leelanau has turned on and a great walleye bite. Call   Empire Outdoors@ (231) 326-5433 or Roadside minnows 231-944-5229
Portage Lake has been fair on perch, walleye and pike fishing has been really good this week.Call Osborn's @ 231-889-3775 or Dewey @ Don's Sport Shop 231-735-5028  Manistee Lake is froze and catching pike, and perch.
Otsego Lake has 8 to 12 inches and good perch and walleye some are fishing Chub lake also has great bite this week on trout, perch and pike. Call Northern Sports @ 989-448-2014 Brian Derminer's Party Store 989-705-7051 Tony @ Otsego Corner Store 989-7321-8664 for latest info
Higgins Lake fairly steady 10 inches of ice over the entire lake, with some areas coming in at 12 inches….no snow on top of ice…..lots of little perch, but they are catching smelt this year, no numbers yet but some are getting up to 60  a trip.Lake trout are ok and a few pike being caught.. Call Sports Barn @ 989-821-9511 or Higgins Lake Hardware Call Brian @ 989-821-6677   Evergreen Park  @ 989-821-5425.
Lake St. Helen has 10 to 15  inches and pike, walleye, and panfish have been biting. Call Mike @ Saint Helen Bait Shop 989-808-1814
Lake Margarethe is froze with 10  to 12 inches and  lots of guys have been fishing with good pike and walleye. perch fishing has picked up. Call Skip's Sport Shop @ 989-348-7111
Crystal Lake is froze lots of little perch. Call Stapleton's Corner for latest info : 790 Michigan Ave, Benzonia, MI 49616 Phone:(231) 882-4342
Lewiston Report that west Twin has 10to 12 inches. Call Midlakes Party @ (989) 786-3227 for latest info
Fletcher Floodwater has ice 8to 12inches Call A1 Party Store for the latest info @ (989) 742-4112
Grand Lake has good ice. Call Adrian's Sport for the latest ice update @ (989) 734-2303
Long Lake and Grand Lake has ice call Buck's Bait and Tackle @ (989) 595-2121 for latest ice info
Black Lake is froze and some pike walleye and perch are being caught Call Parrots Outpost@ (989) 733-2472 Address: 20628 State St, Onaway, MI 49765
Burt Lake: Ice anglers were taking a decent number of perch from Maple Bay which is on the west side of the lake. Try live minnows.
Mullett Lake: Anglers were taking a few perch in front of Aloha State Park and in Scotts Bay.
Hesperia Sport reports that the smaller lakes have ice lots of guys heading out with good gill and pike bite. 8 to 10inches of ice on most lakes. call 231-854-3965
Harrison Has ice and good perch bite on Budd Lake call Ken's Landing@ (989) 539-3700 and  Mike's Quick Stop@  (989) 539-1435 Sharps Market (989) 539-9862
Baldwin area some of the guys are getting out but the ice is 7 -9 inches
Wixom, Sanford, Sugar Springs, wiggins, Pratt Lake and Secord have great ice  and the bite has been good for pike and panfish. call Sanford Sport @ 989-687-5161  Chappel Dam Grocery (989) 426-7503   Big R's Party  (989) 435-2517
Saginaw Bay: Had a lot of anglers from Erickson Road south to Linwood, with Linwood being the most popular access point. Walleyes were taken in 17 to 20 feet in the vicinity of the second pressure crack. Anglers need to use extreme caution near both pressure cracks as they are still active and changing all the time. Both people and machines have fallen through the ice near them. Walleye were caught in 14 feet off Parish Road. Perch anglers were getting some fish in 5 feet off Anderson Road and 6 feet off Linwood. Good catches including a couple limits came from the shipping channel near Spoils Island. A few were fishing in 10 feet off the trailer park near the river mouth. East of the Saginaw River mouth, success was slow at Finn Road and at Vanderbilt Park. Perch anglers in the lower Quanicassee River caught a few small ones. Slow perch fishing from Sebewaing to Bay Port. A few pike were speared or caught on hook and line and several perch anglers reported seeing pike down the holes. Perch fishing was a little better off Mud Creek in Wildfowl Bay. A few pike and walleye were taken incidental to perch in Wildfowl Bay. At Caseville, the thaw last week made the river and marina pretty murky and fishing slowed to a standstill. No fishing at Port Austin as the few shanties inside the harbor were pulled to shore.
Saginaw River: Special note: Be careful of the ice in or near the channel. The thaw last week caused the current to pick up and it thinned out the ice. You might be standing on 8 inches in one spot off the current and two steps away there might only be 2 inches! The thaw caused the water to muddy up and fishing slowed. From Wickes Park in Saginaw north all the way to the Independence Bridge, catches were limited to a walleye here and there with a lot of sub-legal fish caught and released. A couple eater-size fish were taken between the Independence Bridge and the mouth. Those fishing out of the main current seemed to be doing a little better, and evenings were best. A few walleye and some perch were caught inside the Yacht Club basin. Again, these areas out of the main current seem to be where the fish have been holding.
Northeast Lower Peninsula Fishing Report
Burt Lake: Was producing a decent number of walleye and perch.
Black Lake: Fishing pressure picked up. Anglers are catching walleye before sunrise and at dusk with blues in 11 to 18 feet. Anglers were also catching a few pike but most were sub-legal. Perch were caught on shiners in 6 feet. There were no musky reports from spear anglers. There are some major pressure cracks near Zolner Road and off Corbat Road so use caution in these areas.
Grand Lake: Was producing some walleye.
Higgins Lake: Perch anglers were near the drop-off in 60 feet. Lots of anglers were out deep and targeting lake trout in 80 to 120 feet. Most are using greys or smelt. Those targeting smelt were in 50 to 60 feet off the North State Park, the west launch and off Big Creek with a Hali jig tipped with wax worm or spike. The occasional rainbow trout has been taken in shallow waters off the Conference Center when using a wiggler. A few pike are still being taken on tip-ups or by those spearing.
Houghton Lake: Anglers can walk out from the DNR launch on the north end but taking any kind of vehicle out is not possible as the cement ramp has buckled. Anglers should not drive across the pressure crack off the west launch. Bluegills have been caught on wigglers and wax worms in 5 to 8 feet. For walleye, try jigging spoons tipped with a minnow head. Crappie were hitting on small jigging spoons tipped with a live minnow. Those spearing or using tip-ups are taking pike.
Tawas: Those spearing pike did well on the north end of the bay off Jerry's Marina. Lake trout and walleye were caught around the artificial reef. A few anglers were walleye fishing out closer to the tip of Tawas Point in 20 to 22 feet.
Au Gres: Most of the fishing effort was concentrated in the back bay west of the river mouth where anglers were taking pike, a few walleye and some perch. Walleye anglers heading out from Hale Road, the Pine River access site, and Palmer Road were getting fish in 11 to 15 feet. Walleye anglers were also hitting the Catfish Hole off White's Beach. Perch anglers north of the Pine River caught 8 to 10 inch fish in 4 to 8 feet.
---
Northwest Lower Peninsula Fishing Report
Anglers were taking motorized vehicles out however caution should be used especially around any pressure cracks. The rivers should be fishable with warmers temperatures by the weekend.
Walloon Lake: In Charlevoix County was producing a few perch.
Portage Lake: Perch fishing was decent. Some nice fish were caught but anglers were sorting through the small ones. Lake herring were caught over deep water.
Manistee Lake: Had ice shanties off Penny Park.
Lake Missuakee: Has been good for panfish but no word on walleye.
Lakes Cadillac and Mitchell: Had less snow on the ice so travel conditions were much better. A good number of crappie were taken off Kenwood Park on Lake Cadillac. Mitchell is also producing some nice crappie. The coves on Mitchell were good for bluegills and sunfish. Pike were active on both lakes and were hitting tip-ups with sucker minnows.
Pere Marquette Lake: Anglers caught pike on tip-ups with sucker minnows. Some perch were also caught.
Pentwater Lake: Anglers were getting bluegill, crappie and a few perch.
Haymarsh Lakes: In Mecosta County were producing some nice bluegills. No limit catches but the fish caught were up to 10 inches.
---
Upper Peninsula Fishing Report
Little Bay De Noc: Had very little snow cover on it. Ice conditions changed some and those heading south of Aronson Island reported much thinner ice. This area is considered dangerous and extreme caution must be used at all times. Pressure cracks have been moving a lot over the last week so please use caution near them. Overall catches were down some but still fair to good. Walleye anglers reported fair catches near the Second Reef in 27 to 35 feet, in the channel south of the "Narrows" in 28 to 34 feet and just south of the Escanaba River in 25 to 32 feet. All were using rapalas tipped with a minnow. Several large fish were caught between Aronson Island and Portage Point when jigging rapalas tipped with a minnow in 27 to 32 feet. Lots of walleye anglers in the upper bay reported a good number of undersize fish which is a good sign for the future. Perch anglers had fair to good catches with wigglers in the Kipling Flats in 27 feet. Fewer fish were caught but the size was 10 to 13 inches. Fair catches were reported in the Gladstone Channel in 28 to 34 feet, out near Brach's Cabins in 17 to 21 feet and out near the shipping docks in Escanaba in 30 feet. Good numbers of smaller perch and some bluegills were caught in the Escanaba Yacht Harbor in 8 to 12 feet. Pike were active throughout the bay. Best catches of large fish were reported near the ship docks in Escanaba when using a tip-up with a sucker minnows in and around 25 feet. Whitefish anglers reported fair to good catches out in the channel at Gladstone with minnows or spawn in 30 to 35 feet and off Sand Point in 80 to 90 feet.
Manistique Lakes: Walleye were hitting pretty good.
Brevoort Lake: Anglers caught walleye and pike.
St. Marys River: Those fishing the upper river above the locks reported good Menominee and whitefish action. Mosquito Bay is the popular location.
Cedarville and Hessel: Cedarville was producing yellow perch and pike. Perch catches were good but anglers were doing some sorting. Off Hessel, perch were caught around the Les Cheneaux Islands when using minnows, wigglers and spikes. Most were undersize but keepers averaged 10 inches. Be sure to use caution in areas where there is a current.