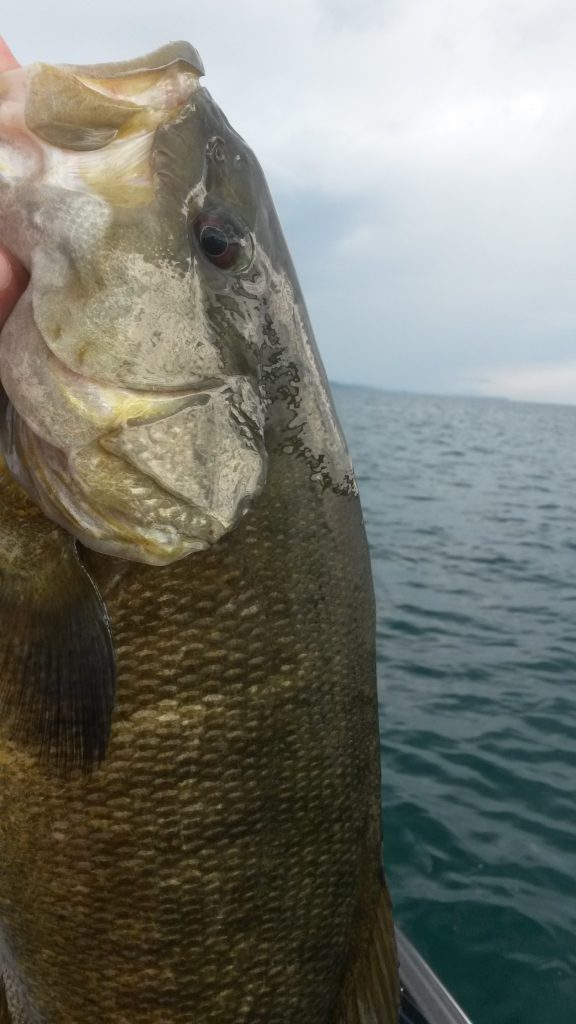 Weather is not helping with cool windy conditions but fishing has been fair with lots of smallmouth being caught on East Grand Traverse Bay some in the 6 pound class.
Northeast Lower Peninsula Fishing Report
Mackinaw: Had some pier fishing activity. Anglers using jigs caught rock bass in shallow water.
Cheboygan: Atlantic salmon were caught when trolling spoons near Bois Blanc Island. Boat anglers were still getting limits of walleye when drifting worms on a plain hook or a yellow and green crawler harness. The fish were averaging 16 to 19 inches or smaller.
Cheboygan River: Pier anglers at the ferry parking lot caught rock bass, smallmouth bass, catfish, small pike, and some big freshwater drum with worms or leeches on the bottom. Some pike were also caught on a perch imitation or red and orange stick baits.
Rogers City: Anglers caught a mixed bag of silver chinook, coho, steelhead, lake trout and Atlantic salmon. Depending on water temperature which has been changing constantly, fish were caught up high or down deep in 60 to 130 feet. Run lines throughout the water column. Use bright colors like orange and silver up high for steelhead and Atlantic salmon or green, blue, white and glow down deeper. The fish were scattered so look for the scum line and baitfish.
Rockport: Was producing chinook, coho, steelhead, Atlantic salmon and the odd walleye. Look for cooler water and run lines throughout the water column using the same colors as Rogers City. No one hot spot as the fish are scattered. Chinook were coming at all hours of the day especially early and late. Try straight out, around Middle Island, the Nordmeer Wreck, and Stoneport.
Alpena: Lake trout moved deeper in 80 to 140 feet off Thunder Bay Island and the first set of "Humps". Most were about 10 feet off the bottom; however, a few were suspended in the bottom 40 feet and were hitting on spoons and spin-glo's with a dodger or flasher. A couple steelhead were found in the top 30 feet. Atlantic salmon were caught on chrome spoons up high. Those targeting walleye found fish in the morning or evening in 20 to 30 feet when trolling stick baits or harnesses with bottom bouncers near Sulphur Island, Scarecrow Island, and straight out of Bay View Park. Hot colors were wonderbread, fire-tiger, and bloody nose.
Thunder Bay River: A couple walleye were caught when still-fishing or drifting crawler harnesses near the 9th Street Bridge and Lamarre Park. Many were small but anglers did manage to get a few keepers. Those casting crank baits or jigging soft plastics caught smallmouth bass, northern pike, and bowfin. A few channel cats were caught on crawlers near the mouth.
Oscoda: Good catches of lake trout were found in 100 to 150 feet when trolling spoons and spin-glo's near the bottom. Steelhead and pink salmon were found in the top 30 feet. Stomach contents show many of the steelhead were feeding on hatched and emerging insects. Anglers targeting walleye found a couple when still-fishing or drifting crawlers near the mouth of the river early or late. Channel catfish and freshwater drum were caught right off the bottom with crawlers and shrimp on a three way swivel or perch rigs.
Au Sable River: Water levels were high but anglers drifting crawlers through the holes between Oscoda and the railroad trestle found a couple walleye but most were too small. Anglers casting crank baits reported good catches of smallmouth up near Foote Dam and a few largemouth or pike in the marinas near the mouth. Freshwater drum and carp were caught when drifting crawlers.
Higgins Lake: Those jigging Swedish pimples and cast masters caught lake trout in 80 feet and deeper. Rainbow trout were caught on small minnows in 65 feet in the early morning. Anglers were getting lots of rock bass but the smallmouth bite has slowed. Perch have been caught but the fish are running small.
Houghton Lake: Had very good bass fishing for those using wacky worms. The walleye are scattered but those trolling have found some fish when working the drop-offs and fishing close to the weed beds in 9 to 12 feet with crawlers or leeches on a harness. Pink, purple, gold and fire-tiger were good colors. Hot-n-Tots or crank baits in orange, gold, black and gold, chartreuse or fire-tiger also caught fish. Anglers caught bluegills and some fish may still be on the beds. Crappie were hard to find but pike were hitting on anything.
Tawas: Boat anglers targeting walleye were getting fish on the northwest side of Big Charity Island in 10 to 45 feet. Trout and salmon anglers were taking steelhead and lake trout around Tawas Point in 70 to 75 feet. Pier fishing was summer-slow.
Tawas River: Shore anglers fishing the lower river caught the usual mix of catfish, carp, freshwater drum and bass.
Au Gres: Walleye anglers were doing well. Finding warmer water seemed to be the key to finding active schools of fish. Some boats were crossing the bay to fish the Steeples and clear over to the Slot while others went south of Point Au Gres to the end of the shipping channel. Crawler harnesses, crank baits and spoons worked well. A few nice perch were caught incidental to the walleye.
---
Northwest Lower Peninsula Fishing Report
Harbor Springs: Boat anglers managed to catch a few lake trout and salmon up near 7-Mile Point. Bass are off the beds so catch rates were spotty. The Little Traverse Bay weather buoy had temperature readings at 59 degrees.
Petoskey: Fishing pressure was low as water temperatures deep down were still warm so anglers will have to try deeper water. The Bobber Hole near the mouth of the Bear River was a good spot to get a variety of species like smallmouth bass, rock bass, freshwater drum, and big bullhead but the bite was slow. Water levels on the Bear River were just about normal. Anglers caught a couple steelhead and smaller brown trout on spawn and worms.
Charlevoix: Anglers fishing in the channel caught smallmouth bass but many were on the small side. Try natural and artificial crawlers or leeches. Freshwater drum were also caught.
Traverse City: The East Bay had good lake trout fishing for those trolling spoons along the west side of the bay. The bite was slow but bass were caught south of the M-37 launch in 15 to 20 feet. The Elk River was slow except for a few smallmouth, rock bass and freshwater drum caught on plastics, leeches or crawlers. In the West Bay, lake trout fishing was fair when trolling along the east side or when jigging near the bottom south of Lee Point. A few bass were caught out from the M-22 launch and south of Bowers Harbor in 20 feet. The Boardman River was slow with only a few smallmouth bass or rock bass taken on worms.
Leland: Lake trout fishing improved when cold water moved up into the water column. Good numbers of fish were caught in 100 to 150 feet between the First and the Second Bank. Spin-glo's behind dodgers, cowbells or spin doctors worked best. A few chinook salmon and steelhead were caught between the First Bank and North Manitou Island. A decent number of smallmouth bass were caught in the harbor and the river.
Platte Bay: Good numbers of lake trout were caught in East Bay in the early morning. Boats leaving the river were having little trouble getting out, but conditions at the mouth could change with any strong winds.
Frankfort: Water temperatures increased this week so anglers were trolling in 200 to 250 feet and working the top 150 feet. Lake trout are active in all areas with good numbers of fish off the point. Steelhead were hitting orange plugs near the surface.
Portage Lake: Bass anglers had moderate catches in deeper waters during the heat wave. Perch and panfish anglers caught fish near the marker buoy.
Lakes Cadillac and Mitchell: Panfish were caught in deeper waters 8 to 12 feet with worms, leeches or crickets. Walleye anglers continue to troll or drift harnesses and crank baits. Those targeting bass did well with spinners, crank baits or soft plastics.
Manistee: Surface water temperatures were about 65 degrees. Fishing picked up with a good number of lake trout taken in 100 to 180 feet. Chinook and steelhead were also caught. Pier fishing was slow.
Ludington: Good numbers of lake trout were caught in 100 to 200 feet. A few coho, chinook and steelhead were also caught. Pier fishing was slow.
Pentwater: Had slow salmon fishing but those trolling between the dunes and Little Sable Point did manage to catch a couple steelhead, coho and chinook in 150 to 200 feet. Lake trout fishing was good when trolling paddles and flies or spoons near the bottom in 90 to 150 feet.
Pentwater Lake: Those casting body baits or jigging soft plastics in the channel caught smallmouth bass and freshwater drum. Bluegills, yellow perch and smallmouth bass were caught off Longbridge Road when drifting worms.