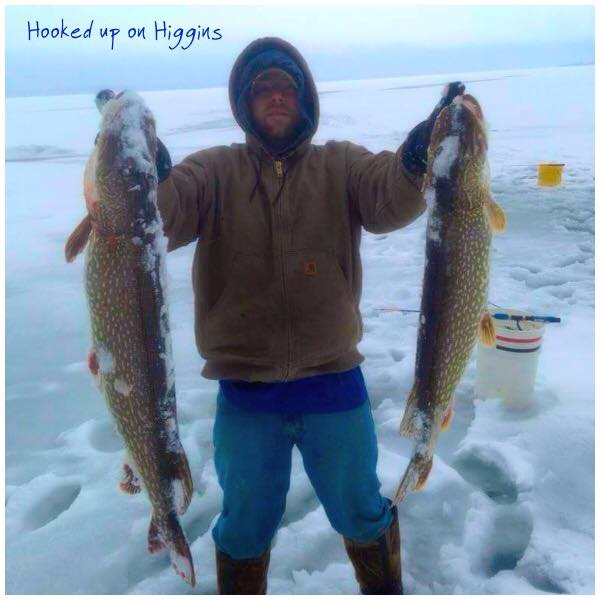 Bobby Stockton caught these huge pike on Higgins Lake this week. North-end Higgins 2 to 3 inches, south -end 3 to 5 inches. Be careful!!!!!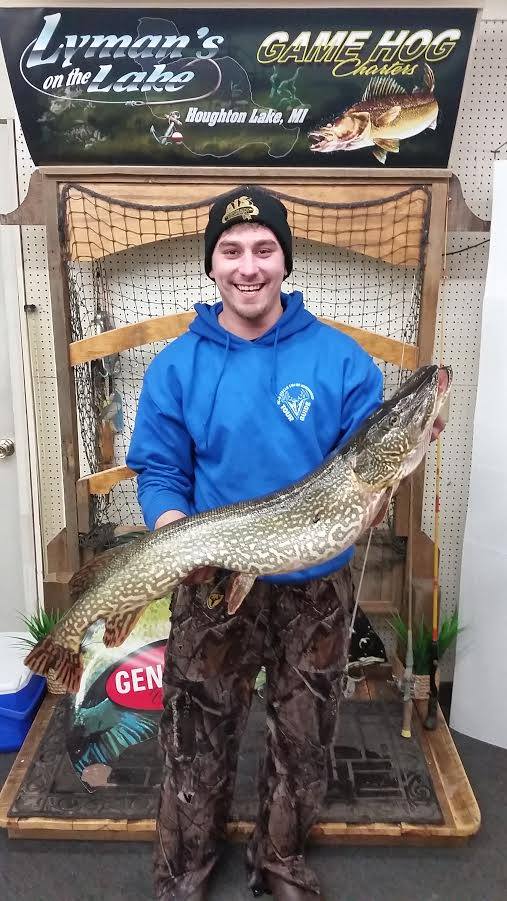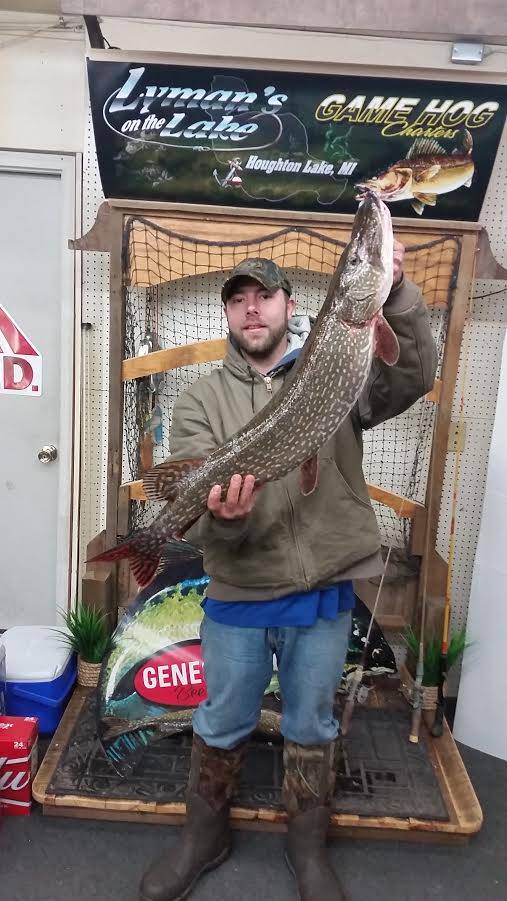 Lyman's on the Lake Big Pike contest week #2. Riley Roberts (9) from Houghton Lake and Linkin LaPaugh (9) from Olivet brought in two impressive pike entries this weekend.
Buc's Fishing Report
Lake Missaukee
There's a SOLID 8″ to 12″ of ice on Missaukee. Miller's Corner reports a good walleye and pike bite & be safe. Opening at 7am. Fish on! Call Miller's Corner @ 231-839-0440 for latest info
Cadillac and Mitchell- There seems to be a good 8″ to 12″ of ice near all the public access sites. I checked over by Thirsty's gas station, Big cove, Kenwood Park and the city boat launch. Pike and crappie are biting Call Pilgrim Village for the latest update 231-775-5412
Houghton Lake has 10 to 15 inches of ice and pike and walleye, and panfish have been biting, Lyman's have there shanties out so we are good to go. Lyman's on the Lake 989-422-3231., Four Season Party Store 989-422-5230 and H&H Fireworks (989) 366-0126, Papa's Bait 989-429-5780 Angelos Party Store 989-202-4422
Around Traverse City Green, Duck are froze a few fishing smelt on Green off the state park access. Lots of guys out on Long Lake catching walleye, pike and perch. Spider Lake, Arbutus, Ellis Lake, Lake Dubonnet(mud Lake) also have 8 to 10 inches
Lake Skegemog has ice from 7 to 10 inches guys were heading catching some nice perch ., Manistee lake is 4 to 7 inches and has a good perch bite. Bear and Guernsey Lake have a great brown trout bite. call Jack's Sport@ 231-258-8892
Fife Lake is froze and pike have been biting on the smaller lakes call Kathy's Lakeside Party Store 231-879-4346 for latest info
Hamlin Lake has ice and guys are just starting to fish Ice off of Wilson Hill is about 6″. Call Captain Chucks@ 231-843-4458 or Lower Hamlin Grocery @ (231) 425-4420
Lake Leelanau report from Leelanau Narrows bait shop We are open 7 days a week at the lake Leelanau narrows resort for live bait and tackle! owner Greg Alsip his cell# (231) 624-6201 and he has ice fishing charters his web site is http://www.lakeeffectcharters.com
North lake Leelanau is still a no go, south lake has 5″ to 7″ with perch and walleye being caught
They are fishing little glen and catching pike and perch. Call leelanau narrows@ (231) 994-2108 or Empire Outdoors@ (231) 326-5433
Portage Lake is froze with 4 to 6 inches with a great perch bite, Bear Lake has been fair for walleye this week Call Osborn's @ 231-889-3775 or Dewey @ Don's Sport Shop 231-735-5028 Manistee Lake just froze and there hoping by the weekend things should get started
Otsego Lake has 8 to 10 inches some are fishing Chub lake also has great bite this week on trout, perch and pike. Call Northern Sports @ 989-448-2014 Brian Derminer's Party Store 989-705-7051 Tony @ Otsego Corner Store 989-7321-8664 for latest info
Higgins Lake is starting to freeze with 2 to 3 inches on North-end, and south-end3 to 5 inches.. Call Sports Barn @ 989-821-9511 or Higgins Lake Hardware Call Brian @ 989-821-6677 Also Evergreen Park is handling bait call them @ 989-821-5425
Lake St. Helen has 8 to 7 inches and pike, walleye, and panfish have been biting. Call Mike @ Saint Helen Bait Shop 989-808-1814
Lake Margarethe is froze with 7 to 9 inches and lots of guys have been fishing with good pike and walleye. A 15.5 lb 35 inch walleye was caught on the lake this week Call Skip's Sport Shop @ 989-348-7111
Crystal Lake is mostly open. Call Stapleton's Corner for latest info : 790 Michigan Ave, Benzonia, MI 49616 Phone:(231) 882-4342
Munuscong Bay: Dan's Resort Walleye were hitting on live minnows and perch were after the tip-ups. We have seen about 8 inches of clear ice with about 4 inches of honeycomb ice on top of it. If you are after pike, we got chubs in the tank now so come get em' while they're feisty!.Call Dan's Resort for latest info@ (906) 647-8753 or 906-647-8120
Lewiston Report that west Twin has 6 to 8 inches. Call Midlakes Party @ (989) 786-3227 for latest info
Fletcher Floodwater has ice 8to 12inches Call A1 Party Store for the latest info @ (989) 742-4112
Black Bass Bay has ok ice on Grand Lake. Call Adrian's Sport for the latest ice update @ (989) 734-2303
Long Lake and Grand Lake has ice call Buck's Bait and Tackle @ (989) 595-2121 for latest ice info
Black Lake is froze and some pike walleye and perch are being caught Call Parrots Outpost@ (989) 733-2472 Address: 20628 State St, Onaway, MI 49765
Burt Lake: Ice anglers were taking a decent number of perch from Maple Bay which is on the west side of the lake. Try live minnows.
Mullett Lake: Anglers were taking a few perch in front of Aloha State Park and in Scotts Bay. It's early ice so anglers need to use caution.
Pentwater Lake, has ice but few are fishing. Call Pentwater angler info 231-869-5357
White Lake is froze and we still have 4″ of ice at the end of our docks and the shanty town is still thriving over at the old Wesley's Marina. However there is open water where the current cuts through the harbor. Keep your spud and spikes handy. We expect a slow melt to continue through the next couple days.There's a lot of activity around Tannery Bay as the pike have been biting well. Call Armstrong's on White Lake (231) 894-6753 or Johnson's Outdoors for the latest fishing info @ 231-893-6688
Hesperia Sport reports that the smaller lakes have ice lots of guys heading out with good gill and pike bite. 6 to 8 inches of ice on most lakes. call 231-854-3965
Harrison Has ice and a few guys are getting out call Ken's Landing@ (989) 539-3700 and Mike's Quick Stop@ (989) 539-1435 Sharps Market (989) 539-9862
Baldwin area some of the guys are getting out but the ice is 4-6 inches
Wixom, Sanford, Sugar Springs, wiggins, Pratt Lake and Secord have ice but be careful and the bite has been good for pike and panfish. call Sanford Sport @ 989-687-5161 Chappel Dam Grocery (989) 426-7503 Big R's Party (989) 435-2517
Saginaw Bay: Ice conditions are highly variable around the Bay and anglers are cautioned to be very careful. Patches of open water still exist in many areas, and newly formed ice may or may not be thick enough to hold anglers. Fishing was basically limited to perch fishing in shallow water. The bay has not yet frozen all the way across, and in most locations ice only extends out about a mile from shore and most anglers are not venturing out anywhere near that far. Some perch fishing activity was reported at White's Beach, Pinconning Road, Newman Road and about three blocks off Erickson Road. Anglers were perch fishing off Linwood but caution needs to be used as a lot of the ice out there was newly frozen or re-frozen and "shove ice" and thickness varies tremendously from spot to spot. Those fishing off Vanderbilt Park near Quanicassee were getting a few perch with live minnows. A few small perch and a couple bluegills were caught inside Sunset Bay Marina. There was also some fishing activity in the channel that leads out of the marina basin. Moving north, Geiger Road had some fishing activity, but the fish were small and the ice had patches of open water so use caution. Fish were also caught from the Mud Creek access site.
Saginaw River:: Most ice fishing activity was concentrated at the mouth, especially in the marina basins off the channel. Some decent catches of 8 to 12 inch perch were taken from the Yacht Club Marina basin and in the mouth of the basin. Live minnows on perch rigs seemed to be more effective than beaded spoons. Live bait usually works best when it is extremely cold. Most fishing on the lower river was limited to the edges as anglers did not trust the ice in the middle of the channel. Some were fishing just off the edge of the banks as far upstream as the Independence Bridge and south of Bay City from Veterans Park along M-13 to Crow Island, but be advised that the middle of the river still has thin ice and patches of open water. Walleye fishing was very slow.
Northwest Lower Peninsula Fishing Report
Lakes in Antrim and Charlevoix counties were hit-or-miss for safety. The high volume of snow has resulted in much slush and water on top of the ice. Anglers still need to exercise extreme caution when fishing these and other lakes in the area.
Lake Cadillac: Is producing pike for those using tip-ups with suckers. The bluegill and crappie bite improved with the warmer weather.
Lake Mitchell: Ice anglers continue to target the waters on the west end including Big Cove and Small Cove for bluegills and crappie. Try a smaller jig with live bait such as minnows, wigglers and wax worms. Those spearing pike have taken some fish along the south end.
Lake Missaukee: Ice anglers are taking pike and walleye on tip-ups.
Northeast Lower Peninsula Fishing Report
Lake Margrethe: Has ice fishing and a couple good size walleye have been caught.
Higgins Lake: The ice is building. Anglers will need to use caution and watch for a pressure crack out from Big Creek which has come together and is now protruding above the ice. The lake had a good 6 to 7 inches of snow which was turning to slush. Anglers were starting to target pike in 45 feet and lake trout in 80 to 100 feet along the north end. Most are using tip-ups with greys and suckers. Some were also starting to fish off the south end near the State Park.
Houghton Lake: Ice fishing continues however anglers need to stay clear of the very large pressure crack that runs from Heights Marina to the DNR Launch. The large pressure crack is moving from day to day which makes it even more dangerous. The lake had a good 5 inches of snow on top. Fishing has been good with the pike and bluegills active. A couple limit catches of walleye were reported by those fishing in deeper water with smaller jigs and live minnows. Good colors were chartreuse, fire-tiger, dark green and gold. Those targeting crappie are also taking fish.
Tawas: Perch fishing in the Bay was very slow with only a few small fish taken in 15 feet near Jerry's Marina. Those after walleye in 22 feet saw walleye, lake trout and other species near the bottom but nothing would bite. Those spearing pike near Jerry's Marina were taking fish here and there but the action was still slow.
Au Gres: A few were perch fishing on the lower river and in the bayou near the breakwall, but success was limited to a few small perch and sub-legal walleye. Off the Pine River mouth and Palmer Road, people were going out up to a mile, but perch success was slow and no walleyes were brought in. Primarily small perch and a couple bluegills were caught inside Eagle Bay Marina.
Southeast Lower Peninsula Fishing Report
Anglers targeting panfish on the inland lakes had minimal success. Anglers fishing Wamplers Lake and Sand Lake in Lenawee County were fishing near the bottom in 12 to 18 feet. A few pike were taken on tip-ups in 8 to 12 feet. Anglers will need to use caution after the mid-week warm up.
Lake Erie: The Metro Park Marina was giving up some panfish.
Huron River: Continues to give up some steelhead near the golf course.
Detroit River: Is wide open with not much in the way of fishing activity.
Lake St. Clair: Panfish and perch fishing were good in the marinas and canals. Some of the main lake areas froze up but anglers were still close to shore. With rain and warm temperatures again, anglers should use extreme caution. Ice that has thawed and refroze is never as strong as new ice.
---
Southwest Lower Peninsula Fishing Report
Ice conditions on the inland lakes in the counties near Lake Michigan are still variable due to heavy snow cover. As you move east into counties such as Eaton, Calhoun, St. Joseph, and Jackson, the lakes had less snow and a little thicker ice.
Kalamazoo County: Ice anglers were out on Big and Little Sugarloaf, Gourdneck and Long Lake just to mention a few.
Kalamazoo River: Has elevated water levels that will no doubt spill over the banks. Those walking near the river should exercise caution as the banks will be unstable.
Grand River at Grand Rapids: Was under a flood watch in Robinson Township, Ottawa County. There is an ice jam downstream of Robinson Township. Combined rain and snow melt may elevate the river behind the ice jam. Anglers would need to use extreme caution in this area as well as downstream in case the ice jams give way. A flood warning has been issued near Comstock Park in Kent County. Anglers should avoid these areas of the river.
Muskegon Lake: The Coast Guard is warning anglers to be aware of commercial shipping and ice-breaking activity on the lake Wednesday January 11th through Sunday January 15th. Ships are expected to transit the channel in and out of Muskegon at various times throughout the weekend. A tug boat will conduct ice breaking operations in support of the ships. Recreational users of the ice should plan their activity carefully, use caution near the ice, and stay away from shipping channels and the charted Lake Carriers Association track lines. Most anglers were staying in Snug Harbor.
---