Michigan's annual "Winter Free Fishing Weekend" will be held this Saturday February 18th and Sunday February 19th. No fishing license is required however all regulations still apply. Special events will be held statewide, will be subject to weather conditions and may be cancelled if there is no safe ice. For a list of registered events, click here: www.michigan.gov/dnr/0,4570,7-153-10364_52261_50497-372353–,00.html. With temperatures well above normal by the weekend and into next week, anglers will need to be very careful and watch for changing and or deteriorating ice conditions. Ice fishing especially in the southern half of the Lower Peninsula may be done for this year. Even if there is no fishable ice in certain parts of the state this weekend, anglers may find some open water fishing.
Cash Bash Ice Fishing Contest in Cadillac
Inter-loch-ness ice fishing tournament feb 18&19
Lake Missaukee
Current Ice Report: 16-18″ of beautiful ice! Any more questions? Opening at 7am. Fish on! Call Miller's Corner @ 231-839-0440 for latest info
Cadillac and Mitchell-
Lake Cadillac and Lake Mitchell Ice Report 2/16/17
We have about 15″-17″ of ice on both lakes heading into the weekend. We'll have to see what we have next week after the warm up.
Pike and crappie are biting Call Pilgrim Village for the latest update 231-775-5412
Houghton Lake has 10 to 15 inches of ice and pike and walleye, and panfish have been biting, Lyman's have there shanties out so we are good to go. Lyman's On The Lake reports
Houghton Lake 2-man Ice Fishing Contest on Feb 18th.
Brandon at the Back Door Saloon added on an extra bonus for the teams. He's going to fry up their catch and he'll supply the fries as well.
Teams must register and check-in at Lyman's from 6 a.m. to 10 a.m.
Weigh-in and fish fry are at The Back Door Saloon from 5pm to 7 pm. All fish must be at BDS by 7pm to qualify for prizes.
Houghton Lake Ice Report for Tip Up Town USA. Anglers are reporting ice thickness ranging from 12″ to 15″. There are a number of large pressure cracks to avoid Lyman's on the Lake 989-422-3231., Four Season Party Store 989-422-5230 and H&H Fireworks (989) 366-0126, Papa's Bait 989-429-5780 Angelos Party Store 989-202-4422
Around Traverse City Green, Duck are froze a few fishing smelt on Green off the state park access. Lots of guys out on Long Lake catching walleye, pike and perch. Spider Lake, Arbutus, Ellis Lake, Lake Dubonnet(mud Lake) also have 8 to 10 inches
Lake Skegemog has ice from 10 to 12 inches guys were heading catching some nice perch . Below a mess of perch from Skegemog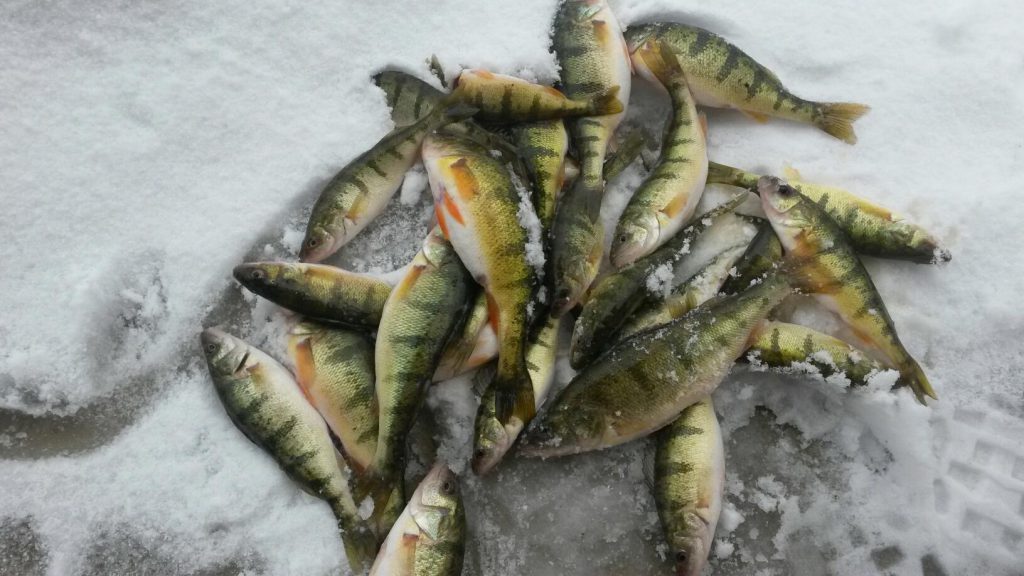 Manistee lake is 10 to 12 inches and has a good perch bite. Bear and Guernsey Lake have a great brown trout bite. call Jack's Sport@ 231-258-8892
Fife Lake is froze and pike have been biting on the smaller lakes call Kathy's Lakeside Party Store 231-879-3341 for latest info
Ice report for the week. Upper Hamlin Lake has anywhere from 10-13 inches on it. The shore ice has locked back up and machines can get back on now. Pere Marquette lake has 6-7 inches in most spots. Just use caution out by the shipping lane. Pentwater lake also has 6-7 inches. Only safe ice we've heard is off the south side launch. Downtown is not fish able.Call Captain Chucks@ 231-843-4458 or Lower Hamlin Grocery @ (231) 425-4420
Lake Leelanau report from Leelanau Narrows bait shop We are open 7 days a week at the lake Leelanau narrows resort for live bait and tackle! owner Greg Alsip his cell# (231) 624-6201 and he has ice fishing charters his web site is http://www.lakeeffectcharters.com
Greg and his buddy kyle caught some nice lake trout on
North lake Leelanau
lake Leelanau ice
North is 6-8″
South is 8-10″
No snow on either lake
Call Greg Alsip his cell# (231) 624-6201 and he has ice fishing charters his web site is http://www.lakeeffectcharters.com
They are fishing little glen and catching pike and perch. Call leelanau narrows@ (231) 994-2108 or Empire Outdoors@ (231) 326-5433
Portage Lake has slowed on big perch lots of little ones the last few days, walleye and pike fishing has been good
Call Osborn's @ 231-889-3775 or Dewey @ Don's Sport Shop 231-735-5028
Otsego Lake has 10 to 14 inches and good perch and walleye some are fishing Chub lake also has great bite this week on trout, perch and pike. Call Northern Sports @ 989-448-2014 Brian Derminer's Party Store 989-705-7051 Tony @ Otsego Corner Store 989-7321-8664 for latest info
Higgins Lake should have lots of fisherman this week as the ice is finally were guys can get out on sleds and quads7 to 9 inches. Call Sports Barn @ 989-821-9511 or Higgins Lake Hardware Call Brian @ 989-821-6677 Evergreen Park @ 989-821-5425. West Side Grocery 989-821-039
Mike from saint helen bait reports First and third lake seem to be the most productive getting reports of 12-14in of ice and not much snow on top call mike@ (989) 808-1814
Tony laframboise with a 23.5in walleye
Call Mike @ Saint Helen Bait Shop 989-808-1814
Lake Margarethe is froze with10 to 12 inches and lots of guys have been fishing with good pike and walleye. perch fishing has picked up. Call Skip's Sport Shop @ 989-348-7111
Crystal Lake is mostly open. Call Stapleton's Corner for latest info : 790 Michigan Ave, Benzonia, MI 49616 Phone:(231) 882-4342
Munuscong Bay: Dan's Resort
A beautiful, crisp, sunny day on the bay today. The evening bite picked up this week. Walleyes and perch have been hitting right before dark. There are still a lot of throwback walleyes and some throwback pike lately.
9 to 15 inches of ice, with the top 40% honeycombed. There are a few trucks going out and there hasn't been any problems getting out.
Another thaw is in the forecast for this weekend with highs in the 40's. We expect it to get slushy but it will be a nice and sunny weekend to be outside! We will update our page as conditions and bite changes.
#fishon #munuscongbay
Give us a call at 906-647-1410 or 906-647-8120 to find where they are biting. There is a full moon that weekend too so it should be good fishin!
Lewiston Report that west Twin has 6 to 8 inches. Call Midlakes Party @ (989) 786-3227 for latest info
Fletcher Floodwater has ice 8to 12inches Call A1 Party Store for the latest info @ (989) 742-4112
Black Bass Bay has ok ice on Grand Lake. Call Adrian's Sport for the latest ice update @ (989) 734-2303
Long Lake and Grand Lake has ice call Buck's Bait and Tackle @ (989) 595-2121 for latest ice info
Black Lake is froze and some pike walleye and perch are being caught Call Parrots Outpost@ (989) 733-2472 Address: 20628 State St, Onaway, MI 49765
Burt Lake: Ice anglers were taking a decent number of perch from Maple Bay which is on the west side of the lake. Try live minnows.
Mullett Lake: Anglers were taking a few perch in front of Aloha State Park and in Scotts Bay. It's early ice so anglers need to use caution.
Pentwater Lake, has ice and lots of small perch. Call Pentwater angler info 231-869-5357
White Lake is open in most spots Call Armstrong's on White Lake (231) 894-6753 or Johnson's Outdoors for the latest fishing info @ 231-893-6688
Hesperia Sport reports that the smaller lakes have ice lots of guys heading out with good gill and pike bite. 8 to 10inches of ice on most lakes. call 231-854-3965
Harrison Has ice and a few guys are getting out call Ken's Landing@ (989) 539-3700 and Mike's Quick Stop@ (989) 539-1435 Sharps Market (989) 539-9862
Baldwin area some of the guys are getting out but the ice is 7 -9 inches
Wixom, Sanford, Sugar Springs, wiggins, Pratt Lake and Secord have great ice and the bite has been good for pike and panfish. call Sanford Sport @ 989-687-5161 Chappel Dam Grocery (989) 426-7503 Big R's Party (989) 435-2517
Northwest Lower Peninsula Fishing Report
Bear Lake: In Kalkaska County had good trout fishing for those using tip-ups with minnows in 40 feet.
Lake Skegemog: Had fair to good perch fishing.
Traverse City: Both the East and the West Bay are open water and boat anglers are heading out.
Portage Lake: Still had lots of ice fishing going on however the west end of the lake had open water. Anglers have caught a number of large perch.
Lake Cadillac: Ice fishing continues and those targeting panfish were taking bluegills, crappie and some perch. The walleye bite was hit-or-miss but anglers have caught some nice fish.
Lake Mitchell: Pike fishing has been good and the fish are still feeding. Some are using tip-ups while others are spearing. Fair to good panfish action continues.
Lake Missaukee: Anglers are still ice fishing and taking pike, a few walleye and some panfish.
Northeast Lower Peninsula Fishing Report
Burt Lake: Had excellent walleye fishing off Hoppies Tavern and Roberts Road. Anglers are fishing early morning or late afternoon. Not many perch were caught but a good number of burbot have been caught along with the walleye.
Mullett Lake: Still had good ice but overall fishing was slow. A few pike have been speared or caught on tip-ups in Pigeon River Bay and off Needle Point. Perch were caught in front of the library in Topinabee in 30 to 40 feet and off Dodge Point. No significant numbers of walleye have been caught.
Black Lake: Had good catches of walleye and pike on the north end.
Higgins Lake: Lake trout anglers are doing well in 80 to 100 feet with greys on tip-ups or jigging Swedish pimples and sand kickers. Perch have been found off the North State Park, Evergreen Park, the Sunken and the Main Islands and south of Flag Point and Point Detroit. The key is to target 40 to 60 feet and move around. Those jigging for lake trout have caught a few whitefish. Pike were taken on tip-ups with sucker minnows in 45 feet or so along the drop-off. For smelt, anglers are using wax worms and spikes with Hali jigs near the bottom at night in about 50 feet off the North State Park. There should be lots of anglers out for Winterfest this weekend.
Houghton Lake: Still has good pike action. Anglers were getting a good number of bluegills but are sorting out some small ones. Work the weed beds in 6 to 12 feet with wigglers and wax worms. The walleye bite was still slow but should pick up soon. Anglers still need to use caution near the large pressure crack.
Tawas: Ice fishing in Tawas Bay continued to be slow. Anglers report seeing walleye down their holes but nobody can get them to bite. A few small perch were caught. Those spearing for pike did well in 15 feet.
Au Gres: Anglers continue to take some perch in the Northport Marina. Down at the Pine River/Palmer Road vicinity, there were a lot of anglers and quite a few limit catches of perch were taken in about 8 feet. The fish ranged 7 to 10 inches or more. Anglers also caught and released undersize walleye.
Au Gres River: Down at Singing Bridge, a couple steelhead were taken in the lower river and in the surf when using spawn bags.
Upper Peninsula Fishing Report
Keweenaw Bay: Pack ice blew in and froze up. Anglers walking out at the head of the bay had limited success. Shore ice on the Baraga side looks poor and no anglers were out. L'Anse had the most anglers fishing in front of the Falls River but catch rates were slow. Use extreme caution going out as the ice pack is unpredictable and hard to walk on. Take your time, use cleats and spud your way out.
Menominee River: Open water anglers were trying for walleye and whitefish below the Hattie Street Dam. Those at the 6th Street Slip were still catching walleye, crappie, perch and whitefish.
Little Bay De Noc: The U.S. Coast Guard will conduct ice breaking operations in Northern Green Bay and Little Bay De Noc February 17th – 19th. The area of operations will be from Rock Island Passage north to Escanaba. All ice anglers should remove their ice shacks and equipment from these areas. ATV operators and other recreational users of the ice should avoid the shipping channels and use extreme caution near these areas.. Walleye catches have been down all winter and anglers have been unable to fish the southern waters where most of the walleye are because of poor ice conditions. Anglers did report some walleye caught in various locations when jigging wigglers or minnows in 20 to 30 feet. No high number of perch but some decent size fish have been caught. Good numbers of small pike were taken in the Escanaba Yacht Harbor. Warmer temperatures could cause some problems for ice anglers.
Munising: The action was slow. Anglers were mainly targeting whitefish and splake with eggs. A few were using minnows for splake but most of the fish were undersize. Some were able to get a few nice catches of whitefish averaging 15 inches at the city docks, the Anna River access and Sand Point. A couple anglers caught splake in the West Channel near the Clay Banks and off the red can near Christmas. Trout Bay did not have any fishable ice. With last week's heavy snowfall, travel on the ice has been difficult because of heavy slush and water.
Grand Marais: Still had no fishable ice.
Indian Lake: In Schoolcraft County was producing some perch and a few walleye.
Cedarville and Hessel: Anglers targeting perch in Hessel Bay reported taking between five and ten fish ranging 7 to 11 inches when jigging a combination of natural and artificial baits in and around 15 feet. Anglers were sorting through the small ones. Those targeting splake had very little success. Muskie Bay anglers were targeting pike and caught a few perch. The Les Cheneaux Islands had moderate fishing activity.
Southeast Lower Peninsula Fishing Report
Lake Erie: Is open water and walleye anglers have been out in boats. The Metro Park launch has a couple docks in.
Huron River: Anglers caught the occasional steelhead and even a couple walleye.
Detroit River: Had good perch fishing with many fish moving into shallow waters in the canals and inlets. Boat and shore anglers have done well with minnows and perch rigs. Boat anglers still need to be careful as ice is still coming down the river.
Lake St. Clair: The main lake is mostly open water. The canals and marina ice is very questionable.
Saginaw Bay: This may be the last week of fishable ice depending on what the weather does. Strong winds from the west did not help. Ice conditions will be day-to-day for the rest of the winter. Some nice catches of perch were taken off the end of Cody-Estey Road. There was still fishable ice from Palmer Road south to Pinconning and Newman Roads however the ice at the end of Linwood Road was honeycombed and did not look safe. The ice sheet is well offshore from Linwood down to the Bay City State Park. Even the shore ice is gone at the State Park. They're still fishing off Vanderbilt Park near Quanicassee where the perch fishing was very good last week with perch up to 14 inches taken. The ice blew out at Thomas Road late last week but then it blew back in with the strong winds on Sunday. The connection between the shore ice and the sheet ice was not good and no one should try jumping the crack to get to the offshore ice or you may find yourself taking a long ride on a sheet of ice. There is visible open water offshore from most access points so anglers need to use extreme caution. Beware of the ice at Caseville. It may have broken up after the strong winds.
Saginaw River: Most boat ramps were still iced in, but a few guys were launching small boats from shore at Wickes Park and beneath the I-675 Bridge. Launches that were open were Rust Avenue, the Zilwaukee Ramp, and below the Independence Bridge. All the other ramps in Bay City were iced in but might open up by next week. The river was pretty fast and muddy and fishing was slow.
Tittabawassee River: Had a good number of boat and shore anglers at the launch at Gordonville Road but fishing was slow. The boats that went up to the Dow Dam got a few walleye, but the boats and shore anglers around Gordonville Road and Mapleton really didn't catch much. Further downstream, ice hinders shore fishing and the launch ramps were iced in.
---
Southwest Lower Peninsula Fishing Report
Some lakes still had enough soft ice to prevent boating, but were not safe to walk on. Lake Macatawa had shoreline ice only. Gull Lake is open with ice in the protected coves and along the shoreline.
St. Joseph: Boat anglers are getting out for some early brown trout, coho and steelhead action on Lake Michigan.
St. Joseph River: Had high water levels but the steelhead action was good.
Black River: Was producing the occasional steelhead.
Saugatuck: Boat anglers were out for coho, brown trout and steelhead.
Kalamazoo River: Was open and accessible by boat. Anglers have caught good numbers of steelhead and brown trout. Most fish are dark and appear to be winter holdovers.
Rabbit River: A couple steelhead were caught at the Hamilton Dam when drifting bright yarn flies or spawn.
Grand Haven: Boat anglers were heading out for steelhead, brown trout and coho.
Grand River at Grand Rapids: Has steelhead up near the dam and a couple walleye have been caught.
Grand River at Lansing: Had very few anglers and those out had no luck. Steelhead are moving around but no fish were spotted beyond the Webber Dam.
Muskegon River: Water levels were still on the high side but coming down. Steelhead fishing was slow but some walleye were caught below Croton Dam.