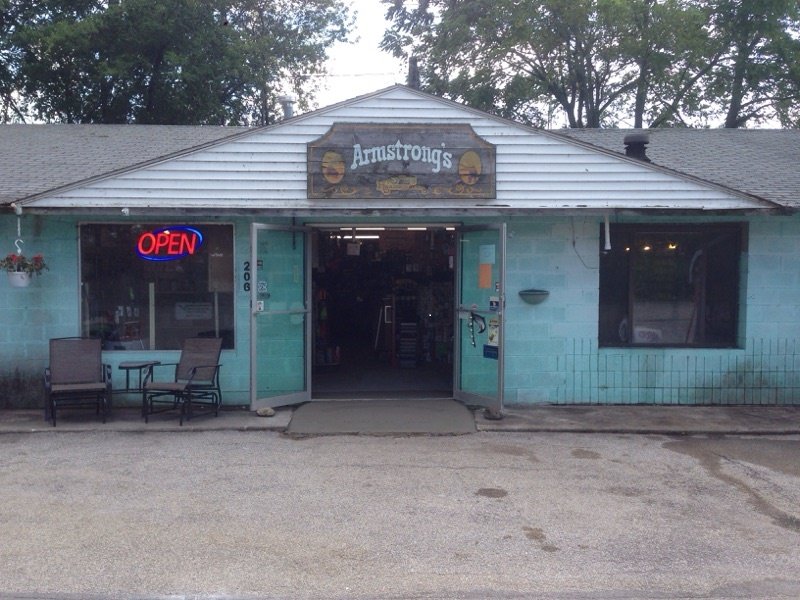 They have cleaned the store and are in the process of putting cooler and a beer cave to be a party store also with a full line sporting goods dealer
WHITEHALL, MI – A day after officials condemned and shut down Armstrong's Bait and Sport Shop on White Lake, a fourth-generation member of the Armstrong family purchased it and plans to spruce up and reopen the historic shop and marina.
The shop at 200 S. Lake St. in Whitehall was closed by the White Lake Fire Authority on Tuesday, Aug. 9, said Fire Chief Gregory M. Holman.
A sign on the door said the building had been condemned and was "unsanitary and unfit for human habitation or occupancy." The closure order followed "several attempts" to correct fire code violations that weren't successful, Holman said.
Following that action, owner Don Armstrong contacted Matt and Vicky Dalrymple and asked if they'd be willing to take over the business, Matt Dalrymple said. The couple purchased the business on Wednesday, he said.
"Don came to the conclusion that it was time to pass it on because he didn't have the energy to keep it going," Dalrymple said.
Vicky Dalrymple is a fourth-generation Armstrong, and Matt Dalrymple is the manager of the White Lake Moorings marina next door to Armstrong's.
The shop, which has been in operation for 102 years, includes a marina with about 20 boat slips that were unaffected by the closure order, Dalrymple said.
The new owners have empty out the store's inventory, clean up the building and replace the roof and electrical, Dalrymple said. They are now open for business
"We're working with the fire inspector and local officials to bring it back up to code," Dalrymple said.
The closure order followed "several attempts" to correct fire code violations that weren't successful, Holman said.
"We've been attempting to work with Mr. Armstrong for several years on correcting those code deficiencies," he said. "We did have a citizen complaint last week that unfortunately prompted us to go in there again."
Officials found that progress in addressing the fire department's concerns had halted and that the condition of the shop had "regressed back to worse than what it was originally," Holman said.
The fire chief declined to provide specifics about the code violations, saying "it's just general housekeeping" and that the issues are fixable.
Armstrong's marina was the first marina on White Lake, which is an inlet of Lake Michigan, and the shop is a legend among anglers, Dalrymple said.
"If you're across the state and you're on the water, chances are somebody's been to Armstrong's," he said.
But the structural troubles have been mounting over the years and Armstrong had been served several notices to fix them, he said. Armstrong, who is age 73, was "stubborn enough not to hire anyone to help him," Dalrymple said.
"We appreciate all the support from customers and the community," he said. "Everyone's been pretty sympathetic. It's been a long time coming."