MARK YOUR CALENDARS ** You fishing/sports people!!
Fisherman's Garage Sale is coming up in May. This is a great event for fisherman of all ages and abilities to snag some good deals on gear. Spread the word! Also, if you would like to purchase a table to sell some items and/or have our crew do it for you, we'd be happy to have ya!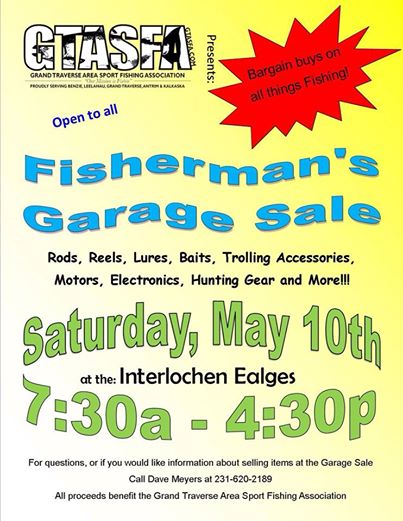 (Sponsored by Grand Traverse Area Sport Fishing Association)
Saturday, May 10th (7:30 a.m. til 4:30 p.m.)
Interlochen Eagles #3503
20724 Honor Hwy.
Interlochen
Open to the Public
Sellers Rent Table for $20. Space is limited on a first come first serve OR come to buy.
We will try to sell your items for 20% commission.
Contact Dave Meyers 231-620-2189