Open water fishing was the rule in southern half of the Lower Peninsula. The northern half still had ice but anglers will need to be cautious and watch for changing ice conditions. Ice fishing on the Upper Peninsula inland lakes was still going strong.
They are still getting out on Lake Skegemog, and Lake Margrethe with perch biting fair.
long lake by traverse is still producing nice perch with lots of short walleye.
Hamlin and Portage Lake are not safe
This unique tournament is detailed in the rules section but here's a quick introduction.
Limited amount of tickets sold

Over 1250 predrilled holes in the tournament area- first come first serve

No shelters allowed

Prizes determined by fish weight and then by time registered in the event of a tie.

Prizes are non-species specific, any open species of fish may be registered.
We had a meeting tonight and the tournament is a go! With 15″ of ice today we will have plenty to fish On.
Again we ask you please DO NOT Park on the ice. We need the integrity of the landing to stay clear for tournament officials to get tents, vendors and gear on and off ice.
Less than 100 tickets left at Bucks Bait and Top O Michigan. Any left over will be sold at the gate.
Good Morning! Tickets are still available for both the tournament and Festivus. We will have a lot of raffles at Festivus for gear, a shanty, carvings and more.
Also this year we will have t-shirts for sale at both Festivus and on the ice. See you soon and dress warm for Saturday as it looks like we will have another one of those years- for those who have fished in years past, you know what we mean!
The ice got a little sloppier today and we did lose a little during this thaw. The pressure crack by Grassy has open water in some spots and there is water coming up around the edges of Pine and Gull. If you are not familiar with the bay, there are springs around pine and a ridge underwater on the east side of pine. One snowmobile broke through on the east side, and one went down over there this afternoon.
Try to stay clear of the river mouth, islands, and shorelines during this thaw and as we get into last ice.
The bite seemed to be a little better today since more keepers were landed. Temperatures will not get below freezing until thursday night, so just be cautious out there!
Millers Corner There's still a foot of ice. Some are still driving vehicles. Please use caution no matter what due to the warmer temps. The weather is supposed to change and get colder.
Lake Missaukee yesterday. Our buddy Mark did well.
Ice Report 2/22/17, Lakes Cadillac and Lake Mitchell
We've lost about 4″ in 2 days. There is now about 10″-13″ of ice on both lakes. About 7″ of clear ice on the bottom everything above that is pretty soft and slushy. It's pretty breezy and rain is forecasted for Friday.
Big Cove Lake Mitchell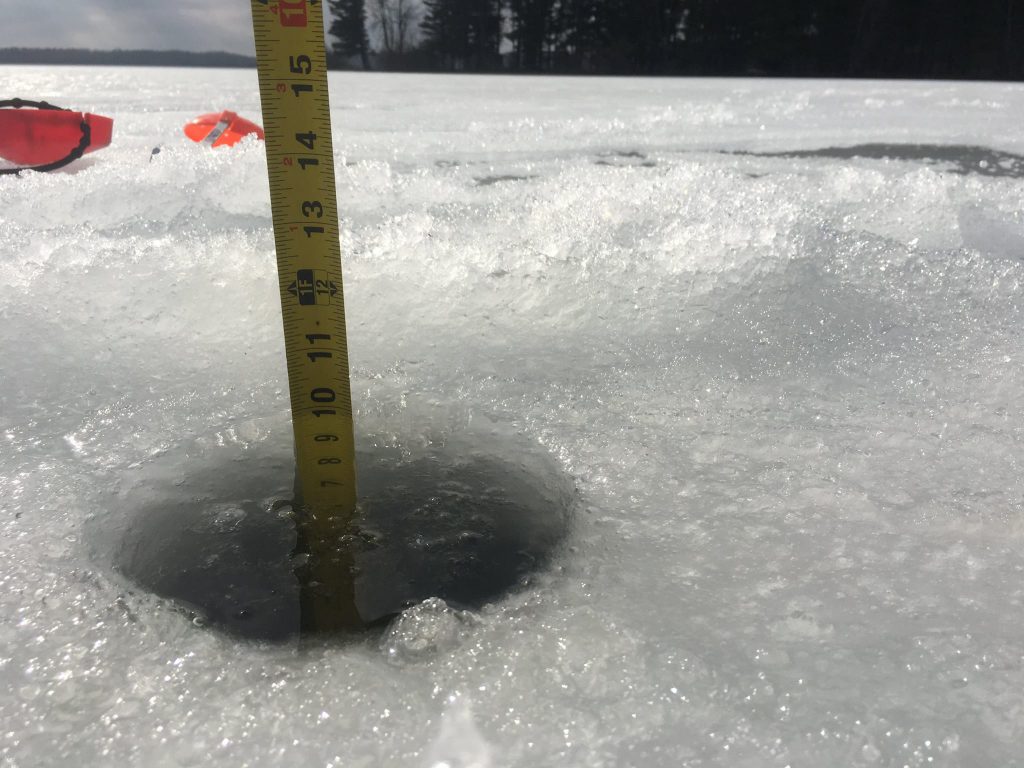 Kenwood Park, Lake Cadillac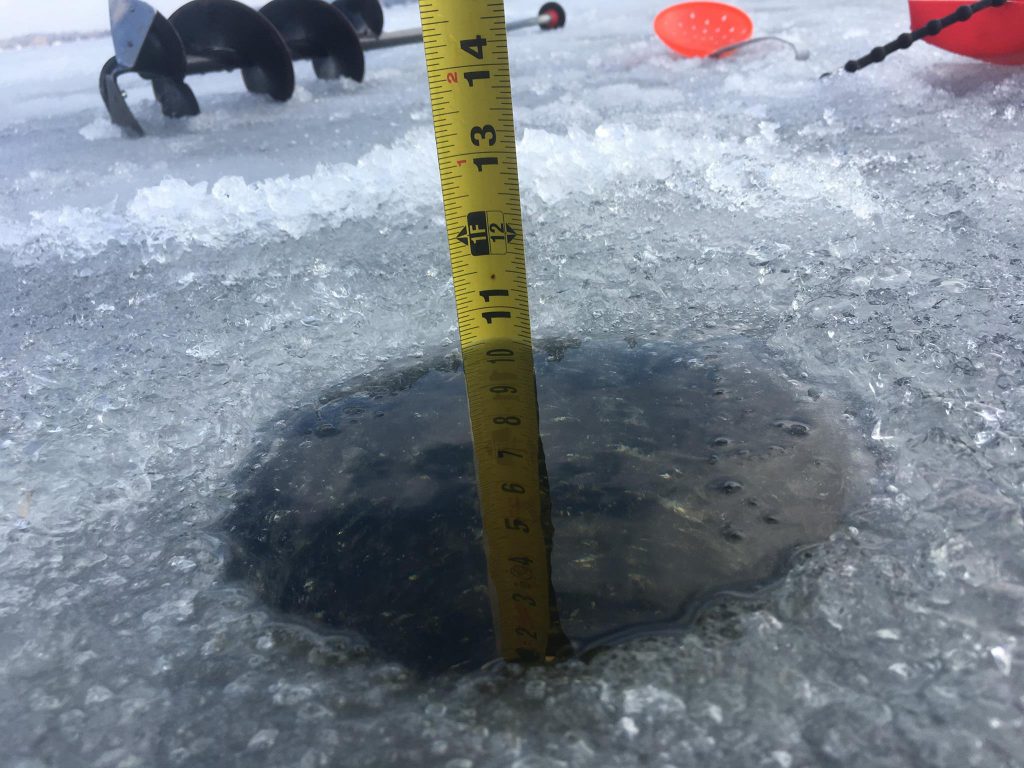 Took this photo on Higgins lake west access today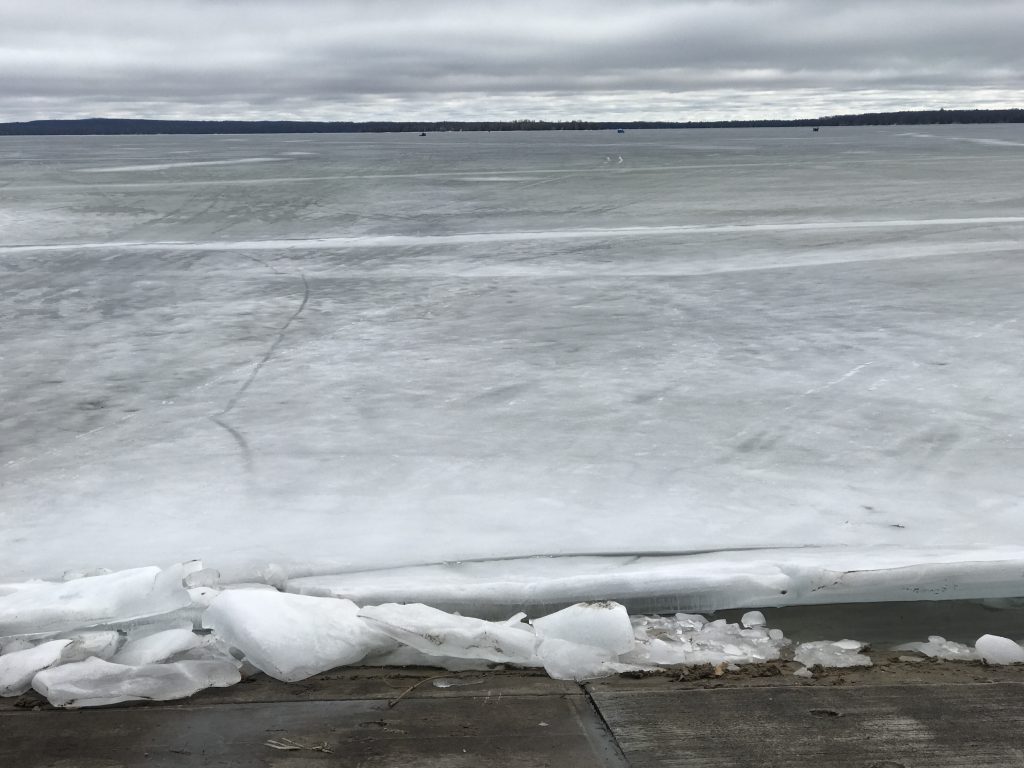 Green Lake by interlochen today state park access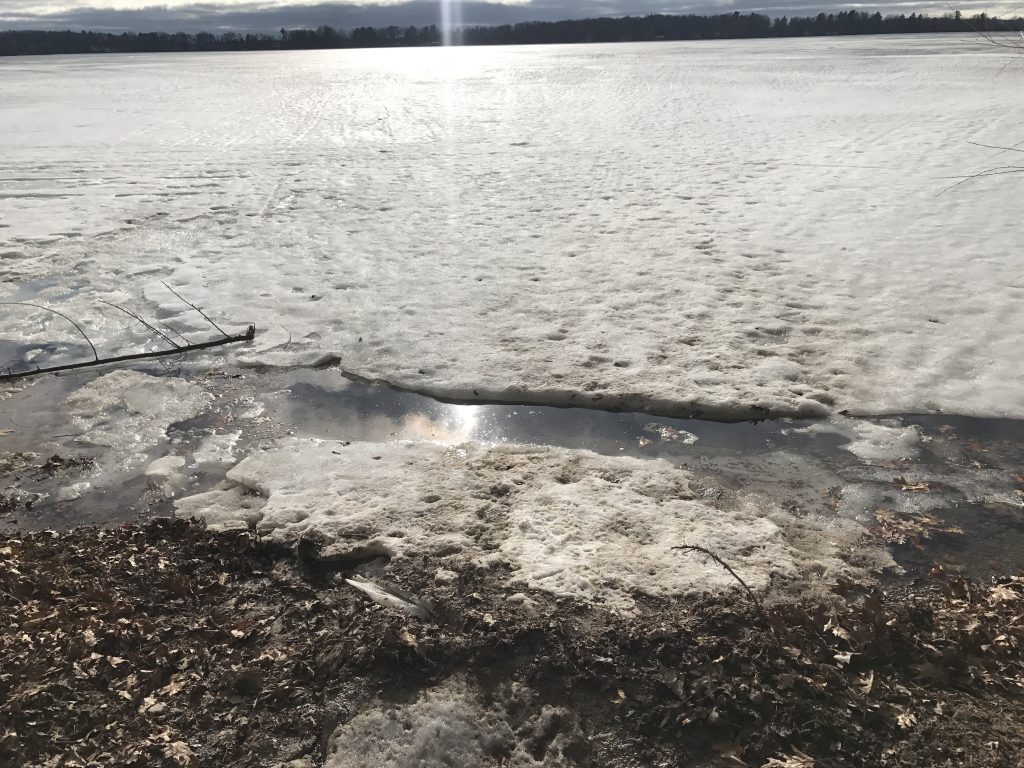 Lyman's Weekly Big Pike Winners. Congratulations to Jake Gauthier (11) from Sheperd with his 29 1/2″, 6lb northern caught on a tip-up with an emerald shiner near the middle grounds. Rick Burtis from HL won the adult division with his 33″ pike…also caught near the middlegrounds. He was using a silver swedish pimple. Great job, guys!
Northwest Lower Peninsula Fishing Report
Anglers were still ice fishing in this area of the state however caution should still be used during the warm weather. Check the ice as you go and avoid areas near natural springs as well as inlets and outlets where water is constantly flowing.
Lake Charlevoix: Still had ice but the lake was sloppy with slush and water on top.
Green Lake: Had good fishing for smelt on the southwest side. Anglers were fishing about 40 feet straight off the launch where it gets deep fast. There were quite a few people out there so look for the cluster of ice shanties. The depth varies as the fish rise in the water column to feed on zooplankton. Start near the bottom as it is getting dark and gradually work up. The ice was holding but who knows for how long.
Lake Cadillac: Still had ice however anglers should watch for quickly changing ice conditions. The recent bite was hit-or-miss. Anglers did manage to get some bluegills and crappie.
Lake Mitchell: Anglers were still ice fishing for panfish and pike.
Lake Missaukee: Anglers are still ice fishing and taking pike and panfish. The walleye bite slowed.
Northeast Lower Peninsula Fishing Report
Burt Lake: On the good days, anglers were taking near limit catches of walleye in front of Hopper's Tavern and off Greenman's Point. A good number of jumbo perch were caught in Maple Bay.
Mullett Lake: The ice was holding so far with the warm up though the area near the outlet of the Pigeon River was not safe. Slush could be an issue until colder weather returns. Fishing has been slow and catch rates were low. The best spots for perch were in Scotts Bay off the Blue Water Shores area in 30 feet, in the "Humps" off Dodge Point in 25 feet or in front of Topinabee in 20 to 35 feet. Catches of 10 to 15 fish was considered a good day for perch. A few walleye were also caught in the same areas. The pike action slowed with only a couple fish caught.
Oscoda: Pier anglers reported good brown trout and lake trout fishing.
Higgins Lake: Is losing some ice with the warm weather however anglers were still out fishing. Lake trout were still hitting in deeper water. Smelt are still being caught but not in big numbers. Fish were found in 40 to 60 feet off the North State Park and off the west side launch.
Houghton Lake: The ice was holding however the lake has loss some shoreline ice and anglers should stay away from the large pressure crack which has opened up more with warm spell. Bluegill fishing was good but anglers will have to find them. The bigger fish were caught in 12 to 14 feet. Crappie were caught in 8 to 10 feet. Pike and walleye fishing were slow however bass were starting to hit.
Tawas: Stay off the ice! There is no safe ice or even remotely walkable ice anywhere on the bay.
Au Gres: Rivers in the area are open. The Rifle River in particular was fairly low and clear and well suited for steelhead fishing right now. No signs of suckers running yet; it is too early and the water is still too cold.
Au Gres River: There was a lot of fishing activity up at the Singing Bridge access site. Steelhead were caught on spawn by those surfcasting or fishing the lower river.
Upper Peninsula Fishing Report
Inland lakes in the western end were ice covered with heavy slush on the surface. The return of much cooler temperatures should lock the ice back up and ice fishing will continue. Anglers will be able to try Lake Gogebic for walleye and the Lac Vieux Desert Flowage for bluegills and crappie.
Keweenaw Bay: The ice blew out and the bay was open for trolling. Boat anglers have opportunities for brown trout, splake, and lake trout off the Sand Point Lighthouse on the west side and the Falls River off the village of L'Anse. A few coho were caught casting spoons from shore near the Sand Point Lighthouse in Baraga. Anglers putting in small boats at the Sand Point beach had limited success for coho and lake trout.
Menominee River: Was producing a few brown trout and steelhead up near the Hattie Street Dam. Anglers were using small spoons, stick baits, streamers or nymphs.
Little Bay De Noc: Unseasonably warm weather has impacted ice conditions. Areas around Escanaba and Saunders Point in Gladstone had open water. The area near the Escanaba River was considered dangerous and should be avoided. Anglers were still fishing the north end of the bay however watch for changing conditions with the warm weather. Walleye anglers reported a few nice catches in deep water off the Second Reef when jigging rapalas with minnows or using tip-ups with minnows in 32 to 35 feet. Perch anglers did best near Kipling with minnows or wigglers in 17 to 30 feet and off the Day's River in 14 to 26 feet. Those looking to travel to the area might want to call the local bait shops for updates on ice conditions.
Munising: Ice conditions have deteriorated and were NOT safe at the Grand Island Ferry Access and the Munising Public Launch. The city docks, Sand Point, and Christmas access areas were holding somewhat fishable ice but anglers need to use caution. Soft ice and slushy conditions will only get worse before it turns cold again. Whitefish anglers had poor success. For splake, those using cut bait or minnows with jigs or tip-ups did better. It appears the splake are eating good numbers of smelt. Small perch were caught near Sand Point. Smelt catches in the same area were fair. A few coho and the occasional brown trout were caught recently. The Anna River dock is open enough from the mouth to the river where anglers can fish from the dock but the water clarity was somewhat muddy and they had no luck. The mouth of Furnace Creek is open approximately 50 to 100 feet along the shoreline.
Grand Marais: Had no fishable ice. No anglers were steelhead fishing off the pier or the Sucker River. Action on the area inland lakes has been good.
Southeast Lower Peninsula Fishing Report
Lake Erie: Boat anglers are heading out. Most walleye were caught in Ohio water
Detroit River: Has had a lot of boat anglers. No word on walleye yet but perch anglers were taking fish at the Cross Dyke near Sugar Island, in Airport Bay and in the canals around Grosse Ile.
Lake St. Clair: The Michigan side is all open water. A few boats have been launching and fishing, but no catches to report.
St. Clair River: No ice is flowing and Lake Huron looks to be almost completely ice free. Anglers have been out trolling, whipping and jigging with the warm weather.
Saginaw Bay: Stay off the ice! There is no safe ice or even remotely walkable ice anywhere on the bay!! Most of the cuts and rivers around the bay are wide open and can provide some shore fishing for perch. Boat anglers were fishing the lower Quanicassee River.
Saginaw River: Had lots of fishing activity with all the boat launches from Saginaw to Bay City open and useable. There are lots of undersize walleye in the river as many reported catching 50 to 75 short ones in order to get 5 or 6 fish over 13 inches. Most are using bright colored jig heads with shiners or plastic scented tails but some were jigging rapalas. The best fishing seemed to be in the middle of the shipping channel in the deepest water. Most were vertical jigging but some would anchor and cast.
Tittabawassee River: Had lots of boat anglers. All of the boat ramps were open including Imerman Park. A lot of shore anglers were also out but the walleye fishing was very slow. Most anglers caught none but a couple boat anglers up near the Dow Dam did manage to get a couple. The water is really cold yet, and it does not appear that the spring walleye run from the bay into the rivers has gotten underway yet.
---
Southwest Lower Peninsula Fishing Report
Ice fishing is done for now. Most lakes are open water or nearly ice free. Boat anglers were out in good numbers. Stay off any remaining ice, it is not safe!
St. Joseph: Pier anglers have caught chinook, coho and brown trout.
St. Joseph River: Steelhead fishing was very good. The fish are starting to move upstream and were moving through the fish ladder at the Berrien Springs Dam.
Black River: Still had some steelhead being caught.
Saugatuck: Boat anglers were still heading out and catching coho, brown trout and steelhead.
Kalamazoo River: Also had very good steelhead fishing. Fish were caught both below Calkins Dam and throughout the river.
Grand Haven: Boat anglers trolling close to shore have caught coho, steelhead and the occasional brown trout.
Grand River at Grand Rapids: Has had very good steelhead fishing with limit catches reported. Boat and shore anglers are using fresh skein, spawn bags, wax worms and wigglers. A fair to good number of walleye were also caught.
Muskegon River: Had a good number of boat anglers over the last week. Most have caught steelhead and a few hooked into and lost walleye below Croton Dam.
---