FISHING CONDITIONS ON LAKES CADILLAC AND MITCHELL
FROM PILGRIM VILLAGE FISHING SHOP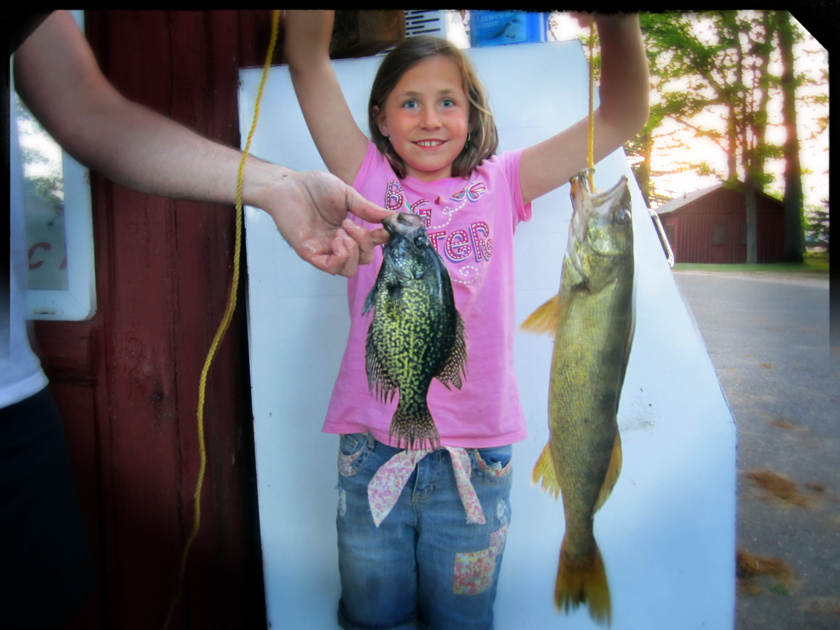 Young Alazech Reed shows off a mixed bag of crappie and walleye.
The last Summer Holiday is history. The lakes are becoming peaceful with the absense of jet ski, skiers and power boats. No lines at the boat launch or parking. Boats ands docks will start to disappear. Some of the best fishing of the year is yet to come. September is the month of Master Angler and record breaking fish.
Bass fishing on Lakes Cadillac and Mitchell continues to be good. Catch a large mouth and chances are it'll spitup crayfish,–one of their favorite foods. Hint! Hint! It's not unusual to find marks on their noses where they've been digging for them in the rocks and gravel. The small mouths are still on vacation. There's good numbers in both lakes but we've seen few. The tournament anglers will find them as the lakes cool.
Panfishermen are happy. Many have moved from the deeper East side to the shallower West Side of Cadillac. Good size crappie, gills and perch have been caught in the area between Kenwood Park and the canal. The water temperature is falling and now 6 to 10 foot appears to be the magic depth.
The main attraction for the fihermen are salmon. A few Kings are being caught all the way to Tippy Dam on the Big Manistee. Stories are starting from the Pere Marquette, Betsie, Boardman and both Manistees. Also the pier heads, Manistt Lake and Frankfort Harbor report catches. It's just starting. Thundersticks are still the guides choice.
There's a short period of time left for the Pilgrim Village 2014 Free Summer Fishing Contest. It ends September 8, 2014.
Strangely, there were no changes from last weeks standings although there were a couple of "almost" in the crappie and bass categories.
Large Mouth Bass 21 1/2″ 4.82 lb. Rich Ohlrich
Small Mouth Bass 20 1/4″ 4.60lb. Bob Whitaker
Northern Pike 39 1/2″ 12.78 lbs. Angela Jordan
Walleye 27 1/4″ 5.73 lbs. Ryan Helmboldt
Bluegill 12″ 1.8 lb. Linda Hoesl
Sunfish 9 1/2″ .81 lb. Randy Johnson
Perch 12 1/8″ .63 Gordon Reed
Crappie 13 1/2″ 1.12lb. Doug Moore
Bullhead 14 1/2″ 1.56lb. Jim Gross
Dogfish 28 1/4″ 8.11lbs. David Bassett