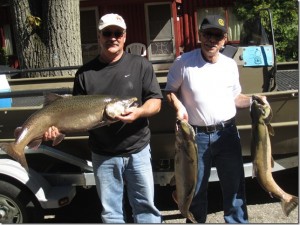 Fishing has been good in Northern Michigan with perch, gills, and smallmouth are on the bite. Salmon are up the rivers on the West side and they a big, just not the numbers of last year.
Northwest Lower Peninsula Fishing Report
Harbor Springs: Smallmouth bass anglers were fishing around Harbor Point and in front of Wequetonsing. A few lake trout were picked up on this side of the bay.
Petoskey: Salmon fishing was slow off the piers, but anglers are still casting crank baits and spoons. Boats trolling 70 to 90 feet down in 90 to 100 feet of water caught lake trout on green meat rigs.
Bear River: Still has salmon but not the numbers that we saw last year. Most are using flies, artificial eggs or spawn. There is the usual backup of fish at the dam and in the pools between the two bridges downstream.
Charlevoix: The few boats still heading out were trolling around the Can and into the slip at the cement plant. Catch rates were slow. Those casting near the breakwall and the creek can see fish but none were caught. Pier anglers are still taking smallmouth bass on crawlers and leeches. Those targeting salmon at night are using glow spoons. Angling pressure is still high near the Medusa Weir. Catch rates are unusually low. Spawn worked best followed by small crank baits, rattles or spoons.
Boyne River: Has reports of good fishing near the mouth and Dam Road for those casting from boats.
Traverse City: The East Bay is producing coho, lake trout and the occasional cisco.Anglers are trolling 80 feet down. Bass fishing remains good. In the West Bay, a couple salmon were caught near the mouth of the Boardman. Anglers are casting glow spoons after dark. A decent number of lake trout were caught by those jigging near Power Island.
Elk River: Salmon and small steelhead were caught near the power dam. Try pink or chartreuse spawn bags and light leaders.
Boardman River: Has a decent number of salmon. Chinook were caught by those drifting skein under a bobber.
Glen Arbor: Fishing has pretty much stopped. A few anglers are surfcasting near Shalda Creek. Chinook are running up the Crystal River. Little Glen has a good perch bite with some on Big Glen also.
Platte Bay: Fishing was slow off Platte Point. Those trolling in 12 to 18 feet of water east of the river picked up a couple chinook and coho on small green J-plugs with a ladder back. Those surfcasting seen a lot of fish at the mouth however they would not bite.
Platte River: Fish are still being harvested at the weir. Dredging at the mouth is ongoing.
Frankfort: Had a good number of chinook in Betsie Bay. Fish are moving into the bay and heading straight up the river. Anglers are using spawn. Those trolling have caught some big chinook.
Betsie River: Is producing salmon. Anglers are reminded that the mouth of the river is still closed to fishing because of the shallow water.
Portage Lake: Cooler temperatures pushed the bluegill and perch out to waters 18 to 22 feet deep. Bass anglers working the walls have found some good size large and smallmouth.
Manistee: Boats heading out to deeper waters caught salmon and steelhead in the top 60 feet. Salmon fishing was slow around the piers.
Manistee River: Is producing a good number of salmon.
Ludington: Salmon and trout fishing were slow. Try the top 50 feet in 60 to 150 feet with orange spoons. Pier fishing was slow but those surfcasting at the State Park caught a few fish.
Pere Marquette River: Is producing a fair to good number of salmon.
Pentwater: Boat anglers are marking large numbers of fish in 40 feet but they will not bite. Pier anglers caught salmon and brown trout however they are putting in their time to get them. Most are using orange body baits.
Crystal Lake has been good for perch this week.
Manistee and Skegemog have been producing perch this week in Kalkaska
Northeast Lower Peninsula Fishing Report
Rogers City: Chinook are in and around Swan Bay. Most of the fish are in shallow waters 5 to 30 feet deep. Anglers are high lining with bombers or plugs off planer boards. Some are still catching younger salmon, steelhead and lake trout out deeper. Try halfway down in 45 to 80 feet with spoons. Good colors were green, blue, white, purple, orange and silver, black and white or anything that glows. Most are fishing between the harbor and Forty Mile Point.
Presque Isle: Has lots of baitfish right along with younger salmon, steelhead and lake trout. Spoons are the ticket, halfway down in 45 to 80 feet.
Thunder Bay River: Salmon fishing has picked up. Catch rates were better on overcast days. Chinook were caught on spoons, crank baits, flies or spawn. Use anything that glows at night.
Harrisville: Salmon are coming into the harbor but catch rates were slow. Try spawn, spoons or body baits in the early morning or late evening. Walleye have started to show up but no big numbers yet.
Au Sable River: Salmon are moving in and out of the river however they do not seem to be running all the way up to the dam. Most of the fish caught were taken by pier anglers casting spoons or body baits. Walleye are moving into the river at night.
Tawas: Pier anglers caught a few walleye, pike and small perch. Salmon are in the harbor however they will not bite.
Tawas River: Continues to produce the occasional salmon. Try small spoons, body baits, spawn or flies.
Au Gres: Catch rates were slow. Boats anglers are marking lots of fish but the bite was not there. Perch fishing was hit-or-miss.
Au Gres River: Anglers are catching a few salmon at the mouth and the Singing Bridge. Traffic can be a problem especially with construction on the Singing Bridge.
Lake Margrethe has been great for perch and gills this week.
Higgins Lake the perch bite is on on the south end and table top.
Houghton Lake has been fair for gills, bass and walleye. Reedsburg dam has been good for pike.
Upper Peninsula Fishing Report
Keweenaw Bay: The bite improved for those trolling for salmon, steelhead and lake trout. Most were going from the head of the bay north to Old Mission and fishing 15 to 40 feet down in 20 to 60 feet of water with spoons. Near the South Portage entry, coho and lake trout were caught by those trolling near the lighthouse, the Mud Banks, Farmers Reef and Newton's Reef. Try 20 to 40 feet down in 30 to 60 feet. Traverse Bay was good for coho and lake trout. Try 20 to 40 feet down in 30 to 50 feet between Gay Point and Big Louie's Point.
Marquette: A few trout and salmon were caught from the Lower Harbor breakwall. They are using assorted spoons and stick baits. Boat anglers did well for coho as some reported limit catches. They are trolling in waters less than 50 feet deep between the Lower Harbor breakwall and the Chocolay River. A few lake trout were also caught.
Dead River: Pink salmon have moved in for spawning so there was an increase in angler activity below the generating plant at the 550 Bridge. Most were catch and release fishing with spinners and flies. A couple salmon were hooked but not landed.
Carp River: Had a lot of anglers targeting coho. They are spawn, crawlers or casting spoons.
Chocolay River: Had more anglers between M-28 and the mouth. Early morning was best though catch rates were still low.
Menominee River: Chinook, brown trout and steelhead can be seen up near the Hattie Street Dam. More anglers are showing up but catch rates were low. Sturgeon are still being caught and released near the rock pile. Those drifting crawlers caught smallmouth bass, channel catfish, bluegills, suckers and freshwater drum.
Little Bay De Noc: Was producing fair walleye catches with the better fishing along the Black Bottom. Anglers are trolling or drifting crawler harnesses in 12 to 23 feet. Perch fishing improved at Kipling in 10 to 23 feet, along the "Narrows" and off Gladstone Beach in 14 to 25 feet. Crawlers and minnows worked best. Salmon are in the Ford River and the Escanaba River. Anglers are casting spoons, spinners and crank baits.
Big Bay De Noc: Has lots of smallmouth anglers. They are trolling or drifting minnows in 15 to 35 feet along the break between Garden Bluff and Snake Island. The fish are a bit smaller this year but several large fish were still caught.
Au Train: Fishing activity was light. Anglers did catch a few coho near the mouth of the Rock River. There were no fish below the spillway. No activity at the mouth of the Au Train River.
Munising: Boat anglers are trolling in the early morning and evening. Catch rates for coho were fair to good with a couple limit catches reported. Pier fishing was fair to good for mainly coho followed by splake.
Grand Marais: Boat anglers trolling around the bay caught coho ranging 2 and 3 pounds. Shore anglers targeting coho near the mouth of the Sucker River had mixed results. Those casting caught more fish.
Two Hearted River: Has a fair to good number of salmon. Higher water levels made fishing a bit more difficult but fish are being caught.
St. Mary's River: Is still producing a few walleye in 12 to 14 feet near Carlton Creek. Try bottom bouncers with crawler harnesses, fire-tiger spinners and beads. Musky fishing will pick up as water temperatures cool.
Detour: Still has some very good opportunities for chinook, coho and pink salmon. Anglers are fishing from the city launch to Frying Pan Island, over to the #3 green can and near the lighthouse. Spoons were the ticket. Colors were pink and purple, green and gold, green and white or black and orange.
Drummond Island: Has excellent smallmouth bass fishing on the northwest side of Burnt Island. Try green and brown tube jigs along the rocky shelf in 16 to 18 feet of water. Good northern pike action off the southeast side of Grape Island. Anglers are trolling chrome spoons with a red eye in 6 to 10 feet. A few walleye were caught around Peck Island by those using bottom bouncers with gold and purple beads and spinners in 12 to 14 feet. Perch were caught just south of Harbor Island. Anglers used minnows or popcorn shrimp.
Cedarville and Hessel: Has fair to good perch fishing off the Hessel pier, Snows Channel, Musky Bay and Middle Entrance. Fish were caught by those trolling a crawler harness around Musky Bay and the east end of Cedarville Bay. Pike fishing was very good for those still-fishing with chubs or casting in the weed beds. Catch rates for bass were excellent. Splake were caught on spawn in the Hessel Marina. Salmon are starting to run in Bush Creek, Beavertail Creek and McKay Creek.
Carp River: Anglers are catching chinook and pink salmon from the mouth to the rapids. They are using spawn, small spoons or spinners.