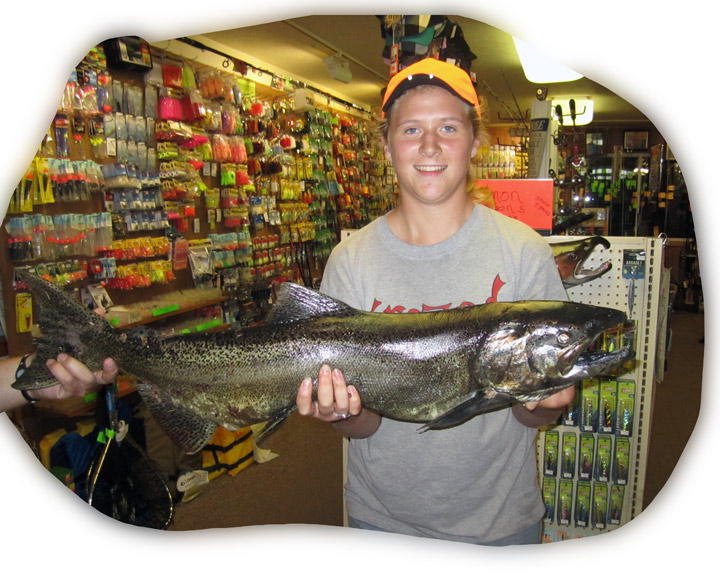 Good perch bite on Little Glen, Lake Leelanau, Grand Traverse Bay, Long Lake Margrethe, Burt and Mullet Lake but wind and cold weather is sending most to the woods to hunt.
Northeast Lower Peninsula Fishing Report
Rogers City: The adult salmon run is pretty much done however those still heading out have done well for younger salmon and steelhead when trolling small spoons halfway down in 50 to 90 feet. Lead core of 3, 5, and 7 colors worked well. Good colors are green, blue, orange, black or white with silver, red and white or anything that glows early or late. The bite was best the last couple hours of daylight or just as the sun comes up in Swan Bay or between US-23 and Forty Mile Point.
Presque Isle: Boat anglers will want to try straight out of the harbor and north between the two lighthouses. Try halfway down in 50 to 90 feet the last couple hours before dark or as the sun comes up.
Thunder Bay River: A large number of salmon are very dark and spawning. Fish are still being caught by those drifting flies or spawn along the bottom.
Harrisville: Salmon are working their way into the harbor slowly but consistently. Some are still fairly fresh, but most are starting to turn. Early morning and evening was the best time to fish with spawn, spoons or body baits. Walleye are coming into the harbor in the late evening. Fish were caught on body baits.
Oscoda: Fish caught from the pier are still in good shape and hitting on spoons or body baits. The occasional walleye has been picked up by anglers targeting salmon or steelhead.
Au Sable River: More anglers are heading upriver now that the Foote Dam area is open. Fish up near the dam are starting to turn dark but were still in good shape. Try floating spawn. Steelhead are making their way into the river and the number of fish will only increase as we move towards November.
Tawas: Had very little boat activity. Fishing in the harbor and off the piers was slow.
Tawas River: Is still producing salmon in the lower river at night.
Au Gres: Perch fishing picked up with anglers taking up to 25 fish ranging 7 to 11 inches. Most were caught out near the shipping channel in 35 to 45 feet.
Au Gres River: Is producing salmon and steelhead down at the Singing Bridge and for those surfcasting. For the steelhead, try drifting spawn.
Northwest Lower Peninsula Fishing Report
Petoskey: Had very few anglers. The marina is still being dredged and the dock has been pulled. A couple steelhead were caught on spawn near the mouth of the river.
Bear River: Catch rates for chinook have dropped. The leftover fish are in pretty rough shape. A limited number of coho and steelhead were caught on fresh spawn.
Charlevoix: Smallmouth bass fishing is still good in the channel. Try crawlers, leeches, or scented rubber baits. Perch anglers were straight out from the pier in 80 feet but all they caught was gobies. The few fish in Medusa Creek are in bad shape.
Traverse City: The East Bay has steady smallmouth bass fishing. Try plastics such as darters or tube baits in 20 to 40 feet. A few perch and cisco were caught. Perch fishing was slow in the West Bay but smallmouth bass were caught in 25 to 35 feet.
Elk River: The chinook salmon run is past its peak. Steelhead and the occasional coho and lake trout were caught on spawn bags near the power dam. Salmon have also hit on deep diving crank baits.
Boardman River: The salmon run is winding down. Anglers are now catching the occasional steelhead or lake trout when drifting spawn.
Frankfort: Water temperatures are starting to drop. Steelhead were caught on fresh spawn. Try to keep the weeds off your line.
Betsie River: Is still producing chinook and coho however catch rates have slowed.
Onekama: Dredging in the channel is done. Anglers are now targeting coho and steelhead in front of the piers.
Portage Lake: Bass anglers are still picking up large and smallmouth along the south wall and the drop-offs. Strong winds made it hard for those pan fishing.
Manistee: Pier anglers and those surfcasting are starting to catch steelhead on spawn. Boat anglers are catching salmon and steelhead 80 to 140 feet down in 300 to 500 feet of water when using green or blue spoons. A couple steelhead were caught on orange spoons in the top 40 feet.
Manistee River: More steelhead are starting to show up.
Ludington: Pier anglers are starting to catch steelhead on spawn. Those heading out to waters 200 to 400 feet deep found fish 80 to 130 feet down when using green flies or spoons.
Pere Marquette River: Is still producing some big chinook though many have turned dark. More steelhead are starting to show up.
Upper Peninsula Fishing Report
Marquette: Boat anglers caught chinook, coho, steelhead and lake trout just outside the lower harbor breakwall in 40 to 50 feet or up near the mouth of the rivers with spoons, stick baits or crank baits. Pier anglers caught coho and lake trout.
Dead River: Fishing pressure decreased as catch rates slowed.
Carp River: Shore anglers reported fair catches of coho. A couple steelhead were caught. Most are casting spoons and crank baits or floating spawn.
Chocolay River: Is still producing some coho in certain sections of the river. Anglers are using spinners or stick baits. Those using spawn bags had no luck.
Menominee: Walleye were caught off the Cedar River when trolling crawler harnesses or rapalas. Channel cats, pike and smallmouth bass were caught. A few were salmon fishing near the rapids in the river but none were caught.
Menominee River: Those targeting trout and salmon are fishing off Stephenson Island and up near the Hattie Street Dam. Some are drifting spawn and yarn while others are casting spoons. Shore anglers downstream of Stephenson Island caught channel cats, smallmouth bass and yellow perch when drifting crawlers. Those trolling after dark caught some walleye on crawler harnesses or stick baits.
Little Bay De Noc: Those pre-fishing for the walleye tournament caught fish but they would not say where. Perch fishing was fair near Kipling in 10 to 23 feet, and off Brach's Cabins in 14 to 17 feet. Try crawlers and minnows. Good smallmouth action off the Farmer's Dock in 18 to 35 feet with minnows, tube baits, or spinners.
Escanaba River: Shore anglers caught salmon near the 1st Dam. A good number of fish are making their way up into the river. Most are casting spoons, spinners or crank baits. Rock bass were also caught.
Big Bay De Noc: No walleye to report but smallmouth bass fishing was fair to good off Garden Bluff. Anglers are drifting minnows 15 to 30 feet down along the drop-off.
Munising: Boat anglers targeting coho reported fair catch rates. Some were able to get one or two fish but some returned empty-handed. Pier anglers caught coho, splake and the occasional steelhead. Splake were hitting primarily on spawn.
Grand Marais: Pier fishing was light and unproductive. Those trolling near the mouth of the Sucker River caught the occasional coho or steelhead. Shore anglers fishing the mouth of the Sucker River report low catch rates.
St. Mary's River: Had fair perch fishing. Extra water being released from the power plant in Sault Ste. Marie is forcing perch away from the main channel and into the bays off the shipping channel.
DeTour: Boat anglers are targeting walleye along the reefs and Moon Island. A few limit catches of yellow perch were reported.
Drummond Island: Anglers are catching yellow perch in 12 to 14 feet of water around Ashman Island, Grape Island and Peck Island. Most are using shiners.
Cedarville and Hessel: Yellow perch are biting on the east end of Hessel Bay, Snows Channel, Middle Entrance and Musky Bay. Try crawlers or minnows in 6 to 11 feet of water. Pike fishing has been very good for those casting chubs in shallow water. Bass fishing continues to be good.
Carp River: Anglers are fishing from the mouth upstream to the McDonald Rapids. They are catching chinook and steelhead though the chinook are starting to deteriorate.
FISHING CONDITIONS ON LAKES CADILLAC AND MITCHELL
FROM PILGRIM VILLAGE FISHING SHOP
SUNDAY, OCTOBER 20, 2013
Its cold, windy and rainy. As the temperatures fall there's even a touch of snow flurries. A few, not hunting, still fish Lakes Cadillac and Mitchell. The walleye bite is best the first few hours of dark. The regulars wader fish the mouth of the canal on the Mitchell side casting Rapalas.
Bass and pike are active most of the day. Pan fishermen have put their equipment away even though there's a perch and rock bass bite on the East side of Cadillac.
MANISTEE RIVER- The River Rats are finding numbers of steelhead. Those fishing Tippy Damn brag about having numbers in the teens on. Those on and those to the bank are two different things. The limits are there in the 6 to 12 pound range.
There's still numbers of salmon at the Damn. The Kings are pretty dark but there have been fresh Coho runs with the rain and cold temperatures.
Jigs tipped with wax worms is currently one of the better steelhead baits. Even an occassional Coho can be caught on them.
Its sad, but the season must come to an end. Tackle and bait sales are down to a trickle. Many are already inquiring about ice tackle. Orders have been placed and we're just waiting for delivery. If all goes as planned the store will be set by Deer rifle season. Lots of new exciting items this year.
This is the last report until there's ice. We'll keep you informed when the ice is safe. Watch you're bobber! See you on the ice!!