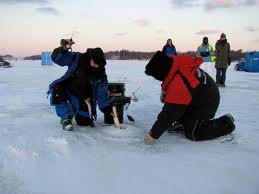 Register for our Hamlin Hookers 4th Annual Ice Fishing Tournament
WHEN: FEBRUARY 8, 2014 – 7:00am to 5:00pm
CONTACT: Vaughn Flewelling, 231-843-2058 to register and for additional information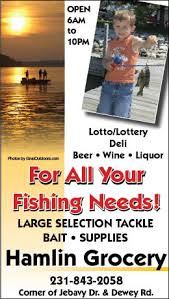 Sponsored by Hamlin Grocery. Register at Hamlin Grocery, $20 to enter. 100% cash pay out for 1st. Place. Super prizes for 2nd, 3rd, 4th placing.
This is an individual, one-day, total points tournament on HAMLIN LAKE. A point value is given to each fish based on length and species, not by weight. Participants must sign-in at the tournament check-in line no later than 5:00pm for measuring of fish and calculation of points. Check-in line is located at the Hamlin Grocery live bait building. Measuring of fish and calculation of points will be conducted by a designated committee. The committee's decision is final!!
Contact Vaughn at Hamlin Grocery 231-843-2058 for any additional information. Looking forward to seeing everyone on the 8th!!