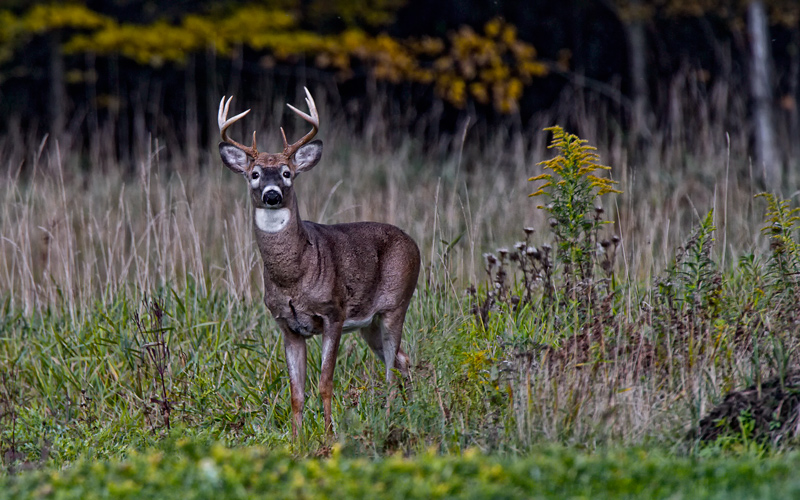 The 2013 Firearm Deer Season kicked off at daybreak on Friday, November 15th, and as record numbers of Michigan hunters filled the woods in search of the elusive buck, not all were impressed with the weather. Opening day was unusually warm and calm weather wise and as opinions vary on what the weather does for hunting, one thing was certain; the bucks were out there. While the huge "Trophy Buck" may not have been seen or taken, everything from spikes to ten pointers were filling up many of the traditional Buck Poles around Roscommon and Crawford Counties.
Buck Poles usually contain contests and prizes for things like, First buck on the pole, first female to hang a buck, oldest and youngest hunters and so on. Some poles add prizes for largest rack and heaviest deer. Each hunter has their own thoughts and traditions on how to call in and bag the big one and some hunters have started using non-traditional methods. Cindy Warren of Herron, Michigan stated that she finally pushed enough to get women allowed at deer camp as has taken three bucks in as many years. When asked how she did it this year, Warren Laughed and said, "I downloaded a deer call app on my phone and kept playing it over and over in the woods. I don't know if that actually worked or not, but he walked right in on me and I dropped him."
Malcolm's Tackle Box in St. Helen gives straight out cash prizes for the top ten bucks. Their order was as follows, Mike Guijzala ( 8 point and $200), Gene Earl (8 point and $150), Scott Prelop (8 point and $100), Mike Zocher (8 point and $85), Steven Cameron (8 point and $75), Mike Jarosz (8 point and $65), Mark Smith (7 point and $60), Eric Wiles (6 point and $50), Cindy Warren (5 point and $40) and Mike Bednarik (4 point and $35).
Fred's of Roscommon is always a Hot Spot in the county for their Buck Pole, this year hanging 22 on opening day. Having $1200 in cash prizes to give out this hunting season adds to the excitement and anticipation of hanging a buck on the pole. Winners at Fred's include, Jenny Travelbee (largest rack), James Sersing (heaviest buck), Dylan Kuebler (youngest hunter), Ralph Schultz (oldest hunter), Sherrie Ciaramitaro (first woman to hang buck) and Kurt Waterman (first buck on pole).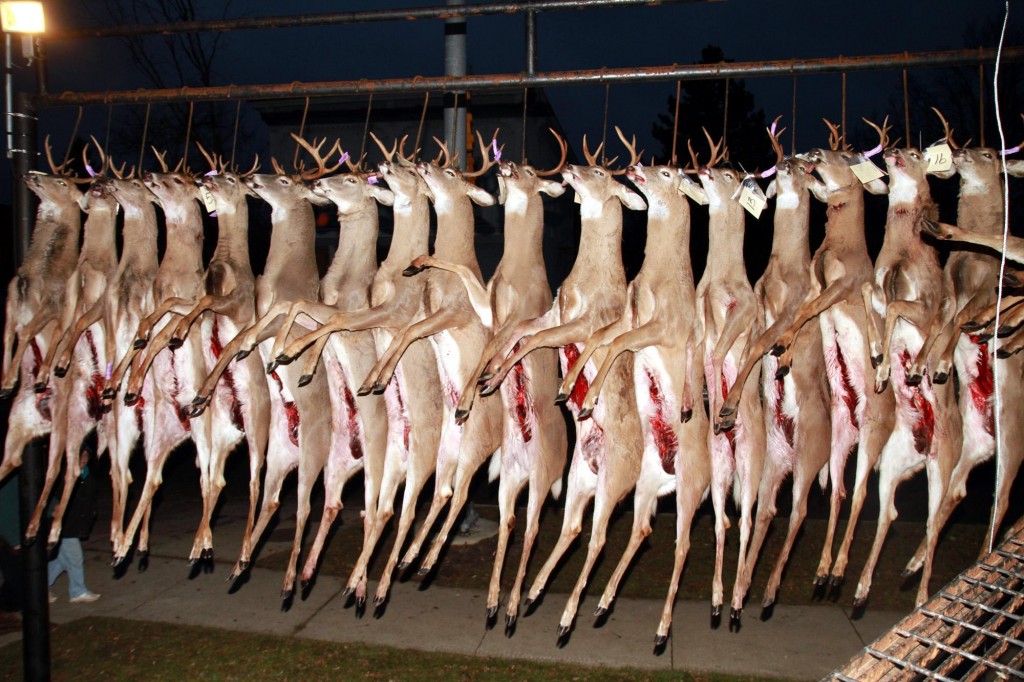 A grand total of 20 deer would make their way onto Mancelona's 59th annual Buck Pole. Numbers took a slight dive in 2013, but spectators continued to flood in throughout the two-day event.Despite a lower success rate for hunters over the weekend, the Mancelona Buck Pole continued to be a big draw for spectators, many of which show up to town annually for the event.
Organizers reported that over 300 people were on hand for Saturday's closing ceremonies. They also noted that there was a steady flow of visitors to the buck pole throughout each day.
Ron Vrandenburg was credited with having the 'first deer hung' this season. Colton Drew had the 'heaviest deer' (165 lbs.). Tim Schienke won the prize for 'most points' (12). Robbin Enslen claimed the 'widest rack' category (19 1/4″).
Jim Flynn took a $200 cash prize in the 'lucky hunter' drawing. Spencer Huffman and Amanda Kippe each won a youth hunter prize.
Pop-A-Top Party Shop in Houghton Lake, under new ownership is relatively new to the buck pole scene. While things seemed to be slower on the Prudenville/Houghton Lake side of Roscommon County, it did not deter those that bagged a buck from hanging it up, at least for a little bit. Taking award money at Pop-A-Top was Danielle Dowland. Dowland took honors of hanging the first buck on the pole and first female to hang a buck.
Crawford County proved itself a hunting hot spot in Northern Michigan as two buck poles were ran. Skip's managed to see 16 bucks hanging on opening day. Winners include Sierra Schreiber (heaviest), Mallory Hatfield (youngest and first woman to hang a buck), Curly Lamotte (first buck on pole and oldest hunter) and Shane Lewis (10 point, largest rack).
This year, for their first time, the Lovell's Home Center threw their hat into the buck pole ring and it proved to be a fantastic move as they hung a whopping 94 bucks over a two-day period. Opening day results include Brad Ochs (heaviest and biggest rack), Matt Boyd (second place), and Tyler Boyd (third place). The Home Center wanted to give a special thanks to Donna Bumgardner as they gave away three big prizes and held over 25 random drawings each day of the two-day period, giving away a total of 38 prizes each day.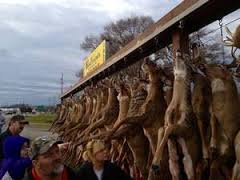 Knutson's Buck Pole
This is the 26th year for Knutson's Buck Pole, which will accept deer until 6 p.m. Those entered have the chance to win more than $6,000 in cash and prizes.
Hunters started rolling in steady after about 9:30 a.m. to have their deer weighed and hung on the pole. It was a little busier than Tom Knutson expected.
"I'm really happy with this start," Knutson said. "This will really tell us what's going on with the deer herd now and how bad of shape or not it is in."
Knutson is referring to the effects of epizootic hemorrhagic disease, or EHD, which reached a record-breaking 30 counties in the state last year. It's spread to animals through midges and can cause severe internal bleeding or induce fevers in deer which eventually lead to death.
For Steve Lowe of Brooklyn, this year's opening day was about the best he can remember. The 181-pound, 10-point buck he brought to Knutson's pole is the biggest he's ever bagged.
"It was a perfect morning," Lowe said. "He came in with his nose to the ground about 20 yards behind a doe about 100 yards out from me. They are chasing the does like crazy right now."
The 8-point, 136-pound buck Jenna Berry of Norvell shot through the heart from 100 yards away isn't the first deer she's gotten, but it is the biggest, she said.
"I was a little nervous because he was so far away," she said. "It's an exciting day."
Women hunters are growing in numbers, Knutson said.
"Used to be you'd see one lady about every two years," he said. "I bet 20 percent of the deer taken today will be by women. That's a good deal."
Knutson estimates there could be about 60 deer on the pole by day's end. The largest at noon was a 192-pound, 8-point buck shot by David Lindeman Jr. of Clark Lake.
Almost a full buck pole at Fred's of Roscommon
A few bucks hanging at Malcolm's Tackle Box in St. Helen
Skip's in Grayling seen numerous bucks opening day
First year buck pole at Lovell's Home Center