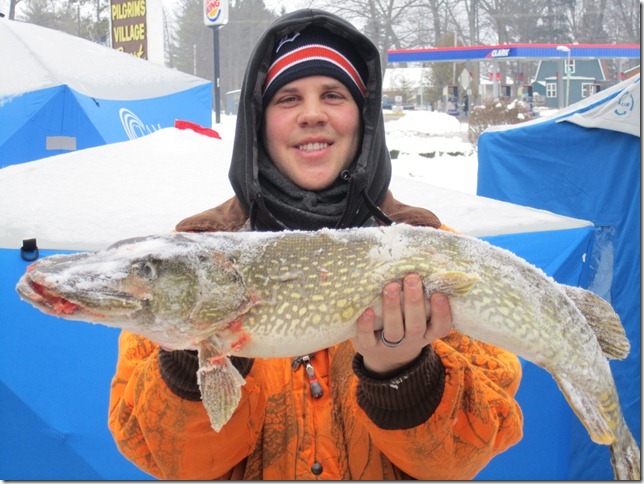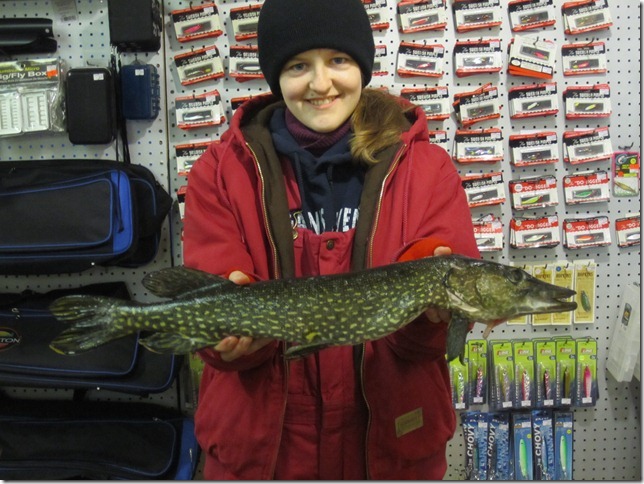 We have good ice in Northern Michigan and Up. We had 13 to 20 degree temps today which harden the ice up good.
Ice fishing season has started in the northern Lower Peninsula and the Upper Peninsula. There may be ice in the southern Lower Peninsula however conditions for the most part are not safe and will deteriorate rapidly with rain and much warmer temperatures by the end of the week.
South of Ludington they are fishing open water along the coast.
It seems in the middle of the state that the safe ice goes down to US 10 and after that ice is not safe. We will be ok up north but thank god by Saturday Night things will be freezing again.
The public is reminded that helmets are still required to be worn when operating an ATV or snowmobile while recreating. This includes but not limited to operating on the ice, trails and state land.
Northwestern Michigan
Leroy- Reports are guys are getting out on the shallow lakes with good pike action Call Eye's Have It for latest info 231-768-5653
Baldwin- The little lakes around Baldwin are safe and pan fish has been fair. Call Baldwin Bait @ 231-745-3529 or Ed's Sport @ 231-745-4974
Big Glen- Has open water
Little Glen- Has ice and many think that the ice will be safe this weekend, and hope the perch are biting Call Fishhook@ (231) 256-9496.
Lake Leelanau: is ice capped but ice is not safe call Call Fishhook@ (231) 256-9496 for latest info
Manistee Lake by Kalkaska- Good fishing this week with perch, pike, walleye and a few gills in the canals ice is 3 to 5 inches
Spider Lake and Arbutus- Five to seven inches of ice with pike and pan fish biting, a huge pike was caught out of there last week Call Roy's General Store @ 231-946-5633
Lake Dubonnet- Lots of fisherman fishing this lake with great pike action with some pan fish
Duck Lake: Lots of fisherman off of Strawberry Point
Green Lake: Has iced over but there are open holes in the middle
Long Lake: They are fishing on the North-end and catching fish, but lots of small walleye being caught. Over a hundred fisherman out last week. Call MC Sports @ 231-933-6158
Skegemog- Has completely froze over and lots of people are walking out not safe for atv's yet and good pike and perch fishing. Call Jack's Sport Shop@231-258-8892
Fife Lake- Has ice and a few big pike have been caught, along with perch
Portage Lake- It froze over but have not heard of any body trying there luck. Call Osborne's@ 231-889-3775
Hamlin Lake- Has 2 to 3 inches on Upper Hamlin and thing have got shaky the last two days out. Call PM Expeditions@ 231-425-8913 or Hamlin Grocery@(231) 843-2058
Bear Lake- Has 3 to 5 inches of ice today with a few getting out catching pike. Osborne's@ 231-889-3775
Manistee Lake, Pentwater Lake, White Lake, and Muskegon Lake have open water and guys are getting out in boats the last two days
Lake Missaukee- Today a few guys were venturing out and report 5 to 8 inches of good ice with pike and gills are biting good Call Miller Corner@ 231-839-0440 or Hopkins Outfitters@ 231-839-FISH (3474)
Cadillac and Mitchell- Has Safe Ice!!!!, Lake Cadillac they are fishing off the causeway and it has looked like a city on the ice this week Call Pilgrim Village for latest info@ 231-775-5412
Betsie River: Continues to produce some steelhead.
Big Manistee River: Is fishable and should have a fair to good number of steelhead including some fresh fish. Many are fly fishing below Tippy Dam.
Little Manistee River: Is producing steelhead and the occasional brown trout however the river will close to fishing on January 1st and will reopen on April 1st.
Pere Marquette River: Should still have some good steelhead fishing. Those fly fishing seem to catch more fish.
Northeast Michigan
Lewiston- Both East and West Twin are froze and perch, pike and walleye are biting Call Mid Lakes Market @ (989) 786-3227
Mio- Mio Pong has froze and a few are getting out on the lake. Call Jig's Bait Shop@ (989) 826-3467
Lake St. Helen- Fishing has been good with 5 to 8 inches of ice lots of pike, with pan fish on the bite with a few walleye being caught. Call Macomb's Tackle Box @ 989-389-2100
Pratt Lake and Wiggins Lake- has safe ice and many have been doing good on pan fish and pike. Call Chappel Dam@ 989-426-7503
Wixom and Sanford Lake- Reports are the lake is froze and fisherman have been getting out on the shallow bays catching crappie, gills and pike. Call Sanford Sport Shop@989-687-5161 or Sandy's Market@ (989) 435-9688
Secord Lake has had a great bite this week Sandy's Market@ (989) 435-9688
Fletcher's Floodwaters- Reports are the ice is safe to walk out on and the pike fishing has been fantastic the last two days but very few people out yet. Call Bill's @989-742-4874
Black Lake- Has 3 to 5 inches of ice. Call Parrots Outpost for the latest ice conditions (989) 733-2472
Grand lake and Long Lake- Both lakes are froze over and a few fisherman are venturing out catching perch and pike on the shallow bays, also Saturday seems to be the day that most feel it will be safe. Call Bucks@ 989-595-2121
Otsego Lake- The ice is safe and many shanties are on the lake. A few sturgeon have been caught off the State Park and good perch, pike and a few walleyes. Perch fishing has been fait r on Bradford, chub Lake trout fishing has been good.Call Northern Sports@ 987-448-2014
Lake Margrethe- The lake is completely froze with 4 to 8 inches of ice and good fish being caught. Call Skip's Sport @ 989-348-7111
Higgins Lake- is froze but open spots and with the wind and rain might open back up. Call Phoniex Park 989-821-7220 or Sports Barn 989-821-9511 for latest ice conditions
Houghton Lake- Ice fishing is on and anglers are setting up their shanties. Be sure to use caution around the chunk ice on the south shore as well as near any inlets or outlets. Walleye fishing was good in in 4 to 8 feet of water. Lyman's has started putting their shanties out call them for your resevations@ 989-422-3231 Also Dave @ Four Season is getting ready to put his Shanties out and said last night they did good on the walleyes and pike. Call him @ 989-422-5230
Lake Avalon: In Montmorency County is producing a few bigger splake.
Alpena: The boat ramps are frozen in. A few perch were caught in the harbor.
Au Sable River: The ramps are usable. Steelhead were caught from Foote Dam all the way down to Oscoda and the mouth. Boat anglers are back drifting plugs or casting spawn.
Higgins Lake: The boat launches are iced in but not enough ice for ice fishing yet.
Tawas: Anglers are getting some perch out of Jerry's Marina basin as well as off Jerry's in 10 to 15 feet of water. Walleye anglers are inching out to 15 to 17 feet and getting a few. No pike spearing yet.
Au Gres River: Has ice fishing in the lower river. Anglers are getting a few perch and sublegal walleye.
Upper Peninsula Report
Newberry- Has good ice on most the small lakes with pike biting fair.
Munuscong Bay –Dan's Resort in Pickford reports Four-wheelers are going out on the ice now. Perch are biting near the rock piles. The walleye have been biting well the last few days on blues Call Dan's Resort @ (906) 647-8753
Manistique- Ice is forming good on Indian Lake and Big Manistique and they look to be fishing this weekend Call Top O Lakes Sport@ 906-341-5241
Many lakes in Keweenaw, Houghton, and Baraga County had too much slush for ice fishing. The slush makes for difficult travel as well as slow fishing.
Lake Gogebic: Ice anglers caught perch in Bergland Bay. A few walleye were also caught along the north end.
Lac Vieux Desert: Ice anglers are catching good numbers of pike ranging 16 to 24 inches. Most are using tip-ups with golden shiners over the weed beds in 6 feet of water. Only a few anglers have caught walleye. A good number of bluegills were caught on wax worms in 6 to 10 feet of water. The fish range 6.5 to 7.5 inches. Some caught crappie. As for perch, anglers are catching them however most of the fish caught were 8 inches or smaller.
Portage Lake: In Houghton County has ice. Anglers caught crappie near Chassell.
Keweenaw Bay: Has no ice. Huron Bay has shore ice only.
Groveland Mine Ponds: In Dickinson County have ice. Plenty of small bluegills along with a couple nice perch and crappie were caught in Island Pond. Try jigging wax worms, wigglers or minnows a foot off the bottom in 13 to 15 feet of water. The West Pond has small bluegills, crappie and sunfish in 15 feet of water for those jigging or using tip-ups. The East Pond has small perch and muskie in 12 to 20 feet of water. The South Pond had no reports of fish caught. Anglers were targeting walleye and panfish west of the boat launch in 30 feet of water.
Lake Antoine: Fishing was slow with only small perch caught by those jigging with natural baits. Most were on the north end of the lake in 8 to 10 feet of water.
Little Bay De Noc: Has some ice however most of the bay still has open water. A pressure crack has formed along the north end of Butler Island. Anglers should avoid this area. Anglers are just starting to fish in the Escanaba Yacht Harbor but most were fishing the Kipling area or the Gladstone side of the "Narrows". Fair catches of walleye were reported in Kipling by those jigging rapalas with minnows in 18 to 30 feet of water or Gladstone in 25 to 35 feet of water. Perch fishing had mixed results near Kipling in 8 to 35 feet of water with natural baits. The bigger fish were caught in the deeper water. Jumbo perch were caught near Gladstone when jigging. While most anglers are using a portable shanty some are bringing out the permanent ones and setting them up.
Cedarville and Hessel: Musky Bay and Hessel Bay have a couple ice shanties. Anglers are perch fishing in 10 to 12 feet of water. Wigglers worked best in Musky Bay however minnows were favored in Hessel Bay.