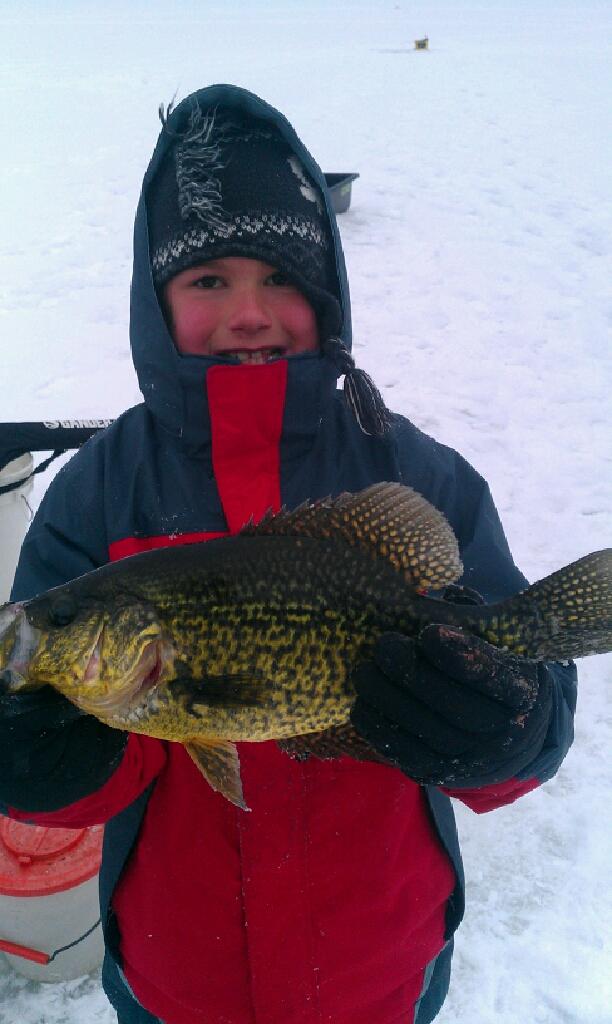 Brody Gothard of Lake City caught this beautiful Crappie on Lake Missaukee with bait from Miller's Corner.
Northwestern Michigan
Leroy- Reports are guys are getting out and gills are biting with good pike action Call Eye's Have It for latest info 231-768-5653
Baldwin- The little lakes around  Baldwin are safe and pan fish has been fair.  Call Baldwin Bait @ 231-745-3529 or  Ed's Sport @ 231-745-4974
Big Glen- Open Water. Fishhook@ (231) 256-9496
Little Glen- Has ice and maybe the perch will start biting the perch are biting Call Fishhook@ (231) 256-9496.
Lake Leelanau: North Lake Leelanau has ice, South Lake Leelanau is froze with 5 to 8 inches of ice and fair walleye, perch and pike. Call Fishhook@ (231) 256-9496 for latest info
Manistee Lake by Kalkaska-  Good fishing this week with perch, pike, walleye and a few gills in the canals ice is 10 to 15 inches Call Jacks Sport Shop 231-258-8892
Spider Lake and Arbutus- 10 to 12 inches of ice with pike and pan fish biting, a huge pike was caught out of there last week Call Roy's General Store @ 231-946-5633
Lake Dubonnet- Lots of fisherman fishing this lake with great pike action with some pan fish
Duck Lake: Lots of fisherman off of Strawberry Point and the penisula
Green Lake: I got report today that the lake has tighten up again last night, but then we got snow today but the reports I got is that the ice is safe again. They are catching smelt during the day today the ice is 3 to 5 so be careful but quite a few guys out today. Spikes and waxworms on Hali Jigs
Long Lake:  They are fishing the whole lake with the better bite off of Cresant shores.  They are catching nice perch but lots of short walleye. Call MC Sports @ 231-933-6158
Skegemog- Has completely froze over and lots of people are walking out also quads a driving with many shanties on the lake.  Call Jack's Sport Shop@231-258-8892
Fife Lake- Has ice and a few big pike have been caught, along with perch  There was a bunch of guys off the access site today. They have the big rock fishing contest there Saturday Call Lakeside Party @ 231-879-4346
Portage Lake-  They were out in force today on Portage with a awesome perch bite as a big school has moved in from Lake Michigan. Many limit catches with perch running up to 14 inches. Call Osborne's@ 231-889-3775
Hamlin Lake- Has safe ice and many out and about catching fish . Call PM Expeditions@ 231-425-8913 or Hamlin Grocery@(231) 843-2058
Bear Lake- Has 12 to 15 inches of ice today with a few getting out catching pike. Osborne's@ 231-889-3775
Lake Missaukee- Has safe ice with a good crappie, gill and pike bite. report 10 to 15 inches of good ice with pike and gills are biting good Call Miller Corner@ 231-839-0440 or Hopkins Outfitters@ 231-839-FISH (3474)
Cadillac and Mitchell- Has Safe Ice!!!!, Lake Cadillac they are fishing off the causeway and it has looked like a city on the ice this week Call Pilgrim Village for latest info@ 231-775-5412
Pentwater: Pentwater Lake is froze and the perch fishing has been great also a few pike. Pentwater Angler has a contest Saturday Call Pentwater Angler for the latest info@ 231-869-5357
Whitehall: White lake has ice with good pike and perch bite today. Call armstrongs@231–894-6753 or Johnson's Outdoors @ 231-893-6688
Betsie River: Continues to produce some steelhead.
Big Manistee River: Is fishable and should have a fair to good number of steelhead including some fresh fish. Many are fly fishing below Tippy Dam.
Little Manistee River: Is producing steelhead and the occasional brown trout however the river will close to fishing on January 1st and will reopen on April 1st.
Pere Marquette River: Should still have some good steelhead fishing. Those fly fishing seem to catch more fish.
Crystal Lake a few guys went in the drink Tuesday so be careful.