Top 10 Michigan Walleye Lakes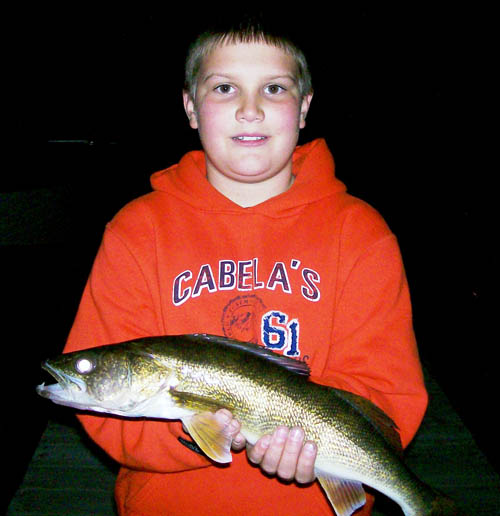 Top Ten Walleye Lakes in Michigan
Lake Gogebic
 The lake holds a healthy population of non-stocked walleye that maintains itself.
Walleye in this lake characteristically hold close to weedbeds, dropoffs, and especially in areas with both features.  They are usually in shallow water during the post-spawn period and move towards the edge of deep holes as the water warms.  The hungry post-spawn walleye respond to a variety of baits and methods, while jigging along edges becomes one of the most popular techniques later in the season.  Try ¼ oz jigs with minnows early in the year, and leeches later in the year.
Portage Lake
 Portage Lake is a consistent producer of big walleyes that remain active throughout the summer, partially because it can be tricky to pull fish out of the dense vegetation and structure of this shallow lake.  This lake provides enough protection from anglers and other fish, as well as a plentiful food source, to allow many of them to reach trophy size.
Jigging (¼ oz jigs, 1/8 oz jigs, 1/16 oz jigs) is the just about the only way to get a hook in front of Portage Lake walleye once the vegetation comes in.  The best setup is a long rod, sensitive, but with a strong backbone to jerk those wall hangers above any weeds and brush they could use to snap your line.
Pitching a jig tipped with a worm or leech into a weed pocket and twitching it until it settles to the bottom is one effective technique.  Keep twitching it, on and off, for a few minutes before moving on.
Mullett Lake
This lake holds a lot of walleyes, and they don't tend to be on the small side, with 6-10 pounders being fairly common.  This, combined with structures well-suited for trolling, make it easy to locate and catch big walleye.
The depth and variety of terrain make downriggers and planers invaluable on this lake.
At the beginning of season, target gravel bottoms near drop offs.  The warmer the water gets, the deeper the fish go, holding to reef areas across the lake. Several good reefs are on the west end of the lake, averaging about 12 feet deep and surrounded by areas that drop to 40-60 feet.
Casting or trolling crankbaits across the reefs is a good way to hone in on active fish, starting close to the bottom and working towards the surface.
If the walleye are not aggressive, a worm or leech on a split shot rig, placed in the reef, can draw a strike.
Single blade spinners are often effective as well.
During the summer months, fish suspend in the water, making them difficult to locate.
Houghton Lake
This is Michigan's largest inland lake and despite fishing pressure and recreational boating, it still provides the opportunity to catch a lot of walleye.
Weeds and small drop offs are the only structure this lake has to offer, causing walleye to collect in dense pockets.
In the spring, before there are many weeds, trolling the shallows with crankbaits provides the most bang for your buck.  The shallows on the east side of the lake, around the Cut River, are supposed to be good this time of year.
After the weeds get thick, pitching a jig (¼ oz jigs, 1/8 oz jigs, 1/16 oz jigs) orslip bobber tipped with a leech into weed pockets is your best bet.  Try the weed pockets close to M-18 and M-55 in Prudenville at this point in the year.
Hubbard Lake
Even though this isn't a lake that is known for big walleye, it is still a good place to fill your livewell.
Jigs (¼ oz jigs, 1/8 oz jigs, 1/16 oz jigs) with livebait are good in the post-spawn, particularly around Churchill Point and Doctor's Point.
During the summer, trolling with crankbaits is productive, especially when using planers to avoid spooking the fish.
At night, drifting with a slip bobber and leeches can be effective.
Holloway Reservoir
Experts suspect that the flowing waters of Holloway Reservoir hold more walleye per surface acre than anywhere else in Michigan.
The best time to fish Holloway is at the beginning of season, trolling withcrankbaits and inline planer boards. Working light jigs (¼ oz jigs, 1/8 oz jigs,1/16 oz jigs) along the flats has also been known to be productive early in the season.  Vertical jigging the river channel that runs the length of the lake can also provide steady action.
Other hot spots include places with circulating water, like the Mt. Morris RoadBridge.  Baitfish are attracted to the water movement, which draws large, aggressive walleye.
Kent Lake
Despite being one of Michigan's most heavily fished lakes, it continues to produce considerable numbers of walleye, partially because a speed limit for boats helps keep walleye calm and relaxed.
This lake also has a natural river channel, which holds a lot of walleye.  Use a depth finder to locate outside bends in the current, and drop a minnow-tipped jig (¼ oz jigs, 1/8 oz jigs, 1/16 oz jigs).
Later in the season, worms and spinning rigs, with a split shot about 18 inches up, are very successful when drifting.  Use metallic spinners early on, and experiment with bright colored blades as the water warms.
 Gun Lake
Although it's known as a recreational lake, it's still possible to catch a lot of walleye if you adjust for the activity of non-anglers.
Beat the boaters out in the morning and hit big dropoffs, like those around Murphy's and Hasting's Points, near the middle of the lake.  A deep hole inRobbins Bay, in the southwest portion of the lake, holds walleye throughout the middle of the day.
Night fishing is another good way to find relaxed walleye feeding.  They are likely to be in the shallows, making them vulnerable to casting and trolling with shallow running crankbaits and spinners.
North Lake Leelanau
 This lake has a surplus of protein rich forage, allowing walleye to grow big quickly.
One popular place on this lake is the slopping flats on the south side of the lake.  Trolling with spinners and worms behind 1 to 2 oz. bottom bouncers is usually productive, but vertical jigging (¼ oz jigs, 1/8 oz jigs, 1/16 oz jigs) with minnows can be effective once you find a pocket of walleye.
North Manistique Lake
This location is not to be confused with Big Manstique Lake.  Due to minimal pressure, this lake has become a great place for walleye fishing.
The lake's formerly barren featureless bottom is now populated with manmade cover and structure like brush and logs the locals have sank to give the walleye and anglers someplace to go.
Locate depressions and manmade structure and experiment with crankbaitsand jigs (¼ oz jigs, 1/8 oz jigs, 1/16 oz jigs)  depending on the time of day and season.