PM Lake at Ludington has a perch bite the last 3 days with wigglers working best. Captain Chucks has been really busy with guys heading out using wigglers and perch shiners.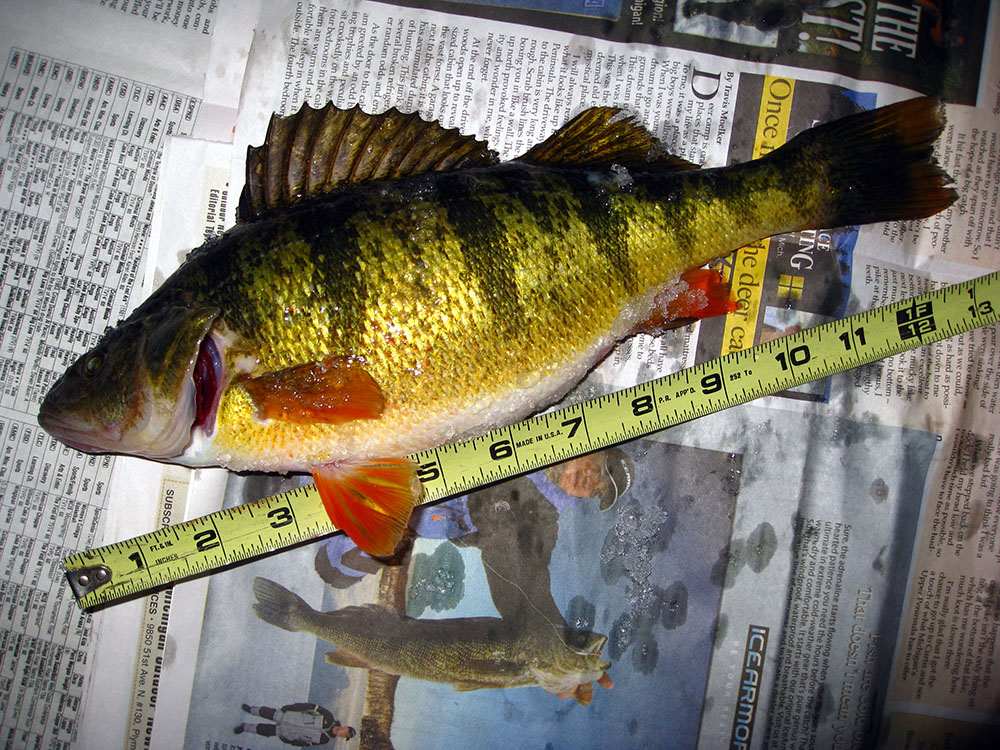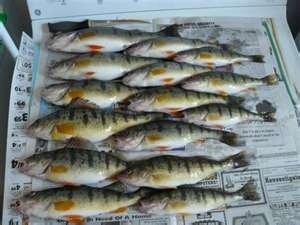 Crystal, Portage, Manistee, Big Glen, Lake Charlevoix, Green Lake, are reporting a decent perch bite.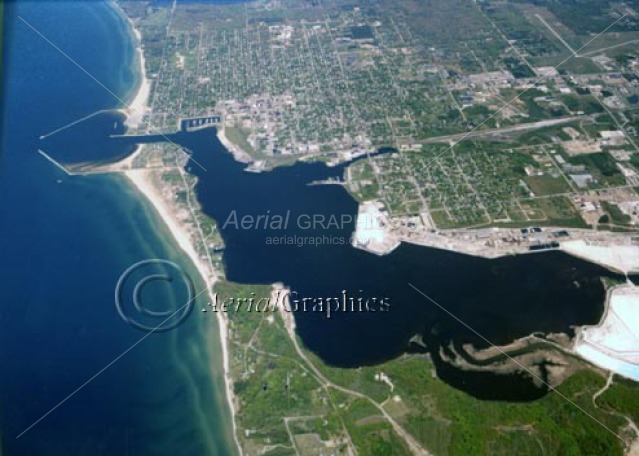 Sheldon from Hesperia Sport Shop has had a great spring for Steelhead on the White River below the Hesperia Dam
was just at Pappy's Bait in Wellston and a guy brought in at 18 1/2 pound male steelhead
Houghton Lake the Crappies are in
Crappie are in! Jacob Chipman from Frederick found the gills and crappie in the canals…including a 14″, master angler crappie. He said to use minnows under a pink, purple or fire tiger jig for the crappie and leaf or wax worms for the gills. They're both hitting about 18″ from the surface.
These nice Detroit Walleye fell victim to the Fish Bones Slim Line Rattle Jigs yesterday thanks for the pic guys
Northwest Lower Peninsula Fishing Report
Harbor Springs: This side of the Bay was mainly ice free but the dock at the launch was not in yet. The other side of the Bay still had a lot of loose ice, so depending on wind direction it could blow back over.
Petoskey: Little Traverse Bay still had quite a bit of loose ice which makes boat fishing a slim possibility. The launch at the marina does not have the dock in yet. The breakwall ice and snow is melting and anglers were fishing inside the breakwall when there was no floating ice. Catch rates were hit-or-miss but a couple steelhead and coho were caught.
Bear River: Water levels were still moderately high. A fair number of steelhead were hooked between the dam and the mouth when drifting spawn bags and flies. Anglers are reminded that brown trout season is closed until the last Saturday in April.
Traverse City: Most of the boating action was on the West Bay where anglers were catching plenty of perch northeast of Clinch Park when using minnows and wigglers. Though many were small, some did manage to catch fish 8 inches or larger. Lake herring were caught north of Bryant Park and off the M-22 launch when jigging. A couple nice trout were caught at the south end of the East Bay near Acme. Those targeting steelhead in Elk Rapids caught some fish below the dam on spawn and wax worms.
Boardman River: Was slow but a couple steelhead and the occasional brown trout were still caught.
Leland: A few were fishing in the harbor and the river for steelhead but only a couple were landed. Dredging at the harbor mouth was to start this week. It would be challenging to try and get a larger boat out at this point.
Platte Bay: Had mainly shore anglers that were surfcasting but few fish were caught. Springtime water levels at the mouth of the Platte River are currently low, so it would be difficult for anglers to get out into Platte Bay with boats larger than 16 feet. The lower river has some steelhead.
Frankfort: Pier anglers were getting the occasional steelhead or brown trout on spawn, spoons or body baits. Most of the steelhead are chrome colored. Those trolling the harbor caught brown trout when casting body baits.
Betsie River: Had a lot of anglers as steelhead fishing continues.
Portage Lake: Perch anglers were fishing several locations but catch rates were hit-or-miss. Minnows, worms and wrigglers were used.
Manistee: Surface temperatures were about 41 degrees. All the docks are in at the launches however the restrooms and fish cleaning station were still closed. Perch were caught off the north pier when using minnows and a couple steelhead were taken when using spawn bags. Those trolling along the shoreline were getting some brown trout.
Ludington: Surface temperatures made it up to 42 degrees. The restrooms and the fish cleaning station were still closed. A small number of brown trout were caught by pier anglers using spawn bags or those trolling the shoreline. Some perch were caught in Pere Marquette Lake.
Pentwater: Adverse weather limited boat anglers. The water around the piers was cloudy and those fishing reported slow catch rates.
Pentwater Lake: Those trolling caught the occasional steelhead or brown trout. Perch fishing was good in 10 to 30 feet using perch rigs tipped with white spikes and wax worms. Those fishing Longbridge Road caught suckers and bullhead on crawlers.
Northeast Lower Peninsula Fishing Report
Cheboygan: The city launch and marina at the mouth of the river have the docks in.
Cheboygan River: Shore anglers had some luck with steelhead at the dam and downstream when using spawn. Those that tried crank baits and spinners had no luck.
Rogers City: The ice is gone and there is one dock in at the launch. When boats can get out, Atlantic salmon and lake trout should be available. Try trolling in stained waters less than 40 feet deep. In Swan Bay, bright spoons or body baits should produce some fish. Boat anglers were targeting lake trout near the bottom inside 50 feet. Try big flashers with flies or spin-glo's. A few anglers were casting for Atlantic salmon off the wall. Try orange or chartreuse.
Rockport: Anglers were casting for Atlantic salmon from the wall. The fish should show up any day now. A few boats were getting lake trout just off the bottom in 60 feet. Try big flashers with flies or spin-glo's.
Alpena: A few boat anglers were out in Thunder Bay. Those trolling for walleye have caught and released a few smallmouth bass.
Thunder Bay River: Waters levels were elevated but anglers still caught a couple steelhead when drifting spawn near the 9th Street Dam or Hot-n-Tots from the bridges.
Oscoda: Pier anglers caught lake trout when drifting or still-fishing with spawn and minnows or when casting spoons.
Au Sable River: Water levels were high and turbid. Those fishing the lower river in Oscoda caught a couple steelhead on spawn but more fish were caught up near Foote Dam. Carp and freshwater drum were caught on worms.
Houghton Lake: Crappie anglers are fishing the canals. Sucker fishing is starting to pick up on the Cut River near the mouth of Houghton Lake.
Tawas: Pier anglers are catching brown trout, steelhead and smallmouth bass when still-fishing with minnows or casting lures. A few smaller perch were caught inside the pier. Those trolling were starting to catch walleye off Tawas Point, Alabaster and Whitestone Point. The fish were caught on body baits in 10 to 25 feet. Lake trout were caught near the reef.
Tawas River: Was still producing suckers.
Au Gres: Anglers caught several lake trout while fishing for walleye.
Rifle River: At Greenwood Road was producing suckers.
Upper Peninsula Fishing Report
Marquette: Both the Upper and Lower Harbors are producing coho along with a few brown trout and splake. Those jigging at the "bubblers" did best with pink or white jig heads with a white twisty tail. Those trolling also caught fish with Hot-n-Tots, shad raps and small spoons for coho. Steelhead are being caught on the Carp and Chocolay Rivers.
Menominee River: Anglers fishing the Turn Basin and were jigging plastics, live baits and zip lures. Brown trout were caught north and south of the mouth when trolling spoons and stick baits. Fishing pressure has been extremely heavy below the Hattie Street Dam.
Little Bay De Noc: All rivers are open and flowing with water levels down some. The Bay is open but still had pack ice stacked on various shorelines. The launches that are ready for use are Rapid River, Gladstone and North Shore. The dock on the Ford River should be in this week. This should be a good week for perch anglers to try their luck. Several anglers have started steelhead fishing in the Day's, Escanaba and Ford Rivers. Best catches were reported were in the Day's River across US-2 and when fly fishing the Escanaba River up near the 1st Dam. Most used spawn, beads or yarn.
Manistique River: The public launch is open and several boat and shore anglers have started fishing the mouth for steelhead. Fair to good catches were reported from the dam to "big bass hole" which is just south of the Cedar Street Bridge. Anglers are fly fishing with beads and yarn or casting spawn and yarn. Water temperatures were between 38 and 44 degrees.
Au Train: The brownstone launch was currently not usable. A piece of cement slab at the launch pad was moved by the ice and is blocking access. Only a couple steelhead were caught in the Rock River.
Munising: The ice is gone and the docks are in at the public launch. Anglers reported good catches of coho when casting or trolling with spoons. Shore and boat anglers were taking a few splake. Steelhead fishing was slow off the Anna River.
Grand Marais: Good catches of coho and some nice steelhead 25 to 30 inches were reported by boat anglers. Most of the steelhead were dark, about 50% spent and appeared to be fish coming down the river. Shore anglers did poorly with very few hits off the Sucker River and Carpenter Creek area. River levels are high due to recent rains so if you are planning on fishing the mouth of the Sucker River you will want to bring waders.
Two Hearted River: Had high water levels. Steelhead were spotty at best. Most roads in the area are now open.
Detour: To the north, the ice is gone from the Raber Bay boat launch and the Lime Island Dock but the docks are not in yet. Look for spawning perch in 4 to 6 feet in and around old cattails and weeds with small minnows or wigglers. At Detour Village, the ice is gone at both boat launches. This is the time to start fishing for Atlantic salmon which are close to shore and chasing smelt. Try long-lining with hard crank baits that simulate smelt in 6 to 10 feet. A few anglers were targeting steelhead in Albany Creek which is about ten miles west of Detour Village under M-134 but no catches were reported.
Cedarville and Hessel: The public launch at Lake Side Road has open water. Launching here allows anglers to fish for perch at the mouth of McKay Creek, and McKay Bay. The Cedarville launch off Meridian Street in town has open water. A few reports of perch have come from Cedarville Bay, south of the boat launch and around the cattails in 6 to 8 feet. Anglers were using small minnows. East winds blew the ice out of the Hessel Marina and finger docks. Splake fishing was good with small minnows and frozen smelt 20 inches off the bottom in 6 to 8 feet outside the steel breakwall.
St. Ignace: Had no angler activity. There is one dock in at the public launch. The Pine River is slow and the docks are not in yet. Anglers are targeting steelhead on the Carp River using spawn but no smelt run as of yet.
Black River: In Mackinac County has steelhead running and catch rates were moderate.
Southeast Lower Peninsula Fishing Report
Lake Erie: Walleye fishing in Brest Bay slowed but should pick back up. Anglers were trolling crank baits, reef runners and husky jerks.
Huron River: Was still producing some steelhead for those using spawn, wax worms or flies.
Wamplers Lake: In Lenawee County had anglers taking panfish near the drop-offs with limited success. Anglers were marking a number of fish that were suspended in 24 to 25 feet on the west end but could not get them to bite. They were using worms, minnows and artificial baits. Water temperatures were in the mid to high 40's. Sand Lake which is next to Wamplers was also producing a few panfish.
Detroit River: The walleye bite is improving. Anglers are using ¾ to 1 ounce jigs with minnows anywhere from 12 to 18 inches off the bottom. The cuts and canals are producing panfish.
Lake St. Clair: Water temperatures have remained in the mid 40's, but were starting to increase. Clarity still remains below average due to excessive runoff. Most species are still lethargic, but some anglers were able to catch smallmouth bass and perch. Those targeting bass did well in 3 to 5 feet when casting crank baits. Perch were caught in the canals and were hitting on minnows but worms were also working at times. Crappie and bluegills were caught in the canals and marinas when using wax worms and crawlers just off the bottom. The Clinton River was turbid and muddy and perch fishing slowed in the spillway.
St. Clair River: Anglers are catching salmon off the wall at Port Huron. Smelt numbers are sparse but a couple anglers were taking a few. Anglers were beginning to catch limits of walleye in the North Channel however many fish were undersize.
Lexington to Port Sanilac: Those out trolling were marking fish in 18 to 40 feet but were not catching any. Those fishing inside the harbor at Lexington managed to catch a couple coho, steelhead and perch with a crawler or minnow under a bobber.
Saginaw Bay: Walleye anglers off Linwood were marking fish but had no success catching them. A few walleye were caught off the north end of Spoils Island when jigging minnows in 8 to 10 feet. Water levels near the river and the inner bay were high and muddy. A few catfish were caught at the Hot Ponds. Quanicassee to Sebewaing had poor fishing with only small fish taken. Those fishing the day use area on the Pinnebog River were taking suckers but heavy sinkers were needed due to the increased flow.
Saginaw River: Water levels were high and muddy.
---
Southwest Lower Peninsula Fishing Report
St. Joseph: Fishing pressure was low. The few boats that have made it out struggled to find fish because the lake was churned up after the storms and strong winds. Most were slow trolling just outside the piers and along the shoreline. Pier anglers struggled as well but some did manage to catch a few whitefish and the occasional brown trout when using spawn.
South Haven: Fishing pressure was low as few boats were able to get out. Those that did get out reported slow coho and brown trout fishing.
Kalamazoo River: Has high water levels which is limiting fishing. The river still has a good number of steelhead. The closed tributaries also have more fish than usual because of the high water levels.
Rabbit River: Has a good number of steelhead.
Grand Haven: After all the rain, the water along the shoreline was muddy. Pier anglers caught a few brown trout on live minnows but the action was slow. A couple menominee whitefish were caught on wax worms or skein.
Grand River at Grand Rapids: Steelhead are still being caught here and in the Rogue River however high water levels have made fishing a challenge. Use caution.
Jackson County: Panfish including perch are being caught in various lakes.
Muskegon: Pier and shore anglers reported slower catch rates for steelhead and brown trout. When the weather allows, boat anglers caught a few brown trout when trolling orange or green body baits along the shoreline.
Muskegon River: Continues to have a good number of steelhead and some walleye but that season does not open until the last Saturday in April. In Mecosta County, there was good panfish action near Rogers Heights.
Whitehall: Pier anglers caught brown trout and steelhead when still-fishing with spawn. Whitefish were also caught using wax worms or a single egg.
White Lake: Anglers caught perch in 20 to 30 feet using perch rigs with wax worms.
White River: Had fresh fish coming from the lake.